For more information, including previous situation summaries and an interactive dashboard, visit our Ukraine Conflict Monitor.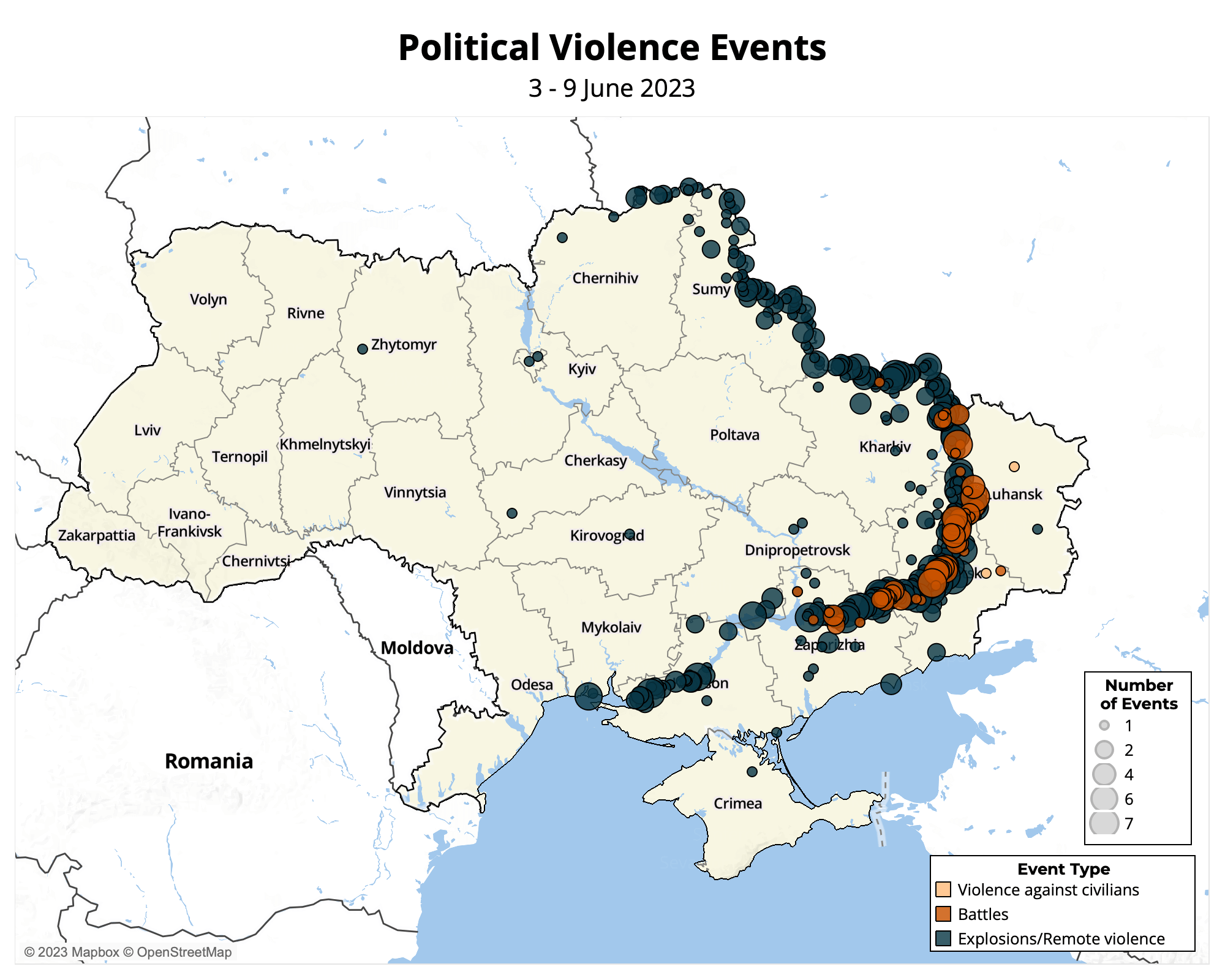 Fighting between Ukrainian and Russian forces continued in the areas of Bakhmut and Marinka in the Donetsk region and along the Kreminna-Svatove-Kupiansk line in the Luhansk and Kharkiv regions. Ukrainian forces claimed to have advanced 1.2 kilometers near Bakhmut. On 8-9 June, Russian sources reported increased Ukrainian ground attacks in the areas of Huliaipole and Orikhiv in the Zaporizhia region. 
Russian shelling, missiles, and airstrikes reportedly killed over 20 civilians last week in the Dnipropetrovsk, Donetsk, Kharkiv, Kherson, Sumy, Zaporizhia, and Zhytomyr regions. In the Dnipropetrovsk region, a Russian missile struck civilian houses in Pidhorodne on 3 June, killing one civilian and injuring over 20 more. Russian missiles also struck the Kirovohrad, Kyiv, and Cherkasy regions, leading to civilian casualties in the city of Uman in the latter region. 
On the night of 6 June, a dam near the Kakhovka Hydroelectric Power Plant in the Kherson region collapsed, flooding around 80 settlements downstream and displacing thousands of civilians, as well as setting adrift numerous landmines, including anti-personnel devices.1James Waterhouse and Thomas Mackintosh, 'Ukraine dam: Dislodged mines a major concern as residents flee Kherson,' BBC, 9 June 2023 Preliminary evidence suggests a major explosion likely occurred in the area of the dam in the gray zone and the power plant controlled by the Russian forces.2Julian Borger in Kyiv and Pjotr Sauer, 'Seismic data adds to evidence Ukraine's Kakhovka dam was blown up,' Guardian, 9 June 2023 Experts have suggested that an internal blast is the likeliest scenario for the collapse as an external strike would require a much larger explosive to cause similar damage.3James Glanz, Marc Santora and Richard Pérez-Peña, 'Internal Blast Probably Breached Ukraine Dam, Experts Say (Cautiously),' The New York Times, 6 June 2023 The destruction of the dam complicates the crossing of the Dnipro river in the Kherson region for Ukrainian forces and allows Russian units to redeploy to the Zaporizhia region.4Dmytro Mykhailov, 'Pavliuk: Russians Blew up the Kakhovska HPP in order to Disrupt the Offensive of the Ukrainian Forces,' 12 June 2023 As of 13 June, Ukrainian rescue services found the bodies of 10 drowned civilians; at least 20 civilians were injured and over 40 went missing.5Important Stories, 'Volunteers confirmed the deaths of 20 civilians on the left bank of the Dnipro. Over 150 people went missing,' 9 June 2023 Over 20 civilians also died in Russian-occupied areas affected by flooding, with 150 others reported missing. Evacuation and rescue efforts on the northern bank controlled by the Ukrainian government were complicated by daily Russian shelling, which led to additional deaths and injuries among civilians, volunteers, emergency officers, and health workers. Prior to the explosion, the dam held back water in the Kakhovka reservoir used to supply water upstream, carry water to Crimea, and cool down the six reactors of the Zaporizhia Nuclear Power Plant in Enerhodar.6BBC, 'Ukraine dam: What we know about Nova Kakhovka incident,' 9 June 2023