For more information, including previous situation summaries and an interactive dashboard, visit our Ukraine Conflict Monitor.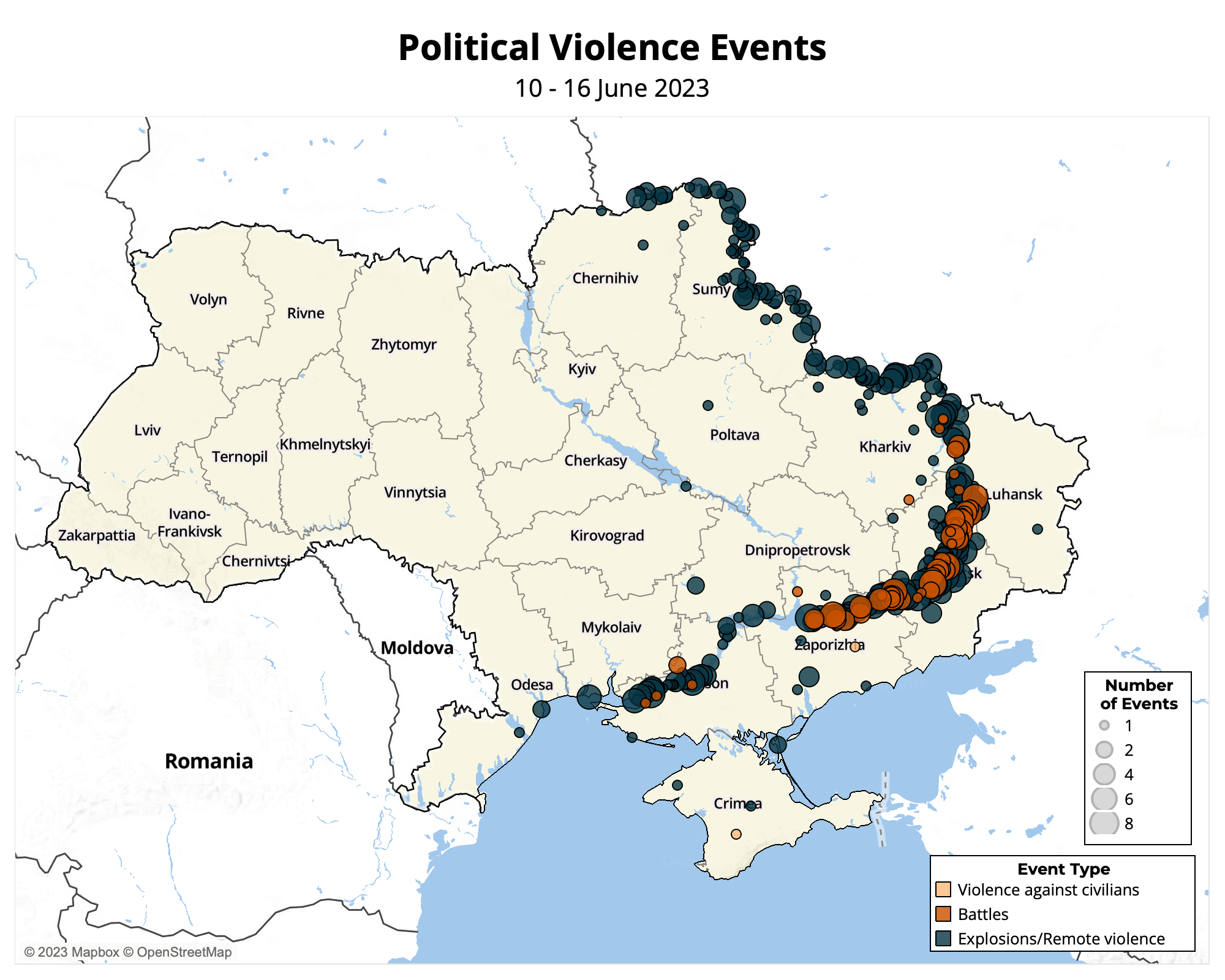 Fighting between Ukrainian and Russian forces continued in the areas of Bakhmut, Avdiivka, and Marinka in the Donetsk region and along the Kreminna-Svatove-Kupiansk line in the Luhansk and Kharkiv regions. Clashes also intensified in the western part of the Donetsk region, south of Velyka Novosilka, where Ukrainian forces reportedly regained control over several settlements. Ukrainian forces also counterattacked along the frontline in the Zaporizhia region, reportedly advancing south of Orikhiv and close to the administrative boundary with the Donetsk region. 
Russian forces continued to target civilian infrastructure with shelling, missiles, and drones, reportedly killing over 40 civilians in the Chernihiv, Dnipropetrovsk, Donetsk, Kharkiv, Kherson, Odesa, Sumy, and Zaporizhia regions. On 13 June, Russian missiles hit a warehouse and a residential building in Kryvyi Rih in the Dnipropetrovsk region, killing 11 civilians and wounding 28 others. On the same day, Russian forces fired artillery at a civilian vehicle in a border area with Russia in the Sumy region, killing six forestry workers. Russian missile and drone strikes on Odesa on 10 and 14 June also killed six civilians and wounded over 40 others. In the Kherson region, Russian forces shelled a boat carrying civilians evacuating from the southern bank of the Dnipro river to the northern government-controlled bank on 11 June and shelled Kherson city on 16 June, killing three civilians and injuring 45 others in total.