Two Years Of Repression:
Mapping Taliban Violence Targeting Civilians in Afghanistan
A Joint ACLED and APW Report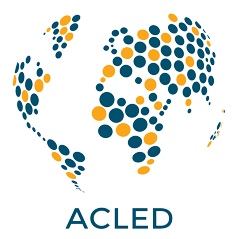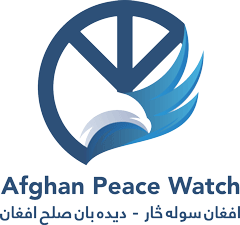 Introduction
On 17 August 2021, two days after the fall of Kabul, the Taliban held a press conference promising amnesty for former government officials, respect for women's rights, and freedom of the press.1Zaheena Rasheed, Arwa Ibrahim and Usaid Siddiqui, 'Taliban offers amnesty, promises women's rights and media freedom,' Al-Jazeera, 17 August 2021; Al Jazeera, 'Transcript of Taliban's first news conference in Kabul,' 17 August 2021 Nearly two years later, it is clear that the Taliban has upheld none of these promises, instead conducting a violent campaign of repression. Since the takeover, the Taliban has targeted former government and security officials, carried out collective punishments in areas where anti-Taliban groups have emerged, and imposed ultraconservative societal restrictions – especially on women and journalists – aimed at maintaining control. ACLED records over 1,000 incidents of violence targeting civilians by the Taliban between the fall of Kabul on 15 August 2021 and 30 June 2023, accounting for 62% of all attacks on civilians in the country. This places the Taliban regime in Afghanistan2From 16 August 2021 on, ACLED codes the Taliban as Government of Afghanistan (2021-) with their forces coded as Military of Afghanistan (2021-) and Police Forces of Afghanistan (2021-) given their de facto control of the country. This is not meant to denote legitimacy or international legal recognition, but rather acknowledges the fact that a distinct governing authority exists and exercises de facto control over significant portions of territory in a country. As a result of the Taliban being coded as the de facto government in Afghanistan, the coding of some sub-event types changes as well. Up to 15 August 2021, Taliban forces seizing control of a territory in a battle is coded as, 'Non-state actor overtakes territory.' After 15 August 2021, Taliban forces taking control of a territory in a battle is coded as, 'Government regains territory.' For more on coding decisions for Afghanistan, see ACLED methodology. among the world's top government or de facto state perpetrators of violence targeting civilians domestically since August 2021, behind only the military junta in Myanmar. 
As Taliban rule reaches the two-year mark, this report examines patterns of violence targeting civilians under the regime, with particular attention to the top four most targeted groups: former government and security officials, prisoners, women, and journalists. Taken together, the Taliban's retaliatory attacks, use of collective punishment, and broad crackdown on women and the press reveal the scale and severity of repression ongoing in Afghanistan (see figure below).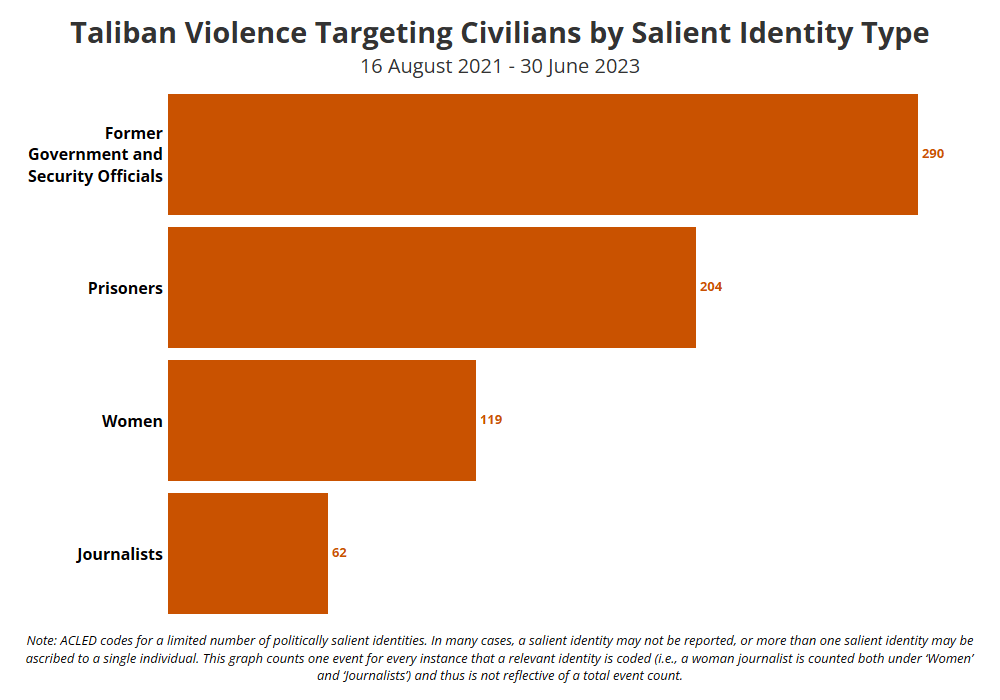 In particular, this report analyzes the continued targeting of former government and security officials, as well as violence against civilians in the country's northeast, where armed anti-Taliban groups have been active. Both former officials and resistance forces are subject to violence when detained by the Taliban, accounting for a large number of incidents of prisoner abuse recorded by ACLED. Moreover, this report highlights persistent violence against women who oppose a return to the "gender apartheid" of past Taliban rule.3UN News, Afghanistan: Taliban 'may be responsible for gender apartheid' says rights expert, 19 June 2023 Women have responded to increased restrictions on their daily lives by holding protests against Taliban policies, with demonstrations featuring women4Demonstrations featuring women are demonstrations that are made up entirely by women participants or a majority of women participants (e.g. a gathering of mothers of prisoners), involve a women's group (e.g. Women of Zimbabwe Arise), or are organized around women's rights or issues specifically (e.g. women's reproductive rights, or policies around women's clothing). Events in which women are simply demonstrating alongside men, for example, are not categorized as DFW. For more on how ACLED defines and tracks demonstrations featuring women, see ACLED's political violence targeting women methodology. nearly doubling in 2022 compared to 2021. Finally, the report concludes with an accounting of attacks on journalists, who remain among the most targeted groups in the Taliban's Afghanistan – creating further challenges for documenting violence in the country under the new regime.
Former Officials Targeted in Revenge Attacks
As the Taliban took over province after province in the summer of 2021, the Afghan National Defense and Security Forces (ANDSF) collapsed.5SIGAR, 'Why the Afghan Security Forces Collapsed,' February 2023 After United States and NATO forces withdrew from the country, many former security officials, as well as former government officials, were left vulnerable to Taliban attacks. In the face of this threat, many officials, including the former president, Ashraf Ghani, left the country.6Al Jazeera, 'Afghan President Ghani flees country as Taliban enters Kabul,' 15 August 2021; Robbie Gramer, Jack Detsch, 'New Congressional Report: U.S.-Trained Afghan Special Forces Forced to Flee to Iran,' Foreign Policy, 15 August 2022 When the Taliban took over, reports emerged of executions of surrendering security forces.7Micheal Scollon, 'Taliban Takes Revenge On Former Afghan Security Forces,' RFE/RL Radio Azadi, 21 October 2021 Many of those who were part of the former administration or the ANDSF are known to the Taliban, either from direct contact at the front lines8Henry Ridgwell, 'Taliban Committing 'Revenge Killings' Against Former Afghan Security Forces, Says HRW,' Voice of America, 30 November 2021 or from the employment records of the previous government.9Human Rights Watch, '"No Forgiveness for People Like You",' 30 November 2021
Despite announcing an amnesty order for former government and security officials, the Taliban senior leadership failed to make good on this commitment. While initially denying revenge killings were occurring,10BBC, 'Afghanistan: Taliban warned against targeting former security forces,' 5 December 2021 the Taliban's interior minister admitted to violations of the amnesty order in 2022.11Mukhtar Wafai,'The killing of former Afghan soldiers; Haqqani admitted to violating the amnesty order,' Independent Persian, 2 May 2022 The devolved nature of the Taliban regime has also meant that upholding the amnesty has often been left to local Taliban commanders.12Arezou Rezvani, 'For Afghans who fought against the Taliban, life is fraught under their rule,' NPR, 28 November 2022
In the nearly two years since the Taliban takeover, many former officials continue to be detained, disappeared, and killed. In some cases, families only learned about the fate of their family members when they received their bodies days after their detention.13Hasht e Subh, 'Taliban killed a former soldier and a taxi driver in Laghman,'14 December 2022 Since the fall of Kabul, former government and security officials have been the most targeted civilian group by the Taliban in the country, according to the salient identity categories that ACLED tracks.14One event may involve multiple identity categories. From 16 August 2021 to 30 June 2023, ACLED records over 400 acts of violence targeting former government and security officials, with 290 incidents committed by the Taliban (see graph below). In many of the attacks carried out by unidentified assailants, local sources or families of the victims have accused the Taliban of being responsible.15Hasht e Subh, 'Former Government Soldier Assassinated by Unknown Gunmen in Parwan Province Amidst Ongoing Taliban Violence,' 8 May 2023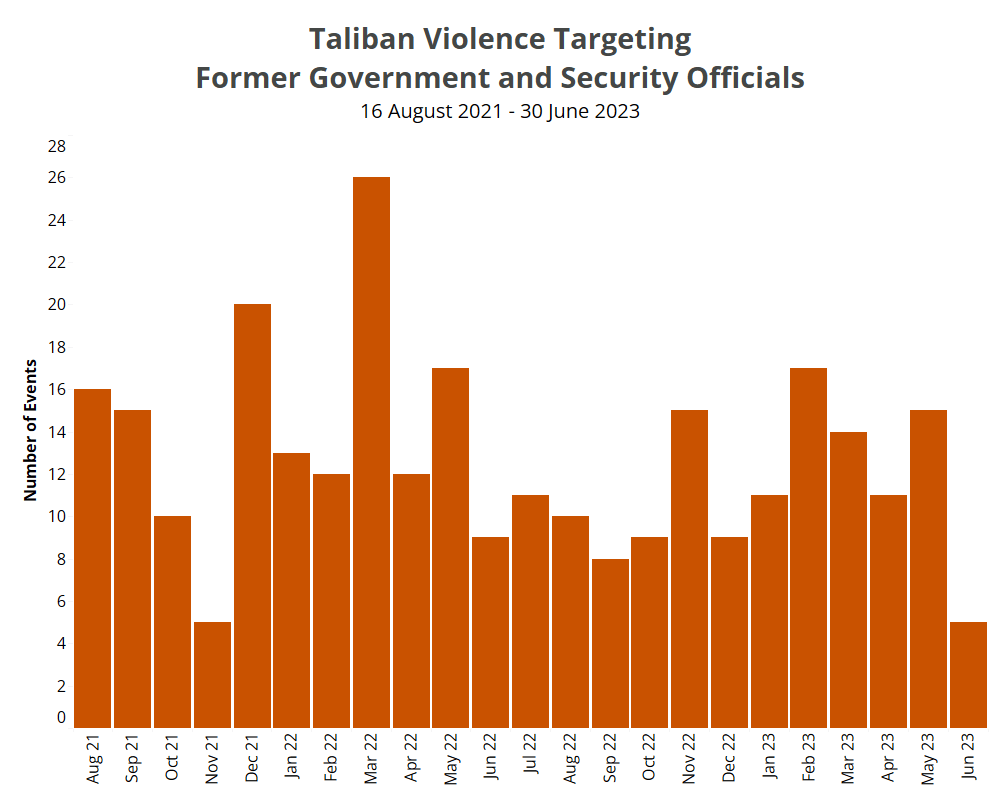 The Taliban has framed its targeting of former government and security officials as an effort to prevent them from remobilizing into an armed opposition front.16Henry Ridgwell, 'Taliban Committing 'Revenge Killings' Against Former Afghan Security Forces, Says HRW,' Voice of America, 30 November 2021 While some former officials have indeed mobilized anti-Taliban armed groups or aligned themselves with resistance groups active in the Panjshir valley, none of these groups have posed a significant threat to Taliban rule.17Abubakar Siddique, 'Taliban Faces Rising Armed Resistance From Former Government Factions,' Radio Free Europe/Radio Liberty, 27 April 2022 The Taliban has nevertheless used this threat as an excuse to pursue former members of the government and security forces. An overwhelming number of recorded attacks on former officials and security personnel cannot be linked to any efforts toward remobilization. For example, Human Rights Watch reported that former ANDSF members who sought to demonstrate they posed no threat by registering with the Taliban to guarantee their safety have at times been detained and killed.18Henry Ridgwell, 'Taliban Committing 'Revenge Killings' Against Former Afghan Security Forces, Says HRW,' Voice of America, 30 November 2021
Collective Punishment of Civilians in Areas with NRF Activity
Civilians living in areas where armed anti-Taliban groups have emerged have also been targeted for violence by the Taliban regime, including beatings, torture, and extrajudicial killings. A recent report by Amnesty International presented evidence that the war crime of collective punishment has been carried out by the Taliban in Panjshir province, where armed resistance has been concentrated.19Amnesty International, 'Afghanistan: "Your sons are in the mountains": The collective punishment of civilians in Panjshir by the Taliban,' 7 June 2023 This investigation supports a 2022 UN report that suspected collective punishment was taking place in the province. 
Shortly after the Taliban took control of Afghanistan, multiple armed resistance groups emerged across the country. Anti-Taliban armed groups have conducted attacks in at least 29 out of 34 provinces since the Taliban takeover. The largest anti-Taliban armed group, the National Resistance Front (NRF), has been operating mainly in the northeast of the country, primarily in and around Panjshir province. The NRF also expanded further in northern Afghanistan in mid-2022, notably in Takhar province, where local Tajik Taliban commanders were reported to have defected to the NRF20Peter Mills, 'Taliban Struggles to Contain Afghan National Resistance Front,' Institute for the Study of War, 7 September 2022 and where the Taliban also reportedly faces armed opposition from local warlords.21Aamaj News, 'Guerrillas of Jamiat Noor clashed with the Taliban in Takhar; Six Taliban and two guerrillas were killed,' 11 April 2022 After Kabul, the restive Takhar and Panjshir provinces have, respectively, had the second and third highest number of incidents of violence targeting civilians by the Taliban since the 2021 takeover (see map below).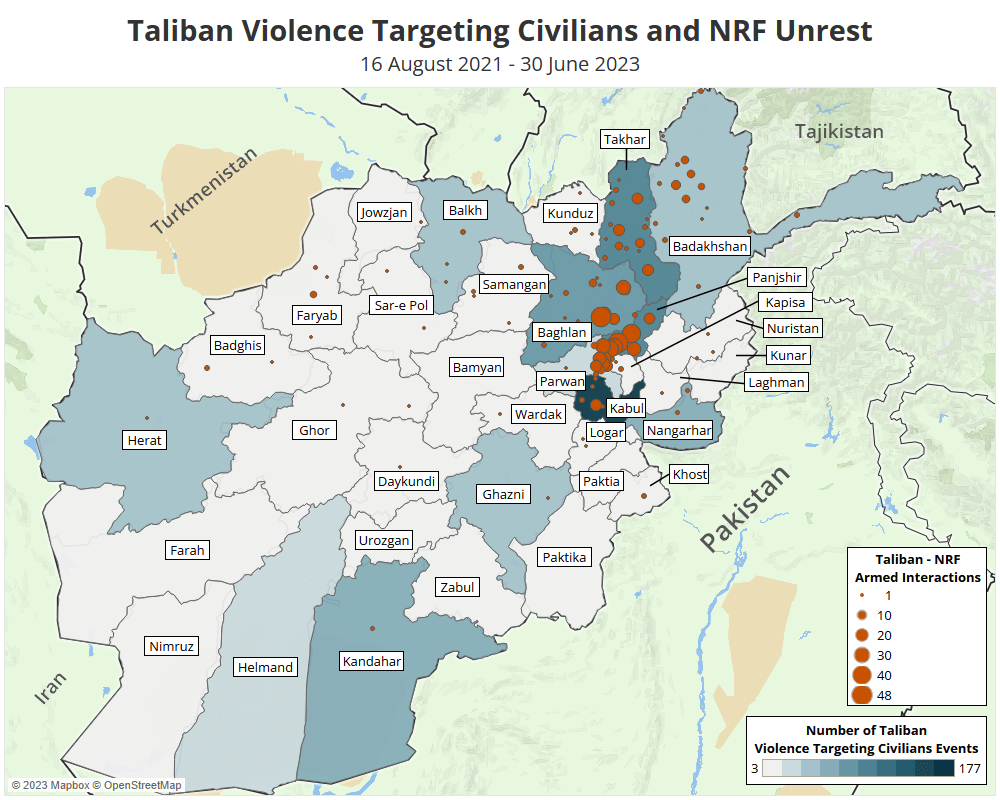 Attacks on civilians have often taken place in the context of Taliban raids on villages in search of NRF fighters. Civilians accused of supporting the NRF are frequently detained, tortured, or killed.22Aamaj News, 'Guerrillas of Jamiat Noor clashed with the Taliban in Takhar; Six Taliban and two guerrillas were killed,' 11 April 2022 In May 2022, for example, civilian houses in the Deh Mihran area of Deh Salah district in Baghlan province were raided and Taliban forces reportedly killed multiple people accused of connections to the NRF. In another report in February 2022, in the same district, Taliban forces killed a doctor in his house to reportedly prevent him from treating NRF fighters in the area.23Subhe Kabul, 'Unknown people killed a doctor in Baghlan,' 16 February 2022 Civilians without any alleged links to the NRF, including children, have also been harmed during Taliban village raids. In one incident in July 2022, the Taliban killed a young boy in his family's home in the Kasa Tarash valley of Deh Salah district during house-to-house searches following clashes with the NRF in the area.24Hasht-e Subh, 'Taliban Rebels Behead Young Boy in Front of His Family Members in Baghla,' 21 July 2022
As well, several NRF fighters have been killed after being detained and disarmed. This was the case during several days of clashes between the Taliban and the NRF in Panjshir province in September 2022, when the Taliban detained scores of NRF fighters. The Taliban reportedly took the NRF prisoners to a remote mountainous area and executed them.25Centre for Information Resilience, 'Systematic and 'Summary: Investigating Evidence of Prisoner Executions in the Panjshir Valley in September 2022,' October 2022 Videos that circulated on social media showed NRF fighters being mistreated before the executions.26Radio Free Europe/Radio Liberty, 'UN 'Deeply Concerned' Over Video Appearing To Show Taliban Executing Members Of Resistance Group,' 15 September 2022 Abuses and killings of detained fighters, as well as of detained civilians in areas that are raided, have accounted for the high number of recorded attacks on prisoners perpetrated by the Taliban since the fall of Kabul.
How the Taliban uses violence as retribution for suspected collaboration with rebels is further highlighted in the graph below. The Taliban's targeting of civilians has increased during periods of heightened fighting with the NRF. For example, in the top five provinces in the northeast of the country where fighting between the Taliban and the NRF was recorded, violence targeting civilians appeared to spike as clashes intensified in the spring of 2022.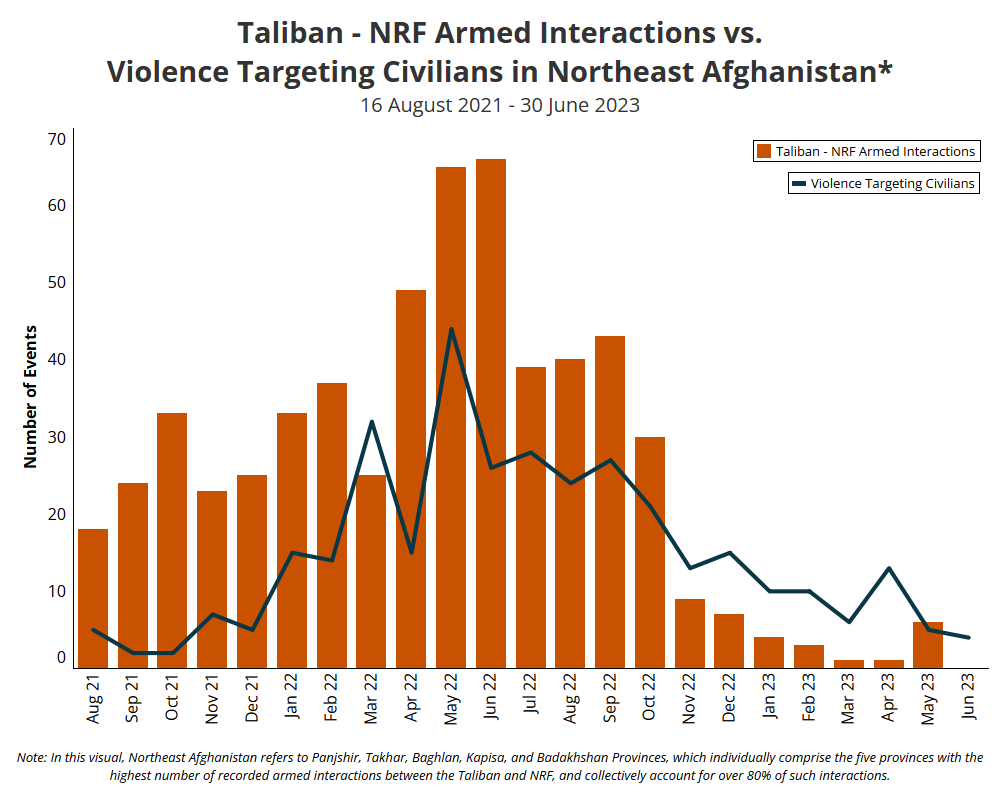 Yet, even as fighting has declined in these anti-Taliban resistance strongholds, civilians  continue to be subjected to Taliban violence. The NRF's challenge to Taliban rule has weakened since 2022,27France24, 'Afghan opposition 'very weak' despite mounting anger against Taliban,' 15 August 2022 particularly after the Taliban conducted several large-scale operations against key members of the group in December 2022.28Sakhi Khalid, 'NRF Leader Swears He Would Avenge the Death of Top Anti-Taliban Commander,' Hasht e Subh, 27 December 2022 Despite the NRF announcing its intention to conduct spring offensives against the Taliban,29Kabul Now, 'NRF launches spring guerrilla offensive against the Taliban,' 29 March 2023 fighting between the two sides in 2023 has not yet risen to the levels seen during the same period in 2022. Meanwhile, the Taliban continues to attack civilians in these areas, as well as other persecuted identity groups across the country.30The geographic spread may also be attributable to reporting difficulties in areas outside the capitol.
Violent Crackdown on Women and Journalists
Aside from its direct targeting of civilians affiliated with the former government and in areas of heightened armed resistance activity, the Taliban has also used violence to implement oppressive restrictions that have had a far-reaching impact on various sectors of society. This includes restrictions on women's rights and freedom of the press. Across the country, the Taliban has enforced these restrictions using violent means, with attacks on women and journalists particularly centered in Kabul (see figure below). Kabul has also been a key locus of civil resistance to the Taliban. Since the Taliban takeover, ACLED records more demonstrations featuring women in Kabul than anywhere else in the country.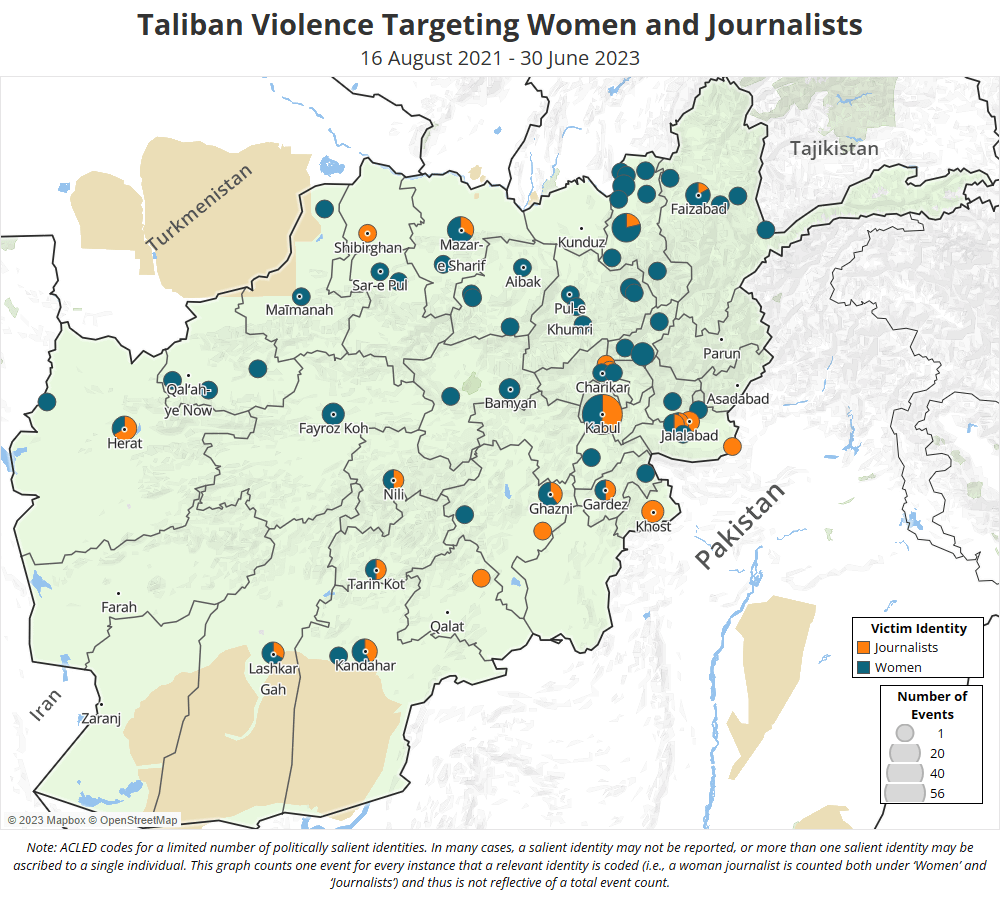 Restrictions on women's rights and violent repression of civil resistance
Over the past two years, the Taliban has implemented increasingly draconian restrictions on women that prevent them from actively participating in society. The regime initially banned girls from attending school beyond sixth grade31Sarah Beth Guevara, 'Afghans and advocates speak out after Taliban bans women from working with aid groups,' ABC, 21 February 2023 and later, in December 2022, women were banned from attending university.32BBC, 'Afghanistan: Taliban ban women from universities amid condemnation,' 21 December 2022 Additionally, in December, the Taliban announced that women would not be allowed to work with non-governmental organizations (NGOs). The ban undermines the work of aid groups, as women are pivotal in the implementation of assistance programs. NGOs in the country have met with Taliban officials to try to persuade them to reconsider the ban.33Lyse Doucet, 'Afghanistan: Taliban to set new rules on women's aid work, UN says,' BBC, 25 January 2023 Rather than reconsidering, in April 2023, the Taliban went a step further and banned women from working with the UN.34Associated Press, 'Report: Taliban interfering with NGO work in Afghanistan,' 3 May 2023 Subsequent reports have emerged of women working with the UN being harassed by the Taliban.35PBS NewsHour, 'Female UN employees in Afghanistan are being harassed, detained, report says,' 9 May 2023 Additional decrees further restricting women's lives have also been issued in 2023.36Rukhshana, 'Taliban banned the sale of contraceptives,' 9 February 2023 
Yet, even as women have been targeted, they have also taken great risks to peacefully resist Taliban rule and demonstrate against Taliban restrictions. In 2022, the number of demonstrations featuring women nearly doubled compared to the previous year. As of the end of June, ACLED records over 60 demonstrations featuring women so far in 2023. Such expressions of dissent have taken place in public spaces as well as in private spaces to prevent the Taliban from intervening. Notably, men have also joined these demonstrations, especially male students and professors opposed to bans on educating women.37RFE/RL's Radio Azadi, '"Teach Everyone Or No One": Afghan Men Join In Protests Against Taliban's Ban On Women's Education,' 29 December 2022
Despite measures to avoid intervention, some demonstrations have been targeted by the Taliban. Demonstrations featuring women are more likely to be met with Taliban intervention than those not featuring women (see figure below). In one case, on 13 August 2022, the Taliban wounded dozens of women staging a protest defending women's rights in front of the Ministry of Higher Education in Kabul. The Taliban intervened by firing in the air as many women took shelter in the nearby shops. Taliban forces – who at times used the back of their guns to beat protesters – wounded 29 women during the crackdown.38Nimrokh Media, '29 Female Protesters were Injured in Saturday's Protest,' 18 August 2022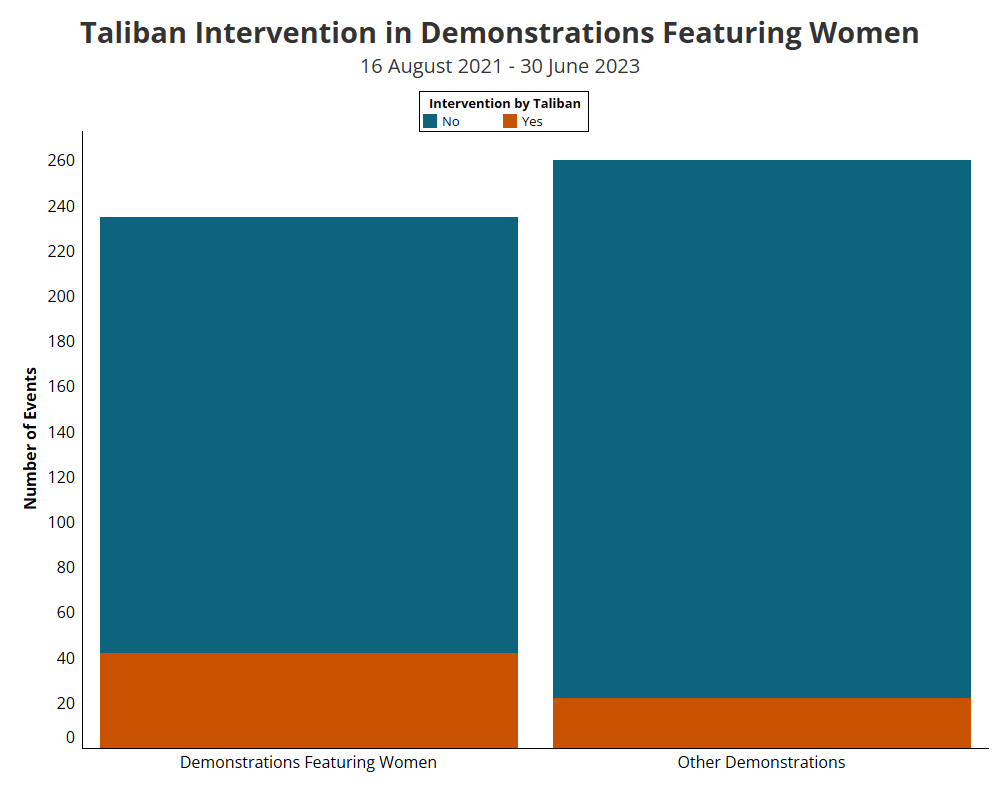 The physical targeting of women also extends beyond the protest space into everyday life. ACLED data show violence targeting women by the Taliban has continued into 2023, with at least 22 incidents reported during the first half of the year. Such targeting includes sexual violence, which has been on the rise. In one notable example, in March 2022, a Taliban official raped a woman in his office. After being raped, the woman, who was the daughter of a former Afghan government official and a medical student, was held and forced into marriage with her rapist. She managed to release a video on social media, receiving the support of some human rights organizations that reportedly helped her flee Afghanistan.39AIHRC, 'Statement by the Afghan Independent Human Rights Commission (AIHRC) in relation to the unlawful arrest and torture of Ms. Elaha Delawarzai,' 6 February 2023 Taliban officials denied the allegations, stating that the marriage was consensual and no rape occurred – though the accused official was removed from his position.40CBS, 'Woman claims months of rape and beatings at hands of ex-Taliban official she was forced to marry,' 1 September 2022 The Taliban reportedly later found the woman and forcibly took her back to Afghanistan. Her whereabouts remained unclear until recently, when she was released from the prison where the Taliban had held her for several months.41Amnesty International, 'Afghanistan: Call to reveal the whereabouts of Elaha Dilawarzai,' 5 December 2022; Shafaqna, 'Independent Human Rights Commission: The Taliban's treatment of the goddess of courage is inhumane,' 6 February 2023; Twitter @S_Hassanyar, 15 April 2023 She reported that she had been subjected to torture under detention.42Shafaqna, 'Narration of Elaha Delavarzi about torture and interrogation after release from Taliban intelligence,' 5 July 2023 
While the Taliban appears intent on denying fundamental rights to women and using physical force to prevent women from moving freely in society, there are signs of internal disagreements over its policies. There is recognition among some Taliban members these restrictions impact the regime's relationships with international actors,43CBS, 'Afghanistan's Taliban ruler faces rare internal criticism, revealing divisions,' 17 February 2023 which, in turn, hinders the Taliban's attempts to legitimize its rule as it moves from insurgency to government. Nonetheless, there is no indication that the ongoing moves to install what many have called "gender apartheid"44UN News, Afghanistan: Taliban 'may be responsible for gender apartheid' says rights expert, 19 June 2023 will end any time soon. In early March, the UN Special Rapporteur for the situation of human rights in Afghanistan asked the International Criminal Court to consider the crime of gender persecution as part of its investigation into war crimes and crimes against humanity in the country since 2003.45Kate Clark, 'A Worsening "Human Rights Crisis": New hard-hitting report from UN Special Rapporteur,' Afghan Analysts Network, 6 March 2023
Media restricted as journalists face threats
As violence against women and other civilians continues, it remains important to recognize the extent to which information is restricted amid the ongoing crackdown on journalists. Media organizations have had to contend with Taliban censorship and repression, including the threat of arbitrary arrest.46Ruchi Kumar, '"We can't remain silent": journalists refuse to give up despite Taliban terror,' The Guardian, 4 May 2023 The media environment in Afghanistan has changed dramatically since the Taliban takeover, with 50% of media outlets closing.47Fatema Adeeb, '​​Watchdog: 50% of Media Outlets in Afghanistan Closed after Political Change,' TOLO News, 18 March 2023 The Taliban also shuttered the websites of prominent media outlets such as Hasht-e-Subh and Zawia Media, and some veteran journalists in key positions were forced to resign or leave the country.48Committee to Protect Journalists, 'Afghanistan's Media Crisis, One year after the Taliban's return to power,' 12 August 2022; Reporters Without Borders, 'Taliban have entered a new phase of their media war with the closure of two major Afghan news websites,' 5 October 2022
Under the Taliban, journalists have also faced a multitude of physical threats. ACLED records over 70 incidents of violence targeting journalists and media workers between the fall of Kabul and June 2023. The Taliban carried out at least 83% of these events. In one such case, a journalist for Pajhwok News Agency, who was also the provincial deputy head of the Afghan Independent Journalists Association, was tortured for months after Taliban intelligence arrested him on 14 June 2022. He had previously received threats from the Taliban.49Hasht e Subh, 'Mohammadi, Detainee Journalist, Being Tortured Daily by Taliban,' 9 September 2022; International Federation of Journalists, 'Afghanistan: Journalists missing and detained as attacks to media continue,' 16 June 2022 He was released months later, but Taliban authorities gave no reason for his months-long detention.50Afghanistan Journalists Center, 'AFJC welcomes the release of Journalist Abdulhannan Mohammadi in Kapisa province,' 30 September 2022
Despite these attacks, many journalists remain committed to reporting. Some media outlets have continued reporting from abroad, and information on Taliban repression of civilians continues to make its way out of the country.51Committee to Protect Journalists, 'Afghanistan's Media Crisis, One year after the Taliban's return to power,' 12 August 2022 However, the ongoing crackdown means that repression of civilians may be underreported despite efforts taken by data collection organizations like ACLED and APW to adjust sourcing and information gathering methods to account for shifts in the repressive environment. Going forward, the Taliban is likely to continue targeting civilians that it perceives as posing a threat to its rule while seeking to prevent news of such violence from being reported.
Civilian Targeting Undermines Afghanistan's Stability 
While former government and security officials, prisoners, women, and journalists are among the most targeted civilian groups tracked by ACLED, many more civilians in Afghanistan face daily Taliban violence and repression. The Taliban's targeting of civilians has contributed to its overall failure to guarantee security and stability, creating a humanitarian crisis while also exposing civilian communities to additional threats from other groups, notably the Islamic State. Over 660 incidents of civilian targeting since the fall of Kabul have been carried out by actors other than the Taliban regime. After the Taliban, the Islamic State is responsible for the second highest level of violence targeting civilians by identified actors since the fall of Kabul. The threat posed by the Islamic State in the country has been cause for growing concern, particularly given the lethality of their attacks, as highlighted in a recent report by the UN Assistance Mission in Afghanistan.52Charlotte Greenfield, 'Over 1,000 Afghan civilians killed in blasts, violence since August 2021, UN says,' Reuters, 27 June 2023 So although the Taliban remains the leading perpetrator of civilian targeting, the Islamic State and other armed actors continue to endanger the security of civilians and aggravate the country's lingering instability.
The Taliban's imposition of ultraconservative restrictions on women also continues to undermine the stability of Afghanistan. These restrictions impede half the country from participating fully in society, and give way to civil resistance – which is often met with violent Taliban repression. In July, for example, a protest by women against a ban on beauty salons was put down violently.53Riazat Butt, 'The Taliban use tasers, fire hoses and gunfire to break up Afghan women protesting beauty salon ban,' Associated Press, 19 July 2023 In early May, a two-day UN meeting in Qatar on Afghanistan was met with protests by Afghan women concerned about legitimizing Taliban rule.54Ahmad Mukhtar, 'Afghanistan's women protest as U.N. hosts meeting in Doha on "how to engage with the Taliban",' CBS, 1 May 2023 Prior to the meeting, UN Secretary-General António Guterres affirmed that the time was not right for engagement with the Taliban,55Al Jazeera, 'UN chief says 'not the right time' to engage with Taliban,' 2 May 2023 though later in the week, the UN announced it would stay in the country.56Ayaz Gul, 'UN Experts Call Perpetration of Gender Persecution in Afghanistan Alarming,' Voice of America, 5 May 2023 Still, no country has recognized the legitimacy of the Islamic Emirate of Afghanistan – the official name of the Taliban government. The UN envoy for the country recently stated that it would be "nearly impossible" for the Taliban to be recognized by the international community as long as existing restrictions on women and girls are in place.57Al Jazeera, 'Afghan women ban makes Taliban recognition near 'impossible': UN,' 22 June 2023
The wide-ranging threats that civilians face in Afghanistan illustrate the Taliban's repressive governance and its reliance on violence to control the population, which creates an environment that allows other armed groups to further fuel instability. Despite its promises to the contrary, the Taliban has not changed from its previous mode of governing, leaving civilians to bear the brunt of the regime's violence and misrule.
Visuals in this report were produced by Christian Jaffe.