For more information, including previous situation summaries and an interactive dashboard, visit our Ukraine Conflict Monitor.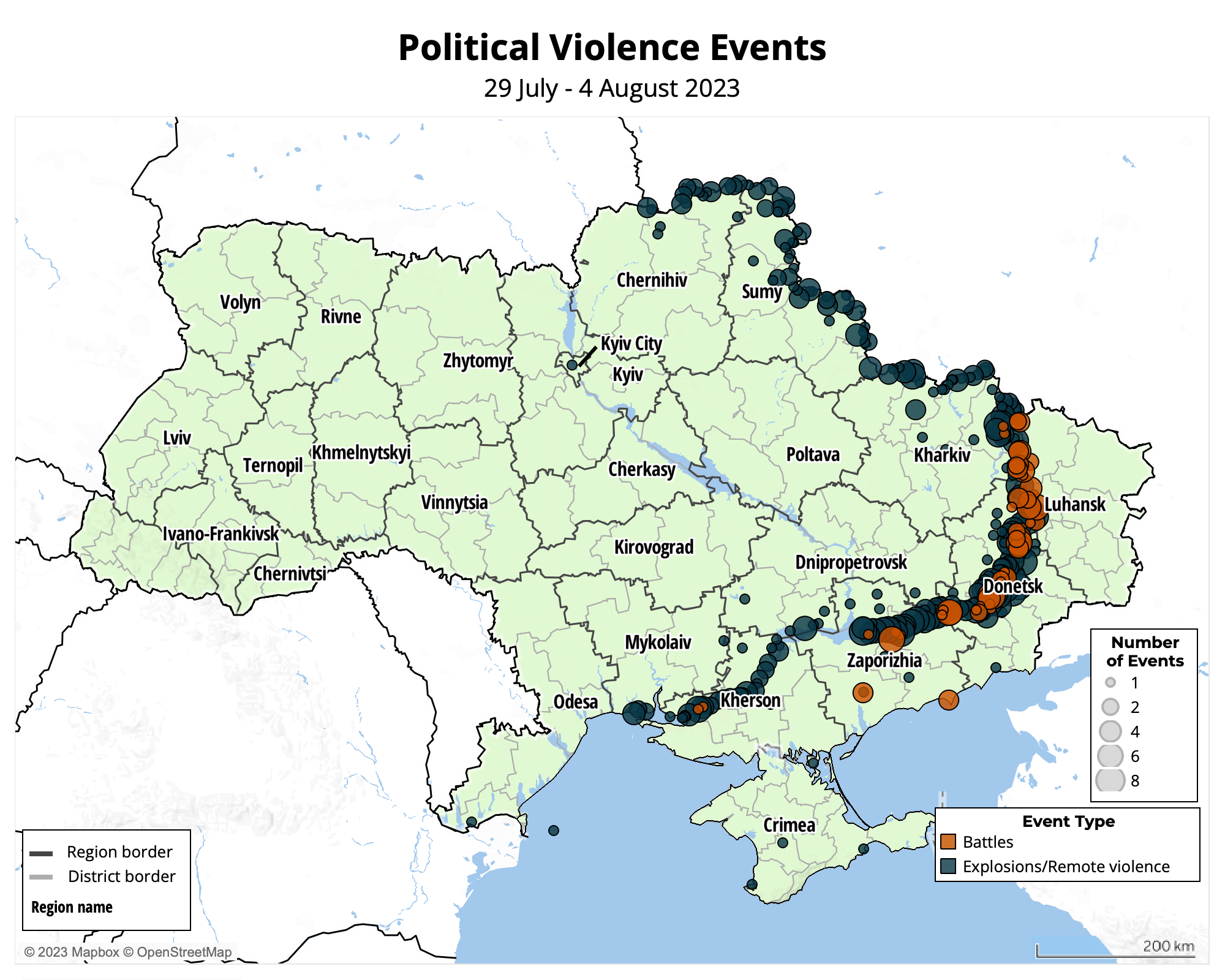 Fighting continued in the Donetsk region, with Ukrainian forces reportedly improving their positions in the areas of Vuhledar and Bakhmut. Russian sources claimed limited success in the area of Avdiivka. In the Zaporizhia region, Ukrainian forces advanced in the west towards Melitopol and continued offensive operations along the administrative boundary with the Donetsk region. Meanwhile, Russian forces reportedly continued to make territorial gains south of Kreminna in the Luhansk region and improved their positions in the area of Kupiansk in the Kharkiv region. Ukrainian forces also continued to launch drones and missiles targeting Russian military sites and supply lines in Crimea, most of which were intercepted by Russian forces. Nevertheless, a Ukrainian naval drone damaged a Russian warship near Novorossiysk. Russia continued targeting Ukrainian ports and grain silos, including Izmail in southern Odesa region, thus denying shipments from the few remaining facilities on the Danube river.1James Waterhouse and Jaroslav Lukiv, 'Ukraine war: Drones target Odesa grain stores near Romania border,' BBC, 4 August 2023
Russian shelling and missile strikes reportedly killed over 20 civilians in the Dnipropetrovsk, Donetsk, Kherson, Sumy, and Zaporizhia regions. In Kryvyi Rih in the Dnipropetrovsk region, Russian missiles hit a multi-story residential building and a college on 31 July, killing six and injuring 75 civilians. Russian forces shelled Kherson city almost daily, killing five people and injuring around 40, including health and emergency workers. Repeated Russian missile strikes damaged the city's cathedral. On 29 July, Russian forces fired a missile at a college in Sumy city, killing two civilians and injuring 20. Additionally, on 2 August, Russian forces launched a drone attack on the Kyiv region. Although most drones were reportedly intercepted by Ukrainian air defense, the falling debris damaged residential houses and an administrative building.