Fact Sheet: Azerbaijan Moves to Retake Artsakh
Published: 21 September 2023
On 19 and 20 September 2023, Azerbaijan conducted a military operation against Artsakh, a disputed territory also known as Nagorno-Karabakh,1The disputed territory of Nagorno-Karabakh is internationally recognized as part of Azerbaijan. ACLED refers to the de facto state and its institutions in the ethnic Armenian majority areas of Nagorno-Karabakh as Artsakh — the name by which the de facto territory refers to itself. For more on methodology and coding decisions around de facto states, see this methodology primer.

to dismantle the ethnic Armenian separatist enclave after nine months of blockading it

ACLED records over 570 political violence events along the Armenia-Artsakh-Azerbaijan Line of Contact from the start of the year through the days leading up to the offensive in mid-September2ACLED data are currently updated as of 15 September 2023. Data for the period up to 22 September 2023, covering the offensive, will be released on 26 September 2023.

Even before the operation, the number of incidents had surpassed the total recorded for the entire previous year, which had already seen an increase of more than 70% compared to 2021

Clashes spiked in June after peace negotiations between Armenia and Azerbaijan stalled, remaining elevated ahead of the operation  

In the months leading up to the offensive, increased fighting also led to a surge in the number of attacks on civilians, affecting mostly Artsakh farmers along the Line of Contact, with approximately 50 incidents reported between January and mid-September

With Artsakh's defeat, the region's population is now at risk of mass displacement and forced exodus
Overview
On 19 September, Azerbaijan launched what it called "local anti-terrorist activities" in the separatist ethnic Armenian majority enclave of Artsakh, citing mine blasts that killed two civilians and four police officers earlier that day as the immediate casus belli.3Ministry of Defense of the Republic of Azerbaijan, 'Statement by Azerbaijan's Ministry of Defense,' 19 September 2023 The Azerbaijani government claimed to be therefore enforcing the November 2020 ceasefire agreement4Kremlin.ru, 'Statement of President of Azerbaijan, Prime Minister of Armenia, and President of the Russian Federation,' 10 November 2020 brokered by Russia in the wake of the second war over the disputed region that saw Azerbaijan regain control over adjacent areas that were lost in the aftermath of the first war in the early 1990s. Per that agreement, a 2,000-strong Russian peacekeeping contingent has been deployed to the region since 2020. 
The Azerbaijani operation included intense air, drone, and artillery strikes around the main Artsakh city of Stepanakert (also known as Khankendi) and Aghdam to the northeast, as well as Shusha to the south.5Open Caucasus Media, 'Live updates | Stepanakert under fire as Azerbaijan launches assault on Nagorno-Karabakh,' 19 September 2023 By the end of the first day, Azerbaijan reportedly broke through several sectors of the Line of Contact, closing in on Stepanakert.6Commonspace.eu, 'Azerbaijani forces push into Nagorno-Karabakh despite international criticism,' 20 September 2023 On 20 September, Artsakh authorities agreed to a Russian-proposed ceasefire, which entails disarmament and talks on integration into Azerbaijan. The escalation of the conflict came amid a steady deterioration in the security and humanitarian situation in and around Artsakh and about a year after major armed clashes along the undelimited Armenia-Azerbaijan border. 
Clashes Rise Ahead of New War
After the end of the previous war over Artsakh in early November 2020 initially resulted in a major decrease in violence, conflict incidents along the Armenia-Artsakh-Azerbaijan Line of Contact have gradually risen (see graph below). ACLED records over 570 political violence events since the beginning of 2023, already surpassing the total number reported in 2022 (530), which in turn had registered nearly double the number reported in 2021 (300).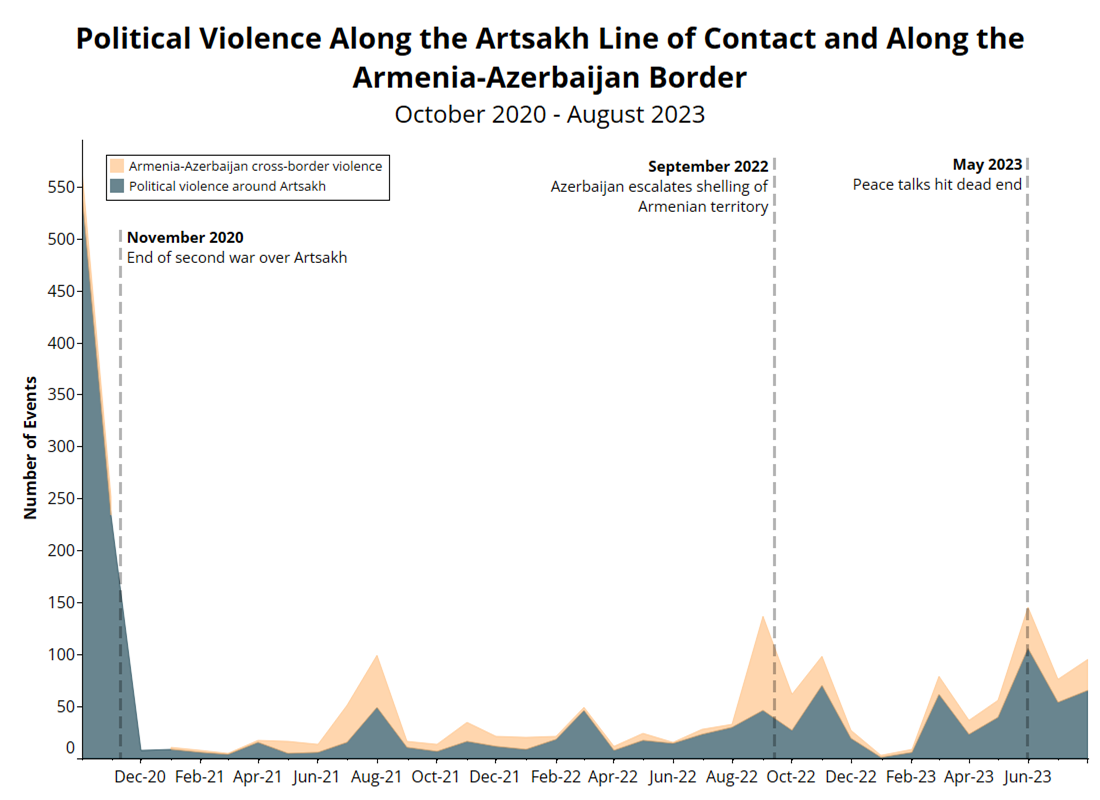 Political violence along the Armenia-Artsakh-Azerbaijan Line of Contact in 2023 has mostly consisted of armed clashes (475), of which nearly 250 involved Azerbaijani military and Artsakh paramilitary forces and occurred in the areas of Askeran (65), Martuni (56), Shusha (53), and Martakert (35) towns around Artsakh (see map below). Clashes between Azerbaijan and Artsakh around Askeran and Martuni  have doubled each year since 2021. As of mid-September, skirmishes in the Martakert area had increased by more than five times compared to 2022, and more than eight times around Shusha. Prior to the September offensive, approximately a third of reported incidents this year occurred in June alone, following the apparent failure of the marathon negotiations in May to produce a peace treaty between Armenia and Azerbaijan.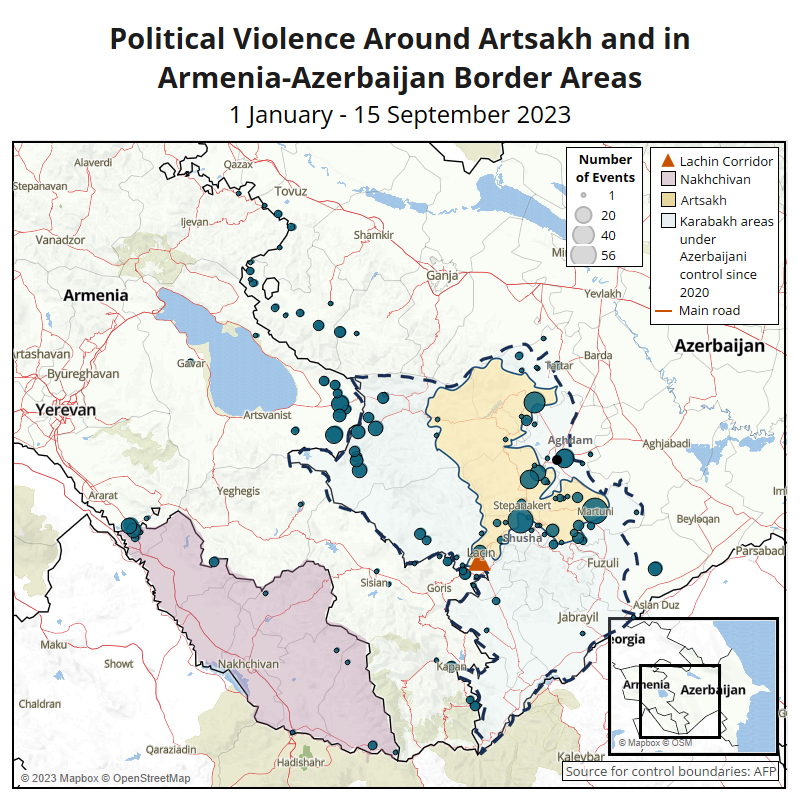 In addition to military exchanges, the lead-up to Azerbaijan's operation also saw an increase in violence targeting civilians. Almost all recorded incidents of violence targeting civilians impacted Artsakh farmers, who have reportedly come under Azerbaijani fire on about 50 occasions since the beginning of the year, compared with 13 and five such incidents in 2022 and 2021, respectively. Incidents involving the detonation of landmines and other explosives have declined since a peak in 2021, but continue to affect civilians in the area, and particularly ethnic Azeri communities. Even as these incidents have decreased, however, they have become more deadly, with nine people killed in 15 events since January 2023, compared with five fatalities from 26 events in the previous year.    
Lifeline Cut
Per the agreement ending the second war over Artsakh in 2020, Russian peacekeepers were tasked with securing the movement of Artsakh civilians to and from Armenia along the Lachin corridor. In late 2022, self-styled Azerbaijani environmental activists started blocking the corridor in the area of Shusha, effectively imposing a blockade on Artsakh, which was almost entirely dependent on supplies from Armenia. In the meantime, Azerbaijan cut gas deliveries to Artsakh and obstructed the repair of electricity lines from Armenia. Following clashes on alternative mud roads in March, Azerbaijan installed a full-fledged border and customs checkpoint in April at the westernmost entrance to the Lachin corridor on the border with Armenia, with Russian peacekeepers choosing not to intervene. Azerbaijan justified the move by the need to stem the flow of personnel, weapons, landmines, and munitions to Artsakh from Armenia. Traffic across the corridor was brought to a standstill after Armenian forces fired at Azerbaijani border guards in mid-June and after the International Committee of the Red Cross – the sole remaining supplier to Artsakh – became embroiled in a smuggling scandal in July. Subsequently, acute shortages were reported in Artsakh, also induced by the lack of gas widely used to power vehicles that could transport locally grown agricultural products. 
The current hot phase of the conflict came on the tailwinds of Armenian-Azerbaijani recriminations about alleged troop and equipment buildup along their borders.7Lilit Shahverdyan, 'Armenians alarmed by reports of Azerbaijani military buildup,' Eurasianet, 8 September 2023 At the same time, it came as hopes for a rapprochement rose after a sudden change of Artsakh leadership in early September appeared to potentially pave the way for some aid to trickle in via the Aghdam-Askeran road linking the enclave to Azerbaijan and later the Lachin corridor. It may turn out to have been a mere smokescreen. The Azerbaijani President Ilham Aliyev has consistently demanded that those in control in Artsakh dissolve their structures and disarm, while civilians either accept Azerbaijani citizenship without provisions for self-rule or leave altogether.8Jam News, 'Ilham Aliyev: 'Either they will live under the flag of Azerbaijan, or they will leave,' 19 April 2023; Jam News, 'Ilham Aliyev on the fate of Karabakh Armenians', 29 May 2023    
Outlook
Criticized but not sanctioned for its blockade of Artsakh,9United Nations, 'Lachin Corridor Must Be Reopened for Humanitarian Aid, Security Council Hears, as Speakers Urge Armenia, Azerbaijan to Normalize Relations,' 16 August 2023 Azerbaijan has decided to forcibly restore its control over the restive region. While some observers have argued that the blockade itself may have amounted to ethnic cleansing,10Nicholas Kristof, 'Another Ethnic Cleansing Could Be Underway — and We're Not Paying Attention,' 2 September 2023; Freedom House, 'Nagorno-Karabakh: Democracies Must Act to Protect Human Rights and Prevent Ethnic Cleansing,' 11 September 2023 Azerbaijan's offensive could now lead to a mass exodus of ethnic Armenians from the area.11Ministry of Defense of the Republic of Azerbaijan, 'Statement by Azerbaijan's Ministry of Defense,' 19 September 2023 Even if the latest ceasefire holds and negotiations resume, the loss of life, destruction, and victor's justice approach could likely push those who have the means to leave to consider the option.
An open question is whether violence will again spill over to Armenia, especially in light of Azerbaijani insistence that it is taking on Armenian – rather than Artsakh – armed personnel. Albeit fewer than during the previous escalation in September 2022, between January and mid-September 2023, there have been over 220 clashes between Armenian and Azerbaijani forces along Armenia's eastern border and around the Azerbaijani Nakhchivan exclave sandwiched between southwestern Armenia, Iran, and Turkey. Repeating the pattern seen around Artsakh, over half of these clashes were recorded in summer 2023 following the breakdown in peace talks. Per the 2020 ceasefire agreement, the sides agreed to negotiate the resumption of transport connections in the South Caucasus, including a road and rail link between Azerbaijan and Nakhchivan (commonly called the Zangezur corridor). Azerbaijan persistently refers to a 'conditional' border with Armenia, implying that it could be subject to revision should Armenia persist in demanding special status for ethnic Armenians in Artsakh. The presence of unarmed civilian EU monitors, hastily dispatched in October 2022 after claimed Azerbaijani advances into Armenian territory, could be a deterring factor, though not completely dissuading, as the August incident involving mission staff caught up in a crossfire suggests.12Gabriel Gavin, 'EU observers came under fire on Azerbaijan border, officials report,' Politico, 16 August 2023 Now with the forced takeover of Artsakh, Armenia could be even less inclined to grant Azerbaijan the land route to Nakhchivan, leading to further tension. 
Meanwhile, viewing itself as a power broker in the region but weakened and distracted by its invasion of Ukraine, Russia has been unable or unwilling to rein in Azerbaijan. The Russian establishment has also chafed at Armenian President Nikol Pashinyan's de facto recognition of Azerbaijani sovereignty over Artsakh and his search for alternative security arrangements seeking to protect Armenia itself from Azerbaijani territorial claims, after reliance on Russia and its peacekeepers proved futile.13Gabriel Gavin, 'We can't rely on Russia to protect us anymore, Armenian PM says,' Politico, 13 September 2023 The strife in and around the South Caucasus could be set to continue beyond this latest flashpoint.