Recently the South African Police Service (SAPS) called on Parliament to support a 3.3 billion Rand investment in its public order units. The reason given for the necessity of this investment was a noticeable increase in the number of violent service delivery protests (Hartley, 8 September 2014). These protests are typically tied to municipal corruption, electricity billing and water shortages.
The ACLED dataset distinguishes between demonstrations carried out by peaceful demonstrators and rioters who voice their grievances through the violent targeting of property and individuals. Figure 1 hows that in spite of the increasing number of service delivery riots, the number of incidents involving rioters is actually much lower than the peak of late 2012 and still lower than the number involving peaceful protesters for much of the past few months. This peak was due to violent strikes by farm workers throughout the Western Cape. While this data does not necessarily contradict the SAPS' observation of increasing service delivery riots, what it does show is that the dominant focus of violent protest action may be shifting.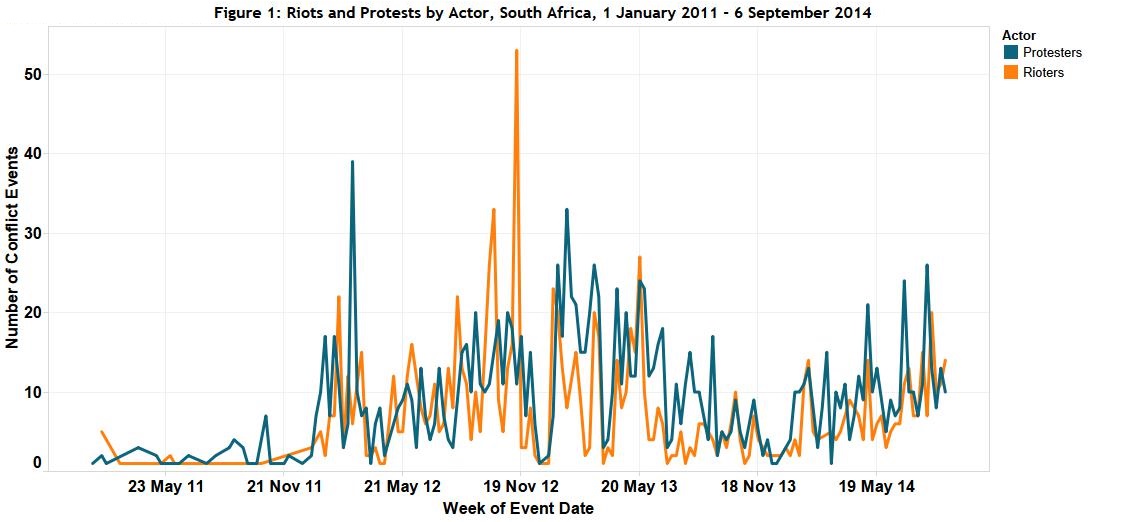 There have been accusations that the rise in violent service delivery protests has been due to national political machinations. Democratic Alliance MP Dianne Kohler Barnard has argued that the ANC has purposely limited public order policing resources in the Western Cape in order to make the province, which the ANC does not control, 'ungovernable' (Hartley, 8 September 2014). Figure 2 shows that the Western Cape has had the second highest number of protests while Kwazulu-Natal, which currently has double the public order policing resources, has just over half as many.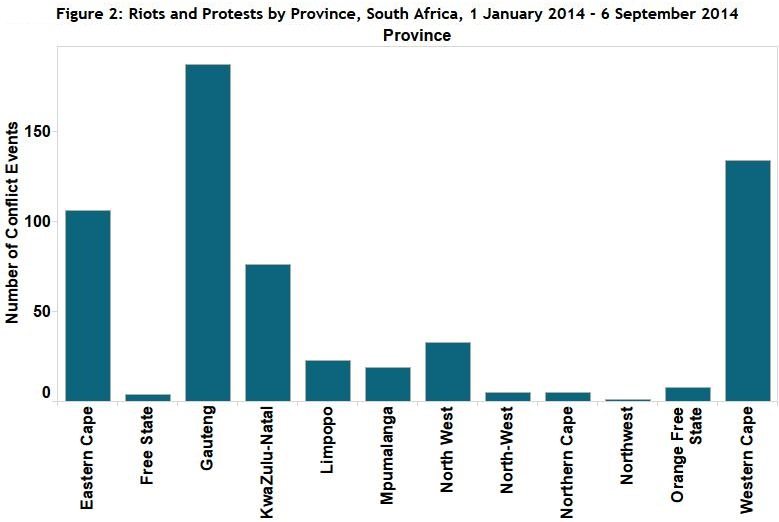 There has also been speculation that lower level municipal politics has played a role in fomenting these riots, as well as community grievance. Many protests have been led by suspended or ousted ANC councillors and opposition politicians (Paton, 17 February 2014). The organisational role of political losers raises the prospect of increased riots in the lead up to and aftermath of the 2016 municipal elections. However, it should be noted that Figure 1 does not show such a spike in the aftermath of the May 2011 elections.

References
---
Hartley, Wyndham. 2014. 'Funds needed to control protests.' Business Day Live, 8 September 2014, http://www.bdlive.co.za/national/2014/09/08/funds-needed-to-control-protests [Accessed 9 September 2014].
Paton, Carol. 2014. 'Service delivery protests: why now?' Business Day Live, 17 February 2014, http://www.bdlive.co.za/national/2014/02/17/service-delivery-protests-why-now [Accessed 9 September 2014].