The Arab Democracy Index IV, published in November 2014, documented that "there has been a positive but slow progress towards democratic change" in the region since the Arab Spring. The results identify that Algeria progressed by 105 ADI (Arab Democracy Index) points since 2011 and ranks third behind Morocco and Jordan. This score is measured by a number of indicators to assess both the prospects and the practice of democratic transition. These include strong public institutions, freedom of expression and respect of human rights, judicial independence and social justice (Arab Democracy Index, 2014).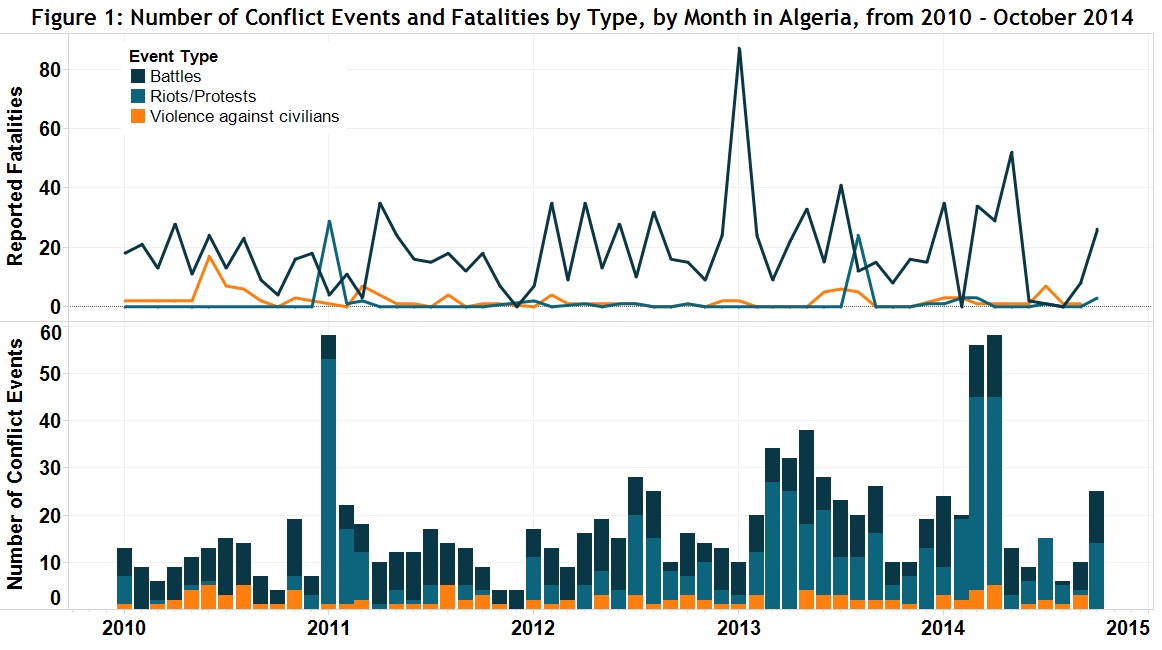 Figure 1 supports these findings. Despite an overall increase in the number of conflict events from 2010-2014 so far, the conflict landscape is dominated by civilian collective action activity. Expanding protest movements may be explained by the Algerian government permitting the establishment of new political parties in 2012 leading to greater political participation. Excluding these riots and protests, political conflict in Algeria has remained relatively stable over the past four years. After renewed protests catalysed by Bouteflika's election in April 2014, there has been a significant drop off in conflict events. Whilst progress may have been achieved, long-term economic restructuring rather than the short-term placation of demands, need to be developed further to tackle domestic unrest.
Popular media coverage of Algeria's security has raised questions on external security threats, neighbouring instability, the role of the military in securing borders and regional fighting (Magharebia, 12 November 2014). While Algeria's history with Islamist insurgency cannot be overlooked, the influential role of the military is equally prescient. Lessons from history show their influence on domestic politics when in 1991 they cancelled the parliamentary elections that the Islamic Salvation Front (FIS) were set to win (Muftah, 12 November 2014).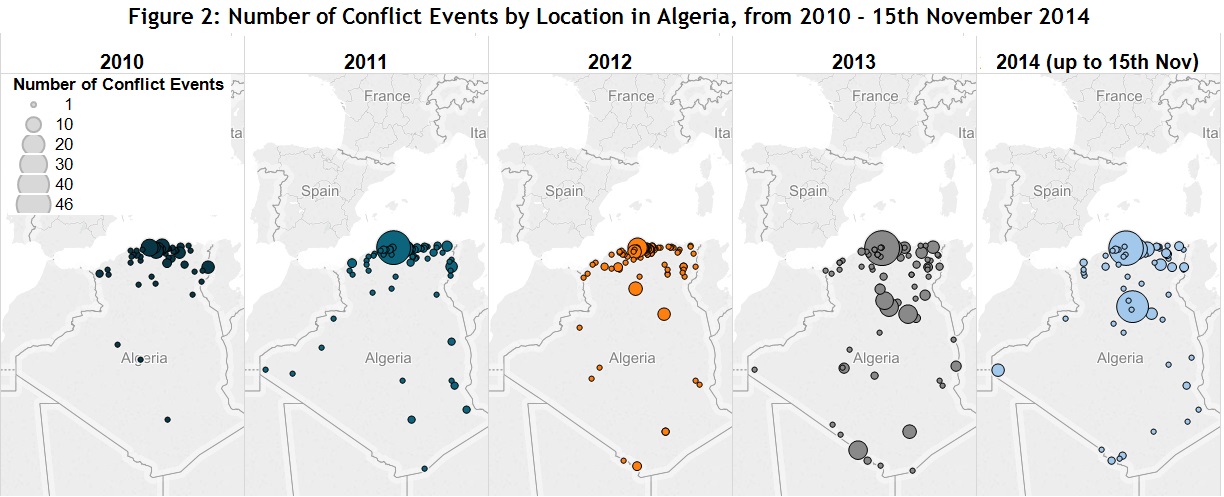 October's unprecedented police protests and factional unrest in Ghardaia province highlight the primacy of socio-economic demands and how it interacts with, and fuels, further political tensions. Ghardaia has been punctuated by ethnic clashes between Mozabite Berber and Arab community groups which have expanded since 2011 (see Figure 2). Although this narrative focuses on the ethnic cleavage between the co-existing tribes in the M'zab Valley, al-monitor explains that low-level incidents have frequently escalated into violent and deadly clashes underscored by inequitable distribution of development to provide jobs and housing (al-monitor, 23 February 2014). Shops, private property and businesses are popular targets in these attacks, provoked by increased competition for land and housing. Similarly, whilst these ethnic tensions prompted a police protest to show solidarity with officers injured in the Ghardaia clashes, protests quickly spread to other cities, and in the capital, dissatisfaction with working conditions became the salient issue.
Whilst this emphasises the catalysing impact of economic strife on conflict, it may also say something about the mechanisms through which contentious actors voice their demands across Algeria. Following the spread of protests in late 2010, the Algerian government controlled the eruption of protests through economic bargaining and the lowering of food prices. After the police protests in October, concessions on a number of financial demands were accepted, although calls for the establishment of a labour union and the removal of the Director General of National Security went unaddressed (CP24, 28 October, 2014), eliminating any direct challenge to Bouteflika's centralised position. Perhaps the unrest in Ghardaia is a way of channelling access to "the fruit of (oil) proceeds" (Al Watan, February 1, 2014 cited in al-monitor, 2014) and government hand-outs, mobilised along ethnic lines. If this is the case, competition between political groups in Algeria – from political parties, ethnic groups and the state forces seeking redress – could become more emboldened if economic issues continue to manifest.

References
---
AllAfrica. 2014. Algeria Faces Security Challenges'. Magharebia (Washington DC). 12 November 2014. Available online at:http://allafrica.com/stories/201411130805.html?utm_term=%23africa&utm_source=twitterfeed&utm_medium=twitter [last accessed 18 November 2014]
Muftah. 2014. Politics in Algeria Is About More than Just Who's President'. Muftah. 12 November 2014. Available online at: http://muftah.org/politics-algeria-just-whos-president/?utm_content=buffer2d490&utm_medium=social&utm_source=twitter.com&utm_campaign=buffer#.VGsLOvmsXZc [last accessed 18 November 2014]
al-monitor. 2014. http://www.al-monitor.com/pulse/security/2014/02/algeria-sectarian-conflict-ghardaia-reflects-mismanagement.html#
CP24. 2014 'Protests by Algerian police signal divisions at the top levels of authority' CP24 28 October 2014. Available online at: http://www.cp24.com/news/protests-by-algerian-police-signal-divisions-at-the-top-levels-of-authority-1.2074605 [last accessed 18 November 2014]
Arab Reform Initiative. 2014. 'Arab Democracy Index IV – Summary'. The Arab Reform Initiative and the Palestinian Center for Policy and Survey Research. November 2014.  Available online at: http://www.arab-reform.net/sites/default/files/ADI-IV_Summary_EN.pdf [last accessed: 18 November 2014]