Riots and protests increased this month in South Africa with Gauteng, Western Cape and Eastern Cape having the highest incidence of demonstrations (see Figure 1). In spite of this general increase, service delivery protests remained low and accounted for only 10% of all demonstrations. This represents a decrease from June (15.6%) and May (15%). Instead most protest action seemed to focus around cultural and economic issues.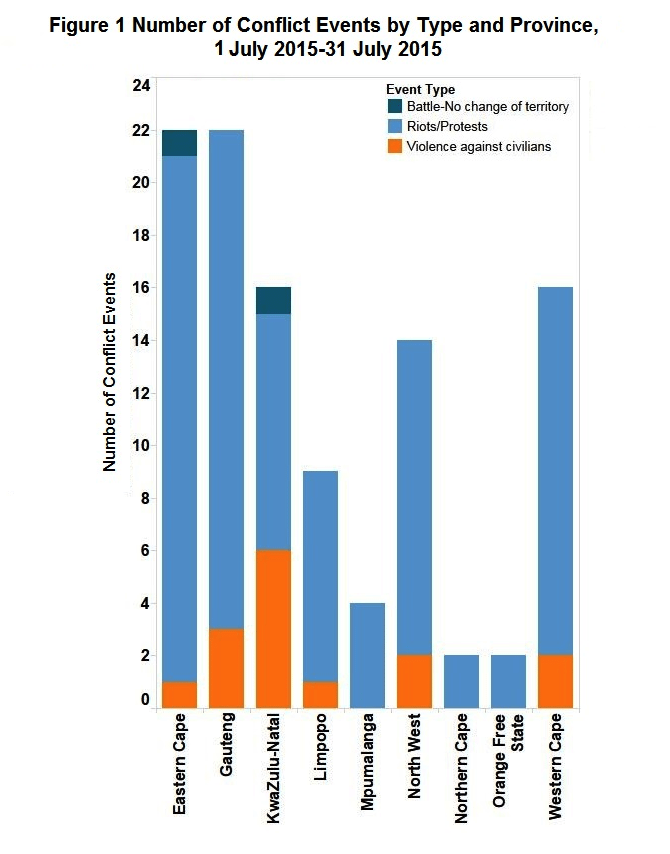 Universities remain a centre of protest primarily over cultural issues pertaining to accessibility to non-white students. Ever since the 'Rhodes Must Fall' protests earlier this year resulted in the removal of the statue of Cecil Rhodes from the University of Cape Town (ACLED, April 2015), universities have come under increasing pressure to abandon the symbols and trappings of their apartheid past. These demands for transformation have continued at other universities such as Stellenbosch, where students are demanding that lectures be taught in English rather than Afrikaans, which they claim is discriminatory against non-Afrikaans speakers (Mtembu, 1 August 2015).
In Gauteng, taxi drivers were responsible for a large proportion of the province's unrest. In Mamelodi, taxi drivers rioted over the introduction of a subsidised bus service which they claimed would put them out of business. In some cases, the demonstrators resorted to firing upon bus passengers (Times Live, 4 July 2015). Taxi drivers have previously used their integral position as transport for the urban poor, as well as violence, to protest against attempts by the state to regulate the industry or expand the infrastructure for alternative means of travel (Rees, 8 June 2009). Eastern Cape similarly suffered from numerous economically orientated demonstrations. These were generally protests by large unions against the state or municipal government over unpaid wages, insufficient equipment or the reversal of previous benefits.
KwaZulu-Natal had the highest incidence of violence against civilians in both aggregate and relative terms. Much of this violence has been centred in the ongoing conflict in Glebelands hostel in Durban's Umlazi Township. The hostel has been wracked by assassinations since mid-2014 with two occurring in July. The conflict is reportedly between two African National Congress (ANC) factions, one supporting ward councillor Robert Mzobe and the other comprising his opponents, including block committee chairpersons (Asmal and Maregele, 29 November 2014).
Political assassinations were witnessed elsewhere in the province with an Inkatha Freedom Party (IFP) ward chairman murdered in KwaMashu, a township where multiple IFP politicians have been killed due to rivalry with the ruling ANC and splinter-faction National Freedom Party (ENCA, 15 July 2015). In Empangeni, the bodyguard of the provincial premier, Senzo Mchunu, was killed in a hit speculated to be related to intra-ANC rivalry. There are fears that political killings in KwaZulu-Natal may increase in the run-up to the 2016 municipal elections as assassinations spike when parties begin to draft the local leadership rosters (News24, 20 July 2015).

This report was originally featured in the August ACLED Conflict Trends Report.