For the second consecutive month, the number of conflict events in Tunisia continued to decrease and overall conflict remained below average levels. In August, ACLED recorded 18 discrete conflict events, the lowest level since November 2014 when, however, the number of fatalities was higher (11, against the 6 recorded in the past month). This decline follows a spike in political violence in the first months of 2015, similar to that Tunisia which witnessed during the 2011 revolts.
This overall decrease in conflict activity reveals significant differences in the nature and the geography of political violence (see Figure 1). The number of riots and protests has dropped drastically since June, while other forms of violent conflict — such as battles between armed groups and violence against civilians — show a less dramatic variation in the same period. The decrease in the number of conflict events has been most acute in Tunis and in the provinces of Kebili and Gabes. In the capital city, the state of emergency declared on July 4th and the subsequent deployment of security forces around the main national institutions has limited the space for both peaceful and violent contestation (ACLED Trends Report, August 2015).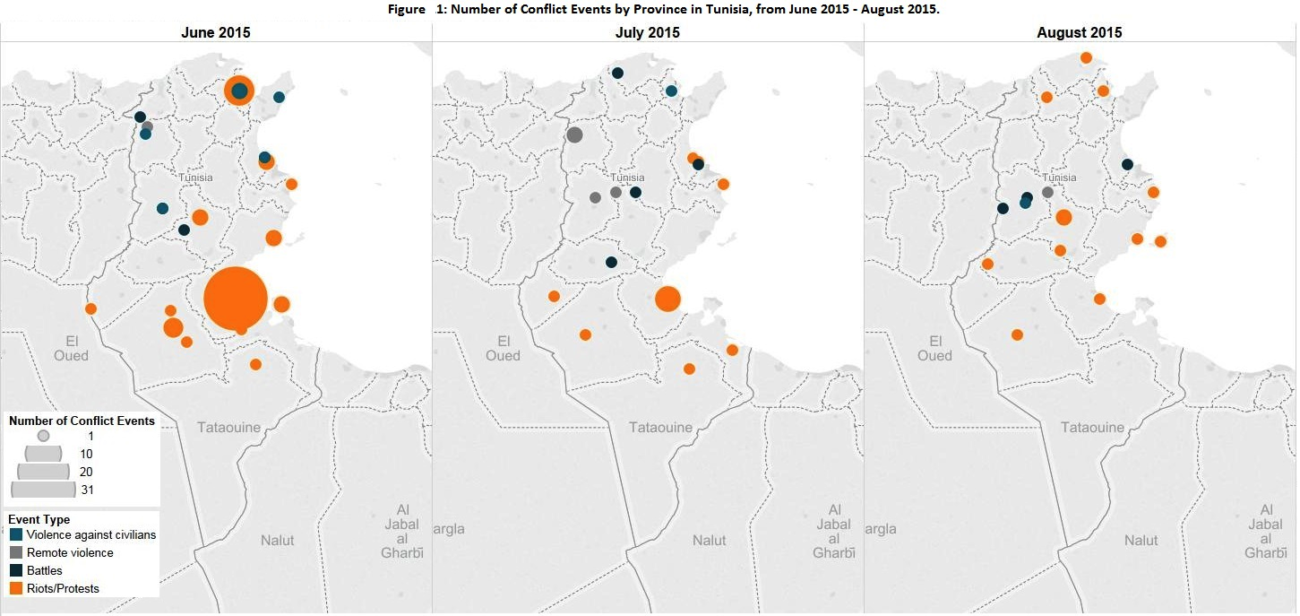 Outside Tunis, the temporary ending of prolonged industrial crises in the oil plants near Kebili and Gabes was instrumental in moderating protest activity at the regional level. By contrast, the central provinces of Sfax and Sidi Bouzid witnessed a slight increase in conflict levels due to the occurrence of service delivery protests and teachers' sit-ins, which often encountered harsh police repression (Shems FM, 21 August 2015). In an attempt to disperse the demonstrations, police forces fired teargas on protesters in Sidi Bouzid, Gabes and Sfax, drawing widespread criticism for a disproportionate use of force. These episodes reflect the chronic inability of Tunisian police to deal with protesters, which has eroded trust in the police and alienated younger generations (Strickland, 24 October 2014). In order to remedy these shortcomings, the Interior Minister Najem Gharsalli pledged to introduce new deterrence strategies aimed at safeguarding human rights and the citizens' physical integrity (Tunis Afrique Presse, 28 August 2015).
Underlying all this is an increasingly daunting economic situation. According to a report released by the Tunisian Central Bank, Tunisia's gross domestic product decreased by 0.7% compared with the previous quarter (Té-Léssia, 27 August 2015). The report also confirmed that the attacks on foreign nationals in March and June have negatively affected the tourist economy, with tourist numbers registering a dramatic fall in July. The unemployment rate also rose at its highest since March 2014, showing no sign of decrease especially in the peripheral regions of Southern and Western Tunisia (National Institute of Statistics, 19 August 2015). It is thus unclear whether the lull in political violence between July and August will hold, particularly if the current socioeconomic condition is doomed to persist.

This report was originally featured in the September ACLED Conflict Trends Report.