A new update of the recent unrest in Burundi, covering events from 26 April 2015 to 20 February 2016 has been released by ACLED. This update can be found here. ACLED has covered the Burundi crisis with regular data updates and blog posts since June 2015, relying on a combination of news sources and local crowd-sourced information from the 2015Burundi Project. Starting 1 January 2016, ACLED's data and analysis for the local-level Burundi Crisis dataset is incorporating local crowd-sourced data from a local Burundi monitoring network. ACLED reports will continue to draw upon real-time data from key news sources as well as 2015Burundi coverage. As before, data from ACLED's weekly real-time conflict data release covering Burundi continue to be pulled in here as well.
Burundi Crisis Trends in February 2016
The first week of February saw 33 reported fatalities in Burundi, the highest count so far in 2016. At least two civilians were killed in a series of grenade attacks in the centre of the capital Bujumbura on February 3. Another four were killed by grenade attacks in Kinama on February 6. In the northern province of Ngozi, National Intelligence Service (SNR) agents arrested and beat a student to death. In Gikoto, four ruling party National Council for the Defence of Democracy-Forces for the Defence of Democracy (CNDD-FDD) members were killed.
The week of February 1 also saw the most battles reported so far in 2016, with eight such events. In Ruyaga, an unknown group killed two fighters of the National Forces for the Liberation of the Hutu People (FNL). In various neighbourhoods of Musaga, unidentified gunmen killed four policemen, two Imbonerakure militiamen, and one soldier. Republican Forces of Burundi (FOREBU), the main rebel group formed in December 2015, killed at least four Imbonerakure militiamen in an attack on a police station in Cibitoke in Bujumbura.
The weeks of February 8 and February 15 saw far fewer battles and reported fatalities, but a substantial increase in protests. February 13 witnessed nationwide demonstrations against Rwanda's alleged support of rebels wanting to oust Burundian President Pierre Nkurunziza (US News, 13 February 2015). In the provinces of Bujumbura Mairie, Bubanza, Gitega, Ruyigi, and Kirundo, thousands of ruling party supporters sang songs against Rwandan President Paul Kagame and chanted slogans of thanks to African heads of state that opposed deployment of the African Prevention and Protection Mission in Burundi (MAPROBU). Anti-Rwandan demonstrations were also held in Ngozi, Nkurunziza's home region.
The number of reported incidents of violence lessened slightly in the weeks of February 8 and 15. Common incidences continue to include motorcyclists launching grenades into bars, and Imbonerakure beating people who try to cross the northern border into Rwanda. The week of February 15 saw nine incidences of violence against civilians, yet only one fatality was reported. A woman suspected of being an informant for the SNR was killed in Masango Hill in Ruyaga. Since February 8, only one instance of remote violence has been reported, as motorcyclists threw a grenade at a military location in Ngagara on February 13, injuring a solider and killing one civilian bystander.
February also saw the first reported involvement of the Batwa (or Twa) ethnic group in Burundi's crisis. On February 13, Batwa activists attacked CNDD-FDD protesters returning from anti-Rwanda demonstrations in Mwurire in the central Gitega Province. In retaliation, Imbonerakure beat Batwa members. After several Batwa members were arrested, protesters took to the streets to demand their release.
In Bujumbura, President Nkurunziza has been making a number of promises, including inclusive dialogue with opposition groups during peace talks scheduled for late February in the capital. Talks will be mediated by, amongst others, South African President Jacob Zuma, who also acted as a mediator in peace talks that eventually spelled the end of Burundi's civil war in 2005 (Mail and Guardian, 24 February 2016). President Nkurunziza also stated that he would rescind international arrest warrants for prominent individuals who have fled the country. However, the government may never have issued such warrants in the first place, instead requesting extradition from foreign countries (Reporters Without Border, 23 February 2016). Returnees may hence not be guaranteed safety.
Another promise by President Nkurunziza is to release 2,000 prisoners detained throughout the country since April 2015 (BBC, 23 February 2016). Many of the detained are local and foreign journalists, who have been targeted amid the crackdown on media outlets within Burundi. A few days prior to a visit from United Nations Secretary General Ban Ki-moon, the Burundian Government announced its decision to allow two radio stations – Rema FM and Radio Isanganiro – to resume broadcasts. The stations were among several banned since a failed coup in May 2015. In last year's index, Reporters Without Borders ranked Burundi 145th in the world in terms of press freedom (Reporters Without Border, 23 February 2016).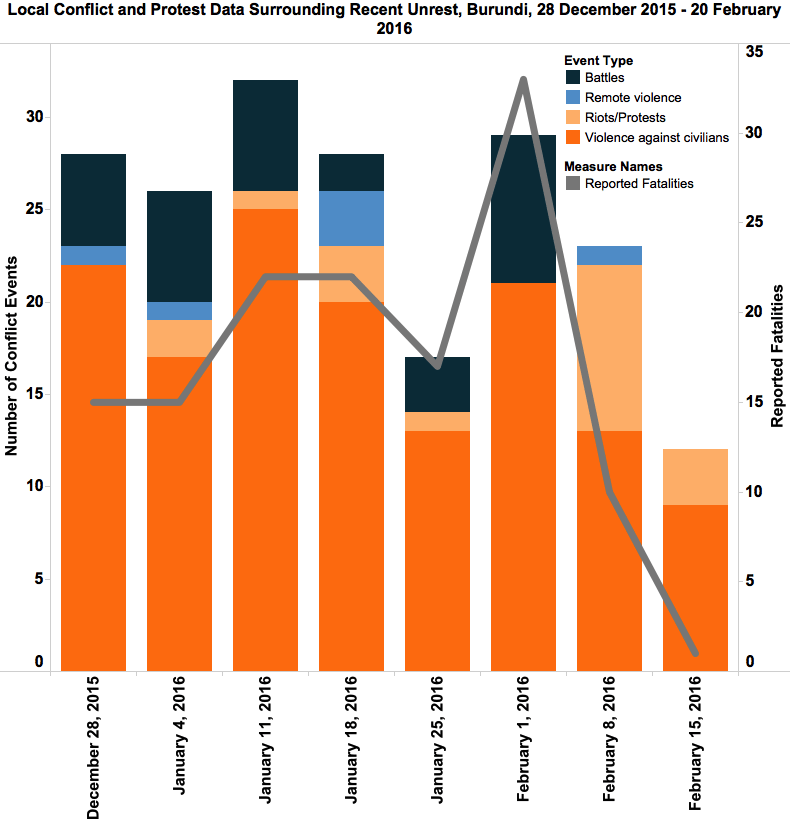 The local-level Burundi Crisis dataset covers data from 26 April 2015 through 20 February 2016. However, as we have altered our primary source of local-level data in 2016 – from 2015Burundi to a local Burundi monitoring source – we refrain from depicting data from both sources temporally on the same graph here. This is done to avoid increases in the level of reporting between the 2 sources inadvertently depcting changes in the level of conflict and protest occurring on the ground. We are in the time intensive process of backcoding 2015 events captured by the new data source.
For more on Burundi local data coverage and analysis, see ACLED's prior posts on this topic.