Levels of riots, protests and political violence in February remained relatively stable compared to the previous 6 months in Libya, with 71 riots, protests and politically-violent events recorded from 1 – 27 February (the 6-month average is just over 73 events per month). However, changes in the nature of armed clashes saw a significant increase in territorial battles, concentrated in Benghazi, Ajdabiya and Sabratha. Intensified clashes over territory led to a simultaneous escalation in the number of conflict-related fatalities, reaching their highest levels since August 2015. In the week of 28 February, 46% of the 117 reported fatalities across Libya were attributed to battles in which territory was won or lost by government forces (see Figure 1).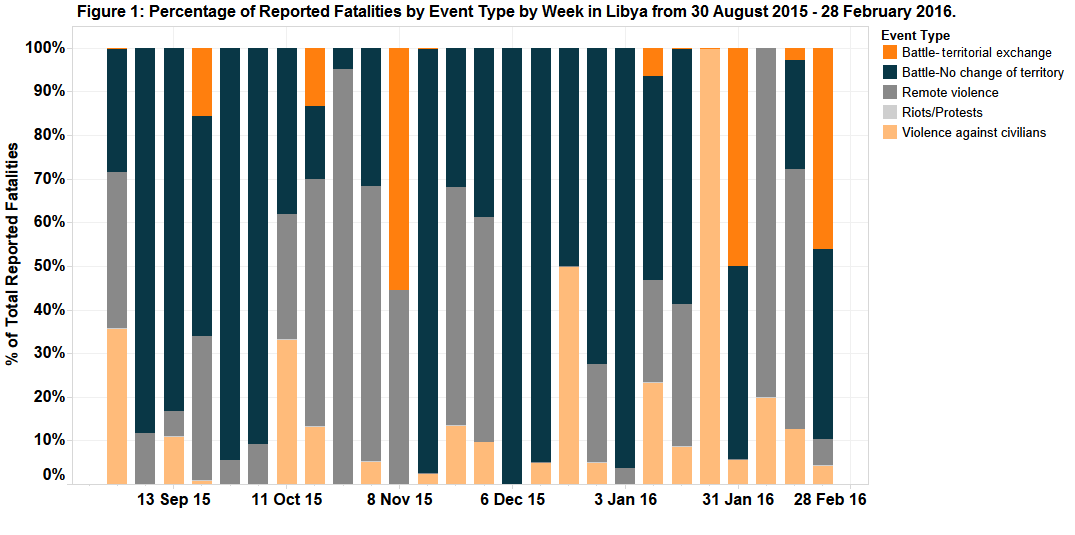 Advances into Benghazi by the Libya National Army (LNA) and the Sai'qah Special Forces supported by the Al-Tawheed Salafist battalion led to the liberation of a number of districts in which Ansar al-Sharia and Islamic State (IS) militants have been holed up in over the past two years. Forces under the command of General Khalifah Haftar drove militants out of the districts of Sabri, Leithi, Sidi Faraj, Buatni, Hawari and the Mreisa port, south of Benghazi, with reports of residents returning to their homes in Hawari district (see Figure 2).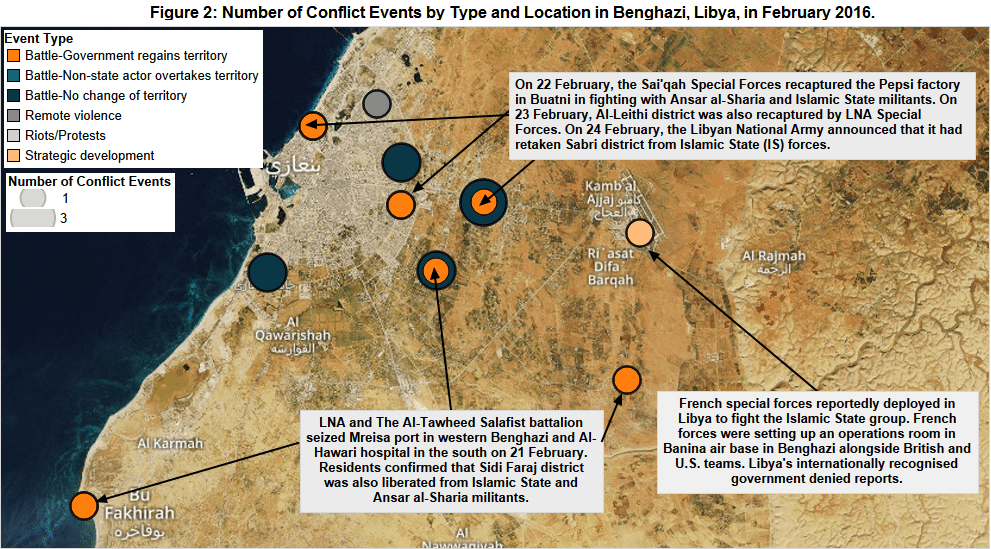 Against the backdrop of fighting and gains made by Haftar's forces, reports were leaked detailing that French Special Forces were deployed and stationed at Benina airbase to support the coalition forces in Benghazi (Le Monde, 24 February 2016). Whilst the inroads made by the Tobruk-aligned military forces and reports of French boots-on-the-ground have a coincidental timing, some commentators have criticised the international media's short-sightedness in focusing on international actors which could distract analysts from near future conflict dynamics by domestic anti-ISIS groups (Middle East Eye, 26 February 2016).
These same commentators have pointed to the organic process through which Libyan stakeholders have banded together to confront IS militants. In Benghazi, General Haftar's forces have made the most significant gains in liberating districts in which IS forces operate since Operation Dignity was first initiated. Furthermore, from 23 – 27 February, a myriad of militias that have at different times supported both the House of Representatives (HoR) and the General National Congress (GNC), provided reinforcements to the city of Sabratha to tackle an IS offensive in the city. Libya Herald reported that it was the "first time that pro-GNC and pro-HoR fighters have joined forces" (Libya Herald, 27 February 2016); an outcome pushed for by UN mediators albeit through political rather than military measures first. And in Derna, Shura Council of Derna Mujahideen fighters repelled another assault by IS with aerial backing from the LNA. Conflict dynamics in early 2016 appear to be underscored by tacit support between multiple agents to confront the common IS enemy and this unpredictability is likely to be the mainstay of military dynamics in coming weeks in Libya.
On 23 February, local brigades fighting under the Sabratha Military Council conducted raids on IS hideouts near Sabratha. IS militants then pushed into the city, briefly occupying the central areas of the city and beheading 12 militiamen (Le Monde, 24 February 2016). The escalation of violence resulted in 47 deaths and culminated in forces from Western Libya near Tripoli, including Ajlat, Zintan, Zuwara, Zawiya and Rujiban sending reinforcements to tackle the IS putsch. These groups have been locked in inter-communal tensions since the Dignity-Dawn conflict erupted (ACLED, August 2015); despite numerous failed reconciliations between these western groups over the past year, the threat of IS activity close to Tripoli appears to be a binding force, in the short-term at least.
This could signal a race against time in which the attractiveness of military alliances between domestic actors competes with the ability of the political establishment to agree on a Government of National Accord (GNA), paving the way for an international coalition to fight IS militants. Despite inflaming tensions between Haftar and Khalifa Ghwell, the prime minister of the Tripoli-based government, the operation in Benghazi is likely to have shored up support for the pro-HoR and Haftar bloc in the Libya Political Agreement (LPA) negotiations, creating further impasse in a process which last week saw the HoR fail to hold a vote of confidence due to a lack of quorum (Al Jazeera, 23 February 2016). Alternatively, continued failings in the development in the UN process may force the international community's hand in coordinating with non-state groups (Libya-Analysis, 29 February 2016). If this is the case, questions will be raised about how effective fighting is in generating long-lasting unity without a guiding political framework. If history provides any lessons, then fractious relations between Zintan and Misrata in post-Gaddafi Libya exposes the fragility of building stability on the premise of the "enemy of my enemy is my friend", serving as an ominous sign for future stability.
 This report was originally featured in the March ACLED-Africa Conflict Trends Report.