The results of the presidential elections in Uganda came with no surprise, as incumbent Yoweri Museveni secured his fifth victory with more than 60% of the votes. The candidate of the Forum for Democratic Change (FDC), Kizza Besigye, came second with 35%, while former prime minister Amama Mbabazi garnered less than 2%. Although there were few doubts over Museveni's re-election, fears that the opposition could attract more votes and even force the president to a humiliating run-off proved unsubstantiated (Africa Confidential, 5 February 2016).
Presidential election results nonetheless sparked controversy among international observers and opposition supporters. Without questioning the legitimacy of Museveni's victory, election observers condemned the lack of transparency of the Electoral Commission and criticised the campaign of intimidation against opposition leaders (Africa Confidential 19 February 2016). Denouncing electoral frauds and vote rigging, FDC candidate Besigye announced he would challenge the results in court and in street protests. Unsurprisingly, Museveni rejected all allegations in a televised speech on February 21, while at the same time threatening to use force against "troublemakers" (Jeune Afrique, 21 February 2016).
Uganda saw a slight increase in election-based violence between January and February, especially in Kampala and other districts in the south-east and south-west of the country (see Figure 1). On February 24, twenty people were injured as unidentified gunmen assaulted ruling National Resistance Movement (NRM) sympathisers in Mbale, near the border with Kenya. The most violent event occurred a few days later in the western town of Bundibugyo, where at least six people died in clashes between NRM and opposition supporters.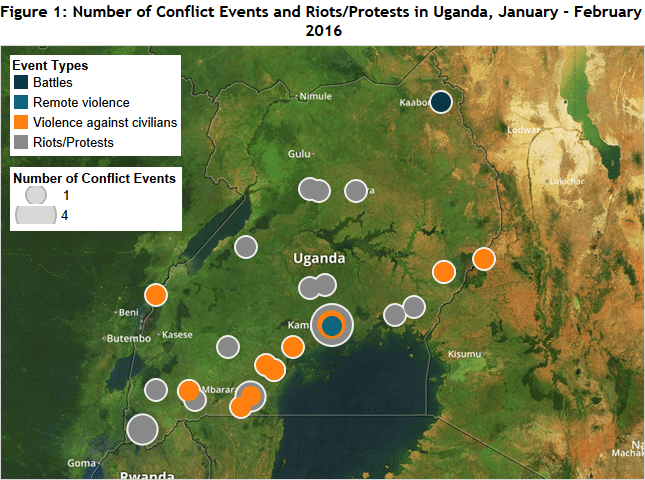 The majority of riots and protests connected to the electoral contest occurred in the capital city, where opposition engaged in violent clashes with police forces. Police has increasingly resorted to teargas to disperse opposition rallies and demonstrators during the electoral period, renewing widespread allegations of police brutality and violent repression (ACLED Crisis Blog, 5 November 2015; African Arguments, 22 February 2016). On 15 February, police violently dispersed Besigye's supporters in Kampala, killing one. On 18 February, security forces fired teargas at disgruntled voters. In a separate episode, police clashed with FDC supporters protesting for the arrest of their leader south of the capital, injuring several people.
Despite his landslide victory, the 71-year-old Ugandan president will face new challenges to his rule. As the current constitution fixes the presidential age limit at 75, Museveni will need to introduce a constitutional amendment if he wants to run again in 2021. However, the experiences of Burundi and the Republic of Congo in 2015 loom large and show the potential risks of extending term limits (ACLED Crisis Blog, 11 December 2015). Opposition may also mount among NRM party cadres should Museveni designate his wife Janet or his son Muhoozi Kainerugaba as successor. As the president enters his thirtieth year in power, Museveni's new term in office will tell how he will organise his succession and whether he will fend off these challenges.
This report was originally featured in the March ACLED-Africa Conflict Trends Report.