A new update of the recent unrest in Burundi, covering events from 26 April 2015 to 27 February 2016 has been released by ACLED. This update can be found here. ACLED has covered the Burundi crisis with regular data updates and blog posts since June 2015, relying on a combination of news sources and local crowd-sourced information from the 2015Burundi Project. Starting 1 January 2016, ACLED's data and analysis for the local-level Burundi Crisis dataset is incorporating local crowd-sourced data from a local Burundi monitoring network. ACLED reports will continue to draw upon real-time data from key news sources as well as 2015Burundi coverage. As before, data from ACLED's weekly real-time conflict data release covering Burundi continue to be pulled in here as well.
Summary of Trends for Week of February 22:
The last week of February saw an increase in reported battles and fatalities, with all four reported battles occurring on February 22. Unknown armed groups reportedly shot a policeman dead in Kanyosha, and injured soldiers with separate grenade attacks in Kinanira and Cibitoke neighbourhoods. In Kirundo, Imbonerakure reportedly beat one of their own militiamen for permitting a person to cross into Rwanda. Grenade attacks throughout the capital province of Bujumbura Mairie also reportedly resulted in numerous civilian fatalities: in Kamenge (one civilian killed), Ngagara (one killed), Mutakura (two killed), and Buyenzi (two killed). Grenades were also launched in Buterere, Jabe, and Bwiza, but caused no reported casualties.
On February 25, three bodies were found in a ditch in Rushubi. All victims had reportedly been executed with their hands tied behind their backs; one was identified as a United Nations Development Programme staff member missing since February 20. Bodies were also found in the provinces of Ruyigi and Bubanza.
Last week in Bujumbura, a delegation of African leaders from Senegal, Ethiopia and Mauritania, headed by South African President Jacob Zuma, met with Burundian President Pierre Nkurunziza and United Nations Secretary-General Ban Ki-moon. The Burundian Government agreed to allow 100 human rights observers and 100 military observers to enter the country. The decision has been criticised as "an intervention with very little teeth," particularly as the original plan to deploy 5,000 African Union peacekeepers was sidelined during the discussions (VICE News, 1 March 2016). Meanwhile a recent Human Rights Watch report details increased attacks from both sides, with government forces meting out harsh punishments on suspected rebels, and opposition forces attacking ruling party sympathizers (HRW, 25 February 2016). Throughout 2015, bodies were often found lying along the streets of Bujumbura. Based on interviews in the capital between November 2015 and February 2016, HRW researchers concluded that security forces are now committing abuse "under the radar" by hiding the dead (HRW, 25 February 2016).
On February 29, members of the press were allowed to see a newly-uncovered mass grave in the predominately anti-government neighbourhood of Mutakura (Deutsche Welle, 29 February 2016). Three bodies have been exhumed. Police claim that opposition forces are responsible because they have supposedly been killing and burying civilians who support Nkurunziza's third term in office.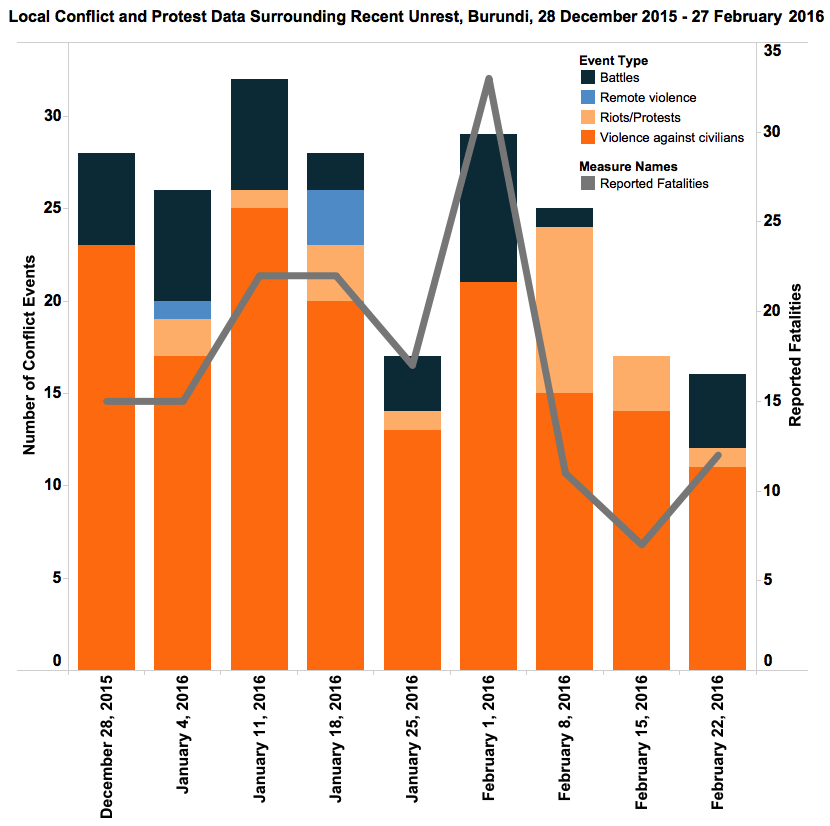 The local-level Burundi Crisis dataset covers data from 26 April 2015 through 27 February 2016. However, as we have altered our primary source of local-level data in 2016 – from 2015Burundi to a local Burundi monitoring source – we refrain from depicting data from both sources temporally on the same graph here. This is done to avoid increases in the level of reporting between the 2 sources inadvertently depcting changes in the level of conflict and protest occurring on the ground. We are in the time intensive process of backcoding 2015 events captured by the new data source.
For more on Burundi local data coverage and analysis, see ACLED's prior posts on this topic.