A new update of the recent unrest in Burundi, covering events from 26 April 2015 to 3 April 2016 has been released by ACLED. This update can be found here. ACLED has covered the Burundi crisis with regular data updates and blog posts since June 2015, relying on a combination of news sources and local crowd-sourced information from the 2015Burundi Project. Starting 1 January 2016, ACLED's data and analysis for the local-level Burundi Crisis dataset is incorporating local crowd-sourced data from a local Burundi monitoring network. ACLED reports will continue to draw upon real-time data from key news sources as well as 2015Burundi coverage. As before, data from ACLED's weekly real-time conflict data release covering Burundi continue to be pulled in here as well.
Summary of trends for the weeks of March 21 and 28:
Throughout the month of March, the number of reported conflict events, protests, and fatalities in Burundi remained fairly consistent, with an average of 16 reported conflict events or protests and an average of seven reported conflict-related fatalities per week. By a slight margin, the week of March 28 saw the lowest number of reported incidences of violence against civilians and fatalities thus far in 2016.
Imbonerakure youth militia and police continue to arrest and beat civilians who return from Rwanda or Tanzania, or those attempting to cross borders to flee Burundi's political crisis. On April 1, a body was found in Bweru in Ruyigi; the victim reportedly had connections with a neighbour who recently fled to Tanzania. In Ngozi, an intelligence chief arrested and publicly beat a man; the man's body was later discovered in Gitaramuka. Although violence involving attempted exile or national identity most often occur in the border provinces of Kirundo, Ngozi, and Ruyigi, some instances have also taken place close to the capital Bujumbura. On March 28 in Ruhororo in Bujumbura Rural, Imbonerakure beat a man because he was found with both Burundian and Rwandan identity cards.
In the week of March 21, a majority of the reported incidences of violence against civilians occurred in the capital province of Bujumbura Mairie. On March 24, at least four were reportedly injured by grenades that exploded outside an army hospital. Another grenade exploded near several transport vehicles in Bujumbura, reportedly injuring three civilians. On March 25, there are reports of soldiers kidnapping residents of Mutakura and of security agents arresting and torturing civilians in the same area.
Reported battles have not been uncommon in Burundi in the month of March. On March 22, the commander of the Muzinda engineering battalion, Darius Ikurakure, was assassinated inside army headquarters in Bujumbura (Radio France Internationale, 23 March 2016); witnesses claim the attacker was another soldier. This occurred on the same day as reports of army major Didier Muhimpundu being shot to death at a bar in Rohero. On March 29, an unknown group threw grenades at a police van in Gasenyi, injuring six officers and one civilian. And on March 30 in Kirundo, gunmen ambushed an army officer, killing one guard. Several police officers were also injured by a grenade thrown after the initial ambush.
On April 1, the United Nations Security Council passed Resolution 2279, which calls for the deployment of a UN police contingent to monitor the security situation in Burundi (Voice of America, 4 April 2016). Burundian Foreign Minister Alain Nyamitwe welcomed the resolution, stating that although the Burundi Government remains opposed to foreign troops, it supports "an international presence."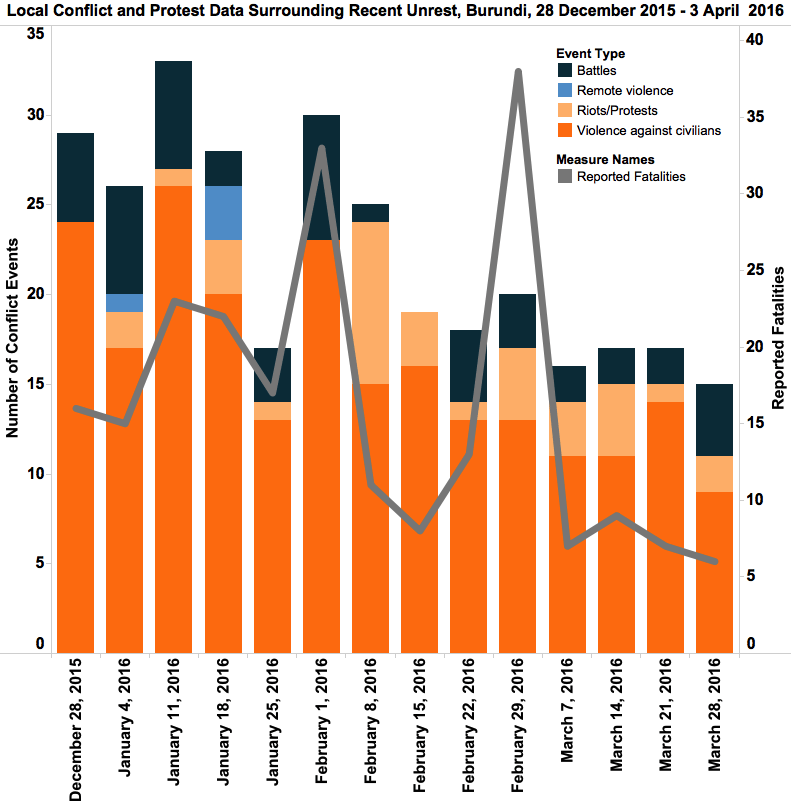 The local-level Burundi Crisis dataset covers data from 26 April 2015 through 3 April 2016. However, as we have altered our primary source of local-level data in 2016 – from 2015Burundi to a local Burundi monitoring source – we refrain from depicting data from both sources temporally on the same graph here. This is done to avoid increases in the level of reporting between the 2 sources inadvertently depicting changes in the level of conflict and protest occurring on the ground. We are in the time intensive process of backcoding 2015 events captured by the new data source.
For more on Burundi local data coverage and analysis, see ACLED's prior posts on this topic.