A new update of the recent unrest in Burundi, covering events from 26 April 2015 to 24 April 2016 has been released by ACLED. This update can be found here. ACLED has covered the Burundi crisis with regular data updates and blog posts since June 2015, relying on a combination of news sources and local crowd-sourced information from the 2015Burundi Project. Starting 1 January 2016, ACLED's data and analysis for the local-level Burundi Crisis dataset is incorporating local crowd-sourced data from a local Burundi monitoring network. ACLED reports will continue to draw upon real-time data from key news sources as well as 2015Burundi coverage. As before, data from ACLED's weekly real-time conflict data release covering Burundi continue to be pulled in here as well.
Summary of events for the weeks of April 11 and 18:
In the week of April 11, Burundi saw a stark increase in incidences of reported violence against civilians and fatalities. Of the 29 reported fatalities, 13 occurred on April 11 in various provinces throughout the country. Two people were stabbed to death in Cibitoke Province; their bodies found tied together in Rusizi River on April 14. Three bodies were discovered bound together in a grave in Kadidiri in Ngozi Province. A leader of the Movement for Solidarity and Development (MSD) in Rugamba was strangled to death in Kayanza Province. Bodies were also found in Gitega, Cibitoke, Cankuzo, and Bujumbura Mairie Provinces throughout the week.
On April 13 in Bujumbura Rural, the president of the Mutimbuzi Municipal Council, Phocas Bakaza, was shot dead outside of his home. In Rutana, the body of a National Forces of Liberation (FNL) militant was discovered in Giharo. And in Buriri on April 16, four members of the ruling party CNDD-FDD were killed in Mugamba.
Although reported violence against civilians and fatalities lessened in the week of April 18, several civilians were reportedly killed by grenade attacks and in the crossfires between armed groups and security forces. On April 24, a Front for Democracy in Burundi (FRODEBU) member was killed in Kirundo, an MSD activist's body was found in Gitega, and a grenade targeting the Messianic Church in Bujumbura Mairie killed one civilian.
Throughout the weeks of April 11 and 18, Imbonerakure youth militia and National Intelligence Service agents continued to search for people whose faces appear in photographs taken during  anti-third term protests. Imbonerakure also reportedly beat civilians that refused to participate in ruling party CNDD-FDD community work or night patrols. On April 15, rioters threw stones at the home of the head Imbonerakure in Gitega, in protest of patrol duties.
On April 20, unknown attackers with rifles and grenades killed Colonel Emmanuel Buzubona and his driver in Kinama. Buzubona had previously been arrested for suspected support of rebels in the December 11 attacks on military bases in Bujumbura. His assassination is viewed as reflective of growing divisions among military forces, though not necessarily along ethnic lines (International Business Times, 21 April 2016).
Burundi's army is composed of Tutsi members of the former Forces Armées Burundaises (ex-FAB) and Hutu members of former rebel factions, collectively known as Partis et Mouvements Politiques Armés (ex-PMPA). Troops and opposition forces were integrated pursuant to the 2000 Arusha Peace and Reconciliation Agreement, as part of the compromise to end Burundi's Civil War. In the first few months of 2016, there have been reports of police searching the homes of former soldiers and ex-FAB. Although the identity of Buzubona's attackers is not confirmed, his assassination – as an ex-PMPA – reveals that former Hutu rebels may also be targeted by armed groups if they oppose Nkurunziza (International Business Times, 21 April 2016). The political crisis in Burundi does not pit one ethnic group against another, but is more accurately described as pitting regime supporters against regime critics.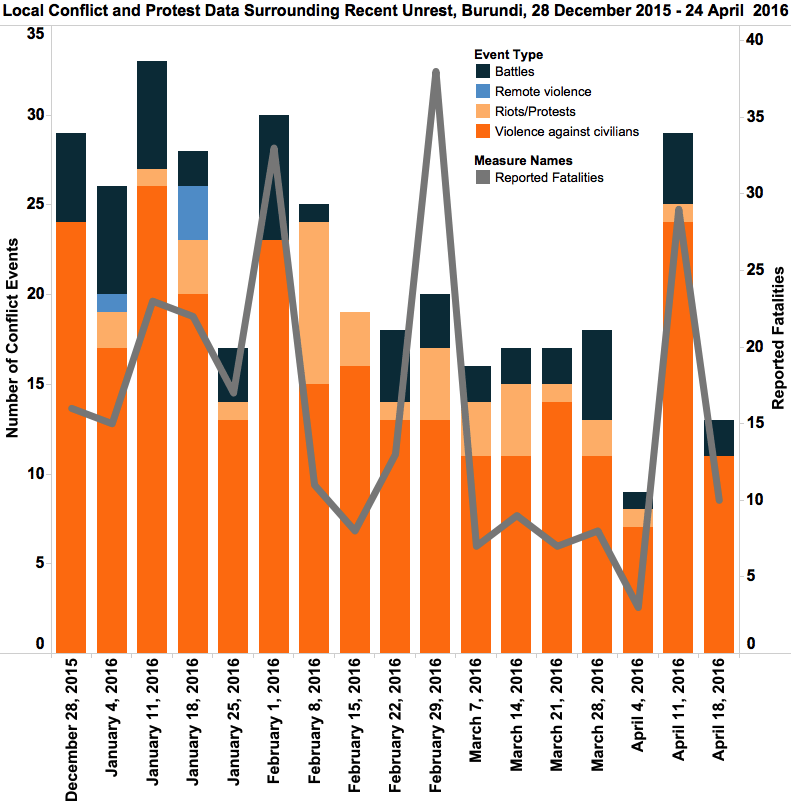 The local-level Burundi Crisis dataset covers data from 26 April 2015 through 24 April 2016. However, as we have altered our primary source of local-level data in 2016 – from 2015Burundi to a local Burundi monitoring source – we refrain from depicting data from both sources temporally on the same graph here. This is done to avoid increases in the level of reporting between the two sources inadvertently depicting changes in the level of conflict and protest occurring on the ground. We are in the time intensive process of back-coding 2015 events captured by the new data source.
For more on Burundi local data coverage and analysis, see ACLED's prior posts on this topic.