Since the beginning of 2016, Nigeria has been subject to two notable trends in political violence. First, the Nigerian military has had significant success in its battles with Boko Haram, particularly in terms of the amount of territory recovered. Second, armed Fulani herders have engaged in a number of high fatality attacks against civilians and clashes with communal groups in the provinces of Benue, Enugu and Taraba (see Figure 1). This could signal a shift in the primary driver of violence in Nigeria away from the conflict in the northeast and towards the ever-present tensions between Nigeria's herders and farmers (Quartz Africa, 30 April 2016).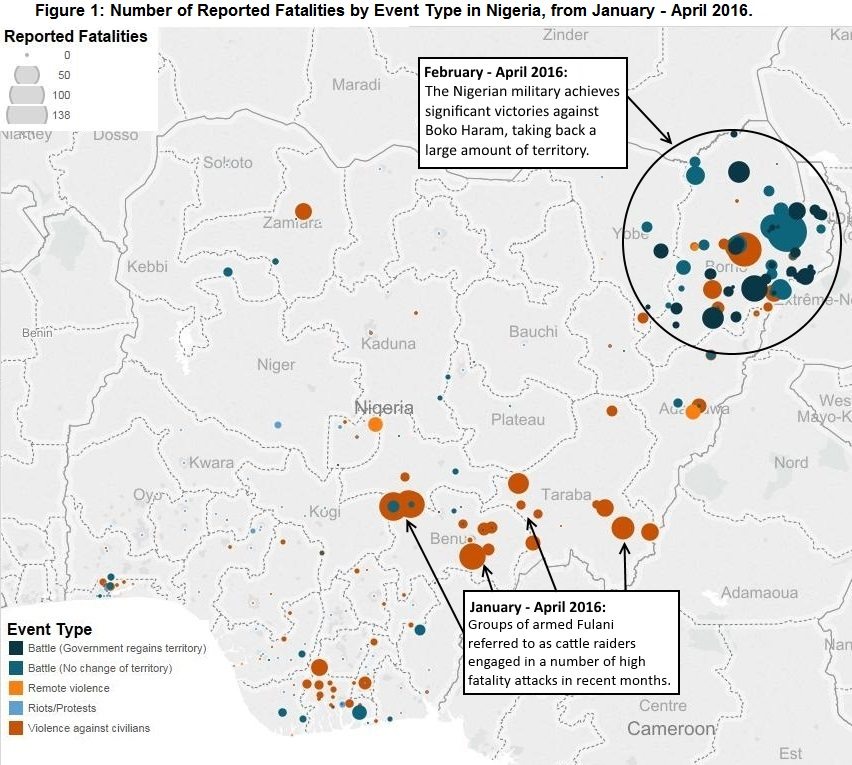 Since regional cooperation began in mid-2015, operations by government forces in their conflict against Boko Haram have grown in momentum. Momentum peaked in March 2016, when the Nigerian military succeeded in taking back a considerable amount of territory from the insurgent group, including the "spiritual power base" of Boko Haram located in the Alagarno forest (Sahara Reporters, 3 March 2016). This symbolic victory took place in the midst of a larger offensive in which ACLED recorded 27 unique reports of battles involving the government's recapture of territory from Boko Haram in March, and 43 since the beginning of 2016 (see Figure 1). Meanwhile, significant violence has been recorded in the southeastern states of Benue and Taraba between January and April (see Figure 1), with more recent fatalities reported in late April in Enugu (Vanguard, 26 April 2016). The perpetrators of the attacks are identified as nomadic Fulani herder militias engaging in cattle raiding against the settled farming populations of those states. There have also been reports of retaliatory violence and clashes between the Fulani militias and other communal groups (France24, 1 March 2016). The most fatal of these incidents was a series of attacks targeting Agatu communities in Benue, believed to have been carried out by Fulani militias, which killed at least 200 in late February 2016 (Vanguard, 14 February 2016). Last week, attacks attributed to Fulani militias were reported in Enugu, resulting in dozens killed after at least seven villages were attacked (IBT, 26 April 2016). These incidents represent a dramatic increase in violence in this region; violence of this type has historically been associated with the northern and central regions of Nigeria (Quartz Africa, 30 April 2016).
Just as the Nigerian government is getting one fire under control, another is starting. Although overall fatalities in 2016 from the violence in Borno, where Boko Haram is most active, are double those of Benue, Enugu and Taraba combined, this gap is closing. In April 2016, the total fatalities reported from political violence in Benue, Enugu and Taraba (177 fatalities) overtook the fatalities reported in Borno State (164 fatalities), giving credence to the prospect that this new trend could be "the biggest security threat facing Nigeria after [Boko Haram's] insurgency" (BBC News – Africa, 28 April 2016).
 This report was originally featured in the May ACLED-Africa Conflict Trends Report.