The Burundi Crisis Local-Level Dataset covers conflict and protest data from 26 April 2015 through 25 April 2016, and is available for download here.
A One-Year Special Report reviewing conflict patterns and dynamics, and the current state of the Burundi Crisis now that it officially enters its second year, is available here.
We altered our primary source of local-level data in 2016 – from 2015Burundi to a local Burundi monitoring source. As a result, we had refrained from depicting data or drawing conclusions from both sources temporally to avoid increases in the level of reporting between the two sources inadvertently depicting changes in the level of conflict and protest occurring on the ground. ACLED has now completed the time intensive process of back-coding 2015 events captured by the new data source; the full dataset is now available for download.
Number of Conflict and Political Violence Events by Type in Burundi, from 26 April 2015 – 25 April 2016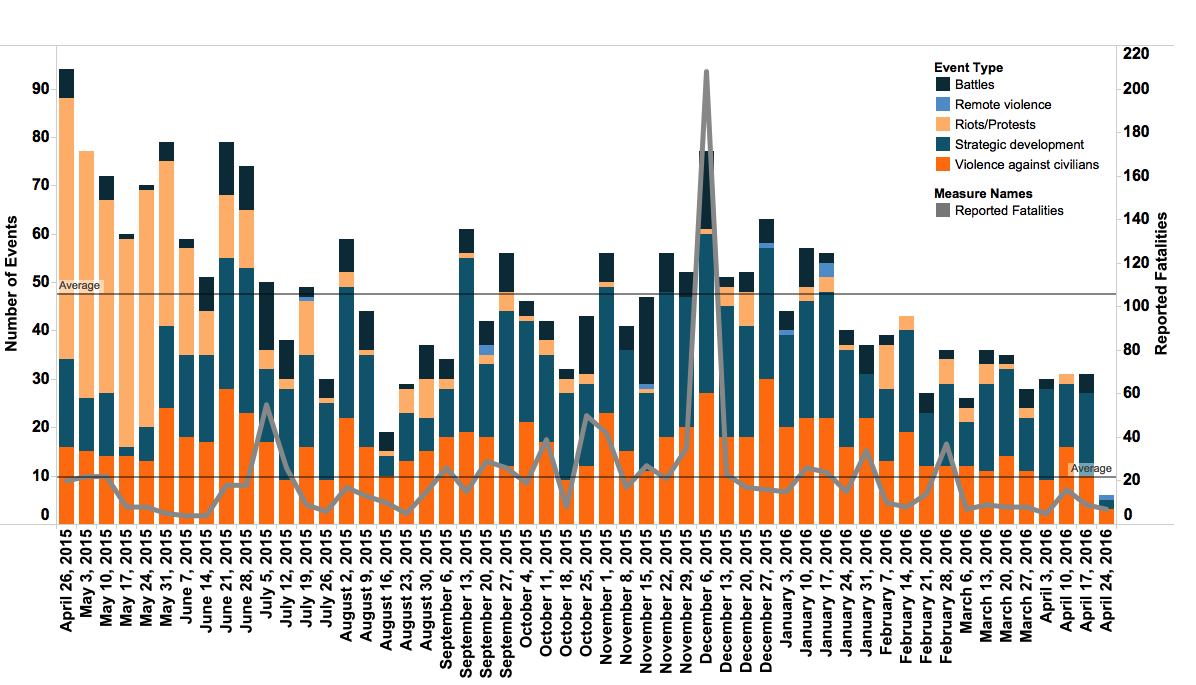 Below is a timeline of the Burundi Crisis (26 April 2015 – 25 April 2016) as well as a table displaying the primary state forces and opposition groups active in the Burundi Crisis thus far.
Burundi Crisis Timeline, 26 April 2015 – 25 April 2016
April 2015
25 – CNDD-FDD announces President Pierre Nkurunziza will run for a third term, despite constitutional term limits
26 – Hundreds riot and protest throughout Bujumbura; police respond with tear gas and live ammunition, killing six rioters and protesters; government officials also stormed offices of Radio Publique Africaine to disrupt live broadcasts of protests
 
May
13 – Former Army Chief of Staff Major General Godefroid Niyombare leads a coup attempt while Nkurunziza visits Tanzania; Nkurunziza regains full control two days later
15 – Following failed coup, government bans main radio stations Rema FM and Radio Isanganiro
23 – Unidentified gunmen kill UPD-Zigamibanga leader Zedi Feruzi in Ngagara

June
25 – Unidentified group with machetes assassinates Jean-Paul Ngendakumana, FRODEBU leader in Rugombo Commune and a candidate in local elections
29 – CNDD-FDD wins nearly 80% of seats in parliamentary elections; boycotted by some opposition groups; several high-ranking CNDD-FDD leaders abandon the party prior to elections
 
July
10 – Intense fighting in Kayanza Province between military and mutineer military forces loyal to General Niyombare; 12 killed
11 – Intense fighting in Cibitoke Province between military and mutineer military forces under command of exiled General Leonard Ngendakumana; 20 killed; alleged support from Rwanda to Niyombare and Ngendakumana
21 – Nkurunziza re-elected for a third term with a majority of the vote; several FNL members killed following the election

August
2 – Unidentified men in military uniforms launch rockets and gunfire from a military vehicle in Kamenge, killing Adolphe Nshimirimana, former Chief of National Intelligence Services
3 – Unknown group attacks and seriously injures Burundian civil society leader Pierre-Claver Mponimpa in Kinama; sparks riots in Musaga and Cibitoke
15 – Two unidentified attackers on a motorcycle assassinate former Army Chief of Staff Jean Bikomagu in Kabondo

September
23 – At least 15 bodies of opposition members and activists found throughout Bujumbura following clashes between police and unidentified groups in Mutakura, Cibitoke, Ngagara, and Kamenge
29 – Unidentified gunmen fire shots and grenades, killing Jean Baptiste Nsengiyumva, an MSD leader in Muramvya Province

October
13 – During clashes in Ngagara, 'insurgents' abduct three policemen; in retaliation, police execute seven civilians, including a journalist and a staff member of the International Organization for Migration
18 – MSD activist Charlotte Umugwaneza, whose family is originally from Rwanda, found in Gikoma River outside Bujumbura, showing signs of torture
23 – Police execute two unarmed rebels in Kibira forest, which straddles four northeastern provinces
28 – Police execute four rebels captured in Gishubi in Kayanza Province
 
November
7 – Nkurunziza's stated deadline for opposition forces to disarm and receive amnesty
18 – Unidentified armed group launches two mortar shells at the presidential palace, but shells miss and cause no damage

December
11 – Heavily armed groups carry out coordinated attacks on military barracks in Ngagara, Musaga, and Mujejuru; 87 killed in clashes
11 – Military and police forces retaliate with violent raids of suspected rebel households; dozens of bodies buried in mass graves in Buringa, Mpanda, and Kanyosha; existence and location of graves discovered by satellite imagery in January 2016
11 – API Unit of police forces executes 21 civilians, shooting them in the head, in Nyakabiga
17 – African Union Peace and Security Council approves a 5,000-strong African Prevention and Protection Mission in Burundi (MAPROBU), yet to be deployed
23 – Former Colonel Edward Nshimirimana announces the Republican Forces of Burundi (FOREBU), aiming to oust Nkurunziza and restore cohesion between national defence and security forces
28 – Peace talks begin in Entebbe, Uganda
 
January 2016
3 – FNL youth league president William Nimubona found dead in Kinama
13 – Grenade attacks target and kill five police officers in Mutakura; In Kiyenza, soldiers kill former Captain Idi Omar Bahenda and former Police Brigadier Jean Claude Niyongabo, who defected and were thought to be recruiting rebels
25 – Clashes between RED-Tabara and government forces in Bururi Province; seven killed
 
February
5 – FOREBU kill four Imbonerakure during an attack on a police station in Cibitoke neighbourhood of Bujumbura
13 – Thousands of ruling party supporters in seven provinces protest against the deployment of AU troops and against Rwandan involvement in Burundi
29 – Members of the press are allowed to view a mass grave in Mutakura; police claim opposition forces responsible for killing and burying Nkurunziza supporters
 
March
4 – Following grenade attacks in Kamenge, SNR agents arrest 35 suspects including a soldier, and torture them with acid
15 – CNDD-FDD official Adrien Mudomo shot dead in Bururi Province
16-18 – Government releases 859 detainees as part of an agreement with the UN to release up to 2,000 prisoners
22 – Senior army officer Darius Ikurakure shot dead inside army headquarters in Bujumbura, reportedly by another soldier; Army Major Didier Muhimpundu shot and killed in a bar in Rohero

April
11 – MSD activist strangled to death in Kayanza Province; Three bodies found bound together in a mass grave in Kadidiri, Ngozi Province
20 – Gunmen with rifles and grenades kill Colonel Emmanuel Buzobona and his driver in Kinama
24 – Unidentified gunmen assassinate FRODEBU activist in Kirundo Province; MSD activist's body found in Gitega Province; Imbonerakure suspected perpetrator though not confirmed
25 – In Bujumbura, unknown attackers use rockets and gunfire to assassinate Brigadier General Athanase Kararuza, a military advisor in the office of the vice president
25 – International Criminal Court in The Hague announces preliminary investigation into the situation in Burundi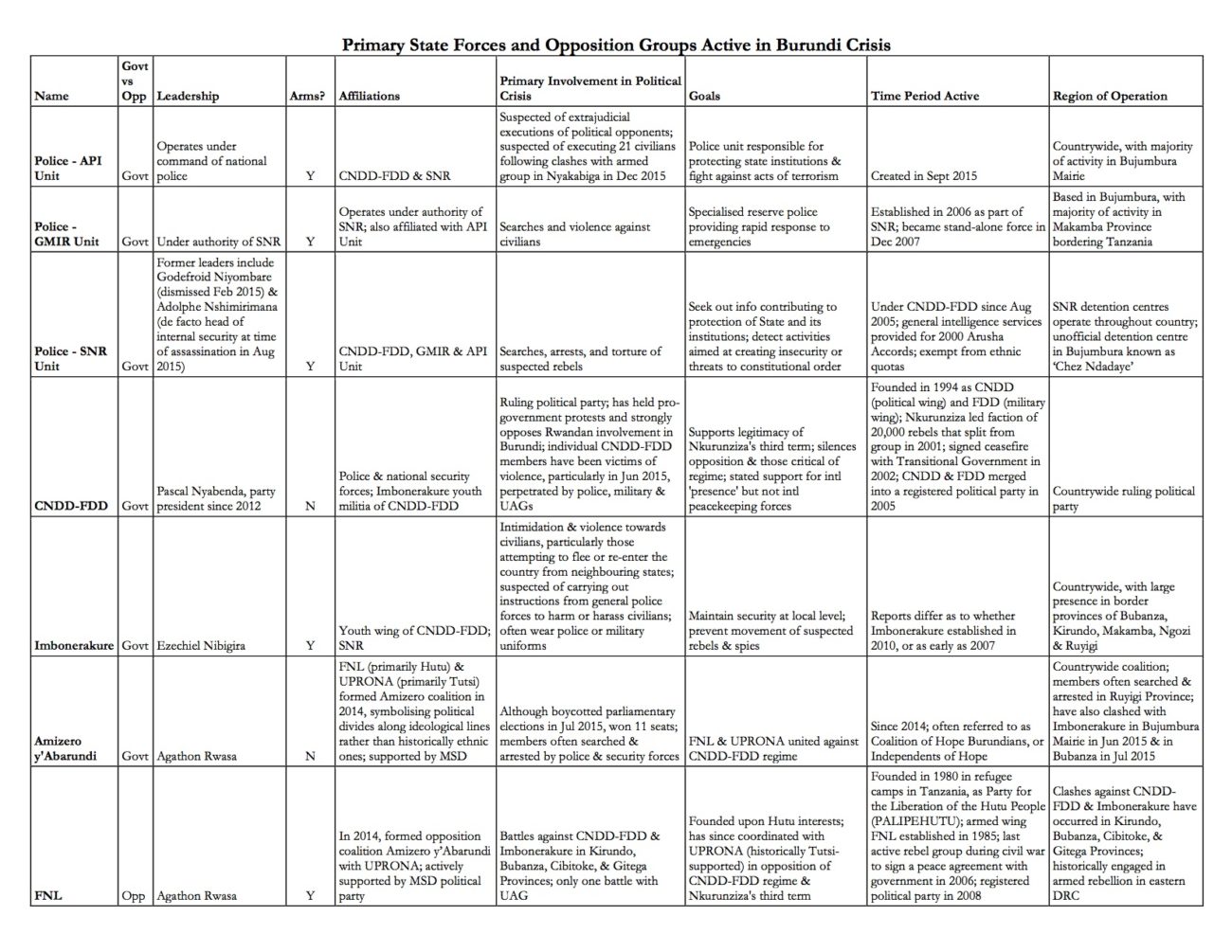 For more on Burundi local data coverage and analysis, see ACLED's prior posts on this topic.
Authors: Clionadh Raleigh, Roudabeh Kishi, and Janet McKnight