A new update of the recent unrest in Burundi, covering events from 26 April 2015 to 5 June 2016 has been released by ACLED. This update can be found here.
ACLED has covered the Burundi crisis with regular data updates and blog posts since June 2015, relying on a combination of news sources and local crowd-sourced information from the 2015Burundi Project, a network of grassroots organizations and trained citizen journalists aiding in conflict monitoring, and ACLED's weekly real-time conflict data release covering Burundi
A One-Year Special Report reviewing conflict patterns and dynamics, and the current state of the Burundi Crisis as it officially enters its second year, was recently published, and is available here.

Trends for the weeks of May 22 and May 29:
In the weeks of May 22 and May 29, the number of conflict events remained relatively unchanged across Burundi, while the number of reported fatalities has been decreasing. However, there is subnational variation within the country, where certain provinces have been seeing increased rates of conflict and violence – namely the western province of Muramvya and the eastern province of Ruyigi (see Figure 1).




In Muramvya, there were 3 instances of violence against civilians reported during the weeks of May 22 and May 29 (see Figure 2), a number of which involved the intelligence service. On 24 May, a man was arrested by Imbonerakure and taken to the offices of the intelligence service where he was reportedly beaten up. A boy was abducted in Burenza on 3 June; he was found on 5 June in traumatic shock – naked, gagged, with legs and arms tied. He stated that he recognized the vehicle from his abduction: a vehicle with black windows, allegedly belonging to intelligence service agents. A youth arrested in December of last year has fallen into a coma, apparently due to poisoning; the prison warden has refused to release him for hospitalization on 24 May. A riot was also reported in Muramvya. A secondary school in Ruziba, south of Bujumbura, sent home 300 students for defacing a portrait of President Nkurunziza (Agence France Presse, 14 June 2016). Following the incident, hundreds protested in Muramvya on 3 June; police retaliated by opening fire, injuring 3 and arresting 11 (Agence France Presse, 3 June 2016).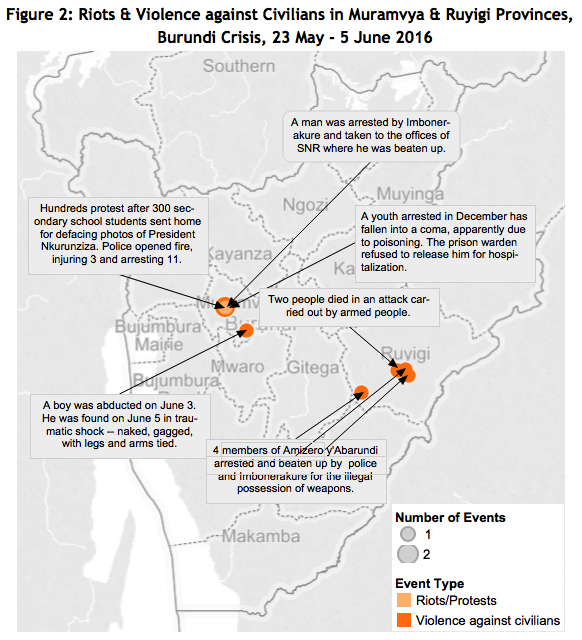 In Ruyigi, there were 4 instances of violence against civilians reported during the weeks of May 22 and May 29 (see Figure 2). Four members of Amizero y'Abarundi were reportedly arrested and beaten up by the police and Imbonerakure for the illegal possession of weapons, in Mago, Ndago and Muramba Hill; two guns were found in the ceilings of the houses of two of them, so the members were not personally armed or fighting back at the time of their arrests and beatings. In Nyagitika, two people died in an attack carried out by armed people.

The number of 'strategic developments' has also been increasing across Burundi. This includes events such as arrests (arbitrary or otherwise), home searches, and border stoppings – all of which have become fixtures of the Burundi Crisis. In recent weeks, reports of arbitrary arrests have been increasing, which are at times violent (see Figure 3). Often with these arrests, no motive is reported by state and state-affiliated forces. Those arrested are often released after paying a fee to those arresting them; there have been reports of 'fees' ranging from 10,000 to 51,000BIF.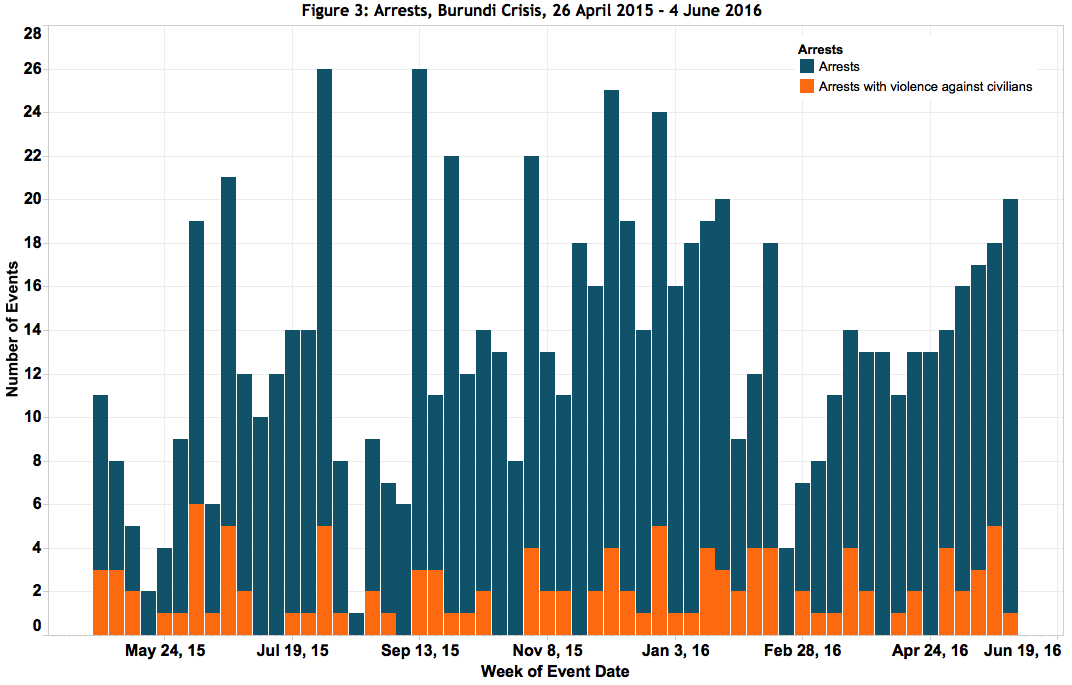 For more on Burundi local data coverage and analysis, see ACLED's prior posts on this topic.