A new update of the recent unrest in Burundi, covering events from 26 April 2015 to 3 July 2016 has been released by ACLED. This update can be found here.
ACLED has covered the Burundi crisis with regular data updates and blog posts since June 2015, relying on a combination of news sources and local crowd-sourced information from the 2015Burundi Project, a network of grassroots organizations and trained citizen journalists aiding in conflict monitoring, and ACLED's weekly real-time conflict data release covering Burundi.
A One-Year Special Report reviewing conflict patterns and dynamics, and the current state of the Burundi Crisis as it officially enters its second year, was recently published, and is available here.

Trends for the weeks of June 19 and June 26:
While the number of reported instances of violence against civilians decreased during the past two weeks, the number of instances of strategic developments (primarily arrests) continues to be prevalent across Burundi (see Figure 1).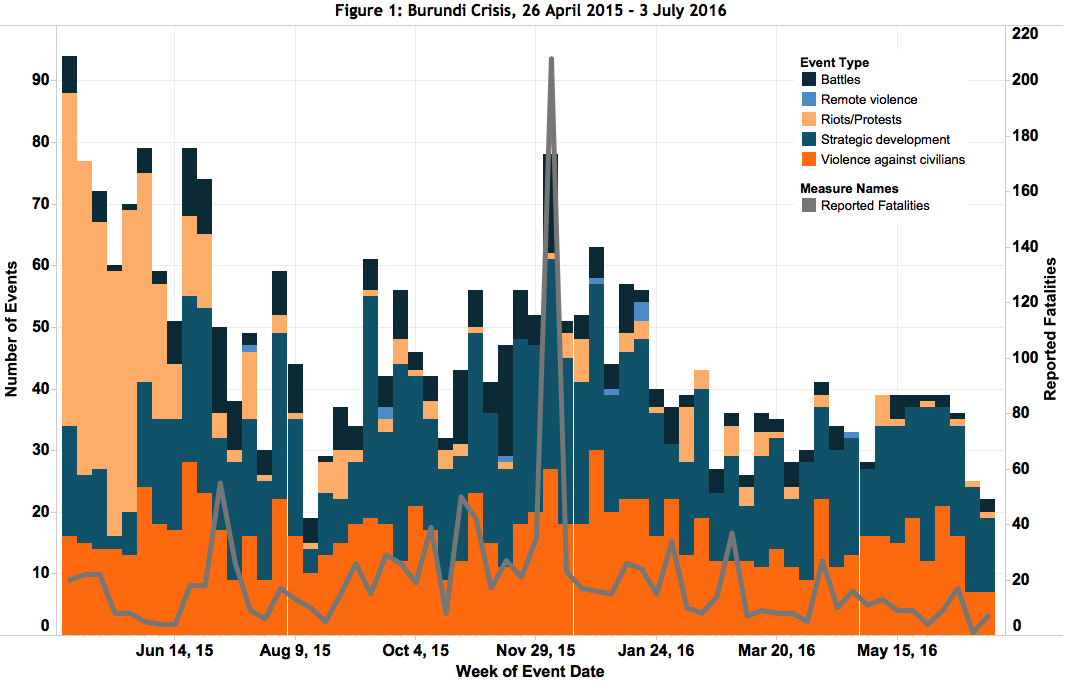 There continues to be a trend of students being arrested for the alleged defacement of images of President Nkurunziza in their textbooks (Human Rights Watch, 20 June 2016). "Scribbling on the presidential portraits contained in government-issue study guides [or textbooks] is seen as an act of silent resistance against a regime that clings to power despite more than a year of deadly protests" (Agence France Presse, 20 June 2016). The enforcement of these wide-scale arrests have been reported across all of Burundi during June and July of this year (see Figure 2). During the weeks of June 19 and June 26 specifically, there have been 11 reported instances of arrests taking place in various locations in the provinces of Bubanza, Gitega, Kayanza, Kirundo, Makamba, Rumonge, and Ruyigi. "Schools in Burundi commonly have fewer than 30 textbooks shared by as many as 200 pupils, making it difficult to identify the classroom political artists" (Agence France Presses, 20 June 2016). As such, in most of these reported instances of arrests, numerous students have been arrested at once. While many reports state that arrested students were later released, there have been instances in which students have been held – or are continuing to be held – for days or weeks on end (Muisyo, 21 June 2016). There have also been instances in which violence is used against the civilians being arrested. On 20 June in Kabondo, a student of the Islamic School of Nyanza-Lac was arrested by the police for having doodled on the image of President Nkurunziza, and was beaten up by the town administrator before being jailed. On 24 June in Rumonge, 16 students were arrested and taken to the police by the Director of their school for doodling on the President's photo in their textbooks; 3 of them are minors who have not yet reached the age of criminal responsibility.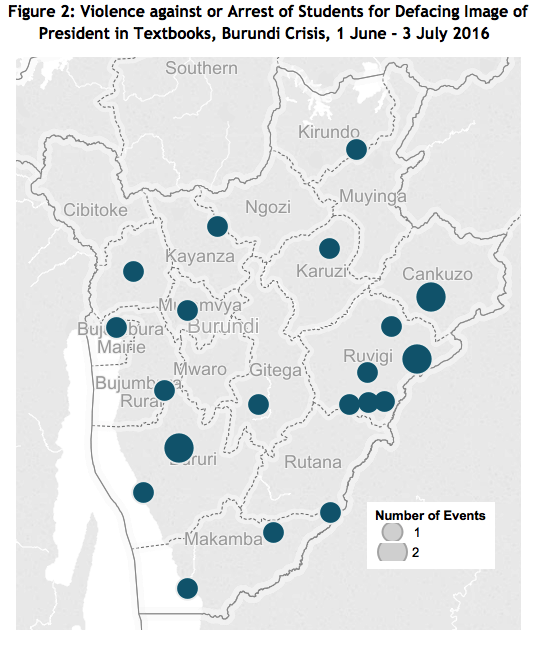 For more on Burundi local data coverage and analysis, see ACLED's prior posts on this topic.