A new update of the recent unrest in Burundi, covering events from 26 April 2015 to 10 July 2016 has been released by ACLED. This update can be found here.
ACLED has covered the Burundi crisis with regular data updates and blog posts since June 2015, relying on a combination of news sources and local crowd-sourced information from the 2015Burundi Project, a network of grassroots organizations and trained citizen journalists aiding in conflict monitoring, and ACLED's weekly real-time conflict data release covering Burundi
A One-Year Special Report reviewing conflict patterns and dynamics, and the current state of the Burundi Crisis as it officially enters its second year, was recently published, and is available here.

Trends for the weeks of July 4:
In the week of July 4, while the number of conflict events slightly decreased across Burundi, there have been a number of instances of violence against civilians reported (see Figure 1). On July 5, a young man was killed by six unknown armed men in Mayange hill in Makamba. On July 5, a body was found in Muzazi River in Buterere; residents reported that the victim was found with his genitals mutilated, and they suspected that his body had been transported by a vehicle at night. While the perpetrators of the killing are unknown, similar torture tactics – where victims' genitals were cut or injured – have been reportedly used by intelligence service police in Burundi (Human Rights Watch, 7 July 2016). Another body was found in North Mutanga on July 7; the reason for the death as well as the perpetrators of the attack remain unknown. On July 8, the director of a high school in Rutovu was shot dead while returning from a school party. While neither the motive nor the perpetrator of the attack are known, the recent trend of massive student arrests seen across Burundi could play a role. Large numbers of students have been arrested in recent weeks for doodling or scribbling on photos of President Nkurunziza in their textbooks – "seen as an act of silent resistance against a regime that clings to power despite more than a year of deadly protests" (Agence France Presse, 20 June 2016); in many cases, if the school director has not willingly turned over students for arrest, the director has been seen as complicit or at fault.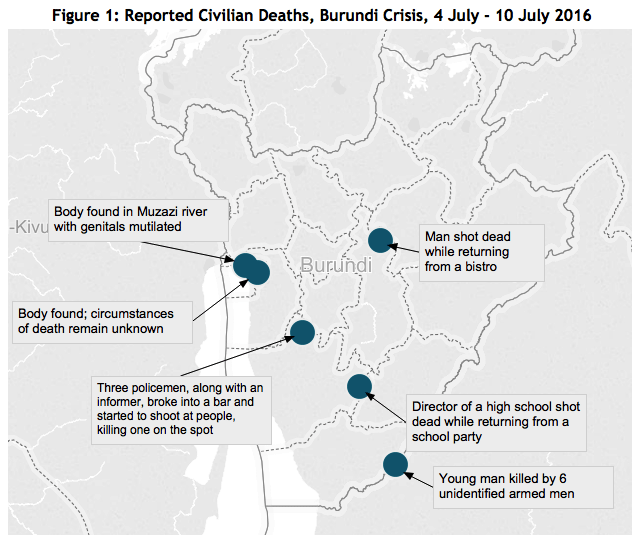 There has also been a recent trend in more direct incidents and fighting between the ruling party and opposition parties. On July 6, two people, including a leader chief of the CNDD-FDD, were arrested in Karinzi in Kayanza province; they were severely beaten up by an armed group. Neither the motive nor the perpetrators of the attack are known. On July 7, a nurse (a member of FRODEBU) was arrested by the police and charged with having refused to administer a vaccine to a child because his mother was wearing a CNDD-FDD t-shirt. A local source reported that the nurse claims to be a victim of his political affiliation especially since the woman never confirmed the charges against him. On July 8, a member of MSD was beaten up by two members of the CNDD-FDD in a bar in Ruziba in Bubanza; further injuries were avoided after people in the bar intervened. On the same day in Kiyazi in Makamba, a member of CNDD-FDD was beaten up and seriously injured by a group of 3 MSD members in a bar due to a political quarrel.
Ongoing search operations and arrests continue to be carried out by the police in order to find weaponry and general irregularities, though often neither is found. On July 4, in Cibitoke in Bujumbura Mairie, search operations led by the police and military forces ended up with several arrests for alleged irregularities in household registries. Releases were only granted after payment. On July 8 in Kagege in Makamba, police and military sources led a raid of houses aimed at finding weapons, after allegedly being informed about an armed group settling in the area – yet no weapons were found. A local source suggests that these police operations are merely a way for the state to extort money from the population.
For more on Burundi local data coverage and analysis, see ACLED's prior posts on this topic.