A new update of the recent unrest in Burundi, covering events from 26 April 2015 to 17 July 2016 has been released by ACLED. This update can be found here.
ACLED has covered the Burundi crisis with regular data updates and blog posts since June 2015, relying on a combination of news sources and local crowd-sourced information from the 2015Burundi Project, a network of grassroots organizations and trained citizen journalists aiding in conflict monitoring, and ACLED's weekly real-time conflict data release covering Burundi
A One-Year Special Report reviewing conflict patterns and dynamics, and the current state of the Burundi Crisis as it officially enters its second year, was recently published, and is available here.

Trends for the Week of July 10:
While the week of June 26 saw the lowest number of reported incidents of violence against civilians in 2016, the following week (week of July 3) saw a marked increase in this violence strategy across Burundi; this trend in the prevalence of violence against civilians continued last week (week of July 10) (see Figure 1).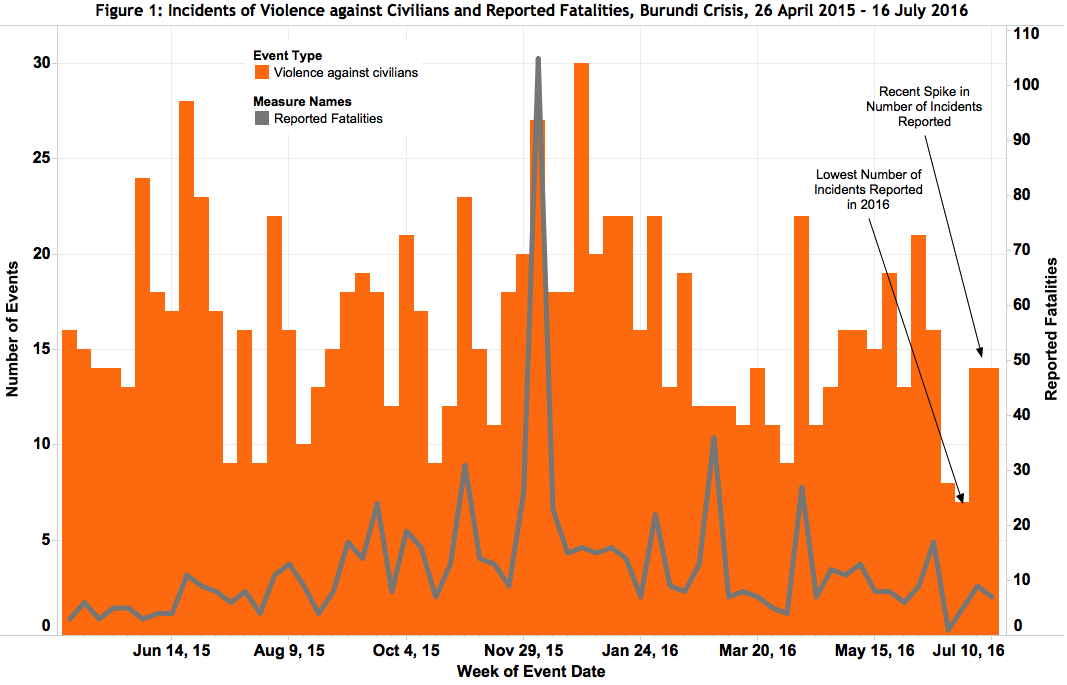 On July 12, a man was stabbed to death by unidentified men in Sehe Hill while returning from a bar at night. After the murder, reports state that the group threw a grenade at the home of the victim. On the following day in Bujumbura Mairie, the former Burundian government minister — and Burundi's representative to the East Africa legislative assembly — Hafsa Mossi was shot dead by unknown assailants armed with automatic pistols and a Kalashnikov AK-47 in Mutanga Nord (IB Times, 13 July 2016). On the same day in Bujumbura Rural, the body of a man was found in Mushoho Hill, allegedly with some marks on his neck. According to witnesses, he was strangled using a rope. The perpetrators and motives of the crime are unknown. The following day on July 14, two Rwandans were shot dead by an unidentified armed group. On July 15, soldiers shot and killed a mentally challenged person after shooting him twice in the chest. On July 16, a man was beaten to death by unknown people in Bujumbura Rural in Nyarumpongo.
A trend of crackdowns, resulting in spikes in the prevalence of arrests – followed by brief lulls in these crackdowns – has also been common throughout the Burundi crisis (see Figure 2). Most recently, while the crackdown on students for scribbling on photos of the president in their textbooks culminated in the week of June 12, the following weeks had seen a relative lull in the number of arrests being reported. However, the week of July 10 again saw a spike in incidences of arrests, especially in Bujumbura Mairie. 500 men were arrested on July 14 in Nyakabiga 2; on July 16 in Musaga, police cordoned off 1st Avenue at 5am, and about 30 men were arrested and taken away, before later released. The reasons or motives behind these arrests remain unknown.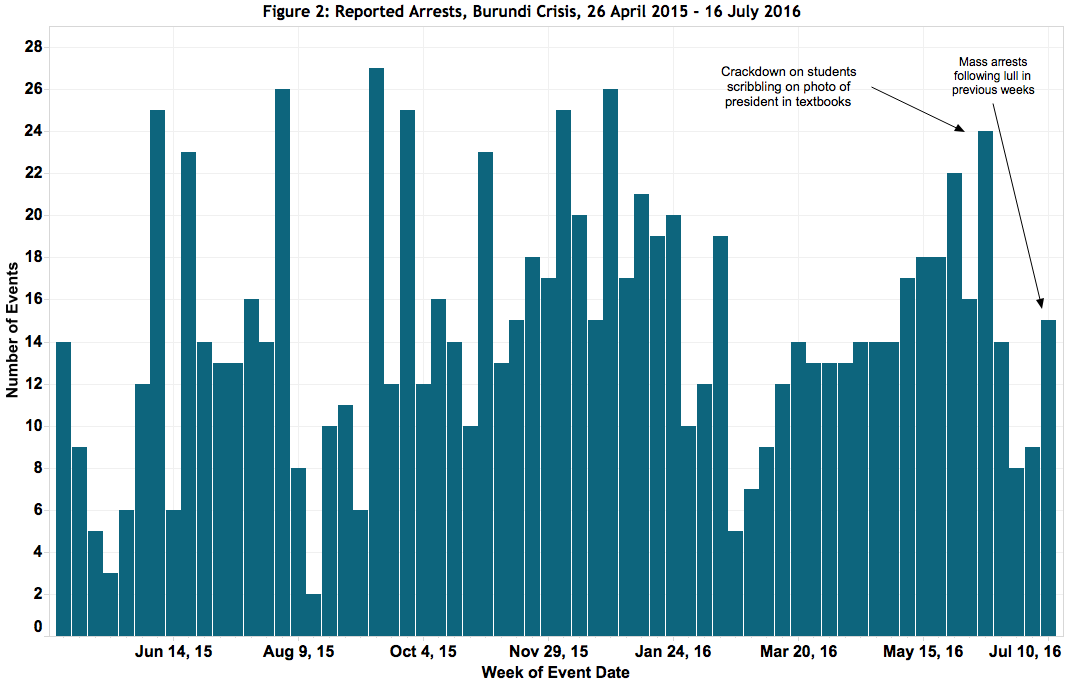 For more on Burundi local data coverage and analysis, see ACLED's prior posts on this topic.