A new update of the recent unrest in Burundi, covering events from 26 April 2015 to 24 July 2016 has been released by ACLED. This update can be found here.
ACLED has covered the Burundi crisis with regular data updates and blog posts since June 2015, relying on a combination of news sources and local crowd-sourced information from the 2015Burundi Project, a network of grassroots organizations and trained citizen journalists aiding in conflict monitoring, and ACLED's weekly real-time conflict data release covering Burundi
A One-Year Special Report reviewing conflict patterns and dynamics, and the current state of the Burundi Crisis as it officially enters its second year, was recently published, and is available here.

Trends for the Week of July 18:
In the week of July 18, while the number of violent incidents decreased across Burundi, the number of reported fatalities remains high, largely a result of the continued prevalence of violence against civilians (see Figure 1).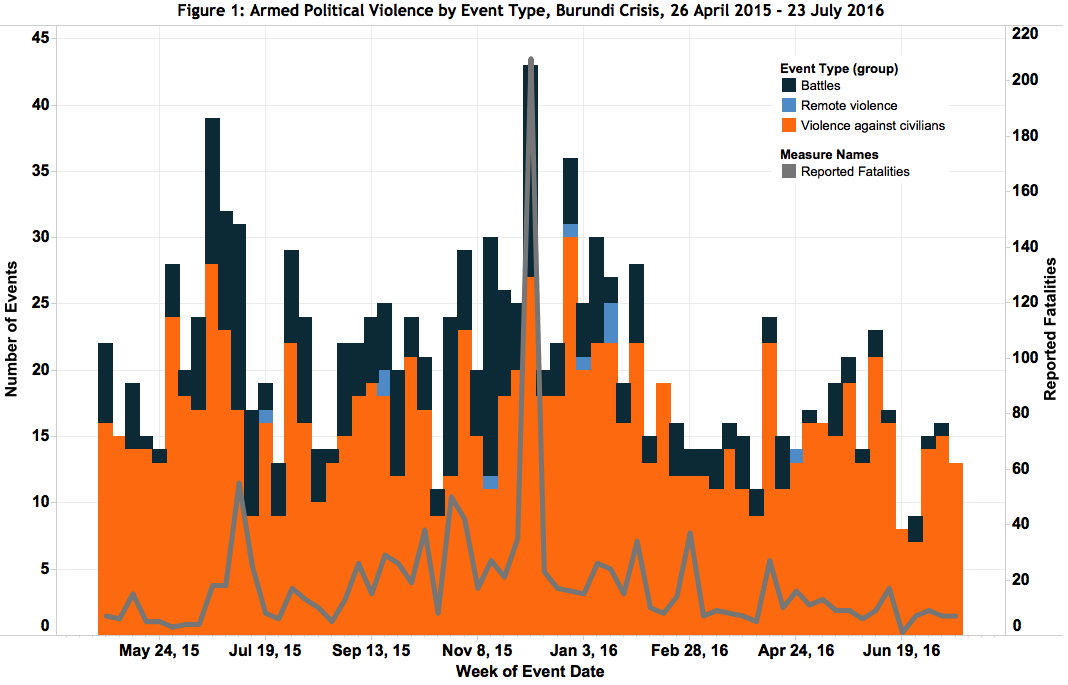 On July 18, a body was found in Cankuzo; the victim had fled to Tanzania in search of work and was stabbed in the head while returning to Burundi. Violence against women also continues. On July 19, a woman in her 50s was killed with machetes and three of her children were seriously injured by unidentified people armed with machetes and clubs, in Kagurutsi in Cibitoke. According to neighbors of the victim, the perpetrators broke down the front door and attacked the woman and directed their fire toward her children. While the woman was killed, her children have since been transferred to the hospital in Mabayi. While the reason for this killing is not yet well known, witchcraft is thought to be the basis of the assassination. Local human rights activists are concerned about the upsurge in killings for alleged witchcraft in this province with 14 murders in less than two months. On July 20, a woman was stabbed to death in the chest by an unidentified group in Nyamugari hill in Gitega.
The province of Bujumbura Mairie has seen a number of 'strategic developments', mostly arrests or search operation carried out by SNR agents. On July 18, SNR and API agents requisitioned three private vehicles on Avenue Moso in Rohero. The reasons for this operation remain unknown. On July 20, SNR agents arrested a young man on 13th Avenue in Nyakabiga; they carried out a search of his home and found a dart in a trunk that belonged to his father. His family said he was detained at the SNR office in Rohero. On July 23, SNR agents arrested a student at the Higher Institute of Military Cadres (ISCAM) outside of the military hospital where he had gone for treatment. He is detained in jail; the reason for his arrest remains unknown.
For more on Burundi local data coverage and analysis, see ACLED's prior posts on this topic.