A new update of the recent unrest in Burundi, covering events from 26 April 2015 to 21 August 2016 has been released by ACLED. This update can be found here.
ACLED has covered the Burundi crisis with regular data updates and blog posts since June 2015, relying on a combination of news sources and local crowd-sourced information from the 2015Burundi Project, a network of grassroots organizations and trained citizen journalists aiding in conflict monitoring, and ACLED's weekly real-time conflict data release covering Burundi
A One-Year Special Report reviewing conflict patterns and dynamics, and the current state of the Burundi Crisis as it officially enters its second year, was recently published, and is available here.

Trends for the Week of August 15:
There was an overall increase in the number of events reported during the week of August 15 (see Figure 1). Twenty-three 'strategic development' events were reported. These are largely instances where security forces and Imbonerakure conducted searches of homes for irregularities, or made numerous arrests of alleged members of rebel movements (VOA News, 19 August 2016). Many of these arrests ultimately result in individuals being released, though that only occurs following payment – resulting in many speculating that the arrests are merely a ploy at collecting funds.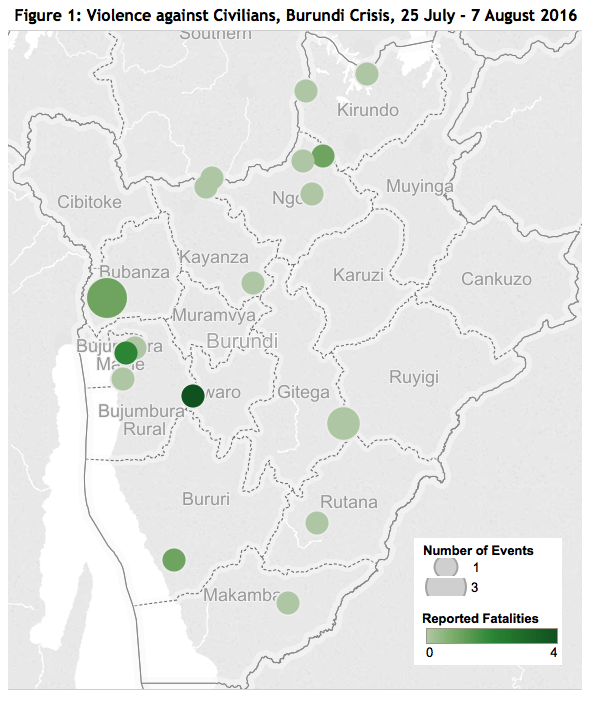 Reports of incidents of violence against civilians persist across Burundi. Figures 2 identifies the primary perpetrators of violence against civilians throughout the Burundi Crisis. Despite reports of police forces and Imbonerakure being responsible for a large portion of these events (Over Blog, 20 August 2016), the most active actors targeting civilians in Burundi are unidentified armed groups (UAGs).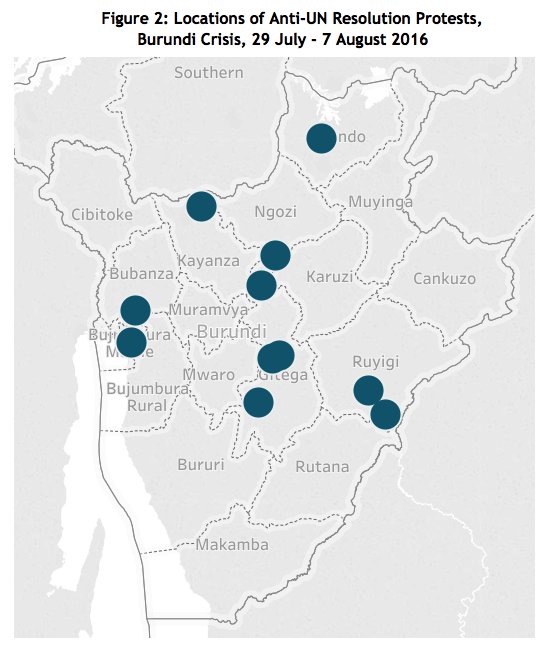 While UAGs may be unidentified as a result of insufficiently detailed reporting or the complexity of conflict, they may also be unidentified as a result of strategy. When UAG activity occurs in the same locations and time periods as reported information, this suggests that 'strategy' may be the main reason behind the anonymity of actors; the strategy is to take advantage of anonymous violence: UAGs can carry out violence on behalf of conflict actors – especially those who may benefit from violence, but want to avoid responsibility for those actions (ACLED, 2016). This may be especially the case in Burundi, where government-affiliated forces may seek to repress opposition, yet want to avoid negative backlash from the international community (for example, see BBC, 3 August 2016); or where opposition forces may seek to fight back, yet would risk facing serious consequences for speaking out against the regime (for example, see Associated Press, 25 August 2016).
UAGs in Burundi can act on behalf of the government, on behalf of opposition forces, or neither – and have been the most lethal conflict actors against civilians this year (see Figure 3).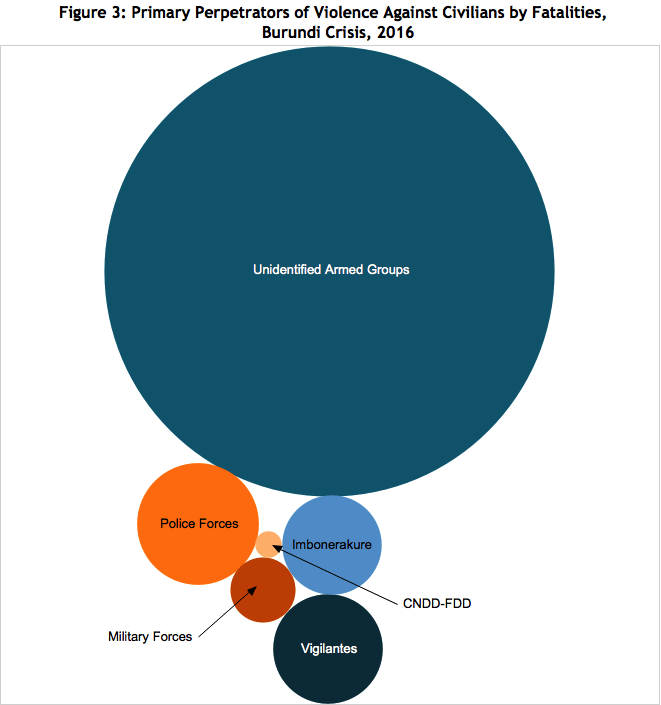 For example, on August 16 in Gisenyi in Kirundo, two men were beaten up in a bar by men in civilian clothing, as they were suspected of being rebel spies; they were ordered to lie down, where they were subsequently beaten with clubs. They were released after paying a sum of money, the amount of which is unknown. Similarly, on August 20, six people were injured, three seriously, in a grenade attack that occurred near a bar. While local sources report that the perpetrators and the reasons for this attack remain unknown, they note that this same bar in Runanira in Kirundo is known to be primarily frequented by opposition supporters, and it was the target of a similar attack earlier this year. These reported incidents suggest that the UAGs in these instances were acting on behalf of the government as supposed-opposition members were targeted.
Meanwhile, on August 19 in Musaga of Bujumbura Mairie, local sources reported that six people were the victims of aggression carried out by an unidentified armed group. In this situation, those targeted were able to recognize three of their attackers: protesters against the third-term. This reported incident suggests that the UAG in this instance may have been acting on behalf of opposition forces, as protesters against the third-term are comprised of those opposed to the current regime.
As the affiliation of these armed actors cannot be determined confidently, they are coded as UAGs in the ACLED dataset so as to not imply attributions that may be inaccurate.
For more on Burundi local data coverage and analysis, see ACLED's prior posts on this topic.