The Northeast and the Maoist insurgencies have posed major security threats to the Indian state since the 1950s and late 1960s. In 2012, the Home Minister of India declared the Maoist insurgency as the 'most formidable security challenge facing the country' (BBC News, 16 April 2012). In the last few years, however, levels of violence have declined.
Northeast Insurgencies
Northeast India consists of seven states, also known as the Seven Sister States. The area is connected to the rest of India through a narrow land-corridor only, sharing large borders with Bangladesh, Bhutan, China, and Myanmar. This year, at least 24 organised militant groups were actively involved in 158 violent events in the area (see Figure 1). Most of these groups were fighting either for regional autonomy, a separate state, or complete regional independence.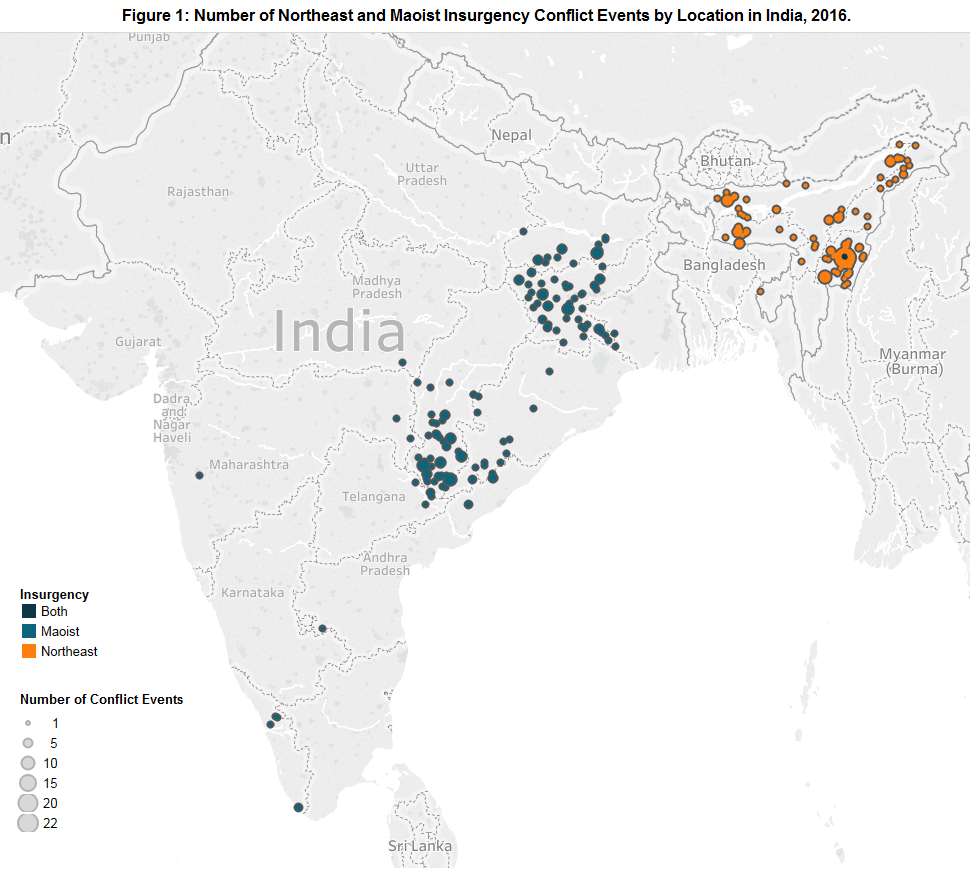 Battles between armed groups accounted for 41% of events, remote violence accounted for 33% of events, violence against civilians for 18%, and damage of property for 8%. Most of the violent events were recorded for the states of Assam and Manipur, while the Garo National Liberation Army (GNLA), located in Meghalaya, was the single most active group.
For Assam, the data suggest that ten militant groups were involved in at least 44 violent events, mostly in battles with Indian security forces. The most active groups in the state were the United Liberation Front of Assam-Independent (ULFA-I) and the National Democratic Front of Bodoland (Songbijit) (NDFB-S). ULFA-I accounted for twelve violent events, mostly remote violence, and NDFB-S for eleven violent events, all of which were battles.
In Manipur, 18 militant groups were involved in 79 violent events, most of which fell under the category of remote violence. The most active group, the Nationalist Socialist Council of Nagaland (Isak-Muivah) (NSCN-IM) accounted for at least 8 of those events, five of which were battles, and three of which were violence against civilians.
Maoist Insurgency
The Naxal movement took shape end-1960s in Naxalbari in West Bengal. From there, it advanced into other states. In their fight against the Indian Government, the Naxals follow the Maoist ideology of communism. In 2008, Maoists controlled 223 of 640 Indian districts, an area also known as the 'red corridor', which amounted to about 40% of India's landmass (SATP, 2012). In 2009, the Indian government launched 'Operation Green Hunt', a large military operation which led to the number of districts controlled by the Maoists shrinking to 106 districts across 10 states in 2015 (SATP, 2016).
For 2016, 186 violent events involving Maoist groups in 11 states in India were recorded (see Figure 1). A majority of the violence, took place in two states – Chhattisgarh with 37% of the events, Jharkhand with 32%. Within Chhattisgarh, the Bastar division in the south was most violent prone, accounting for 97% of all recorded events in the state.
The majority of events were battles, 52%, mostly with Indian security forces. Violence against civilians also accounted for 20%, reflecting a continuation of the frequent killings of alleged police informers by Maoists. Remote violence accounted for 19%, bomb blasts that targeted primarily Indian security forces. Damage of property, e.g. of mobile towers and railway tracks, accounted for another 9% of events (see Figure 2).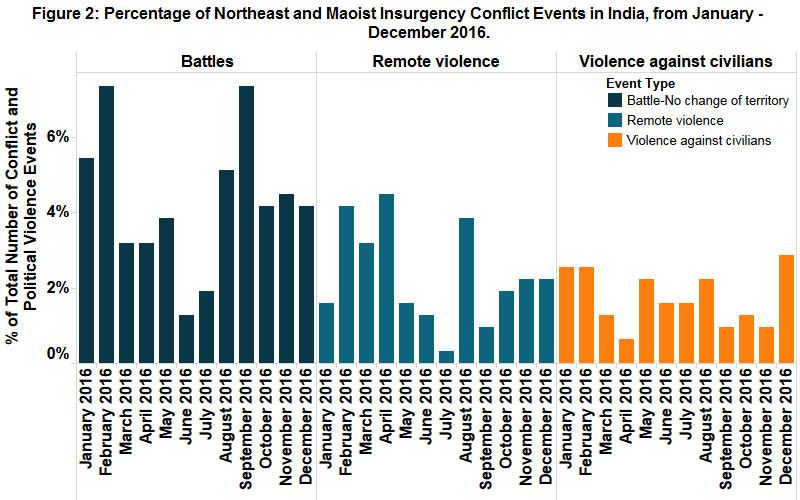 These developments suggest a continuation of the Northeast and Maoist insurgencies in India in 2016, albeit at much lower levels compared to the earlier years. One aspect that stood out this year, and that might influence future levels of violence, was the high number of surrenders by Maoists. While it might be too early to say, these surrenders could indicate an at least temporary weakening of the Maoist movement.