Riots and protests continue to comprise the majority of events in South Africa. Last week saw some of the highest rates of demonstrations reported thus far in 2017 –  well above the average number seen in other weeks (see Figure 1).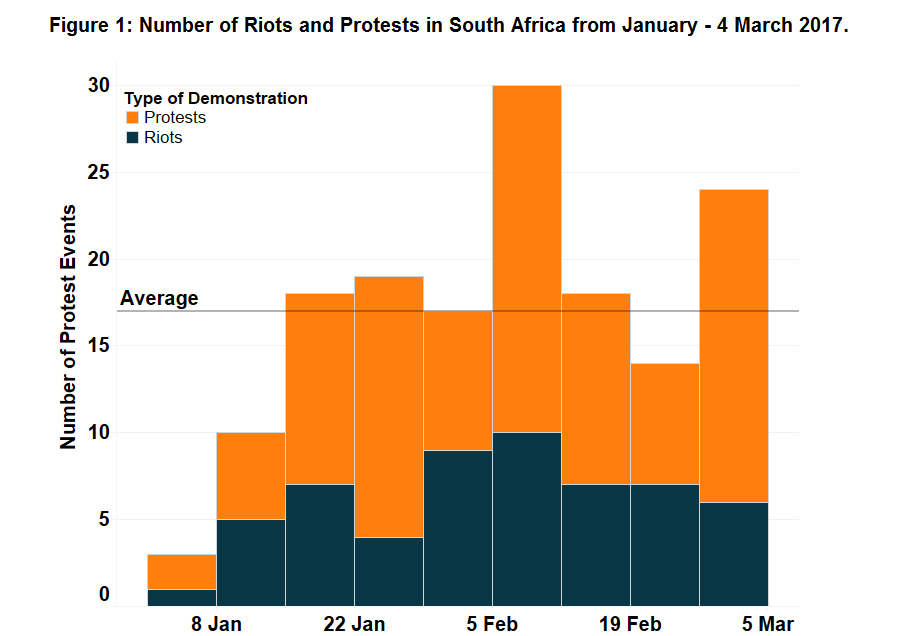 Demonstrations by students concerning funding continue (see also: Conflict Trend Reports from December 2016; October 2016; and May 2016). Protests surrounding the issue occurred sporadically throughout much of last year; they spiked in September and October with the Higher Education Minister Blade Nzimande's announcement of an 8% fee increase for 2017 (see Conflict Trend Report, December 2016). While student protest action was more peaceful than not during 2016 (Conflict Trend Report, December 2016 and October 2016), state and private security forces nevertheless dealt with said protests with a heavy hand during 2016 – more than 800 students were arrested last year (African News Agency, 28 October 2016). As such, it is unsurprising that students may resort to more violent forms of protests this year given the increased securitization of campuses and heavy-handedness of security forces. For example, on February 22 in Pietermaritzburg, students at the Durban University of Technology barricaded the road with burning tires to protest the funding problems; the police used teargas to disperse them.
The leader of the #FeesMustFall campaign –  student activist Bonginkosi Education Khanyile – was arrested in late September 2016 for allegedly taking part in public violence' illegal gathering, and inciting violence (Times Live, 8 January 2017). Students marched on February 24 in Durban to protest for the freedom of Khanyile, as he had been held in prison for 150 days. On March 1, hundreds of Economic Freedom Fighters (EFF) supporters gathered outside the Constitutional Court in Johannesburg in support of Khanyile. He was finally freed from prison on March 2 following a Constitutional Court ruling (SABC, 2 March 2017).
Late February saw an increase in xenophobic demonstrations as well, with 5 riots taking place the week of February 19. However, "the xenophobic attacks are not new, nor are they the most serious of recent years. Predating the wave of anti-immigrant sentiment in parts of Europe and the U.S., the protests are just the latest spasm of xenophobia to grip South Africa" (CNN, 24 February 2017). In Atteridgeville, shops belonging to immigrants were looted on multiple days; a group of demonstrators clashed with panga-wielding immigrants from Somalia before police broke up the clash using rubber bullets and water cannons. In Mamelodi, a group of people stormed and looted 3 Somali-run tuck shops; police attempted to disperse an anti-immigrant march in the same area several days later. In Duduza, rioters blockaded a road with burning tires and vandalized shops to demonstrate against a company that has been hiring foreign nationals; the police arrested 10 people. Last week, a shop belonging to a member of the Nigerian community was looted in the latest xenophobic attack at Jeppestown, Johannesburg.
As reported: "rampant unemployment and high crime rates have stoked the anger of South Africans against foreign migrants … the unemployment rate in South Africa was over 26% in 2016, according to some estimates" (CNN, 24 February 2017; see also, NY Times, 24 February 2017). Amnesty International (2017) believes that "longstanding police and criminal justice failures, including a failure to address toxic populist rhetoric that blames and scapegoats refugees and migrants for crime, unemployment and other social problems" have been contributing to fueling the latest tension.
While the rise in xenophobia and related demonstrations and attacks is disheartening, there have also been instances of support for immigrants in South Africa. On March 4, just over 100 people joined a march through the Cape Town city center, carrying placards that read: "We stand united against xenophobia" and "Refugees and immigrants need to be protected."