In the last three weeks, Gaza has made the headlines due to the large number of fatalities reported during the Great Return March (GRM) demonstrations, raising international concern about Israel's use of lethal force against demonstrators. The GRM is an on-going mass demonstration in Gaza which has reportedly involved upwards of 50,000 Palestinians. It began on Land Day (March 30, 2018) and is planned to continue until Nakba Day (May 15, 2018). The purpose of the demonstration is to reaffirm the right of return for Palestinian refugees to Israel, which is especially significant for Gaza as an estimated 1.3 million out of 1.9 million people living in the territory are refugees (UNRWA).
Since the beginning of 2017, the most fatal events in Gaza are demonstrations due to Israeli fire, followed by deaths caused by Israeli airstrikes. While this illustrates how demonstrations in Gaza are frequently met with armed force by Israeli forces, the Israeli military's response to the GRM demonstrations appear to have significantly escalated this policy.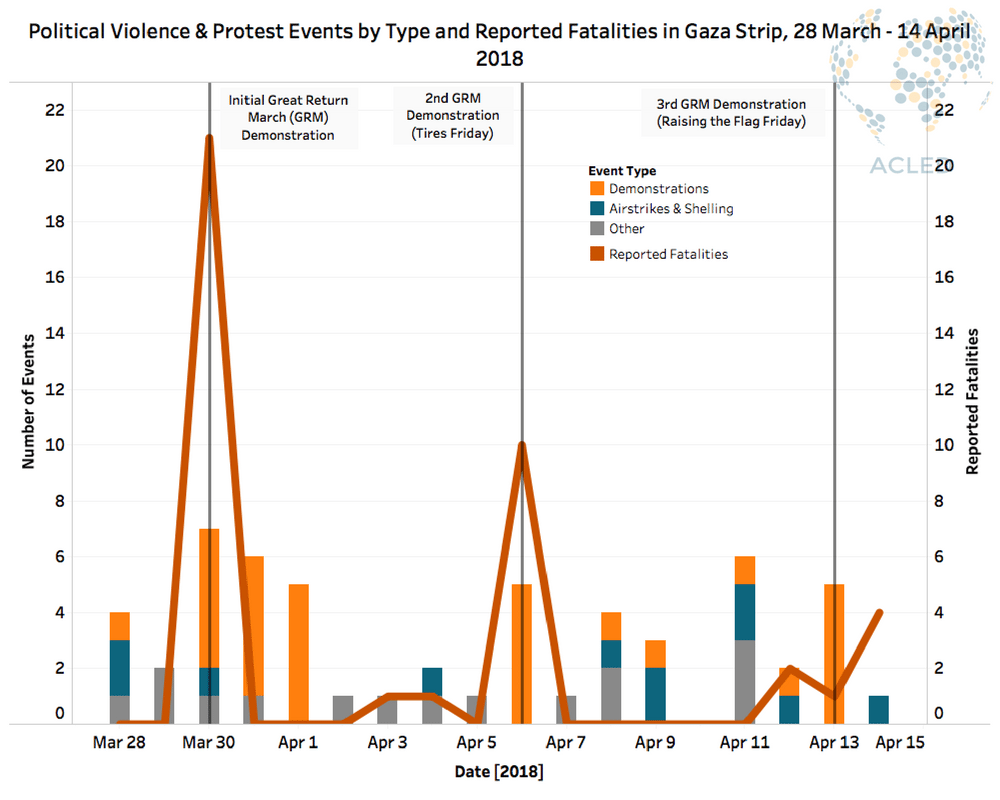 The GRM has been marked by large demonstrations occurring on the past three Fridays (March 30, April 6, and April 13). The demonstrations were widely publicized and preparations were made on both sides of the Gaza-Israeli border. Inside Gaza, tents were set up in five locations 700 to 1,000 meters from the border to accommodate the anticipated turnout of thousands of demonstrators. On the Israeli side, over a hundred snipers were reported to be deployed to the border (Haaretz, 30 March 2018). Organizers in Gaza stated that the planned protests were to be entirely non-violent, while Israeli Defense Minister Lieberman tweeted in Arabic that anyone who approached the border would be putting their life in jeopardy (Haartez, March 30, 2018).
March 30 became the largest and most fatal day of the GRM with at least 19 reported fatalities among the demonstrators and thousands of injuries. As events unfolded, many demonstrators also approached the border and reportedly clashed with Israeli forces, although there were no reports of Israelis injured during the demonstrations.
The subsequent April 6 demonstrations were coined "Tires Friday" as Palestinians stacked thousands of tires and set them on fire to obscure the visibility of Israeli snipers (Washington Post, April 6, 2018). Despite this effort to limit fatalities, 10 demonstrators were reportedly shot and killed and hundreds more injured.
The most recent demonstrations on April 13 were termed "Raising the Flag Friday" as Palestinian flags were raised and Israeli flags were burned. These demonstrations were the least well-attended and least fatal of the three days, with only one fatality reported.
The map below depicts where reported fatalities during these demonstrations occurred in the Gaza Strip. The significant decline in the number of reported fatalities between the April 13 demonstrations and the initial ones on March 30 could be due to lower turnout or the fact that Israeli forces are showing more restraint towards demonstrators.