The number of demonstrations in Iran has remained high this month as the wave of unrest that began in late December 2017 continues (to read more about this, see Demonstrations Across Iran). Over the past months, many of the demonstrations reported in Iran have been related to unemployment, wage delays, and the collapse of financial institutions. The government's decision to close border-crossing points with Iraq, the proposed changes to local administrative structures, and ethnic issues also continue to play a role in the grievances reportedly motivating demonstrations.
More recently, however, a significant theme emerging in Iranian demonstrations is the drought affecting the central-western swath of the country. Farmers and residents in these provinces have been demonstrating since mid-February against drought conditions and over a proposed government plan to redistribute water among the provinces. With few exceptions, the demonstrations are occurring in the provinces of Isfahan, Khuzestan, Chaharmahal and Bakhtiari, and Kohgiluyeh and Buyer Ahmad (see map below).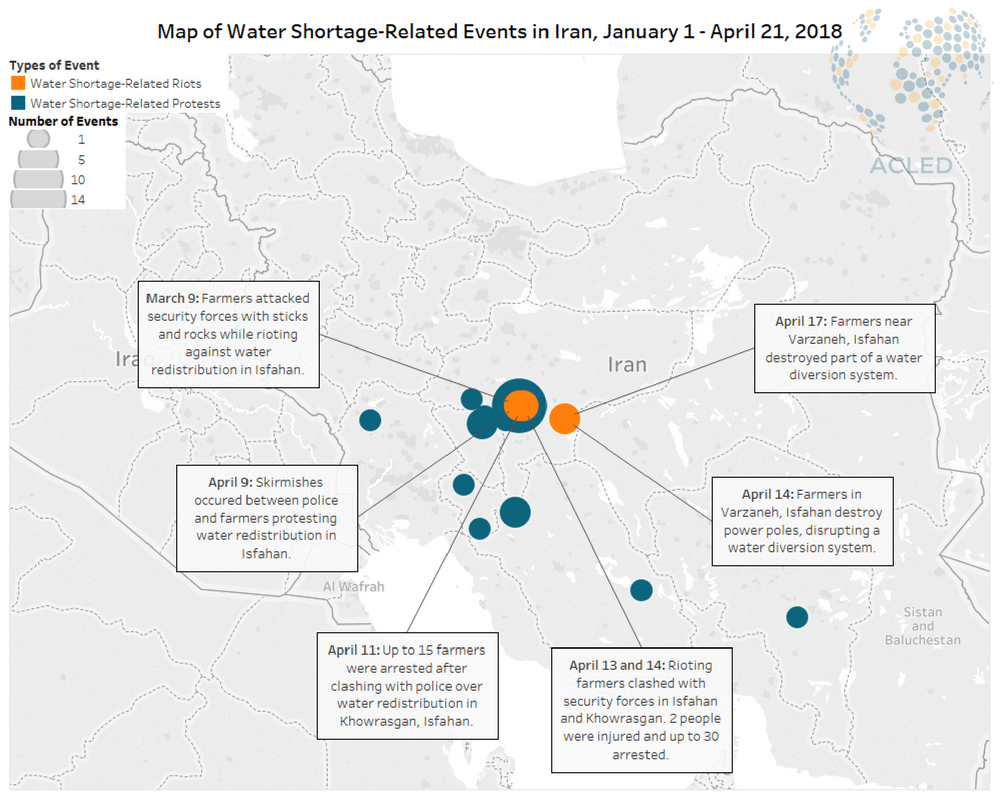 While most of the water-related demonstrations have remained peaceful, there have been several instances of clashes and vandalism reported too. Farmers in Isfahan and nearby Khowrasgan have clashed with security forces multiple times, and up to 45 people were arrested between April 11 and 14. Two women were also reportedly injured on April 14 by security forces as they dispersed a protest in Isfahan. Additionally, farmers in the Varzaneh area of Isfahan were involved in at least two reported attacks on water diversion systems in mid-April.
Although water-related demonstrations have, till recently, represented a very small proportion of overall demonstrations in Iran, a notable increase in their numbers has occurred over the past two weeks. Between April 8 and April 21, water-related demonstrations accounted for just under a quarter of all demonstrations in the country, compared to less than 5% of all demonstrations in the preceding two-week period. Additionally, while groups of farmers have typically been the ones leading these protests, other citizens are now taking part more often, which could signal the start of a wider movement if the situation cannot be resolved.