The week beginning 22 April saw a significant increase in riots and protests in Ethiopia (see Figure 1). Unlike riots and protests in recent months, which have mostly been centered in the Oromia region and Oromo demands for self-determination, this spike in protest activity was focused in the Somali region (see Figure 2), where regional president, Abdi Illey, is battling to retain both control of the region and control of his party, the Ethiopian Somali People's Democratic Party (ESPDP).  
The Somali region protests erupted on 20 April. The first protests called for the regional government to release 1,500 prisoners, as it had promised to do in February (Africa News, 28 February 2018). In the following days the protests gained momentum, spreading to other towns in the Siti zone, and the scope of the complaints widened – the protests were increasingly against corruption and abuse by the regional president, Abdi Illey. Illey is generally unpopular in Somali province because of his violent deployment of the Somali regional militia, the Liyu Police (ACLED, 12 April 2018) and because of corruption accusations. However, not only is Illey facing challenges from the population, he is also balancing leadership turbulence within his own party. On 24 April, Illey fired the deputy regional president, Abdikarim Igali, fearing that Igali would capitalise on the regional protests to mount a challenge to Illey's position in the Somali government (Addis Standard, 27 April 2018). This strategy backfired, instead provoking increased protest, particularly from Igali's home district of Shinile. Illey's other response to the protests has been to reinforce security by ordering Liyu Police forces back to the regional capital Jijiga. There have been relatively few confrontations between the Liyu police and protesters, but responses to calm the protesters should be cautious to avoid further conflagration.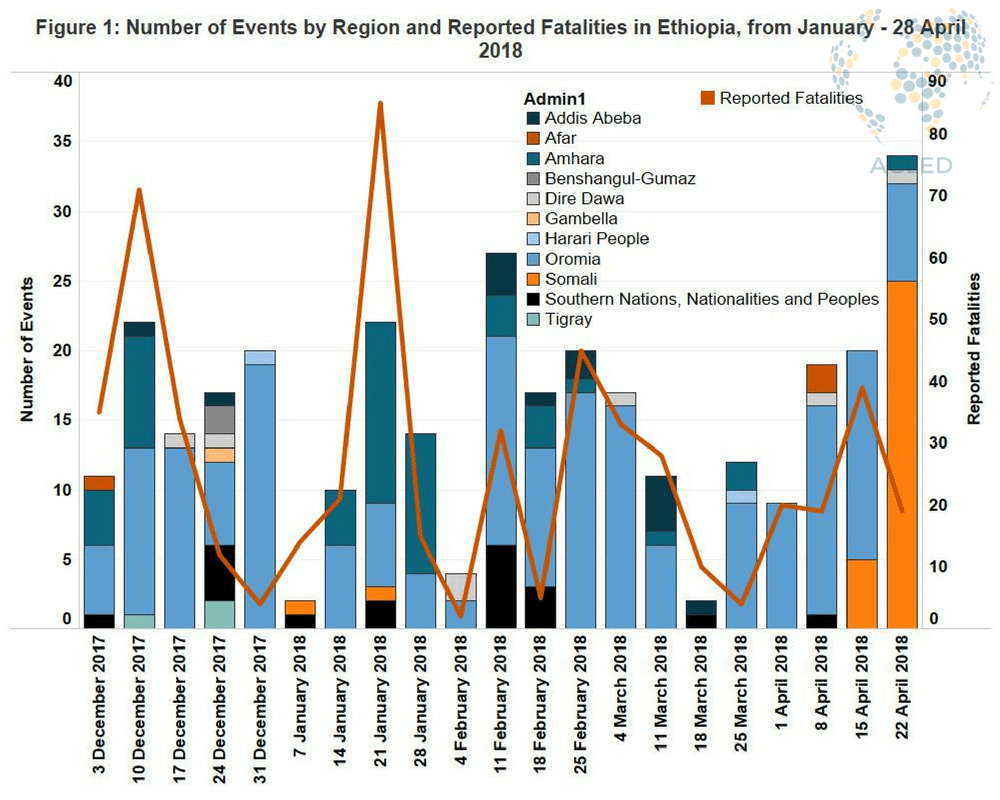 Furthermore, protest is not the only security challenge facing Abdi Illey. The ongoing armed confrontations between pastoralist and farmer communities on the Somali-Oromo border contribute to a growing sense of destabilization in the region (BBC, 18 September 2017).