Since the killing of the President of the Supreme Political Council in a Saudi-led coalition airstrike, anti-Houthi militias backed by the United Arab Emirates (UAE) have managed to wrest much of southern Hodeidah governorate from Houthi control, setting the stage for a full-out assault on the port city and sparking fears of increased suffering by civilians should the port cease to function. As highlighted in a report recently published by ACLED (ACLED, 10 May 2018), National Resistance forces led by Tareq Saleh are reportedly leading the renewed offensive on the western coast, accompanied by a number of UAE special forces and other UAE-backed Southern and Tihama resistance militias.
On April 17, a coalition airstrike on Hodeidah city reportedly killed the head of the Houthi-led Supreme Political Council Saleh Ali al-Sammad and six other important political figures, sparking a wave of protests within Houthi-administered areas (Al Jazeera, 23 April 2018; Al Masdar 30 April 2018.) Despite heavy resistance, since Sammad's death, a coalition of anti-Houthi forces including the Southern "Giants" brigade, Tihama Resistance, and National Resistance forces have made considerable gains into the governorate of Hodeidah, advancing up the coast to take control of Haymah, Mutaynah, and Fazzah villages as well as interior areas of Jarrahi and Tuhaytah districts (see figure below). Throughout the latest offensive, dubbed "Operation Red Thunder", the UAE has increasingly taken a more direct role within the conflict by providing air and logistical support, as well as limited ground operations. In a rare event, UAE forces carried out an amphibious assault on Al Fazzah prior to its taking by National Resistance Forces, destroying a Houthi-controlled command center and seizing a number of documents and weapons (Emirates News Agency, 15 May 2018). At least one Emirati soldier was reportedly killed in the latest round of fighting (Gulf News, 18 May 2018).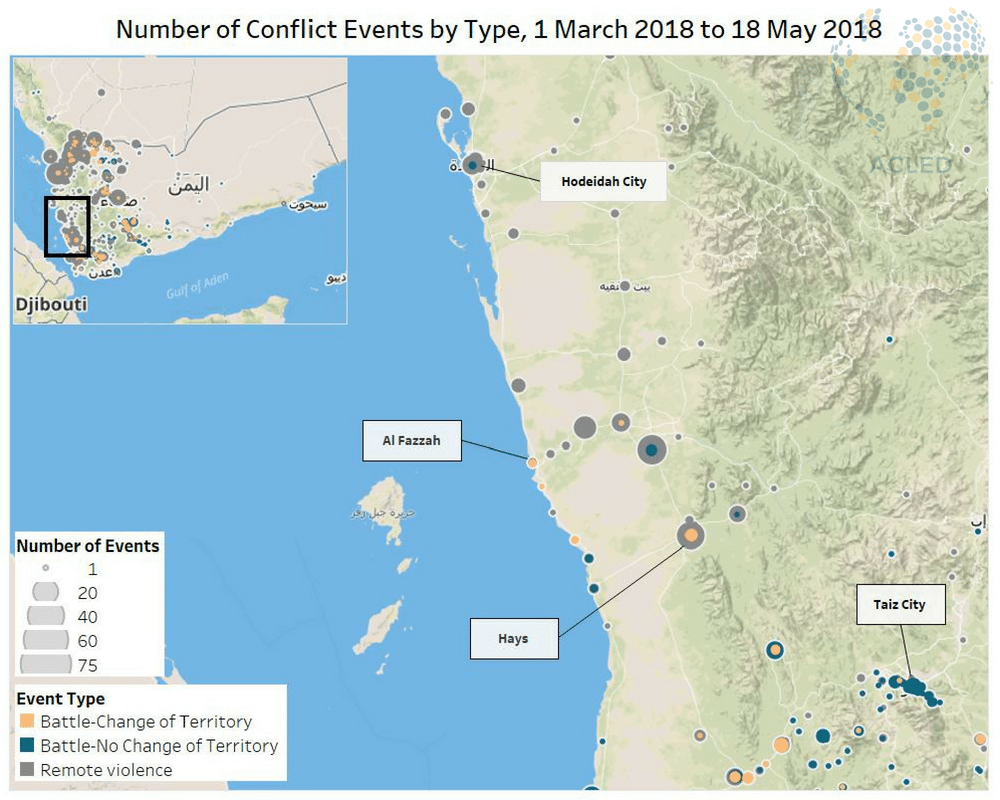 Increased fighting and intense airstrikes throughout areas of southern Hodeidah governorate have taken a major toll on civilian populations. Since 1 April 2018, airstrikes have reportedly killed at least 46 civilians and wounded countless others in Hodeidah. The United Nations estimates that clashes in Yemen's western coast have already displaced 100,000 people in recent months (Amnesty International, 17 May 2018). As anti-Houthi forces continue to advance toward the port city of Hodeidah, international organizations have warned of an impending crisis.
The port of Hodeidah is a critical entry point for food, medicine, and fuel supplies, and accounts for an estimated 70 to 80 percent of commercial imports into the country (ACAPS, 29 March 2018). During the last escalation of violence along the west coast, a blockade by the Saudi-led coalition in November of 2017 deprived millions of Yemenis access to clean water, food, and healthcare (INGO Joint Statement, 16 January 2018). Rapid advancements by anti-Houthi forces toward Hodeidah city over the last few weeks have sparked renewed fears that an all-out assault on the port would have disastrous consequences for both the civilian population within the city and those residing in the surrounding governorates. Looking to the future, the death of Sammad and the most recent developments along the west coast of the country may hinder plans for renewed negotiations that the newly-appointed UN special envoy, Martin Griffiths, had been developing.
Find an explanation of ACLED's methodology for monitoring the conflict in Yemen here.