With much of the international attention focusing on the renewed offensive on Al Hudaydah port city, the Saudi-led coalition is making important, albeit slower, territorial gains in Houthi strongholds in northwestern Yemen. In the course of only a week, it seems like the UAE-backed Operation Red Thunder has succeeded in clearing about 100 kilometres from Houthi presence along the Red Sea coast. As of May 28, anti-Houthi forces were reported to be on the outskirts of Al Hudaydah city (Twitter, 28 May 2018). This swift offensive has cast a shadow on recent Saudi-led coalition gains in the northwestern Hajjah and Sa'dah governorates, located at the border between Saudi Arabia and Yemen (for more on Operation Red Thunder, see this recent ACLED piece). As these governorates represent Houthi strongholds, the Saudi-led coalition has dubbed the offensive "Cutting the head off the snake" (Al Arabiya, 23 May 2018).
In March 2018, the Saudi-led coalition launched an offensive in the Midi and Harad districts of Hajjah governorate to cut off a supply route linking Harad district in Hajjah to Al Dhaher in Sa'dah governorate. Since then, fierce fighting has led to increased territorial gains by Saudi-led coalition-backed forces. On May 26, anti-Houthi forces reportedly took control of a number of mountainous areas that overlook the supply route in Hajjah. In the same week, anti-Houthi forces also claimed to have captured the government compound in Al Dhaher district and besieged Baqim city in Sa'dah. Anti-Houthi forces have long been making gains inside the east of Sa'dah governorate, launching offensives from the Al Ajashir area spread across Al Jawf and Sa'dah governorates (see Figure 1).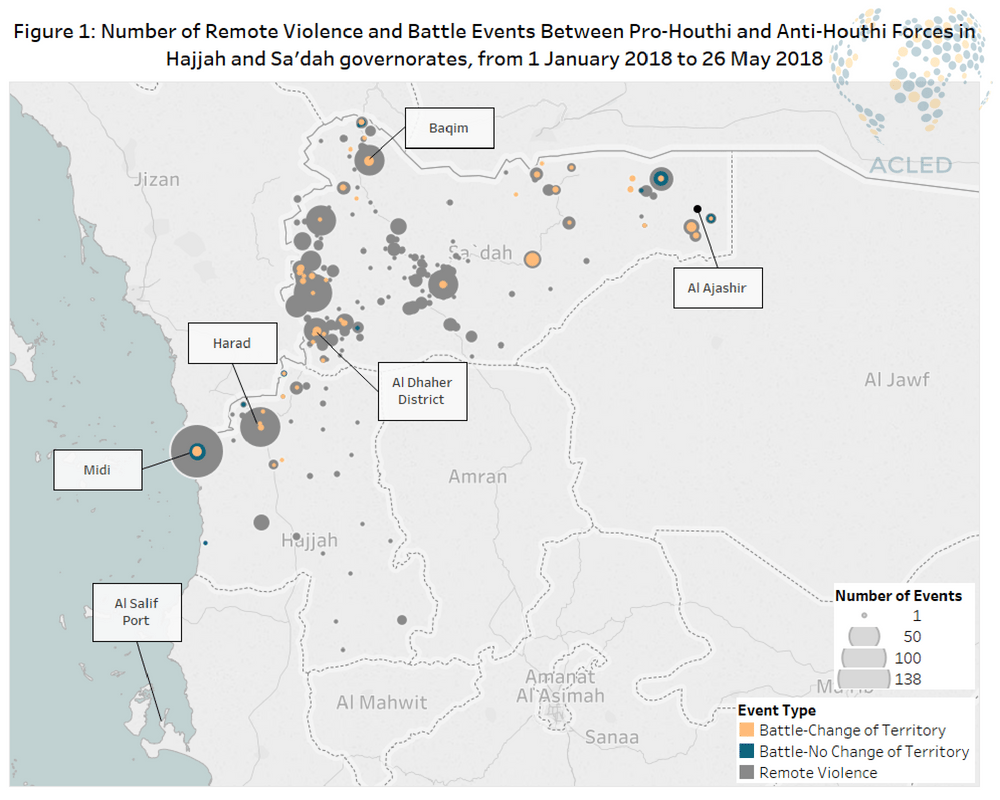 It is unclear what prompted these recent gains. However, Figure 2 below shows that they coincide with a general trend sparked by the collapse of the Houthi-Saleh coalition in late 2017. As previously highlighted by ACLED, the disintegration of the alliance, and the subsequent death of Ali Abdullah Saleh, was a critical rupture point of the Yemeni Civil War, following which there was an increase in territorial gains by anti-Houthi forces (ACLED, 22 April 2018).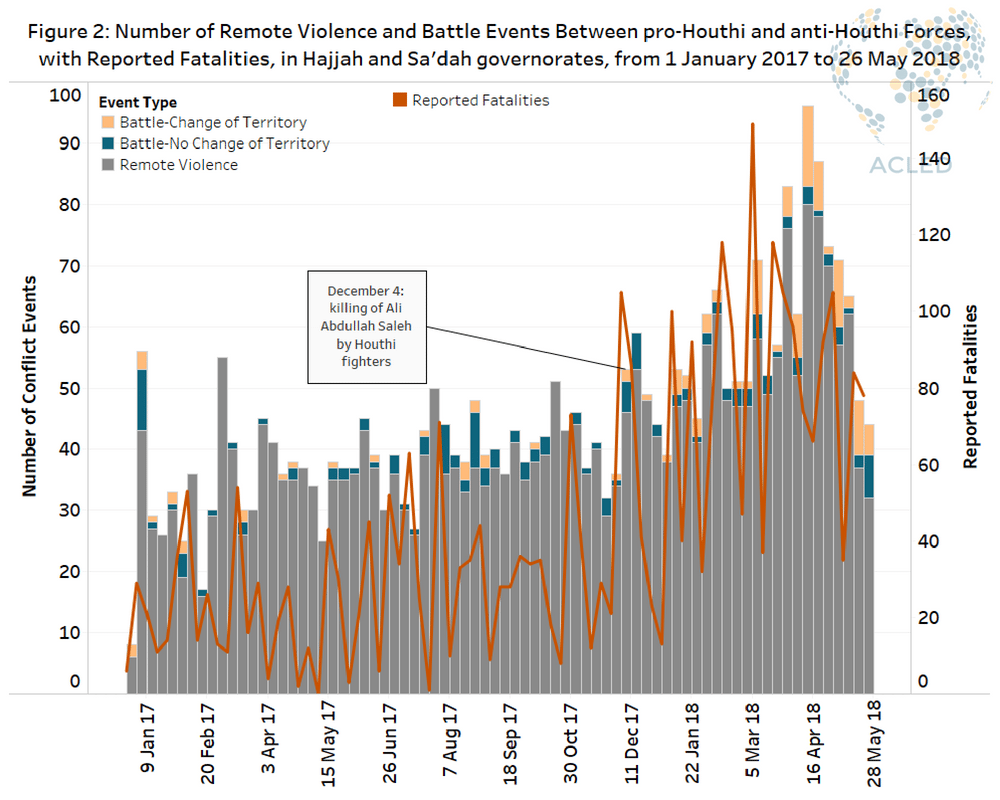 One of the most defining features of the campaign in northwestern Yemen is perhaps the fact that several anti-Houthi fighters are reportedly not native to the area. Salafi fighters from southern Yemen and Sudanese troops have played a leading role in the ground offensive, despite some resistance among southern Yemeni militiamen (Aden al Ghad, 15 April 2018) and renewed concerns over Sudan's participation in the Yemen war following recent heavy losses among their ranks (Radio Dabanga, 12 April 2018; 3 May 2018). Instead of supporting and backing up local fighters on the ground like the the UAE has done in southern and western Yemen, Saudi Arabia is largely focusing on intensifying its aerial campaign, as reflected in Figures 1 and 2.
Differences in operational tactics between Saudi Arabia and the UAE are likely to have a durable impact on their influence in Yemen. Indeed, despite the recent wave of anti-UAE protests across the country, Abu Dhabi is likely to enjoy lasting political and military influence in Yemen thanks to the various local armed groups it has empowered (for more on anti-UAE protests, see this recent ACLED piece). By contrast, even though Saudi Arabia is addressing what it sees as a vital security threat at its border, it is unclear to what extent Saudi public insistence on supporting the Hadi government is going to prove politically successful (for more on the UAE's sphere of influence in southern Yemen, see this recent ACLED piece).
Find an explanation of ACLED's methodology for monitoring the conflict in Yemen here.