On May 14, the United States (US) government officially moved its Israeli embassy from Tel Aviv to the disputed city of Jerusalem (Haaretz, May 14, 2018). This action triggered demonstrations across Palestine. The largest of these were in the Gaza Strip where weekly demonstrations against the move had been occurring since March 30 (read more about this here). Outside of Palestine, demonstrations were also reported in a number of other countries (see the infographic below). Interestingly, these demonstrations took place largely without the engagement of state security forces, which is especially unusual given that most of the regimes have shown no qualms about the use of violence against demonstrators on other occasions. The decision made by these regimes to not intervene in these demonstrations in solidarity with the Palestinian people is therefore a very political position. By allowing these expressions of opposition, these regimes are using the Palestinian issue as a pressure release valve for their citizens; allowing their constituencies to demonstrate over an issue that is non-threatening to their own position in power, while also opposing US President Donald Trump and Israel, is a popular stance (Arab Center Washington DC, October 27, 2017).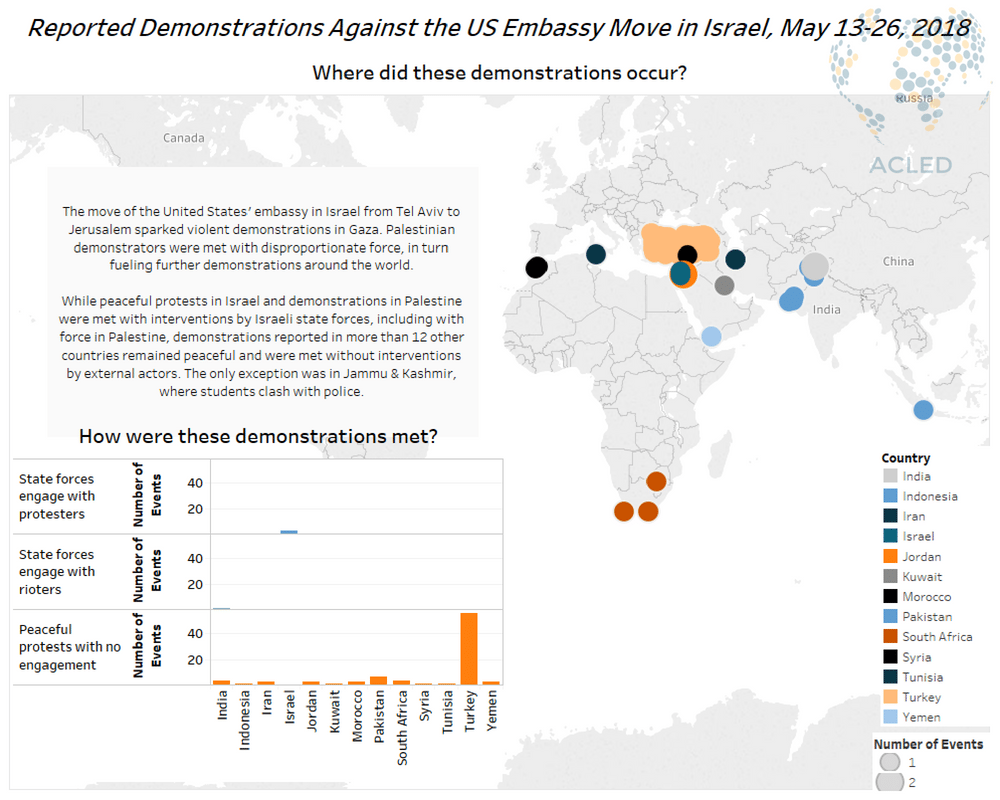 The highest number of demonstrations was recorded in Turkey where 56 protest events were reported. In all of these events, security forces did not intervene and protests remained peaceful in nature without any clashes reported. The only country in which security forces did intervene to stop peaceful protests was in Israel, specifically in Jerusalem and Haifa, where Arab residents protested in solidarity with the Palestinians. Additionally, Israeli authorities not only injured some of the protesters, but also arrested the organizers of the marches. This reaction is in line with past Israeli responses to pro-Palestinian protests (HRW, January 2018). The only other demonstration with an intervention by security forces was in the Jammu & Kashmir region of India, where students protested over the violence in Gaza and clashed with police attempting to disperse them.
However, what is surprising is the total lack of intervention in countries like Iran, Morocco, and Turkey where security forces have intervened in many protests previously or have criminalized them ahead of time by failing to provide the necessary permits. In Iran, a number of demonstrators were reportedly killed during the violent repression of the large wave of protests that started in December 2017 (HRW, January 2018). In Turkey, the demonstrations have been considerably curtailed due to repeated government interventions since the 2016 coup attempt (Amnesty International, January 2018), including a particular drop following the 2017 referendum (read more about this here). As such, the decision to allow these demonstrations while preventing others represents a clear political choice. By allowing demonstrations in solidarity with Palestinians and against the US decision to move their Israeli embassy, these governments are allowing their people to have a voice and to enjoy their right to protest in a way that is non-threatening to their position in power about an issue on which the regime and their people agree.
By contrast, the interventions by the Israeli and Indian governments against the demonstrations showing solidarity with Palestine are motivated by the potential threat that they could represent. This is clear in Israel, where Palestinian statehood is considered an existential issue. In India's case, these demonstrations could be seen in a similar light, as they could easily become a potential flashpoint over long-standing demands for Kashmiri independence. India has also been expanding its relationship with Israel (The Diplomat, January 23, 2018), which complicates its relationship to the issue of Palestinian independence.