During August 2018 (see map below), Syrian Democratic Forces (QSD) and the Global Coalition Against Daesh continued to battle Islamic State (IS) fighters in the northeast, gaining control over the Iraqi border area and surrounding IS in its remaining territory in Deir-ez-Zor. QSD representatives also attempted to kick-start negotiations with the regime over Kurdish autonomy in post-conflict Syria. Meanwhile, as the regime carried out arrest and conscription campaigns in Dar'a and Quneitra, regime fronts in southern Syria shifted towards As-Sweida province, where a regime offensive against IS pushed the group into the Rural Damascus desert.
Following victories in Dar'a and Quneitra, large numbers of regime and allied forces re-deployed to the front lines of the last-remaining rebel enclave in the northwest. Regime shelling and sporadic airstrikes on the enclave steadily increased, leading to global speculation that a full-fledged regime offensive might soon begin. However, a fragile ceasefire, marked by sporadic regime violations, was kept in place between Russia and Turkey as both powers sought to convince their respective allies to forgo direct confrontation in favor of a political solution.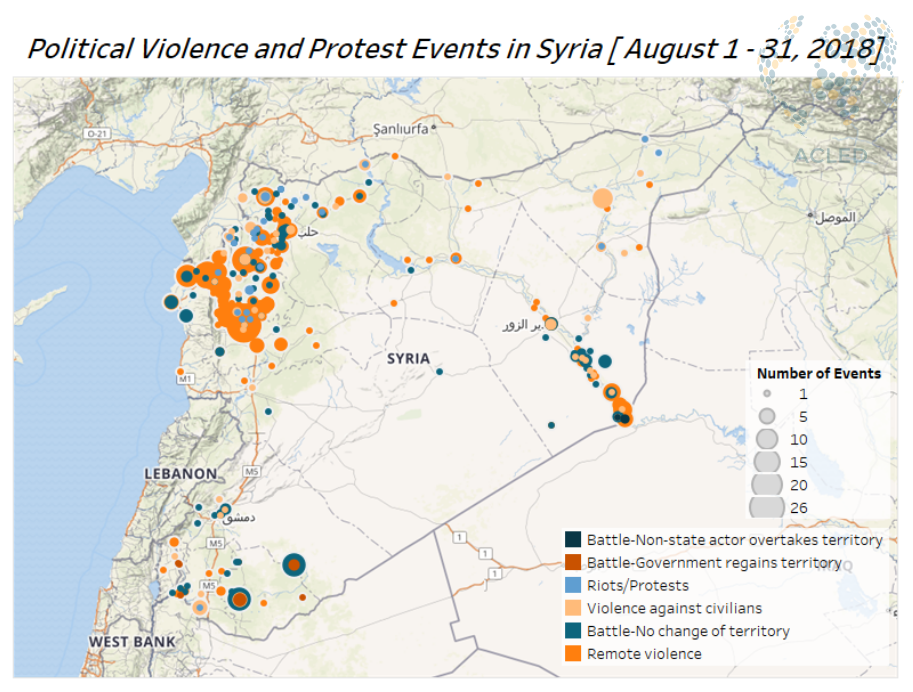 Continued QSD Offensive against IS and Negotiation with the Regime
In the northeast, Coalition and QSD military convoys were observed bringing reinforcements to Ein Issa, Al-Bukamal, Shahadah, and a number of other key bases as they reportedly worked to fortify and expand existing positions throughout August. Concurrently, QSD and Coalition forces continued ground and aerial attacks against IS in its remaining pockets of control in eastern Deir-ez-Zor and southern Al-Hasakeh. Despite IS attempts to counter these advances, QSD and regime forces made significant progress, gaining control of the Baghuz area and securing the Iraqi border. Following these gains, the QSD and Coalition continued to mobilize around the last-remaining IS enclave in the Hajin area of eastern Deir-ez-Zor.
With continued progress against IS and conflict elsewhere in the country winding down, QSD's political representatives met with regime negotiators in Damascus in August in hopes of reaching a deal for autonomy in post-conflict Syria. While considering QSD's long-term goal of maintaining the large swathes of territory it currently holds in the northeast, the move to negotiate for autonomy raises questions not only over the future of the area, but also over future Coalition involvement in Syria (Reuters, 2018).
Regime Moves Southwest to Southeast
Following the southwestern offensive against Islamist and rebel factions in July, regime and allied forces regained control over the majority of Dar'a and Quneitra provinces, including borders with Jordan and the Israeli-occupied Golan Heights (see July map below). With only the Yarmouk Basin area of Dar'a left under the control of the Khalid ibn al Walid Army, a group which has pledged allegiance to IS, battles continued into the beginning of the first week of August. As regime advances pushed Khalid ibn al Walid fighters towards Syria's southern borders, Jordanian border guards clashed with the group's fighters and Israeli warplanes carried out strikes against the group's positions.
Meanwhile, rebel fighters who chose to stay in Dar'a and Quneitra surrendered their weapons under "reconciliation" deals with the regime, and displaced civilians began returning to their homes. However, regime forces carried out arrests and forced conscription campaigns against former rebels and civilians in these provinces, as well as in the Eastern Ghouta of Rural Damascus. The campaigns were not only carried out in violation of local reconciliation agreements but also signaled an increasing effort by the regime to clamp down on any remaining opposition in the area.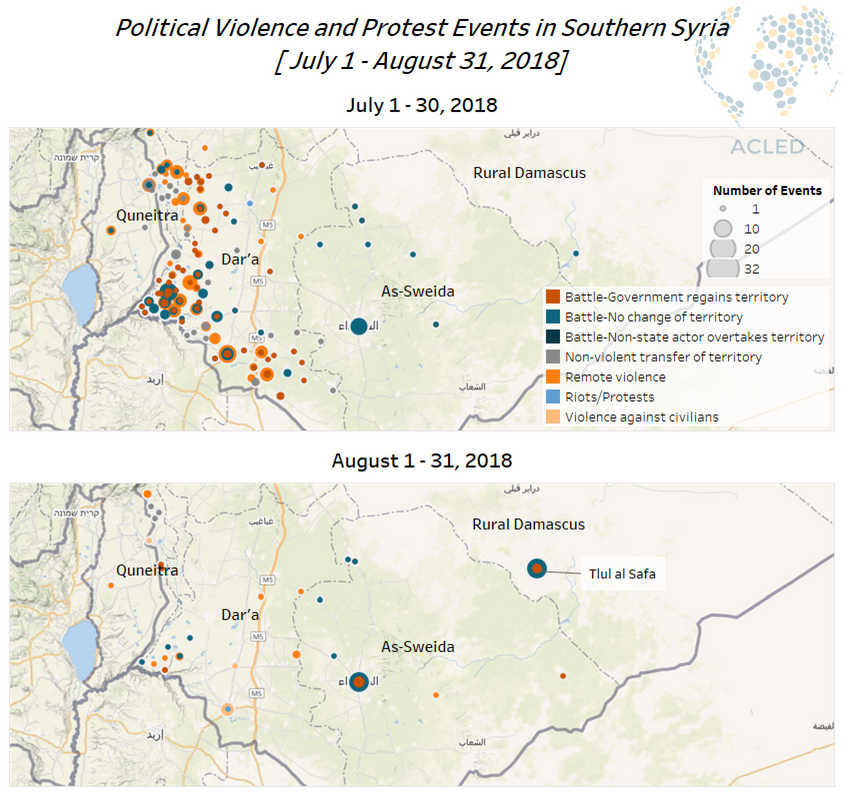 Following the regime's quick defeat of Khalid ibn al Walid in Dar'a, regime forces and allies re-directed their efforts eastward, conducting a smaller-scale offensive against IS fighters in As-Sweida (see August map above). This new offensive was initiated after IS carried out a wide-spread and deadly attack on the province's regime-held capital and other towns in late July (BBC, 2018). Accompanied by pro-regime fighters, local defense militias and Russian airpower, regime forces succeeded in pushing IS out of As-Sweida's northern border area, with clashes in recent weeks concentrated in the Tulul al Safa area of the Rural Damascus desert.
An Impending Regime Offensive in the Northwest?
The conclusion of the regime's southern offensive against rebels left the long-held northwestern rebel enclave — including areas of Lattakia, Hama, Aleppo, and Idleb provinces — as the last of its kind in Syria and a final major military objective for the regime. The area has been a consistent regime target, regardless of ongoing offensives in other parts of the country. It has also long served as a refuge for hundreds of thousands of fighters and Syrian civilians, including those displaced through the regime's surrender and evacuation deals with other former rebel-held areas (Al Jazeera, 2018). Currently home to over 3 million people, any escalation in regime violence could have catastrophic results for the area's population. The possibility of regime escalation has led to global speculation about if, when, and how a possible regime offensive to regain the area might take place, including threats from the United States of retaliation if chemical weapons are used.
With the southwest firmly under regime control, regime and allied forces — including Tiger Forces and Hezbollah, and even Kurdish People's Protection Forces (YPG) fighters — steadily deployed along the enclave's southern and eastern front during August. In response, the enclaves' most powerful rebel groups, excluding the former Al-Qaeda affiliate Hayat Tahrir al Sham (HTS), announced the formation of the National Liberation Front (JTW) with the aim of solidifying rebel cooperation for the defense of the area. Further, two of the enclave's largest players, HTS and the Syria Liberation Front (JTS), began carrying out raid and arrest campaigns across Idleb, targeting individuals accused of advocating reconciliation with the regime. Rebel factions also continued to target regime and allied forces' positions in Lattakia, Hama, Idleb and Aleppo.
Alongside continued deployment, the regime began ramping up shelling and airstrikes on the enclave's southern and eastern fronts (see maps below). This culminated in a spike in shelling and airstrike events on August 10, during which Russian strikes on the Idleb town of Urum al-Kubra alone reportedly killed 41 civilians. Feeling the pressure of these escalations and the possible humanitarian implications, on August 15, Turkish representatives reached a renewed ceasefire agreement for the area with Russia based on the Astana de-escalation zones, resulting in a general reduction of violence in the following week (see graph below). Both powers have increased their presence in the area, with the Turkish observation posts in the area receiving reinforcements and Russian naval forces gathering off the Syrian coast. However, while Russian and Turkish efforts[1] to reach a political solution which avoids full-scale military confrontation continue (Arab News, 2018), regime forces have continued smaller-scale violations of the ceasefire along the southwest fronts of the enclave. Civilians across the enclave held large demonstrations criticizing Russian support for the regime as well as the lack of UN and international action to stop a possible offensive.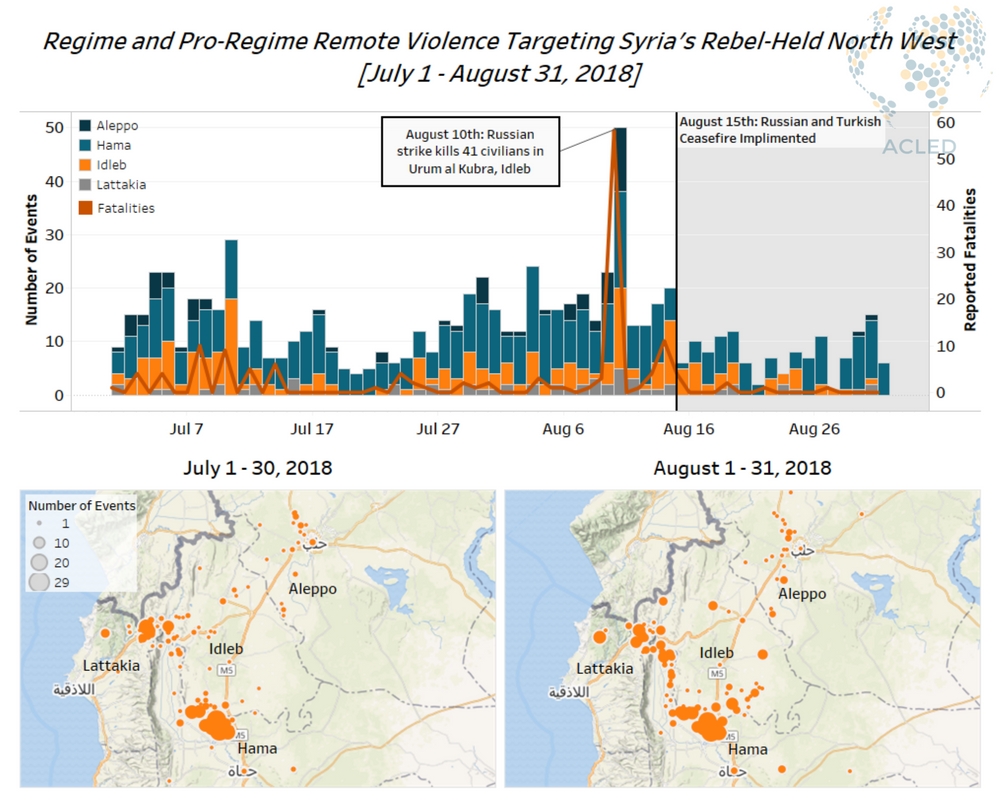 What Next?
QSD and Coalition efforts to eliminate IS' last enclave in Deir-ez-Zor will surely result in intensifying battles and IS counter-attacks around Hajin. As QSD eliminates the threat of IS from its territory, it will likely attempt to leverage its territorial dominance and the backing of the Coalition to secure continued and future autonomy. With the majority of the country now under regime control and the remaining areas under the influence of Turkey or the Global Coalition, political maneuvering and negotiation will likely play an increasingly significant role in coming months overall. Formal Astana talks, including over the future of the northwest, are scheduled to take place between Russia, Turkey, and Iran on September 7 in Tehran (Times of Israel, 2018). While negotiations continue, the regime will likely continue to carry out sporadic violations, possibly ramping up in the days before the talks. Intended to slowly chip away at rebel-held territory, regime violations will work to keep pressure on rebels and Turkish negotiators by reminding all parties involved that a full-scale offensive is not off the table and could begin at any time.
[1] See Stein, 2018 for analysis of Turkish and Russian interests and cooperation in coming to a political solution over the enclave.