Key developments in Africa in the week of February 24th include an increase in the fighting in Somalia; violence against Fulani communities in Burkina Faso and Mali amid rising militant activity; the targeting of Ebola structures in the DRC; and a spread of anti-government demonstrations in Northern and Western Africa.
Battles, remote violence and violence against civilians have been steadily increasing in Somalia over the past weeks, concentrating around the Banadir, Hiraan and Shabelle regions. Last week, at least 110 fatalities were reported across the country. Al Shabaab militants attacked military and AMISOM forces on several occasions, including in the areas of Belet Weyne (Hiraan), Qoryooley (Lower Shabelle), and Baardheere (Gedo), where they gained ground. The militants also continued to target military and government officials in various areas of Banadir (Banadir). On February 28th, they conducted a new complex attack on a hotel in Mogadishu frequented by politicians and Somalians based abroad, leaving at least 20 people killed and over 60 injured. The attack came over a month after a similar attack was conducted in Kenya and close to other sites previously targeted by the militants in Mogadishu. Soon after the attacks, the US forces announced having killed 26 Al Shabaab militants in an airstrike in the Hiraan region. Foreign forces have multiplied air and drone strikes as a result of the increased activity in Somalia since the start of 2019. At least 30 airstrikes have been conducted against Al Shabaab bases since January, half of them in February – only 18 were conducted over November and December 2018 in comparison. Al Shabaab also responded last week to pressure from Islamic State militants in Puntland, militiamen loyal to Mukhtar Roobow in Bakool, and internal dissidents in Middle Shabelle.
Fulani communities in both Mali and Burkina Faso were targeted last week, amidst a rise in militant activities led by the Group for Support of Islam and Muslims (JNIM). In Burkina Faso, soldiers reportedly killed 30 Fulani civilians at a mosque in the village of Lassa in Soum (Sahel region) on February 24th, while populations lynched three suspected Fulani robbers in the Cinkanse area of Koulpelogo (Centre-Est) a few days later. In Mali, reports have also pointed to a significant number of forced disappearances, torture and killing of Fulani communities at the hands of security forces and Dogon Dozos in the Mopti region recently. In parallel, members of the Dogon community continue to be regularly targeted by JNIM militants, underlining major interlinkages between the jihadist and communal violence: at least 17 were killed and 15 were injured when JNIM militants booby-trapped a corpse in Gondogourou in Koro (Mopti) on February 26th. Whilst air and ground operations by Malian and international forces continue to be launched against JNIM in both countries, the militants are increasing the pace and scale of their attacks on hard targets. Last week, two suicide bombers and a group of at least six commandos attacked the EUTM camp in Koulikoro (close to Bamako) for the first time, while nine G5 Sahel force soldiers were killed in a JNIM IED attack in the Koro area of Mopti.
Tensions also remained high in the Democratic Republic of Congo (DRC) last week. The demobilisation of members of the Kamwina Nsapu militia continues to be problematic in Kamako (Kasai). Last week, the militiamen abducted a Tetla community leader. The situation escalated when a local administrator along with soldiers went to secure his release, leading to a violent clash with the militia that resulted in 19 fatalities. Another faction of Kamwina Nsapu led by Nsabanga was reported to have conducted several lootings in Central-Kasai recently. Meanwhile, suspected Mayi Mayi attacked two Ebola treatment facilities in the Butembo area (Nord-Kivu) last week, with a note found at one of the scenes threatening further attacks until elections are held in the region (the presidential elections had been postponed in Yumbi, Beni and Butembo until March 2019 due to concerns related to the insecurity and Ebola). Ebola centres and workers have been a regular target of gunmen and community members in Nord-Kivu and Ituri provinces, with at least six attacks recorded over October 2018-February 2019.
Lastly, protests spread in Northern and Western Africa last week. Millions of young people continued to take the streets across Algeria to protest President Bouteflika's bid for a fifth mandate in the upcoming April presidential elections, while in Egypt, a train accident in Cairo that killed 22 and injured many others triggered widespread protests against the government and the military forces. In Senegal, women and youth demonstrated in Dakar on several occasions between February 26-28th against the re-election of President Macky Sall a few days prior. The elections occurred in a very controlled environment as no protests were reported in the country between February 5-26th. And in Benin, protests and riots also occurred in several areas against restrictions posed to the candidacies of opposition parties in the upcoming April legislative elections. All the demonstrations were dispersed by police forces and one rioter was killed in clashes with them.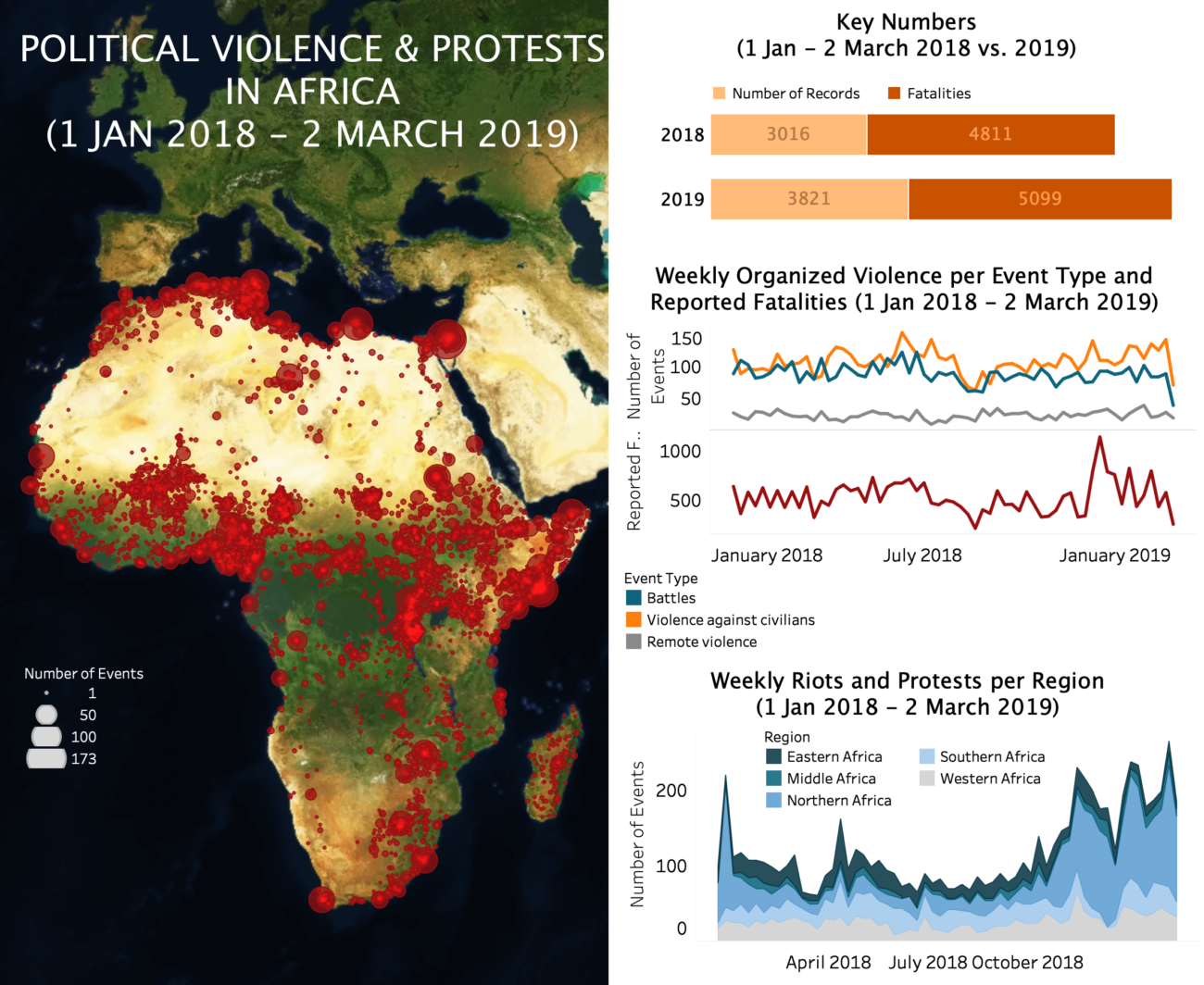 © 2019 Armed Conflict Location & Event Data Project (ACLED). All rights reserved.