Last week, levels of organized violence remained static while demonstration events continued to decrease across the South and Southeast Asian regions. In South Asia, military tensions between India and Pakistan escalated with both countries launching aerial strikes in each other's territory. Meanwhile, representatives from both the Taliban and the U.S. met again in Doha, Qatar, for another round of peace talks surrounding Afghanistan. In Southeast Asia, the West Papua National Liberation Army and the Indonesian military and police fought over two days last week in Indonesia while demonstrations across Malaysia were sparked by a Facebook post perceived to be offensive to Islam.
The key development in South Asia was the cross-border fighting between Pakistani and Indian security forces in the aftermath of the militant attack on security forces in Pulwama district of Jammu & Kashmir (J&K) on 14 February (for more on the Pulwama attack, see this recent ACLED piece). Early on 26 February, Indian fighter jets crossed the Line of Control (LoC) dividing India and Pakistan, allegedly launching strikes on militant targets in Balakot, Chakothi, and Muzaffarabad areas of Khyber Pakhtunkhwa and Azad Jammu and Kashmir provinces. Pakistani sources confirmed the intrusion but denied any air strikes occurred. The following day, 27 February, Pakistani fighter planes entered Indian airspace, reportedly dropping bombs in J&K's Rajouri and Naushera districts. During a subsequent air battle between the Indian and Pakistani Air Forces, two fighter planes were reportedly shot down and crashed in Pakistani territory. One of the downed jets was confirmed to be Indian; the downing of the other aircraft, as well as the fate of its pilot, were not confirmed by either side. The pilot of the downed Indian plane was arrested by Pakistani soldiers and handed over to the Indian authorities in what the Pakistani government termed a "peace gesture" (Guardian, 1 March 2019).
In addition, in the contested Kashmir region, near constant cross-border firing between Indian and Pakistani forces was reported along the Line of Control (LoC) and Working Border (WB) last week. Cross-border skirmishes resulted in the reported deaths of seven Pakistani civilians, four Indian civilians, two Pakistani soldiers and a Pakistan Ranger.
In Pakistan, following the Indian Air Force incursion into Pakistani airspace, protests and rallies were held nationwide throughout the week, expressing solidarity with the Pakistani army and condemning Indian 'aggression'.
In other developments, security forces reportedly killed six militants during several operations in Khyber Pakhtunkhwa province last week. Security forces claimed that four militants were killed in an exchange of fire in Tank district, another in Dera Islamic Khan district, and a suspected Islamic State (IS) commander was killed in Orakzai district. In addition, two IS militants were reportedly shot dead by security forces in Balochistan province.
In India, the situation in Jammu & Kashmir district remained volatile last week. A further five Jaish-e-Mohammed (JeM) militants, three policemen, two Central Reserve Police Force (CRPF) troopers, and one soldier were reportedly killed during Cordon and Search Operations (CASO) in Kulgam, Shopian, and Kupwara districts.
In other parts of India, seven Maoist rebels were reportedly killed in clashes with security forces in Chhattisgarh and Jharkhand states. In retaliation, Maoist rebels killed a suspected police informer in Chhattisgarh's Narayanpur district.
With the Indian general elections being less than two months away, incidents of election-related violence were reported from several parts of the country. In West Bengal, four Trinamool Congress (TMC) workers were killed in separate attacks in South 24 Parganas, Murshidabad and Nadia districts. Election-related riots and protests – especially including members of the Telugu Desam Party (TDP) and Yuvajana, Sramika, Rythu Congress Party (YSRCP) – led to an increase in reported demonstration events in Andhra Pradesh and Tamil Nadu.
In other developments, two persons were reportedly killed after the police opened fire in a clash with demonstrators in Itanagar city, during the fourth day of a bandh (general strike). This increased the number of persons killed during the bandh to three. Indigenous groups have been protesting against the Bharatiya Janata Party (BJP)-led state government's move to grant Permanent Resident Certificate (PRC) to six non-tribal communities in Arunachal Pradesh. In Pune city, the police baton charged differently-abled protesters demanding a more inclusive education system for children with special needs.
In Afghanistan last week, fighting continued between multiple armed groups and Afghan/NATO forces throughout the country. The heaviest concentration of clashes occurred in the provinces of Nangarhar, Ghazni, and Helmand. In the latter, Taliban militants launched a major attack on Camp Shorabak: a joint US-Afghan military installation northwest of Lashkargah city. The assault, which included at least three suicide bombers, reportedly killed at least 23 Afghan soldiers, and nine Taliban militants (RFERL, 1 March 2019). It is unclear whether any foreign soldiers were involved in the fighting, although no casualties were reported.
This attack comes as representatives from both the Taliban and the U.S. met again in Doha, Qatar, for another round of peace talks spanning several days. It remains to be seen whether the Helmand attack will affect negotiations. This time around, the Taliban team was headed by one of the group's co-founders, Abdul Ghani Baradar, who was recently released after being held in Pakistan following his arrest in 2010 during a joint intelligence raid (NY Times, 25 October 2018). As before, the Taliban are asking for a full withdrawal of American troops, while the U.S. is seeking a guarantee that Afghanistan will not be used as a staging ground for attacks on the U.S and its allies. The U.S. envoy Zalmay Khalilzad is also hoping to convince the Taliban to negotiate with the Afghan government, who until now has been absent from talks due to the Taliban claim that they are so called Western "puppets" (Al Jazeera, 3 March 2019).
In Bangladesh, an armed man allegedly tried to hijack a Dubai-bound plane. The suspected hijacker was killed in an exchange of fire with security forces following an emergency landing at Chittagong airport. In addition, infighting between different factions of the Awami League (AL), as well as its student body Bangladesh Chhatra League (BCL), continued last week, reportedly leaving one person dead in Madaripur district.
In Nepal, hundreds of doctors of the state-owned health institutions boycotted work to protest against the recently-endorsed Civil Servants Adjustment Bill claiming it to be discriminatory against them. Thousands of patients across the country were affected due to the strike launched by the government doctors (Nepal Monitor, 29 February 2019).
In Sri Lanka, family members of disappeared persons took to the streets across the island nation demanding justice for the thousands of disappeared persons during the three-decade-long civil war that ended in 2009. Residents of the Tamil-dominated Northern Province observed a complete shutdown on 25 February.
In Myanmar, clashes between the Myanmar military and Arakan Army (AA) occurred throughout last week in Mrauk-U township in Rakhine state. Recently, around 90 village administrators in Mrauk-U attempted to resign after several officials had been detained and accused of aiding the AA (Radio Free Asia, 1 March 2019). Also, in Rakhine state, the wife of a major in the Myanmar military was killed in Buthidaung township when a bomb that was planted in her belongings exploded.
Meanwhile, in Hsipaw township, in Shan state, the Restoration Council of Shan State/Shan State Army-South (RCSS/SSA-S) and Shan State Progress Party/Shan State Army-North (SSPP/SSA-N) continued to fight. Clashes also occurred between the RCSS/SSA-S and the joint forces of the SSPP/SSA-N and Palaung State Liberation Front/Ta'ang National Liberation Army (PSLF/TNLA).
A number of protests occurred last week in favor of amendments to the 2008 constitution. Rallies have been held across the country in support of the National League for Democracy's (NLD) recent move to change the constitution through the parliament. The move has caused tension with the military which accuses the NLD of using the "wrong procedure" to seek amendments to the constitution (Reuters, 27 February 2019).
There were 12 reported drug suspect fatalities from police raids last week in the Philippines. All but two took place in the Central Luzon region — which recently has been dubbed the "new killing fields in Duterte's war on drugs" (Rappler, 24 February 2019). More reported fatalities from police operations occurred in Central Luzon than Metro Manila in 2018. Meanwhile, clashes between the Philippine military and the Abu Sayyaf Group (ASG) in Basilan province resulted in one reported fatality.
In Indonesia, clashes between the West Papua National Liberation Army and the Indonesian military and police occurred over two days last week in Nduga regency. The clashes come as two Papuan groups recently announced they would boycott the upcoming general elections in April (Radio New Zealand, 19 February 2019).
Garment workers continued their protests against W&D Cambodia Co Ltd in Phnom Penh in Cambodia (for more on this, see this past ACLED piece). The workers have been demonstrating after the factory sacked 1,200 workers for staging a protest calling for improved labor conditions (The Phnom Penh Post, 26 February 2019). The demonstrations come as the European Commission begins the process of reviewing its preferential Everything But Arms (EBA) trade agreement with Cambodia. As the European Union accounts for 45% of Cambodian exports, withdrawal of the EBA would have consequences for Cambodia's garment workers (Reuters, 11 February 2019).              
Thousands of garment workers also demonstrated in Vietnam against HAI VINA Kim Liên Ltd Company, a garment factory in Nghe An province, for two days after learning their allowances for housing, petrol, and dangerous pay would be cut (Viet Nam News, 27 February 2019).
Demonstrations were held across Malaysia last week against the Pakatan Harapan (PH) government. The demonstrations were organized by United Malays National Organization (UMNO) and Malaysian Islamic Party (PAS) who accused the PH government of failing to protect the Malay and Muslim identity of the country (for more on this, see this past ACLED piece). Such grievances arose after a Facebook post perceived as insulting the Prophet Muhammad was made (Daily Express, 2 March 2019).
No political violence or protest events were recorded in Laos last week.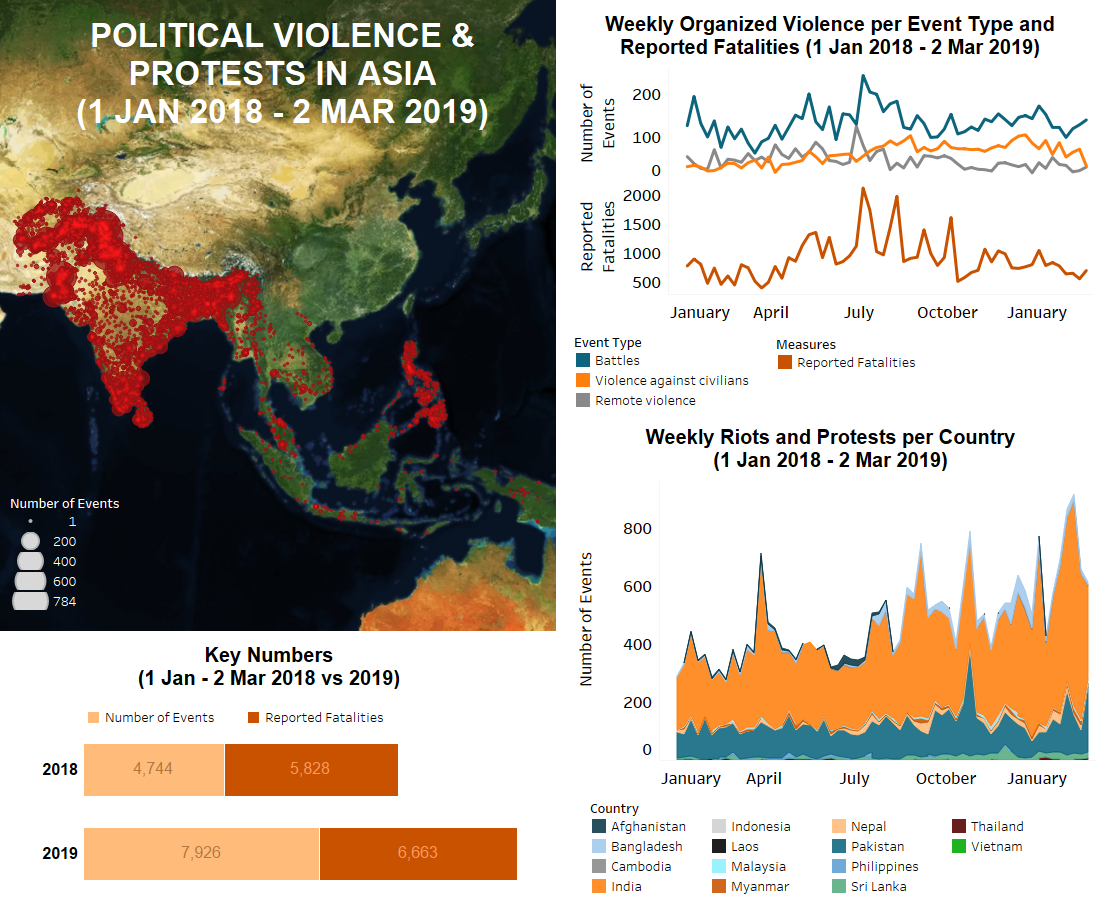 © 2019 Armed Conflict Location & Event Data Project (ACLED). All rights reserved.