Throughout the Middle East region last week, overall instances of battles remained about the same as the week prior, while events involving only remote violence and explosives continued to increase as part of an upward trend since the beginning of 2019. Reported fatalities rose slightly in number after a heavy drop in early March. Demonstrations, meanwhile, have decreased in Iran following a nationwide teachers strike the week before, but notably increased in Bahrain and Syria.
In Israel, last week began with a demonstration organized by the World Zionist Organization in Jerusalem calling for the government to prioritize responding to a recent wave of anti-Semitic events worldwide. Similar demonstrations also took place in cities such as New York and Paris.
In southern Israel, two more incendiary balloons were launched from Gaza last week; one caused a massive fire in the Beeri forest, while another landed in an agricultural field in the Eshkol Regional Council. Meanwhile, at least 15 rockets were fired into Israel from the Gaza Strip over the course of the week – four of which were intercepted by the Iron Dome. Two rockets reached the Gush Dan area near Tel Aviv yet caused no injuries, while the others landed mostly in open fields. Both Hamas and Palestinian Islamic Jihad (PIJ) denied responsibility for the Tel Aviv attack (An-Nahar, 15 March 2019).
In response, Israeli airstrikes targeted approximately 100 Hamas and PIJ affiliated sites within the Gaza Strip early Friday, leaving four Palestinians reportedly wounded. For the first time in nearly a year, the weekly Return March demonstrations were not held along the Gaza-Israel border, as it was deemed too dangerous (Middle East Monitor, 15 March 2019). On Sunday, two positions near Dayr al Balah and Khan Yunis were also struck by Israeli forces, resulting in material damage.
Elsewhere in Palestine, demonstrations were held across the Gaza Strip for three consecutive days against the high prices of goods and taxes imposed on the region. Demonstrators set tires alight and Hamas security forces reportedly used live fire and other dispersal methods to break up the riots. Demonstrations were focused in Dayr al Balah, Rafah, al Burayj and Jabalya Camp. There were also peaceful protests in Gaza city, Nusayrat, and Rafah calling for the resignation of Palestinian president Mahmoud Abbas.
In the West Bank, two Palestinians were reportedly killed at Israeli checkpoints in Jericho, and near Kiryat Arba, Hebron. The latter was shot after allegedly attempting to stab Israeli soldiers in the area. A third Palestinian was reportedly killed when clashes broke out in Salfit city between Israeli soldiers and locals.
On Tuesday, Palestinians allegedly threw a Molotov cocktail at a police station on the Temple Mount causing material damage and injuring a police officer. The Islamic Waqf and Palestinian activists, however, claim the attack was fabricated by police to deliberately escalate the tense situation surrounding Al Aqsa mosque (Arutz Sheva, 13 March 2019). Several Palestinian worshippers were reportedly wounded on Thursday after a group of approximately 200 Israeli settlers stormed the Al Aqsa compound. Other incidents of clashes between Palestinians and Israelis occurred throughout the West Bank.
In Jordan, meanwhile, hundreds of citizens demonstrated across the country in solidarity with Palestine amid continued tensions in Jerusalem. Two additional demonstrations were held in support of the victims of the Christchurch mosque shootings in New Zealand. On Thursday, an agreement was signed to end a two-week long sit-in carried out by unemployed people from Ma'an province who had been protesting near the Royal Court in Amman.
In Lebanon, several gun fights broke out between members of armed groups in different areas. Two clashes occurred in Ein al Hilweh camp, one between members of Ansar Allah, and the second between the Bilal Arqoub Militia and unidentified armed men. A third gun battle occurred in Hayy el Selm between members of the Daim clan and an off-duty security officer, the latter of whom was allegedly killed. Meanwhile, an unidentified armed group fired small arms and threw a grenade at Lebanese soldiers in the village of Matraba along the Syrian border.
Elsewhere in the country, there were a number of demonstrations throughout the week, the largest being a hundreds-strong march in Beirut as part of International Women's Day. Later in the day, a second group of demonstrators joined the march and demanded that Lebanese women be granted the right to pass down their nationality to their children.
In Iran, demonstrations by different groups including laborers, students, farmers, and defrauded investors continued across the country, although to a lesser degree than in previous weeks.
In Bahrain, riots and protests marked the eighth anniversary of the foreign Peninsula Shield Force's entry into Bahrain. The forces from Saudi Arabia and UAE were originally called by the Bahraini government to help quell unrest in 2011 (NY Times, 14 March 2011). Demonstrators last week demanded that the forces depart from Bahrain.
In Kuwait, dozens of unemployed petroleum engineers staged a rally outside the Kuwait Petroleum Corporation in Shuwaikh against alleged favoritism and nepotism in the recruitment process. The demonstrators called on Parliament to support their demands.
In Turkey, a number of demonstrations occurred throughout the country in response to the actions of International Women's Day marchers in Istanbul on 8 March. Last week a video surfaced which captured the Taksim area protesters chanting while a nearby mosque was reciting the call to prayer. President Erdogan himself condemned the groups, claiming that their chanting was a sign of disrespect to Islam (Ahval News, 10 March 2019). Several right-wing Islamic groups staged protests as a result, many of which also condemned the recent Christchurch mosque shootings.
Meanwhile, attacks on Republican People's Party (CHP) and Peoples' Democratic Party (HDP) offices and workers increased last week in the lead up to the 31 March local elections in Ankara, Izmir, and Siirt provinces. Similar attacks occurred during the Turkish general elections in 2018.
In the southeast, Kurdish sources reported several battles between Kurdistan Workers' Party (PKK) fighters and Turkish soldiers in the provinces of Hakkari and Igdir. Turkish military sources also released information from events the week before detailing 12 unsuccessful attempts by PKK to attack army bases in three provinces with drones. The attacks were reportedly launched from across the Euphrates River in Syria (Anadolu Agency, 10 March 2019).
The PKK are known to have bases outside of Turkey, particularly in northern Iraq. Turkish warplanes often target alleged PKK positions in the mountains of Dahuk and Erbil governorates, or clash on the ground near Turkish army bases in the region. In this regard, two battles and ten airstrikes were reported in Iraqi Kurdistan last week.
Further south, clashes between Iraqi security forces and Islamic State (IS) militants continued throughout the country. Of note were three IED attacks on Tribal Mobilization Forces (TMF) in the governorates of Sala al-Din and Ninewa.
Meanwhile, protests occurred in a number of governorates to demand labor opportunities and increased state services. Similar agitations have been typically centered in southern Basra governorate; however, last week they erupted on a smaller scale in Baghdad, Diyala, Thi-Qar, and Babylon. In Kirkuk, several villagers demonstrated against the alleged Arabization of their area (Basnews, 11 March 2019).
In Yemen, Houthi forces achieved several victories last week over Hujur tribal militias in Hajjah governorate. These come despite weeks of support for the latter from Saudi-led coalition airstrikes and provision drops. Fatalities from the fighting were reportedly significant on both sides. Additionally, reports emerged of Houthi forces executing tribal leaders and members of the General People's Congress (GPC) and Islah Party in Hajjah as a means of consolidating their control (Asharq Al-Awsat, 13 March 2019).
Battles continued between anti-Houthi forces loyal to the internationally-recognized government and Houthi forces in several other areas across the country as well, with the most intense clashes being fought in Sadah governorate along the northern border areas. Further clashes were reported in Nati and Dhi Na'im districts of Al-Baydha, the area surrounding Barh city in Maqbanah district, and in Jabal Habashy district of Taizz governorate.
Lastly, Houthi forces continued to fire ballistic missiles at targets within the country and in the border regions with Saudi Arabia. One missile struck the Abu Musa camp in Al Khawkhah district of Hodeidah, reportedly killing at least one National Resistance soldier and injuring others, including civilians.
In Syria, exchanges of shelling in and around the DMZ in the governorates of Idleb, Hama, Aleppo and the Lattakia countryside continued last week between regime forces and rebel/Islamist groups, with multiple towns and villages being hit. The militant groups Hayat Tahrir al Sham (HTS) and National Liberation Front (JTW) were the most active on the rebel side, hitting regime controlled positions in Hama. Regime shelling targeted rebel-held positions in addition to areas along the Turkish army patrol route, which had aimed to deter regime shelling. Similar to the week prior, a number of airstrikes were also reported in the greater Idleb area by Syrian and Russian warplanes.
In the east, clashes between Syrian Democratic Forces (QSD) and the remaining elements of IS continued in IS-held areas north of Baghuz town, Deir-ez-Zor governorate. No significant territorial advancements were reported; however, the continued ground assault along with Coalition air support led to mass evacuations and surrenders by both IS fighters and civilians throughout the week (VOA, 14 March 2019).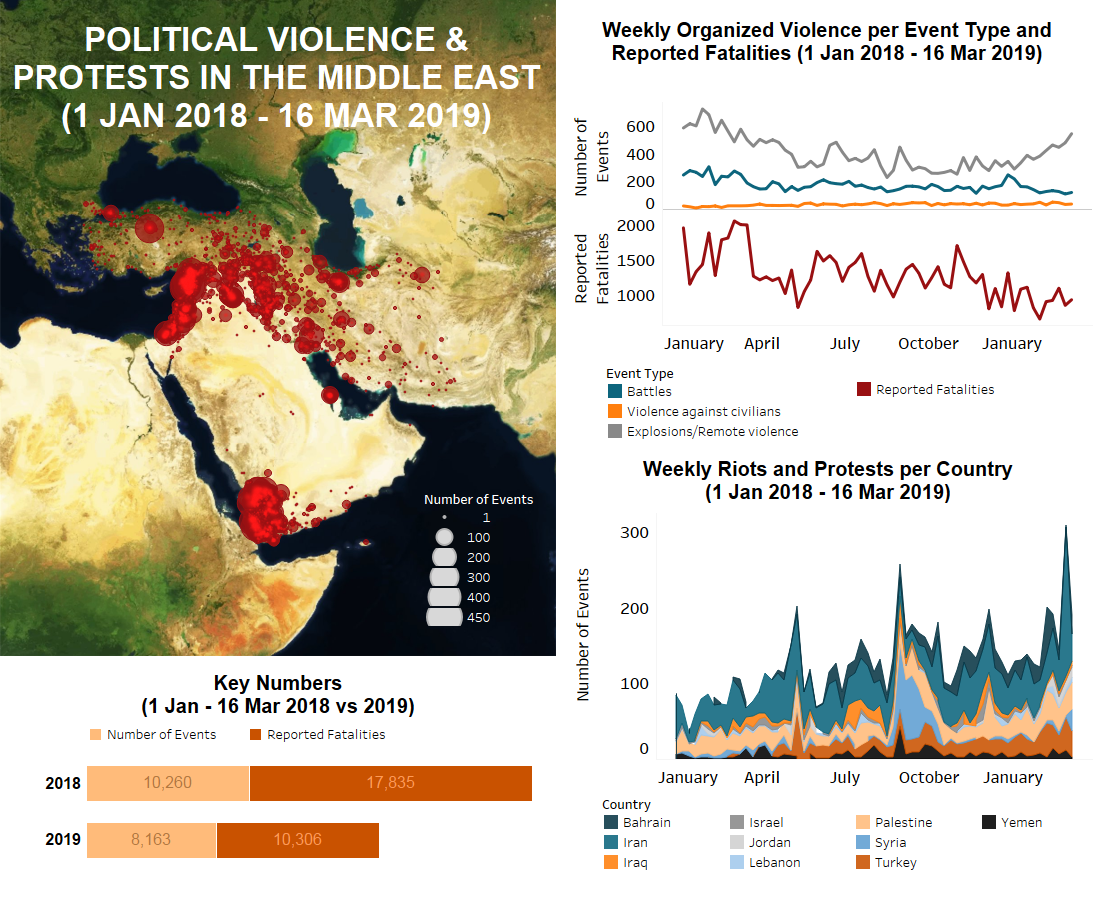 © 2019 Armed Conflict Location & Event Data Project (ACLED). All rights reserved.