Last week, anti-government protests in Europe increased, in particular in Serbia where tensions between the ruling party and anti-government protesters have heightened. A limited number of demonstrations were also held surrounding the Ukrainian presidential elections.
Anti-government demonstrations in the Balkans, Southeastern Europe, and Eastern Europe increased last week, after several prior weeks of decline. In Montenegro, anti-government demonstrations continued, with one demonstration leading to a clash among rioters and two serious injuries. In Albania, weekly national demonstrations against the government continued, marked by clashes between demonstrators and police. In Moldova, Guagazia region, protests were held against changes in the electoral law, and in Chisinau protesters demanded prosecution of police brutality. Anti-government protest events in Serbia also increased last week, after a significant drop in the week prior, with a major protest rally held in Belgrade on April 13. Supporters of the ruling Serbian Progressive Party (SNS) held demonstrations blocking local government buildings in at least two cities. Tensions between supporters of SNS and the anti-government "1 of 5 Million" movement increased, with several attacks on both sides reported last week.
In Ukraine, leading up to the second round of the presidential elections scheduled for April 21, the number of demonstration events increased slightly. The National Corps Party staged another protest against President Petro Poroshenko and corruption in Ukraine's defence industry. In central Kiev, scuffles took place between supporters of Poroshenko and Volodymyr Zelenskiy as thousands rallied in support for either presidential candidate.
In the Donbass region, fighting between Ukrainian government forces and separatist rebels continued at similar levels to previous weeks.
Other than the above key developments noted above, throughout the Balkans, Southern and Eastern Europe, demonstrations against labour- and environmental practices and various other issues continued. In Belarus, weekly protests against a car battery plant in Brest continued, but has expanded to protests against police arrests of local activists as well.
In Bosnia and Herzegovina and in Kosovo, members of the Romani ethnic minority protested, demanding more rights and protection by the institutions. In Bulgaria, hundreds of rioters demonstrated, clashing with police and setting two Romani houses on fire in response to an earlier incident where three Romani men beat up an ethnic Bulgarian man.
In Greece, anarchist group activity increased last week. In Athens, there were two consecutive nights of violence in addition to other attacks against riot police in anarchist stronghold Exarchia. In Thessaloniki and Athens, anarchists held various demonstrations, using violence in several of them.
In Russia, the minor surge in Communist Party of the Russian Federation (KPRF) protests last week centered around the party's leader, Gennady Zyuganov, who is embroiled in a legal battle with the oligarch Oleg Deripaska. Regional protest events increased in number, but attracted relatively small crowds. The protests took place on April 10 and 11, coinciding with the second hearing of the case against Zyuganov on April 11.
In the city of Tyumen, southwestern Siberia, an armed clash took place between the police and alleged Islamic State militants, leading to the reported deaths of both alleged militants. In Russia, such incidents involving the Islamic State are rare outside of the Caucasus region.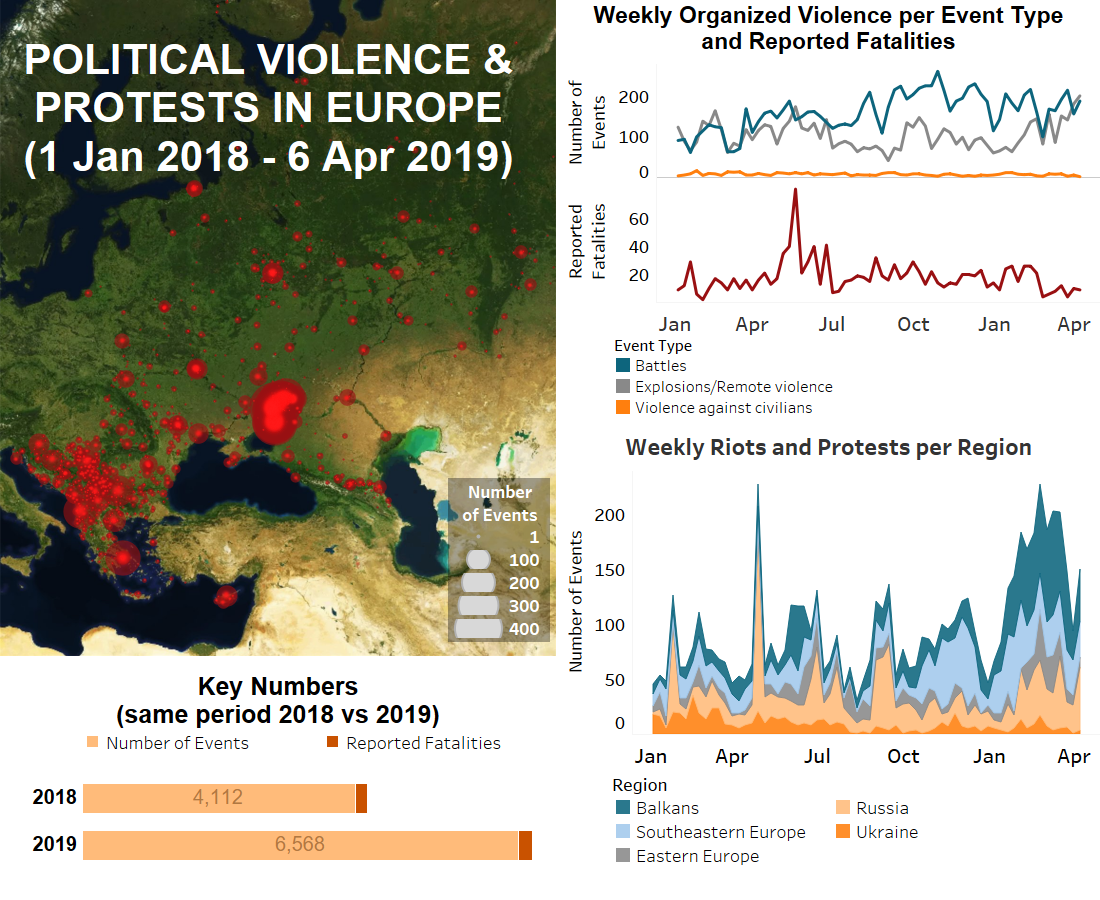 © 2019 Armed Conflict Location & Event Data Project (ACLED). All rights reserved.