Last week, the political violence situation in Europe remained calm, with few political violence events and no fatalities reported outside of the conflict zone in Donbass, Ukraine. In Albania and Serbia, anti-government demonstrations continued; and throughout Europe, traditional 'Labour Day' peaceful protests were held on 1 May. In Russia, a handful of these protests were met with violent police intervention and arrests.
In Albania, violent anti-government demonstrations, co-organized by opposition parties Democratic Party of Albania (PD) and Socialist Movement for Integration (LSI), continued for the second week as demonstrators again blocked roads and clashed with police. Anti-government protests continued at low levels in Serbia after the opposition appears to have lost much of its momentum since mid-April (see our Regional overview of last week). Meanwhile, in Bosnia and Herzegovina, the assassination of a businessman critical of the government is gaining attention as suspicion of government involvement rises (Balkan Insight, 1 May 2019), but this has not resulted in demonstrations or acts of political violence.
In Russia, 'May Day' parades marking Labour Day, the traditional occasion for both anti-government protests and pro-government rallies, were the cause of a significant increase in protest events. The authorities cracked down on a handful of dissident protests, most notably in Saint Petersburg where police intervened and detained at least 65 activists, seriously injuring several (Meduza, 1 May 2019).
In Ukraine, the situation outside the Donbass region remained calm, with a handful of protests and two attacks against civilians reported. Along the front lines in Donbass, fighting continued with 332 armed clashes, 291 shelling incidents and two reported fatalities. In addition, a new Russian regulation allowing people in the Donbass region to apply for Russian citizenship opens the region up for more Russian interference (Project Syndicate, 7 May 2019).
Other than these major developments, in the Balkans, Southeastern, and Eastern Europe, a handful of demonstrations took place around government policies, labour disputes, and other social issues — similar to that seen in prior weeks. The vast majority of these demonstrations were peaceful. There was no significant change in political violence levels; two bombings, several attacks against civilians, no armed clashes and no fatalities were reported in the region last week.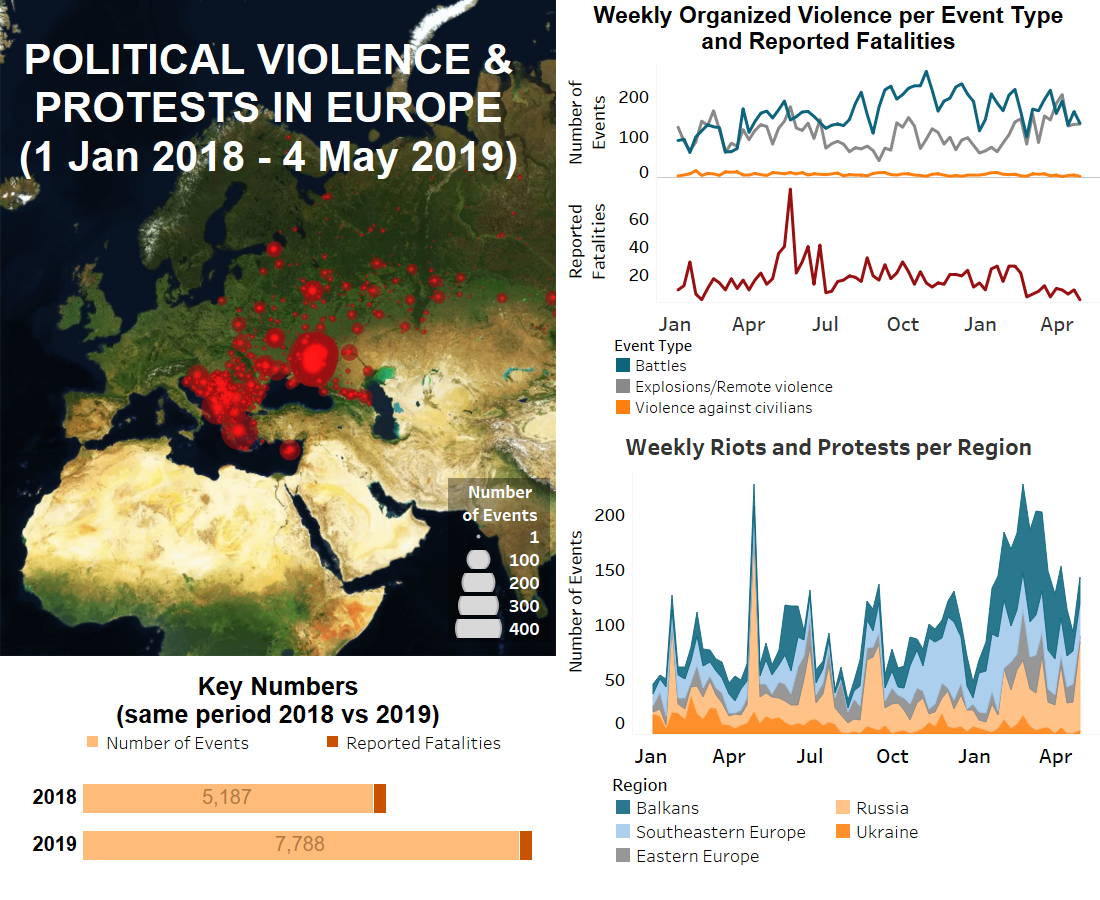 © 2019 Armed Conflict Location & Event Data Project (ACLED). All rights reserved.