Last week, anti-government demonstrations in Albania escalated when a large demonstration in the capital turned violent. In Serbia, the opposition tries to regain some momentum after anti-government protest activity declined in prior weeks, and in Romania, anti-government protests are picking up surrounding an anti-corruption referendum to be held on 26 May. The situation in Ukraine remained relatively calm, while the conflict in Donbass continues. In Russia, demonstration event numbers dropped in the traditional post-1 May Labour Day calm, and political violence levels remained low for the fourth consecutive week.
In Serbia, anti-government demonstration activity increased after a several week slump. Members of the "1 of 5 Million" protest movement set up a designated space for events, a "free zone", in Belgrade, which may serve as a rallying point for future anti-government demonstrations (RFERL, 5 May 2019). Responding to anti-government pressures, supporters of the ruling Serbian Progressive Party (SNS) held demonstrations against a handful opposition-controlled local governments. Several violent attacks and brawls between anti- and pro-government supporters continue to happen each week, none reporting the use of weapons or lethal force (BETA, 7 May). In addition, an apparent surge of anti-Albanian sentiment has been brought about by political dialogue on Kosovo-Serbia relations (Kosovo has a predominantly Albanian population with a Serbian minority, causing tensions among Serbia, Albania, and Kosovo) (BIRN, 30 April 2019, Euractiv, 9 May 2019), causing small scale protests against Albanian owned businesses and several beatings of people identified as Albanian.
Anti-government demonstrations in Albania escalated after several weeks of smaller scale road blockades and skirmishes with police across the country. A large-scale demonstration in Tirana on Saturday resulted in clashes with police, countless injuries, and 50 arrested, after Molotov cocktails were thrown and the Prime Ministry yard was set on fire. Demonstrations are expected to continue as the opposition seeks to have corruption, judicial reform, and election fraud issues addressed before the opening of EU accession talks and the local elections, both set for June (RFE/RL, 12 May 2019).
Protest activity in Romania increased as large demonstrations were held by the ruling Social Democratic Party (PSD) and by opposition parties, in particular the National Liberal Party (PNL), sparked by European Union parliamentary elections and a referendum to be held on 26 May (EU Observer, 13 May 2019). The referendum attempts to challenge new regulations that insulate politicians — in particular those from PSD — from corruption charges and allows the government to enact emergency measures without the involvement of the parliament. The PSD government has already attempted to change the referendum conditions in its favour (Balkan Insight, 8 May 2019) and it is likely that more opposition protests will be held surrounding this issue in the coming weeks.
In Russia, protest events declined significantly, as is common in the period after the traditional 1 May Labour Day marches. The 9 May Victory Day parades are generally apolitical and protest activity in this period is typically lower due to the commemorations. Political violence levels remained low with no armed clashes or bombings reported for the fourth consecutive week.
In Ukraine, the overall calm situation outside the conflict zone was disrupted by the apparent assassination of a deputy chief of police and an explosion in Dnipropetrovsk region. Demonstration events have maintained low levels since March, with several peaceful small scale protests against the Russian government held in Kyiv. In the Donbass region, fighting between Ukrainian government forces and separatist rebels continued at levels similar to previous weeks, with 141 armed clashes and 129 shelling incidents resulting in three reported fatalities.
Throughout the Balkans, Southeastern Europe, and Eastern Europe, peaceful protests sparked by various socio-economic, environmental and local political issues continued at levels similar to previous weeks. Violent attacks and clashes remain low in the region; a handful of such events involving anarchists, right-wing groups and unidentified 'hooded' actors typically occur each week in Greece — generally involving no reports of lethal weapons. No bombings, armed clashes or fatalities were reported in the region last week.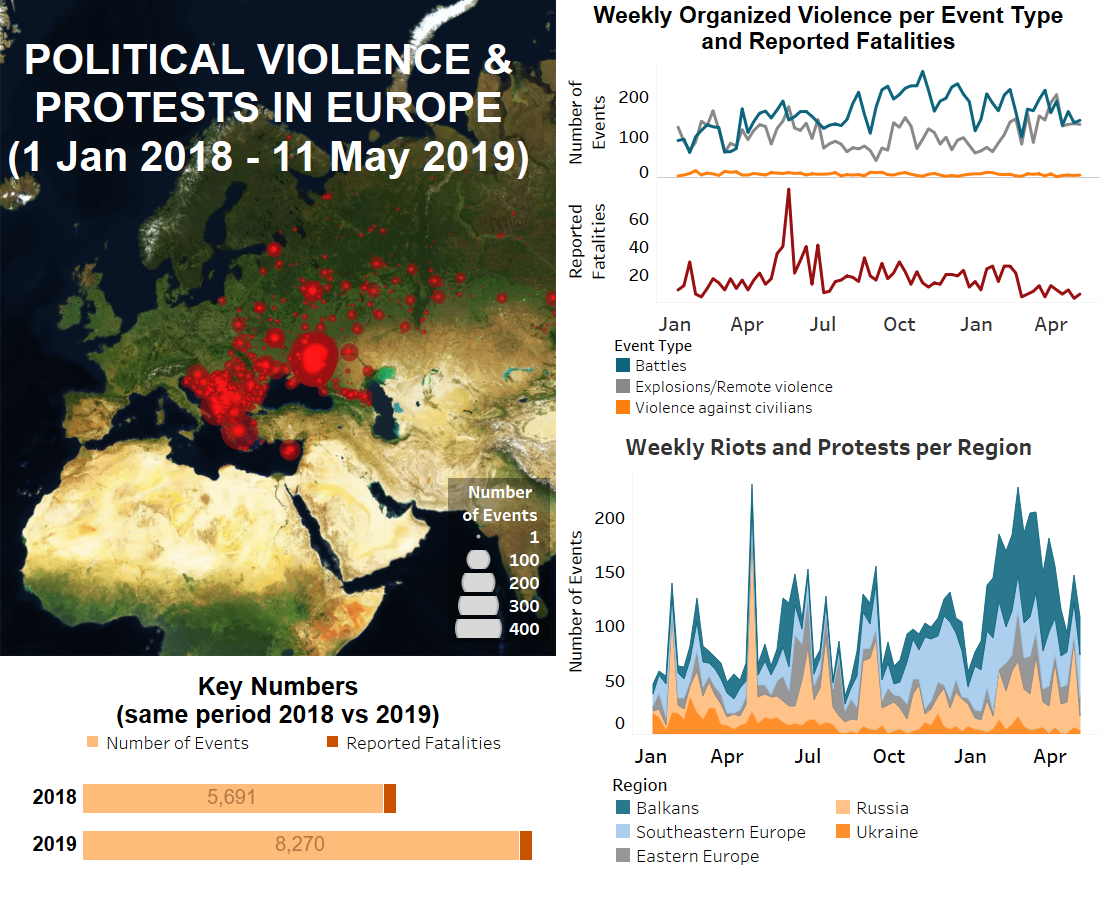 © 2019 Armed Conflict Location & Event Data Project (ACLED). All rights reserved.