Last week, more than a dozen violent attacks and demonstrations were orchestrated in Greece in support of a jailed Marxist hitman. Pro- and anti-government demonstrations in Serbia, Albania and Romania continued. Protests in Croatia and Ukraine increased after an extended period of only a few events being reported. Similar to weeks prior, fighting in the Donbass region of Ukraine continued and protests and violence in Russia remained low, with a string of demonstrations in Yekaterinburg standing out.
Protest activity increased in Croatia, where several marches were held for limiting abortion rights, and for better working conditions of those employed in the judicial system. In Serbia, anti-government protests continued in several cities, while supporters of the ruling Serbian Progressive Party (SNS) protested several opposition-ruled local governments. Similar to previous weeks, violence took place between opposition "1 of 5 Million" and SNS supporters, this time with an attack on a "1 of 5 Million" movement leader. In Albania, the number of anti-government demonstration events decreased, but the situation remained tense as thousands rallied in Tirana and demonstrators threw petrol bombs at government buildings and clashed with police. In Romania, similar to the prior week, several marches and protests sparked by European Union parliamentary elections and a referendum to be held on 26 May were held by both government and opposition supporters.
In Greece, the violence in support of Dimitris Koufodinas, a jailed hitman for the now-defunct Marxist nationalist group 'November 17', escalated (National Herald, 21 May 2019). In a show of force of three to five violent events per day, anti-establishment groups – including anarchist group Rouvikonas – targeted riot police forces during demonstrations, but also in widespread mass attacks. Also targeted were political parties Coalition of the Radical Left (SYRIZA), New Democracy (ND), Panhellenic Socialist Movement (PASOK) and other politicians; a female journalist; EU information offices; the United States ambassador's residence; and a radio station.
In Russia, the number of demonstration events remained relatively low, with 22 reported last week. Unauthorized protests in Yekaterinburg stood out due to their unusual size, intensity, and duration. Demonstrations there began on 13 May in opposition to the construction of a new Orthodox temple in the city's main square. The demonstrations attracted between 2000 and 5000 people and continued for six days, with the authorities detaining around 100 people following a series of clashes between demonstrators and the police, counter-demonstrators and private security hired by the temple's construction company (BBC, 15 May 2019). The extended period of low reported violence in the North Caucasus region and other parts of Russia continues, with no violent attacks, bombings or armed clashes reported last week.
In Ukraine, protests have picked up after almost three months of calm leading up to and after the presidential elections (for more, see this ACLED analysis piece). A handful of small-scale protests across the country were held in support of addressing corruption issues, a key promise of newly elected president Zelensky. In the Donbass region, fighting between Ukrainian government forces and separatist rebels continued at levels similar to previous weeks, with 132 armed clashes and 182 shelling incidents resulting in two reported fatalities.
Besides the developments described above, throughout the Balkans, Southeastern Europe, and Eastern Europe, peaceful protests sparked by various socio-economic, environmental and local political issues continued at levels similar to previous weeks. Violent attacks and clashes remained low in the region, with two attacks against civilians and no bombings, armed clashes or fatalities reported.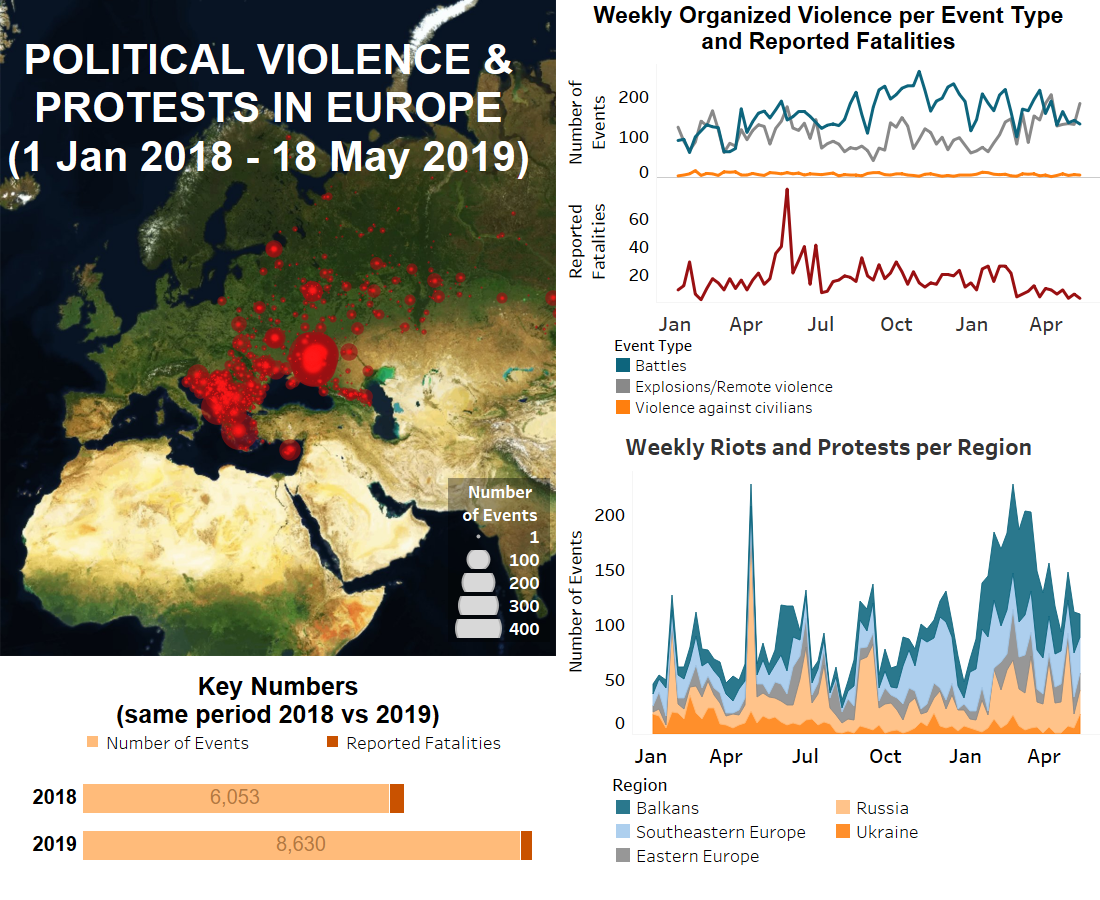 © 2019 Armed Conflict Location & Event Data Project (ACLED). All rights reserved.