In the past week, Islamic State in the Greater Sahara (ISGS) launched a series of attacks across northern Tillabery in Niger, and included the deadliest ambush ever recorded in the Tillabery region by the group. This suggests that resumed transmissions between ISGS and the Islamic State (IS), as well as IS leader Abu Bakr al-Baghdadi personally urging attacks in the Sahel region, translated into action on the ground (BBC, 2019). This series of attacks indicate the effects of the strong resumed connection between IS and its branch in the Sahel after a long period focused instead on fighting militias on the other side of the border.
Three days after al-Baghdadi's call to arms- on May 2nd, ISGS began its recent assault in Niger with the robbing of aid vehicles in Weidabangou. One of these vehicles was fashioned into a suicide car bomb, and used to carry out an attempted prison break targeting the high-security prison of Koutoukale[1]  on May 13. Though the bomb failed to detonate, the attack resulted in the death of a national guard (Jeune Afrique, 2019); it was one of three attacks to occur that day. Another attack targeted a Catholic church in Dolbél and wounded a priest (Sahelien, 2019), and a further group of ISGS militants ransacked telecommunications infrastructure in Mangaize (Actu Niger, 2019). While the Koutoukale attack did not achieve its assumed objective, it did pave the way for the deadliest attack recorded in the context of the insurgency in western Niger's regions of Tillabery and Tahoua: on May 14, ISGS militants ambushed an army convoy in Siwili, killing 27 soldiers.
This campaign follows a period of limited activity by ISGS in Niger, as the group was instead preoccupied by fighting militias and engaging in inter-communal conflict on the Malian side of the border (see Figure 1). A mass-casualty attack in Tirzawane, Niger, in February 2017 pushed the Nigeriens to declare a state of emergency in the aforementioned regions (Le Figaro, 2017), and request French intervention (RFI, 2017). ISGS has since been subject to intense counter-militancy operations (ACLED, 2018) spearheaded by French forces of Operation Barkhane with the support of a Malian militia coalition comprised of the Movement for the Salvation of Azawad (MSA) and the Tuareg Imghad and Allies Self-defence Group (GATIA). These operations resulted in depleting the lion's share of ISGS's camp infrastructure in Mali's Menaka Region, rescripted the group's tactical calculus, and dented it in terms of numbers and capacity (ACLED, 2018). Consequently, it could not continue to carry out large-scale operations against Nigerien forces until now.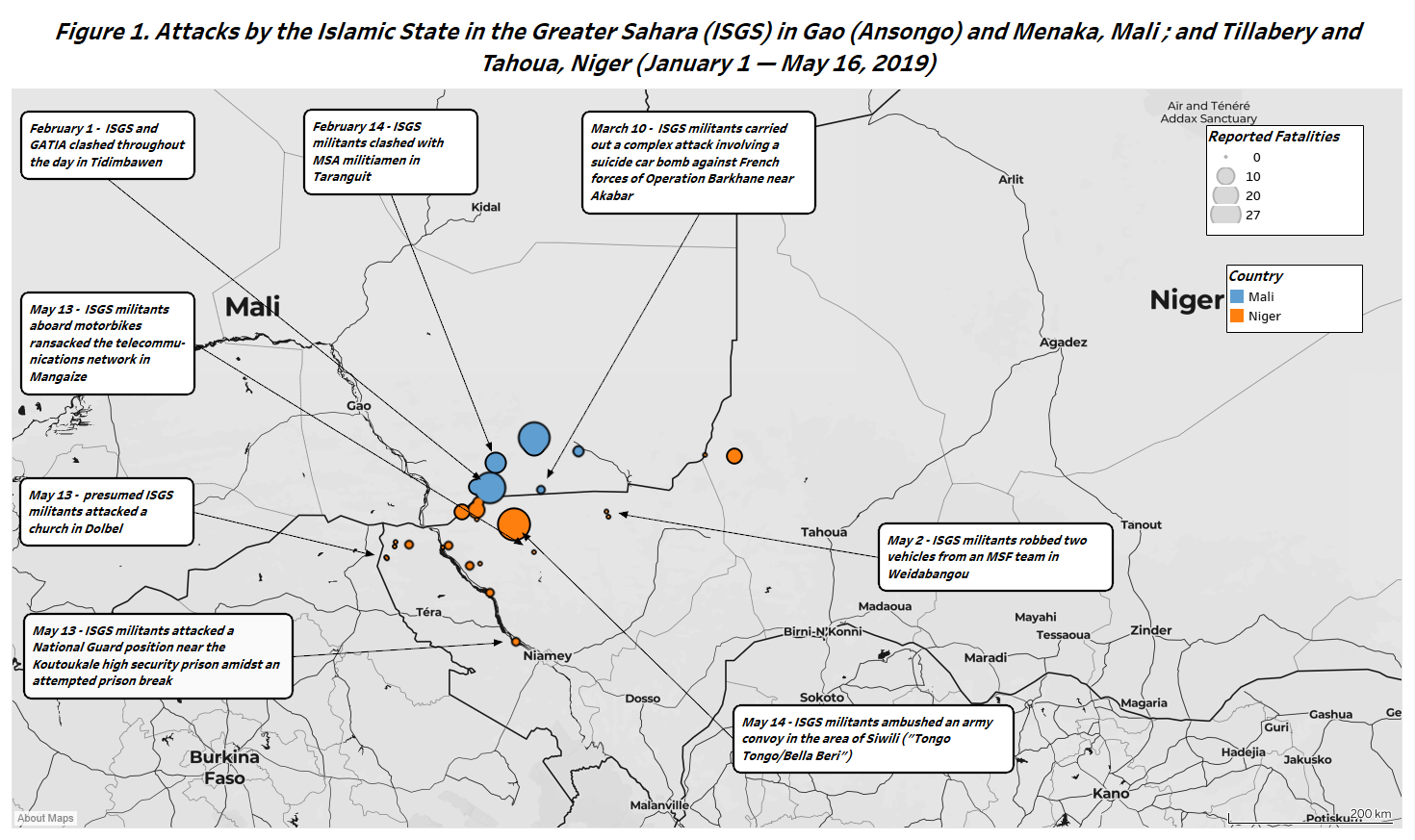 The recent shift towards a return to ISGS's 2017-level capacity could be attributed to several factors (MENASTREAM, 2018). French forces of Operation Barkhane have at least temporarily shifted focus elsewhere, in particular to Mali's central regions (Libération, 2019). A recent hostage-release operation in Burkina Faso also demanded further attention and assets from French forces in the region (Le Monde, 2019). Moreover, Malian counterinsurgency militias MSA and GATIA have been weakened, and Nigerien authorities withdrew authorisation for cross-border operations into Niger. During the first fortnight of February 2019, a seemingly coordinated militant campaign conducted in tandem by ISGS and al-Qaeda's Sahelian affiliate– Jama'ah Nusrat al-Islam wal-Muslimin (JNIM)– targeted the militia coalition in the regions of Gao and Menaka, Mali. In Ansongo, GATIA experienced defections in its ranks (HCUA, 2019) amid heavy militant pressure (Studio Tamani, 2019), while MSA fought other groups (Kibaru; MSA-Azawad, 2019). As such, since March 2019, ISGS has shifted its focus from the Malian side to the Nigerien side of the border, repositioning itself from fighting the militia coalition to resuming its activities in Niger. This shift is reflected in the rise of reported fatalities in Niger, even as reported fatality counts fall in Mali (see Figure 2).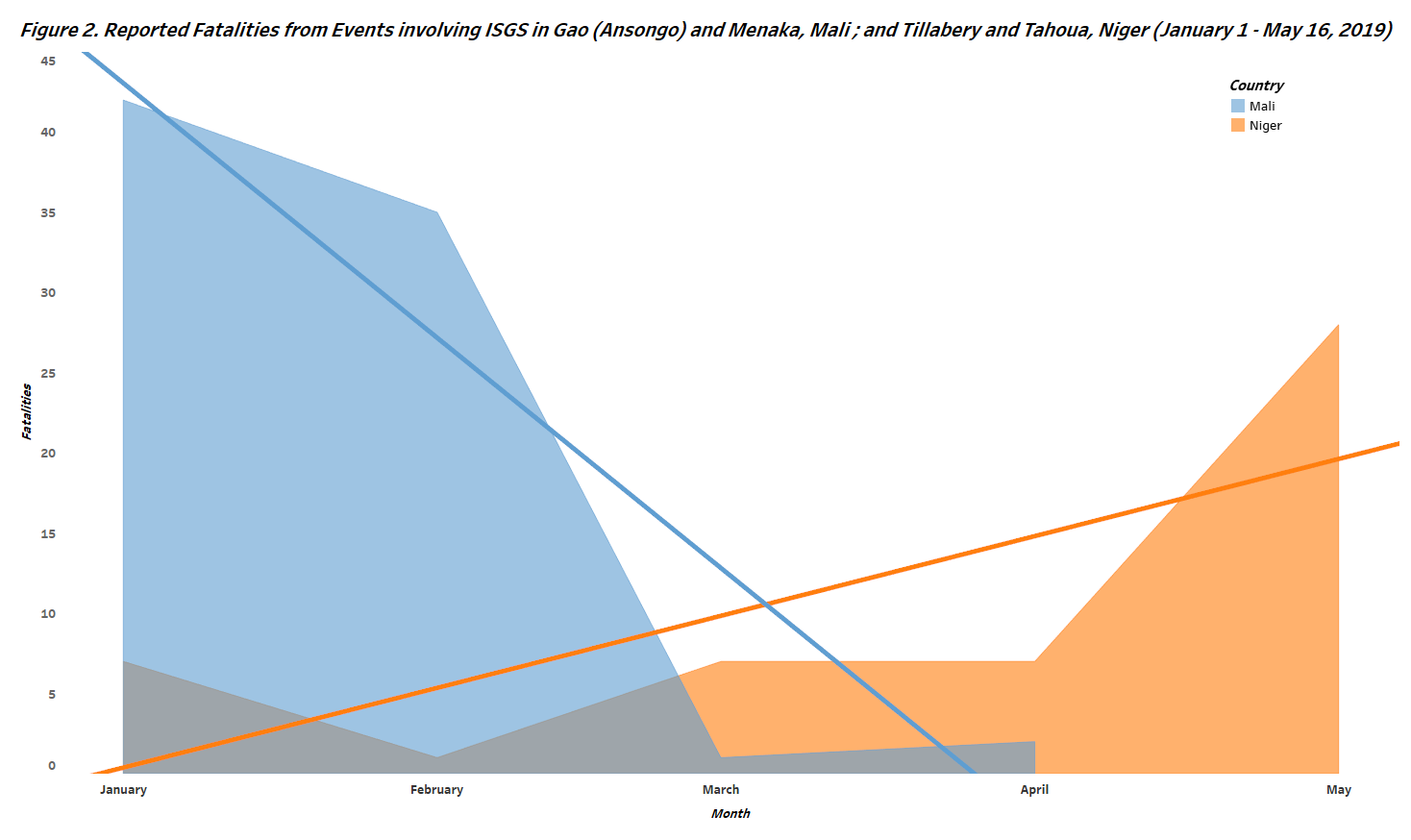 Paramount to these developments is that ISGS and IS 'Central' in Iraq and Syria recently re-established communications following a two-and-a-half-year hiatus, evidenced by a single-photo report on March 22, 2019, depicting a group of ISGS fighters in Burkina Faso (MENASTREAM, 2019). This coincided with a complex attack targeting French forces a week earlier on the Mali-Niger border (MENASTREAM, 2019). A week later, a two-page report from ISGS in the IS al-Naba newsletter (Jihadology, 2019) provided substantial evidence that communications had been restored between the parent organization and the Sahelian affiliate (CBC, 2019). This follows IS leader Abu Bakr al-Baghdadi's acceptance of allegiance pledges to intensify operations against France and its allies in the region (Jihadology, 2019).
The attempted prison break in Koutoukale in some ways represents a return to the group's original tactics. In October 2016, ISGS attempted an almost identical prison break (Al-Akhbar, 2016), likewise targeting the Koutoukale prison. Then, it was followed by IS' newswire Amaq publishing a video showcasing ISGS' pledge of allegiance to IS. This time, the attack was preceded by al-Baghdadi's acceptance of pledges emanating in the region.  Last week's events in Tillabery further constitute a textbook example of insurgent tactics as outlined by IS (Aymenn Jawad, 2019), consisting of hit-and-run attacks over a wide stretch of territory. The attack in Mangaize constitutes a case in point, attracting the attention of Nigerien forces who ultimately were lured into hostile territory and outflanked.  This clear evidence of increased communication and coordination with IS central suggests a step-change for the group – not only is ISGS shifting with whom it is fighting and where, but the nature and scope of the conflict is different. This resumtion of the scope set out at the beginning of its relationship with IS is more in line with global jihadist objectives than colored by local ethnic tensions.
____________________
[1] The Koutoukale facility harbors militants linked to Al-Qaeda in the Islamic Maghreb (AQIM), Islamic State in the Greater Sahara (ISGS) and its predecessor, the Movement for Oneness and Jihad in West Africa (MUJAO), Al-Mourabitoun, and Islamic State West Africa Province (ISWAP) or Boko Haram; as well as drug traffickers, assorted criminals, and political prisoners, and is located 35km northwest of Niamey.



© 2019 Armed Conflict Location & Event Data Project (ACLED). All rights reserved.