Last week, anti-government demonstrations picked up again in Albania and Serbia. Moldova plunged into a political crisis as the last-minute coalition government, formed by opposition parties, was not recognized by the current ruling party. In Russia, protests against the waste management reforms continued, and in Ukraine, protesters called for the resignation of the Minister of Internal Affairs. The ongoing conflict in the Donbass region between government forces and separatist rebels resulted in six reported fatalities.
In Albania, two large anti-government riots took place involving thousands to tens-of-thousands of demonstrators. Demonstrators threw stones and Molotov cocktails and clashed with police who used tear gas and water cannons, resulting in dozens of reported injuries and arrests. In response, Albanian President Ilir Meta cancelled the local elections scheduled for 30 June due to the unstable political situation, while Prime Minister Edi Rama challenged his decision (RFE/RL, 9 June 2019).
In Serbia, the number of anti-government protest events increased as protesters across the country marked six months since the beginning of the protests; although with 13 reported protest events the numbers remained well below the 50 events per week average of January to March. Violence between pro- and anti-government actors continued similar to weeks prior: masked men attacked two anti-government activists and the ruling party reported two attacks on its headquarters causing only material damage.
In Moldova, a political crisis ensued following the inconclusive parliamentary elections held in February. The elections were marred by allegations of electoral fraud (BBC, 25 February 2019), and were followed by a months-long deadlock between parties trying to form a government. On 8 June, the Russia-oriented Party of Socialists (PSRM) and the reformist Europe-oriented coalition of opposition parties National Resistance Movement (ACUM) managed to form a temporary alliance by voting in a PSRM speaker in return for supporting a government formation led by ACUM leader Maia Sandu. The legality of this newly formed government is contested by the ruling Democratic Party (PDM), controlled by the oligarch Vladimir Plahotniuc. A situation of parallel and competing governments has emerged, as PDM still claim the major institutions of power, hold meetings of the old cabinet, and enjoy the support of the police forces, whereas the ACUM/PSRM government appears to enjoy Russian, as well as cautiously-worded Western, support (Balkan Insight, 9 June 2019; RFE/RL, 10 June 2019). Meanwhile, supporters of PDM have mobilized to protest the ACUM/PSRM-formed government, claiming they will defend state institutions.
In Russia, demonstrations continued similar to weeks prior, in particular against the waste management reforms. Notable was the Communist Party of the Russian Federation (KPRF)-organized protest in Syktyvkar in which 7000 reportedly participated (MediaZone, 2 June 2019). In addition, protests across a number of cities followed after the arrest of a prominent investigative journalist (The Guardian, 9 June 2019), with the largest one in Moscow reportedly involving several hundred protesters. In an uncommon turn of events, the journalist was put under house arrest: a 'mild' sentence which appeared to be the result of public pressure.
In Ukraine, protesters in nearly a dozen cities demanded the resignation of the current Minister of Internal Affairs after police officers accidentally killed a child in the Kiev region (RFE/RL, 4 June 2019). In the Donbass region, fighting between Ukrainian government forces and separatist rebels continued with 202 armed clashes and 124 shelling incidents resulting in six reported fatalities.
Other than the developments above, demonstrations were held over a wide range of concerns in the Balkans, Southeastern and Eastern Europe, including over LGBT rights, conservative traditional values, and labour disputes. Political violence remained low, with a limited number of attacks against civilians and two bombings reported in Greece, Bosnia and Herzegovina, and Serbia, resulting in one reported fatality.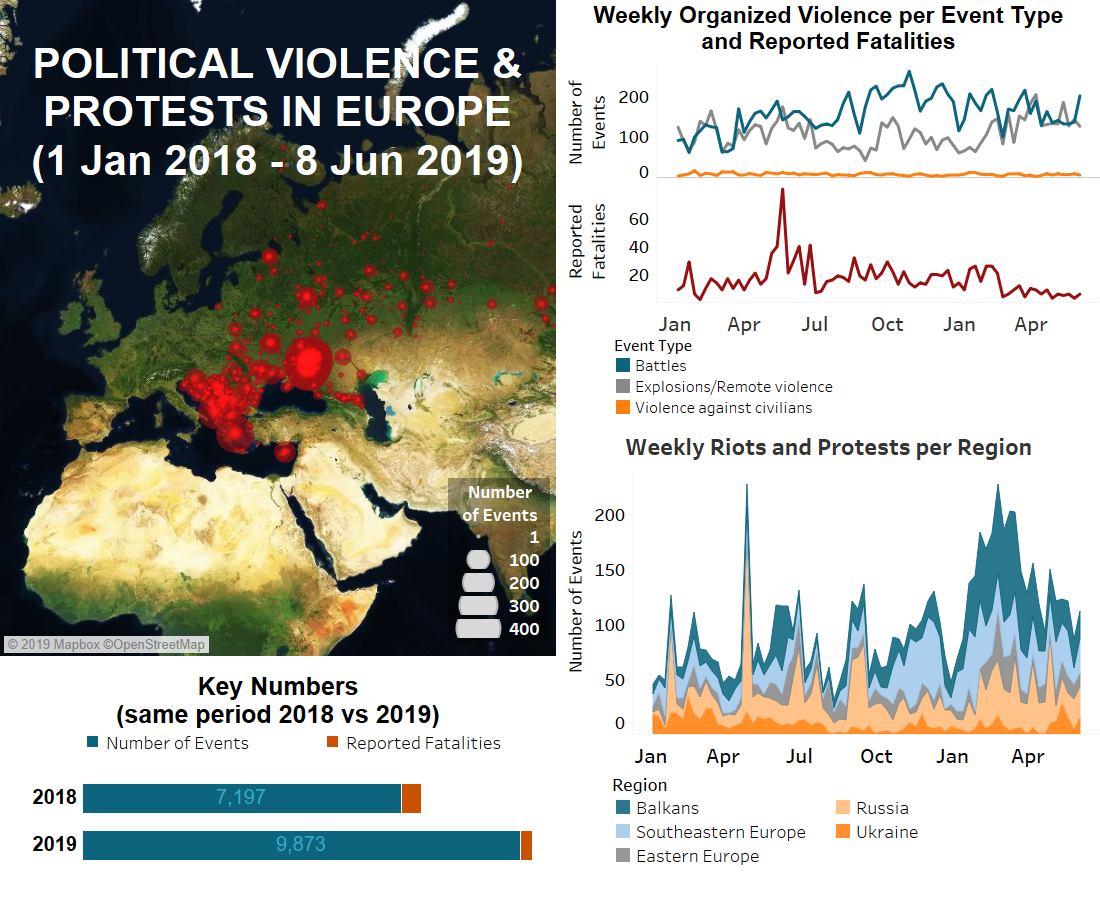 © 2019 Armed Conflict Location & Event Data Project (ACLED). All rights reserved.