Last week, anti-government demonstrations in Albania and Serbia slightly decreased from the week prior. In Moldova, the constitutional crisis resulted in the resignation of the Democratic Party government in favour of the new coalition cabinet. In Russia, public outcry over Ivan Golunov's case led to authorities deciding to clear the journalist of all charges. In Belarus, after more than a year of protests against the car battery plant in Brest, local authorities suspended its construction. In Ukraine, anti-government demonstrations were staged and fighting in the Donbass region continued.
In Albania, the governing Socialist Party-controlled Parliament dismissed President Ilir Meta's decision to postpone the municipal elections of 30 June. Prime Minister Edi Rama continued campaigning in southern Albania for the local elections where some of his visits were met with demonstrations.
In Serbia, anti-government protests decreased again after a small increase last week, due to a half-year anniversary of the protest movement. Another anti-government activist was attacked, which prompted a protest. In Montenegro, several thousand Serbian Orthodox church members protested after the government adopted a draft law to regulate religious freedoms, causing tensions with Serbia and the Serbian Orthodox (Balkan Insight, 14 June 2019; Balkan Insight, 15 June 2019).
In Greece, both anarchist and far-right group activity is on the rise. Multiple attacks were staged in Thessaloniki, Athens, and Piraeus by anarchists, far-right groups, and other unidentified groups targeting riot police forces and causing material damages. In addition, several attacks were reported on political campaigns as violence appears to increase nearing the parliamentary elections of 7 July.
In Moldova, the dual government crisis appears to have been settled with the Democratic Party stepping down and conceding power to the new coalition cabinet of National Resistance Movement (ACUM) and Party of Socialists (PSRM) on 14 June, although Democrats continue to demand snap elections (New York Times, 14 June 2019). In addition, judges and prosecutors who are loyal to the Democrats refuse to leave their positions, despite calls from the President Igor Dodon and PM Maia Sandu. The new ACUM-PSRM government is expected to deliver on an urgent reform agenda until the snap parliamentary elections and local elections in the middle of fall 2019 (Euronews, 17 June 2019).
In Belarus, after more than a year of environmental protests against the car battery plant in Brest, accompanied by an investigation by the Belarusian Ministry of Natural Resources, the Regional Executive Committee issued a decision ordering a suspension of its construction (TUT.BY, 14 June 2019). In addition, on 13 June, Belarus' Parliament adopted amendments to the penal code softening sentences for drug distribution, possibly ending a wave of protests against hard sentences for drug convicts (Belsat, 13 June 2019).
In Russia, the beginning of the week was still largely characterized by the outcry over the arrest of well-known journalist Ivan Golunov, with repeated small-scale protests taking place in various cities across the country. In an uncommon decision, the authorities declared that they were terminating Golunov's case, citing insufficient evidence on 11 June (Meduza, 11 June 2019). Nonetheless, the planned unauthorized protest in support of Golunov and free journalism still took place on 12 June and was met with police crackdowns, with hundreds of people, including opposition politician Alexei Navalny, briefly detained by police (Novaya Gazeta, 12 June 2019).
In Ukraine, nearly a dozen anti-government demonstrations were staged across the country. In Kyiv and Kharkiv, people demonstrated "against capitulation" after the head of the Ukrainian delegation to the Minsk trilateral contact group suggested that Ukrainian troops should not return fire in Donbass (Unian, 10 June 2019; Unian, 10 June 2019). In the Donbass region, fighting between Ukrainian government forces and separatist rebels continued with 191 armed clashes and 169 shelling incidents resulting in two reported fatalities.
Other than the developments mentioned above, violence in the Balkans, Southeastern Europe, and Eastern Europe remained low. In the Balkans two attacks on civilians involving ethnic motives were reported. No armed clashes or bombings were reported.
Throughout the Balkans, Southeastern Europe, and Eastern Europe regions, demonstrations on various issues were reported at levels similar to weeks prior, including on labour disputes, public health, LGBT rights, infrastructural issues, environmental protection, and opposition to local construction projects.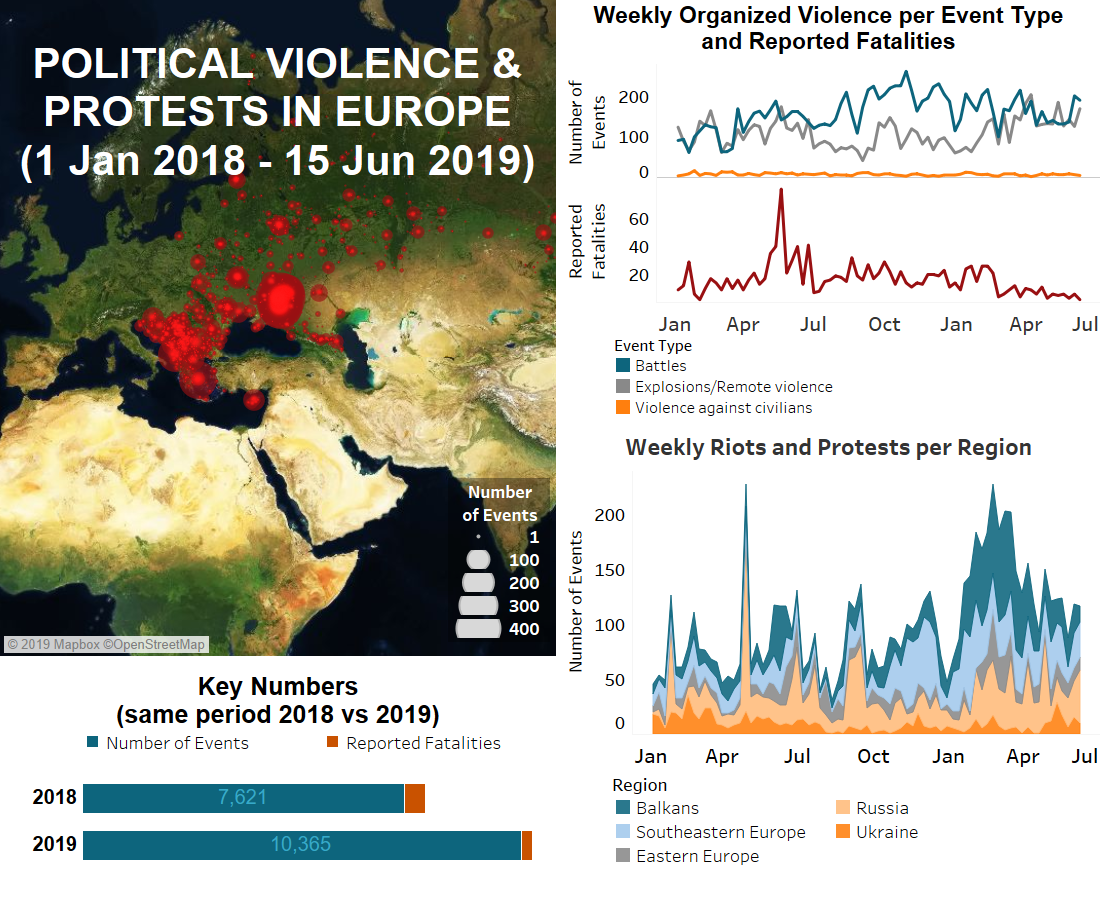 © 2019 Armed Conflict Location & Event Data Project (ACLED). All rights reserved.