Last week, violence in Albania increased ahead of the local elections. Tensions between Cyprus and Turkey increased over a gas drilling dispute, while in Russia, demonstrations continued over arrests of journalists. Similar to weeks prior, fighting in the Donbass region in Ukraine occurred as the conflict parties failed to reach an agreement on a 'harvest truce'.
In Albania, anti-government violence increased after it became clear the municipal elections of 30 June would still be held, despite heavy demonstrations and the opposition refusing to participate claiming it would be rigged (Washington Post, 25 June 2019). Opposition supporters for the first time targeted the elections specifically, breaking into nearly a dozen electoral facilities and destroying election materials, leading to clashes with police and arrests. The events culminated in the ninth national anti-government protest in Tirana on 21 June. On 18 June, the European Council postponed a decision on Albania's European Union (EU) accession negotiations, potentially threatening domestic and regional stability (for more, see this ACLED infographic on Albania).
Tensions between Cyprus and Turkey rose in the ongoing dispute over Turkish exploratory drilling for gas 40 miles off the western coast of Cyprus (IAI, 28 February 2019). EU leaders condemned Turkey's actions and threatened to impose sanctions. The dispute increases concern over military tensions and accidental escalation, as Turkey has been holding naval maneuvers close to Cyprus, escorting vessels to drilling sites, and is reportedly planning new military installations in Northern Cyprus (VOA, 15 May 2019; Middle East Monitor, 19 June 2019).
In Serbia, anti-government protests were held at levels similar to the weeks prior; although severely reduced in size relative to the size of the movement in early 2019, the '1 in 5 million' movement still persists. Meanwhile in North Macedonia, the number of protests unexpectedly spiked, with nearly a dozen seemingly unrelated peaceful demonstration events taking place across the country over various local socio-economic and environmental issues. In Russia, demonstrations in support of arrested journalists and activists continued, despite the case against journalist Ivan Golunov, which set off the demonstrations initially, being dropped. Such demonstrations are uncommon in Russia.
In the Donbass region in Ukraine, attempts to reach an agreement on a 'harvest truce' failed (Radio Free Europe, 19 June 2019) and fighting between Ukrainian government forces and separatist rebels continued similar to weeks prior with 177 armed clashes and 119 shelling incidents resulting in four reported fatalities.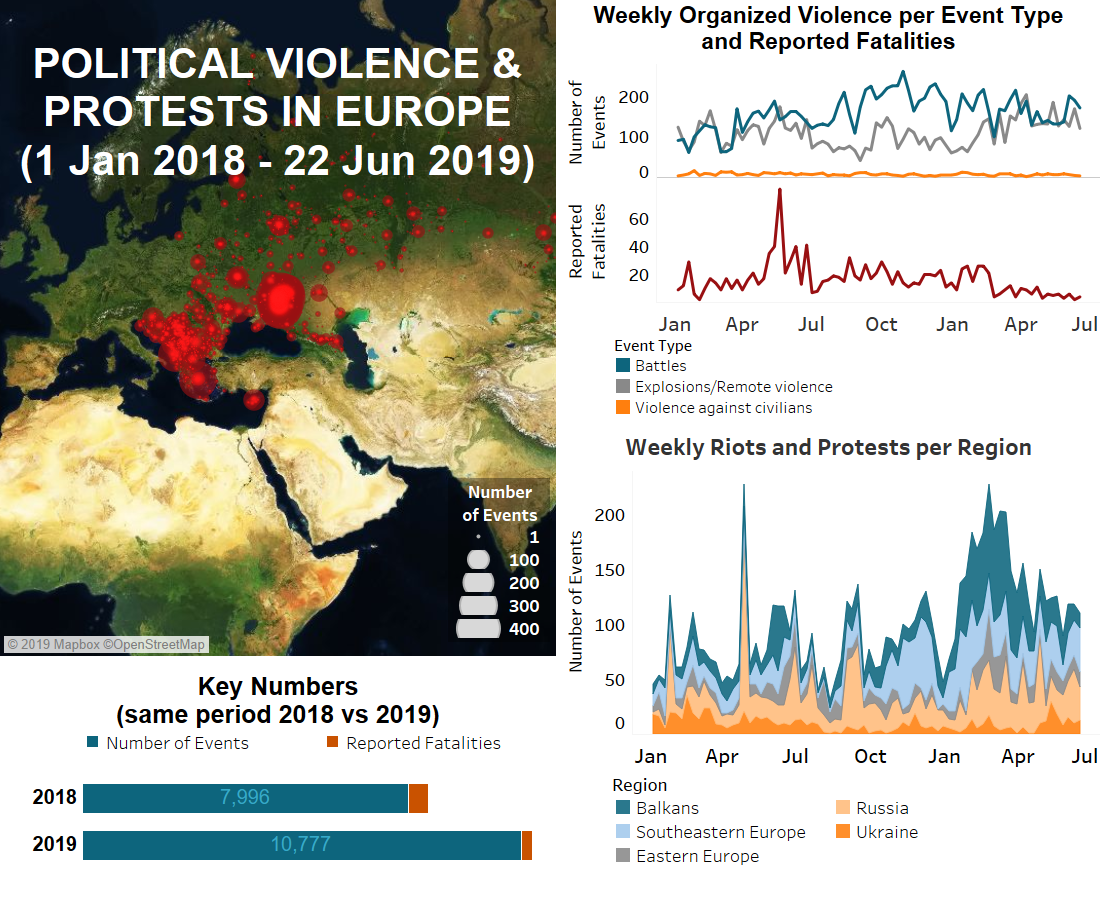 © 2019 Armed Conflict Location & Event Data Project (ACLED). All rights reserved.