Last week, Cyprus and Turkey stepped up their military posturing over a drilling dispute in the Eastern Mediterranean. In Albania, pre-election opposition riots and protests continued to put its European Union (EU) accession at risk. In Russia, protests over political repression following the case against journalist Ivan Golunov increased significantly. In the Donbass region in Ukraine, fighting continued at similar levels to weeks prior despite the start of the disengagement of forces process in Luhansk.
Leading up to the local elections in Albania on 30 June, opposition riots and protests continued throughout the country, resulting in clashes with police and arrests (Balkan Insight, 28 June 2019). The disputed one-party election now risks undermining the country's EU accession bid (Aljazeera, 24 June 2019).
Tensions between Cyprus and Turkey in the Eastern Mediterranean heightened as Turkey increased its military presence in the region and sent a second drilling vessel. In response, Cyprus announced snap military exercises with live-fire in the area from July 1 to July 10 (Greek Reporter, 29 June 2019). Greece, Cyprus' closest ally, has put its armed forces on high alert in the Aegean, stating it is ready to defend Greece's continental shelf and exclusive economic zone (Ekathimerini, 23 June 2019): a move that signals that Greece may also come to the military aid of Cyprus if the situation escalates.
The Belarus Parliament approved an amnesty law freeing 3,000 to 6,000 detainees convicted for light crimes and drug distribution after sustained protests by parents of the convicts (RFE/RL, 28 June 2019; TUT.BY, 28 June 2019). This is the second time in a short period that protesters succeeded in having their demands met after sustained activism. Earlier this month, construction of a controversial car battery plant was postponed after nearly a year of protests. This unusual receptiveness of the Belarus Parliament is likely motivated by the parliamentary elections set for 17 November 2019.
In Russia, protests against political repression and fabrication of criminal cases by police, sparked by the case brought against journalist Ivan Golunov several weeks ago, increased substantially (Novaya Gazeta, 23 June 2019).
In the Donbass region of Ukraine, the process of disengagement of forces, removing troops and weapons from forward positions by both sides, was launched in frontline areas in Luhansk (Ukrinform, 28 June 2019; OSCE, 30 June 2019). Despite this, fighting between Ukrainian government forces and separatist rebels continued similar to weeks prior with 223 armed clashes and 127 shelling incidents resulting in three reported fatalities.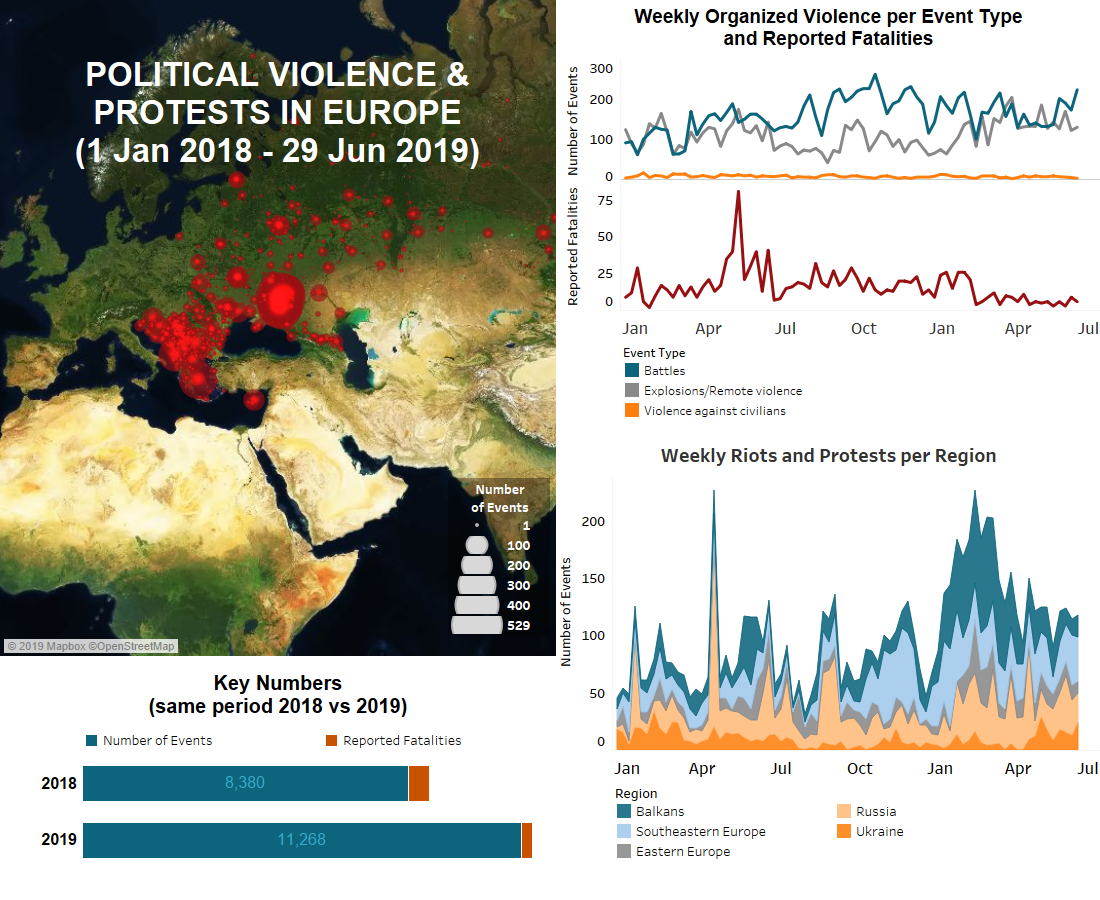 © 2019 Armed Conflict Location & Event Data Project (ACLED). All rights reserved.