During the summer of 2020, the Kremlin doubled down on a policy of centralized political control, provoking widespread unrest in Russia. Most recently, the Kremlin's intervention against a popularly elected governor in the eastern province of Khabarovsk sparked a major demonstration movement that spread across the country. The demonstration movement is fueled by a wave of popular discontent driven by the Kremlin's increasingly open authoritarian tendencies. The current demonstrations are unlikely to result in change in the short-term. However, Moscow's continued repression of the popular will is likely to increase the public's frustration with its political disenfranchisement and drive future demonstrations.
Putin Consolidates Power
From 25 June to 1 July 2020, President Vladimir Putin held a controversial national referendum to amend the constitution, entrenching himself in power until 2036. This has led to growing public frustration with Putin's authoritarianism and the increased centralization of power in the Kremlin.1The Kremlin is not a unitary actor. It is unclear to what extent Putin exercises control over every decision made by the Kremlin, which is filled with factional rivalries (European Council on Foreign Relations, 11 May 2016). However, all these factions pursue what they believe to be the will of the president. Sensing a lack of public enthusiasm for the referendum, the Kremlin attempted to increase support for the amendments by enacting traditionalist and nationalist policies — such as a de facto ban on gay marriage and enshrining Russian as the language of the state — as well as providing financial incentives to participate in the referendum (Meduza, 22 June 2020). The government reported that over 77% of voters supported the amendments (BBC, 2 July 2020). However, the vote was marred by accusations of fraud (Meduza, 1 July 2020). 
Originally scheduled for April, the referendum resulted in an increase in demonstration events in March after Putin's intentions to hold on to power past 2024 were made clear (see figure below). State regulations on gatherings during the coronavirus pandemic led to a sharp decline in demonstration events in the subsequent months. Then, after the referendum, on 9 July, Russian authorities arrested Sergei Furgal, the popular governor of the province of Khabarovsk, in connection with a murder in 2004. Furgal, a member of the nationalist Liberal-Democratic Party of Russia (LDPR), was elected in 2018 after defeating a Putin-backed candidate from the ruling United Russia party. While Furgal himself repeatedly expressed support for Putin's government — and avoided styling himself as an opposition figure — his victory over a Putin-backed candidate likely made him a target for the Kremlin. His continued detention demonstrates that no challenges to the ruling order are tolerated (Vedemosti, 9 July 2020).
Furgal's arrest and detention has led to a major, sustained demonstration movement, which is both rare and dangerous in Putin's Russia, where the government often reacts harshly to displays of discontent. While the movement began initially as an expression of support for the governor, it has since taken on strong anti-government overtones. Demonstrations spiked during the week of 9 August (see figure below). Furgal's arrest resonated with many Russians who saw it as the latest example of Putin's unwillingness to accept any expression of popular will. Weekly demonstrations in the city of Khabarovsk have regularly attracted over tens of thousands of people from diverse backgrounds, with larger demonstrations reaching up to 100,000 participants (Reuters, 5 September 2020; New York Times, 25 July 2020). Demonstrators initially demanded that Furgal be released or tried in the province of Khabarovsk rather than in Moscow.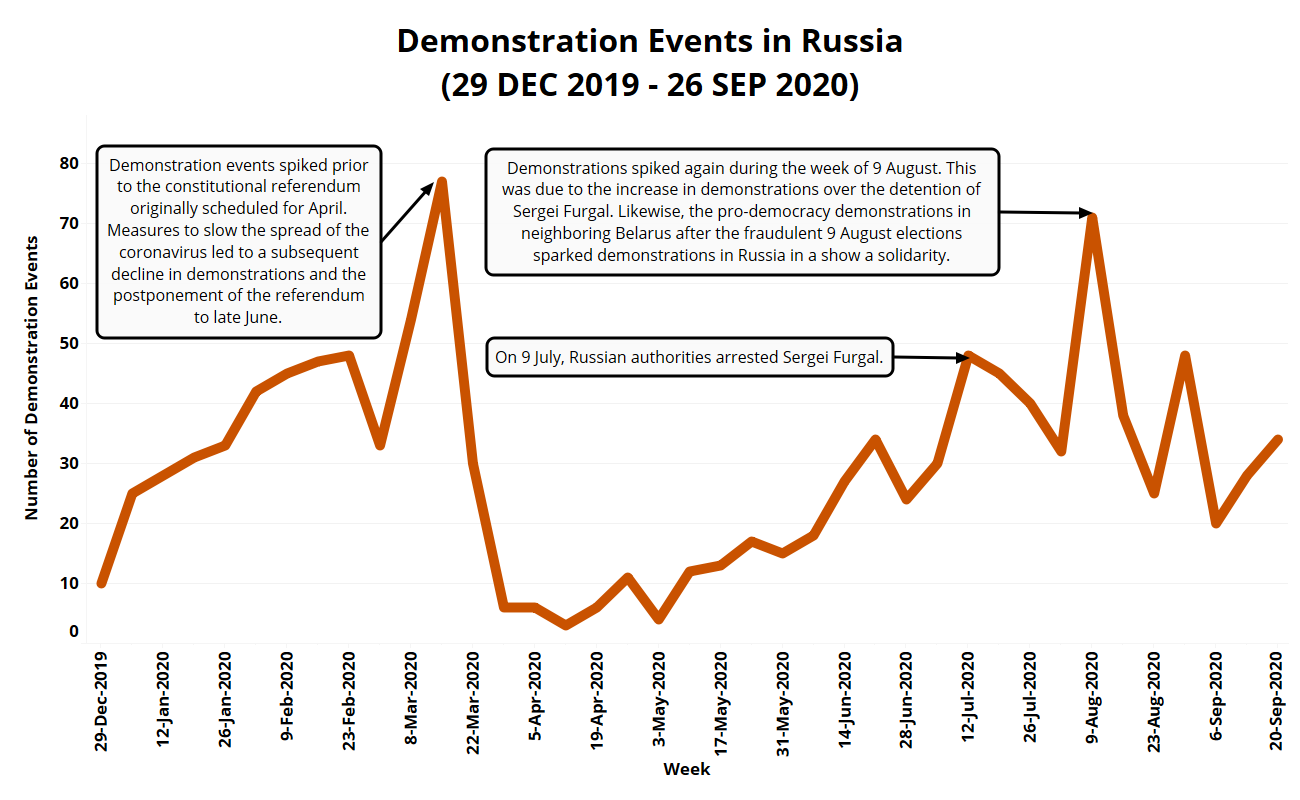 Over time, the demonstrations have increased their geographical and ideological scope. As demonstrations in support of Furgal continued in the province of Khabarovsk, they also spread across Russia to Irkutsk, Omsk, Kaliningrad, Moscow, Saint Petersburg, and elsewhere (see map below). The demonstrations gradually became a platform for other messages not related directly to Furgal. Demonstrators have coalesced around a wide range of societal grievances, including support for environmental causes (Svoboda, 8 August 2020; Idel Realii, 11 August 2020). The demonstrators have also expressed solidarity with ongoing demonstrations in Belarus against the oppressive government of Alexander Lukashenko (Svoboda, 15 August 2020). Russia and Belarus are culturally and historically linked societies, and many of the demonstrators in Russia share a sense of frustration with authoritarianism — and optimism about the potential for change — with their counterparts in Belarus. Many demonstrators have shown anger with Putin amid broader discontent with the enforced status quo.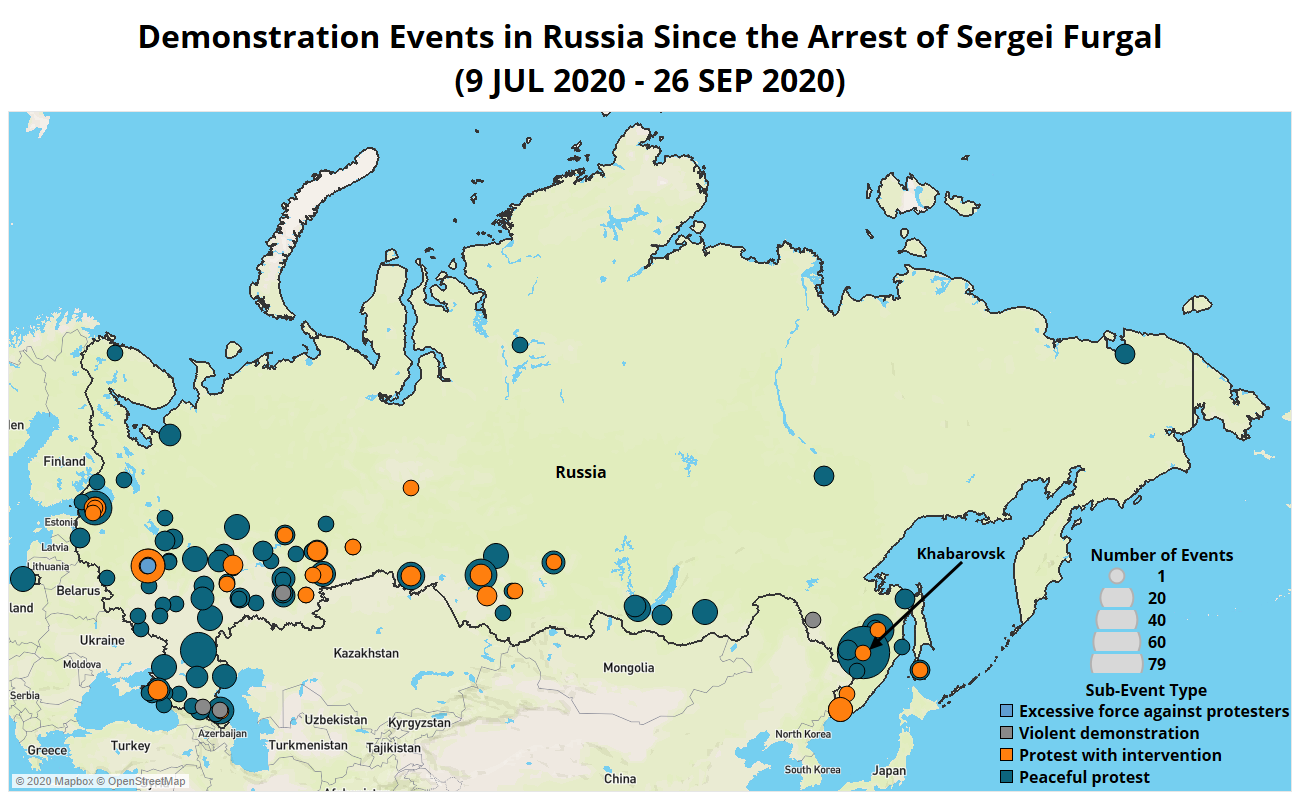 Putin Reacts to Spreading Dissent
The Kremlin's reaction suggests that it does not regard the demonstrators or their concerns as serious. In the province of Khabarovsk, federal authorities responded by appointing a replacement LDPR governor, further aggravating the population. The public sees the new governor as an outsider and his appointment as an insult that reinforces their grievances (Carnegie Moscow Center, 19 July 2020). Meanwhile, the Kremlin has continued to use its traditional tools of repression and electoral malpractice to undermine non-United Russia candidates in recent regional elections across Russia (RFE/RL, 12 September 2020). 
ACLED data suggest that authorities have largely avoided using excessive force against demonstrators (see figure below), but they have still continued to detain and harass demonstrators. This has likely contributed to a gradual decrease in the size of demonstrations (RBC, 25 July 2020). At the same time, Russian authorities have publicly expressed support for Lukashenko's crackdown on demonstrators in Belarus, raising the specter of a similar response in Russia (France 24, 14 September 2020).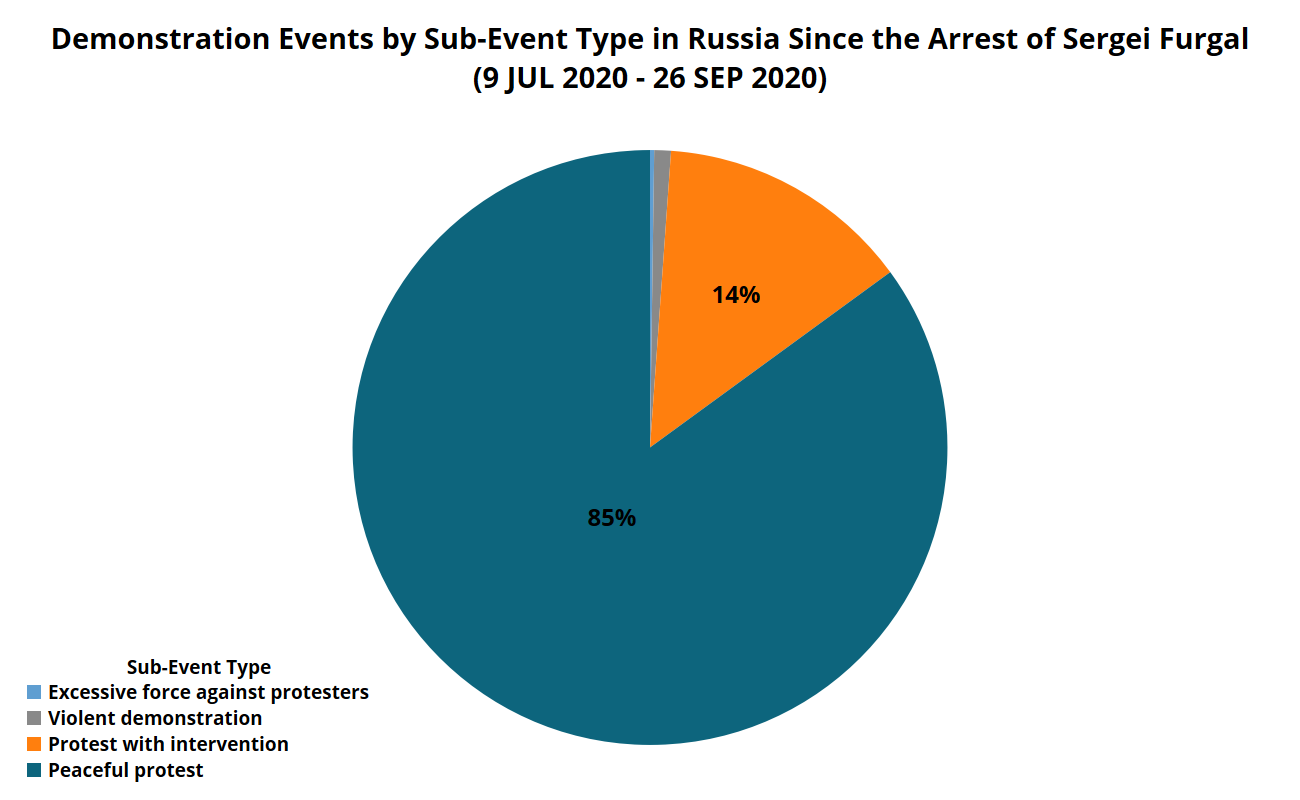 Separately, on 20 August, leading Russian opposition figure2 The Russian opposition movement is a diverse and generally disorganized force composed of a wide range of political and ideological factions opposed to the current government in the Kremlin. The movement has historically been undermined by state repression and infighting. Alexey Navalny, who has publicly confronted Putin's government over its corruption and mismanagement, was poisoned with Novichok — a chemical agent previously used by Russian intelligence services — on a domestic Russian flight (CNN, 3 September 2020; Financial Times, 14 February 2019). This led to expressions of public support for Navalny during many of the Khabarovsk demonstrations. The Russian government has been accused in the past of targetting perceived enemies, particularly members of the media, business, or political spheres, for assassination. Before Navalny was poisoned, for example, Russian opposition leader Boris Nemtsov was shot outside the Kremlin in 2015 by assailants with suspected ties to the government (Washington Post, 24 March 2017). While the attempted assassination of Navalny was not directly tied to the Khabarovsk demonstrations, the event provoked a strong reaction from demonstrators frustrated with the state's continued repression of dissent. 
Conclusion
Putin's decision to react to a widespread demonstration movement by ignoring its demands and continuing to repress Russian society may succeed in maintaining stability in the short-term, but it lays the foundation for a major backlash in the future. The Khabarovsk demonstrations show that there is a large and increasingly dissatisfied section of the Russian population that is willing to take to the streets — even beyond the metropolitan centers of Moscow and Saint Petersburg. The Kremlin's authoritarian response does nothing to address the mounting discontent among an increasing number of people who feel frustrated with their inability to affect political developments. Instead, it exacerbates these grievances and will likely lead to further unrest.

© 2020 Armed Conflict Location & Event Data Project (ACLED). All rights reserved.