Nearly one year has passed since a large protest movement calling for political renewal began to sweep across Lebanon. The movement, popularly dubbed thawra (revolution), has exposed the negligence and ineptitude of the Lebanese ruling class. Yet, it has failed to produce the radical political overhaul protesters have been demanding. Today, Lebanon, plagued by economic hardship, political gridlock, and the consequences of the most devastating explosion in the country's history, faces a heightened risk of political instability and unrest. 
Last January, ACLED included Lebanon among the 10 conflicts and crisis situations to worry about in 2020. ACLED data show that demonstrations grew violent over the first half of 2020, revealing how the political tensions that surfaced in the fall of 2019 did not decline in the new year. Twelve months on from the beginning of the movement in October 2019, this report provides an overview of one year of popular mobilization in Lebanon, exploring its onset and stasis. It shows that, throughout 2020, political, security, and economic crises have exacerbated Lebanon's systemic instability, and could plunge the country further into chaos should they remain unaddressed. 
Over the past year, ACLED has collaborated with Lebanon Support to supplement the real-time data collection of political violence and demonstration events in Lebanon. The result of this partnership is an updated dataset of over 6,700 events recorded between January 2016 and October 2020, providing comprehensive coverage of political disorder across the country (see Figure 1). Approximately 70% of these events — amounting to over 4,700 — involve peaceful protesters. Around 1,000 events — corresponding to the 15% of the total — involve demonstrators engaging in violent rioting.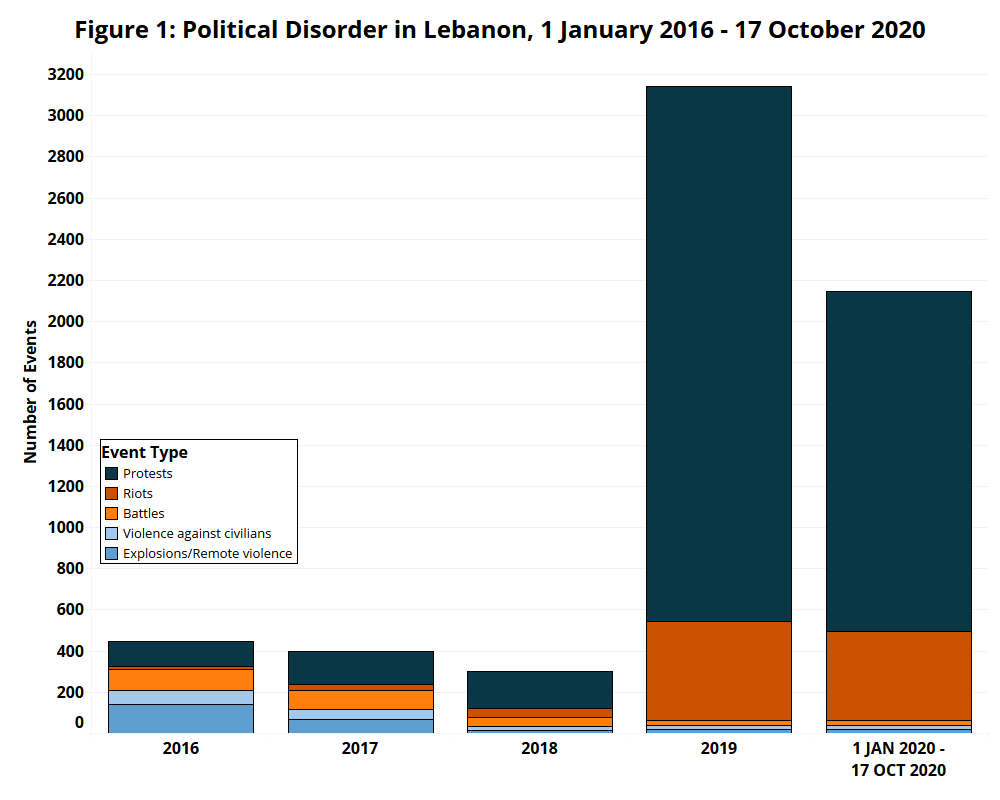 Nearly three-quarters of all recorded events occurred in the aftermath of the October 2019 uprising. The uprising has represented a momentous event in Lebanon's recent history of turmoil, with over 4,000 events occurring across 350 locations countrywide between October 2019 and October 2020 (see Figure 2). The following sections will look into one year of the uprising, exploring its evolution over three distinct periods: first, from its onset until the appointment of Hassan Diab's cabinet in January 2020; second, the lockdown hiatus from February through July 2020; and third, the post-Beirut blast period from August until the present day.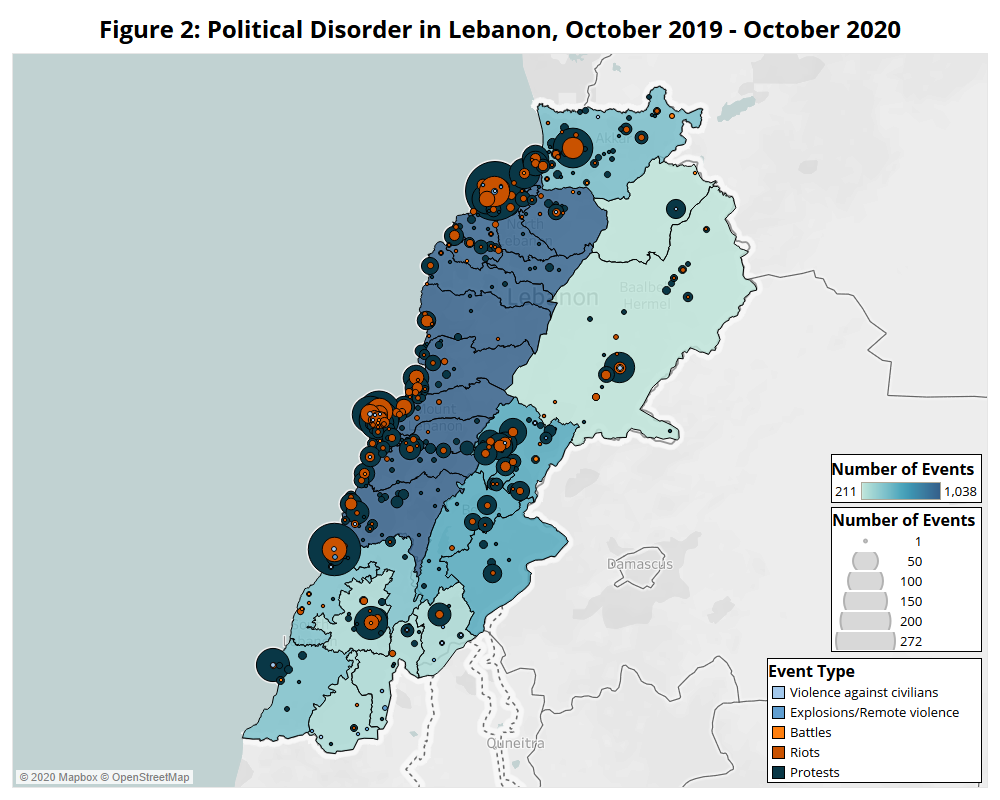 The Onset of Thawra (October 2019 – January 2020)
On 17 October 2019, hundreds of activists flocked to downtown Beirut to protest against draconian measures introduced by the Lebanese government in a desperate effort to reduce public debt. Within hours, what started as a rally against the proposed austerity budget turned into a nationwide rejection of the country's octogenarian political establishment. Hundreds of thousands of Lebanese citizens flooded the streets of Beirut and all major cities, accusing ruling elites of economic mismanagement, corruption, and cronyism, and demanding Prime Minister Saad Hariri step down and be replaced by a caretaker technocratic executive. Despite multiple appeals to dialogue from the Lebanese political establishment, the thawra assembled the country's largest protest movement in decades. After days of hemming and hawing, Hariri announced his resignation in a televised speech on 29 October, although a new technocratic government, headed by university professor Hassan Diab, was not formed until January 2020. 
Despite sporadic unrest, demonstrations were overwhelmingly peaceful until the end of December. Overall, nearly 83% of all demonstration events recorded by ACLED between October and December 2019 were peaceful, with security forces and armed militias showing relative restraint in the use of violence to avoid escalation (see Figure 3). Despite reports of the occasional use of excessive force, as well as the death of one demonstrator (Amnesty International, 19 December 2019), events in Lebanon stood in stark contrast to the simultaneous unrest in Iraq, where the death toll climbed to more than 500 by the end of December (New York Times, 21 December 2019).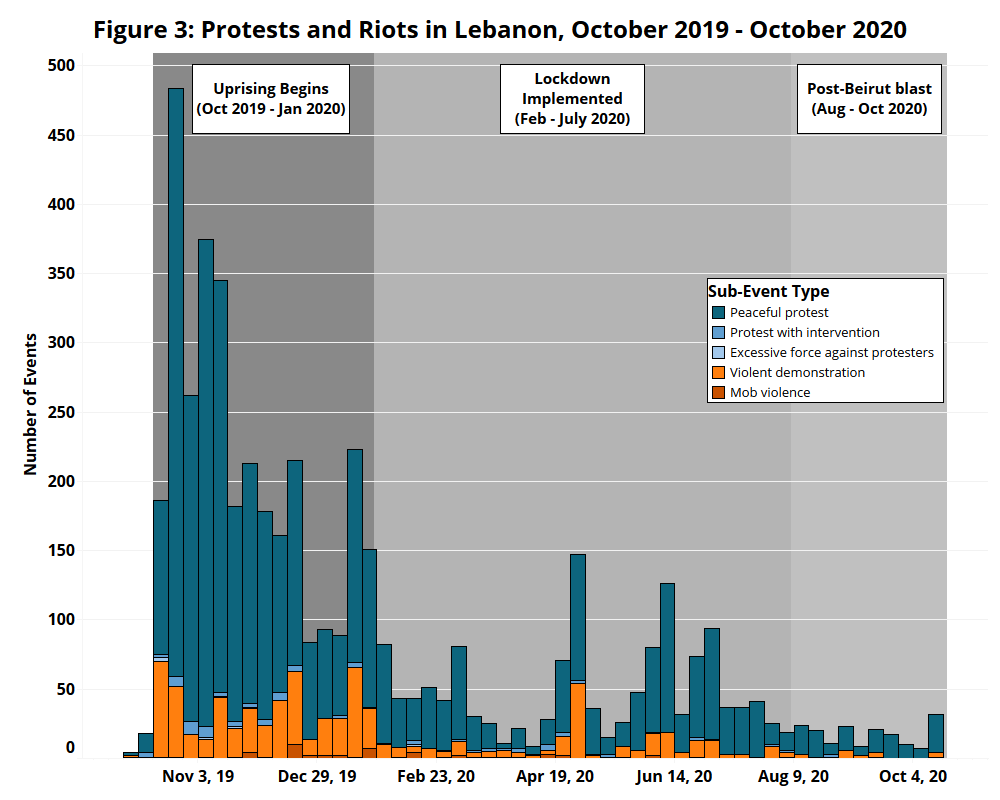 Mass rallies were held in approximately 300 towns and villages across the country, attracting large crowds in open defiance of party-linked sectarian or clientelist networks. The cross-sectarian character of the protest movement was not new. Earlier waves of mobilization, including in 2011 and during the 2015 waste management crisis, showed that protesters have increasingly linked demands for economic changes with those for structural political changes (Lebanon Support, 22 October 2019). Yet, the sweeping nature of the demands — economic reforms, universal access to public services, environmental protection, justice, and gender equality — produced a new geography of protests in 2019. 
For weeks, demonstrators erected roadblocks along the country's major highways and on the main traffic arteries, often resisting army efforts to forcefully clear the roads. Citizens of Beirut, Tripoli, Tyr, and other towns occupied squares, roundabouts, and abandoned urban buildings, reclaiming public spaces that were made inaccessible or privatized (L'Orient-Le Jour, 9 December 2019; Lebanon Support, December 2019). Symbolic human chains running from Akkar in the north to Sidon in the south were formed, epitomizing national unity against the government (Al Jazeera, 27 October 2019).
After weeks of intense negotiations, Lebanese President Michel Aoun appointed Diab as Prime Minister on 19 December, following renewed popular mobilization over the prolonged political stalemate. Despite boasting a technocratic profile intended to appease the protesters, the Prime Minister-designate failed to win unanimous support across the political spectrum. Aoun's Free Patriotic Movement and the Shiite bloc (Hezbollah and Amal Movement) endorsed Diab, while Saad Hariri's Future Movement opposed his nomination. Tensions ran high, especially in the northern Sunni majority city of Tripoli, where supporters of Hariri's bloc began to erect new roadblocks in the days around Diab's designation (Al Jazeera, 20 December 2019). At the same time, skirmishes between demonstrators and party militants — reportedly affiliated with Hezbollah and Amal — occurred in Beirut, while protest camps were burnt down in Nabatieh, Sidon, and Baalbek.
Hassan Diab was sworn in on 21 January, hours after hundreds were injured in clashes between demonstrators and security forces in Beirut (Reuters, 19 January 2020). In the following weeks, the number of demonstration events declined significantly, reflecting a wider fatigue in the protest movement. The appointment of a technocratic government was branded as a decisive concession to the protesters' demands, yet it failed to quell concerns over a dysfunctional political system and a deteriorating economic situation. Days before Diab took office, the exchange rate of the Lebanese lira in the parallel market hit new records, pushing inflation to double digits (The Daily Star, 9 January 2020; Blom Bank Group, 24 February 2020). 
The Lockdown Hiatus and the Resurgence of Unrest (February – July 2020)
The outbreak of COVID-19 hastened Lebanon's economic meltdown. The country partially defaulted on its debt obligations in March. A series of strict lockdown measures to limit the spread of coronavirus disproportionately hit the most vulnerable segments of the Lebanese population, half of which is estimated to be living under the poverty line (UN ESCWA, 19 August 2020). At the same time, intraparty bickering frustrated reform plans proposed by the Diab government and debt restructuring talks with the International Monetary Fund, raising doubts over the executive's effectiveness (Naharnet, 19 May 2020). 
After the first reported cases of COVID-19 and the subsequent lockdown announced on 15 March, demonstration activity returned to pre-uprising levels. Demonstrations declined not only in overall numbers, but also in their geographic spread. While demonstration events were recorded in over 280 distinct locations between October 2019 and January 2020, the number declined to 180 between February 2020 and July 2020. Security forces took advantage of the dwindling mobilization to clear squares and roads of protest camps. The forceful removal of tents in Beirut's Martyrs' Square and Riad Al-Solh and Tripoli's Al-Nour Square — some of the most iconic locations of the October uprising — marked a symbolic end to the popular mobilization and its physical occupation of public spaces (Reuters, 28 March 2020; The Daily Star, 8 April 2020). Limited peaceful demonstrations, including socially distant sit-ins and car convoys, continued in compliance with public health measures (Al Araby, 21 April 2020).
As weeks went on, however, widespread malaise over the rationing of electricity and water, and ever tighter restrictions on bank withdrawals, led to an increase in unrest. Urban areas were the focal point of demonstrations, with Beirut, Tripoli, and Sidon accounting for approximately 50% of all rioting events recorded between February and July (see Figure 4). Unlike the largely peaceful character of the October uprising, demonstrations in April turned into a violent expression of rage, leaving a trail of charred cars, smashed ATMs, and burning tires (The Washington Post, 30 April 2020). Occasional upticks of anti-government demonstrations continued to occur in May and especially in June, as the purchasing power of many Lebanese citizens plunged to new lows. It is estimated that between October 2019 and June 2020, the Lebanese currency lost 70% of its value (BBC, 13 June 2020).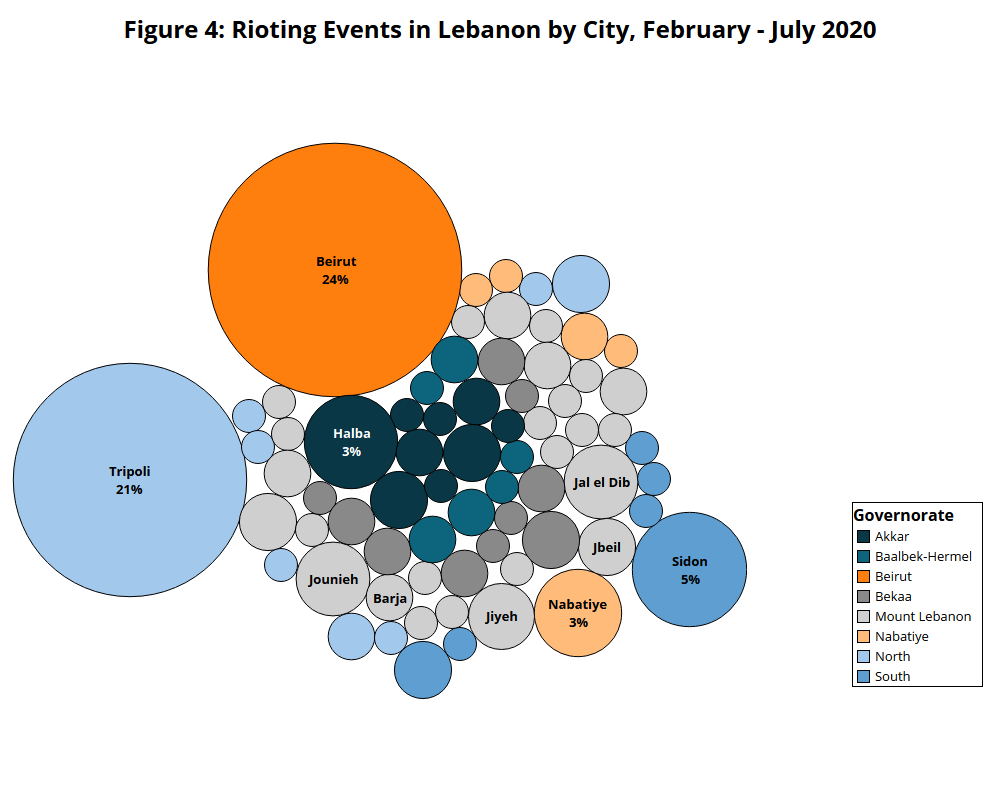 Even more worryingly, reports indicate that security forces are showing less restraint and taking a more heavy-handed approach to the demonstrations. They have increasingly employed riot control tactics that involve the use of teargas, rubber-coated bullets, and live ammunition. After a 26-year-old demonstrator from Tripoli died of wounds sustained from live fire in late March, Human Rights Watch accused the Lebanese Armed Forces (LAF) of having "unjustifiably used excessive, including lethal, force against protesters" (Human Rights Watch, 29 April 2020). Another organization, the Committee of Lawyers in Defense of Protesters, claimed that seven detainees arrested on charges of attacking soldiers in the southern city of Sidon were subject to electrocuting and beatings inside a local military prison (Reuters, 4 May 2020). These events have tarnished the image of the army, one of the few state institutions in Lebanon that had retained a respectable reputation.
The Post-Beirut Blast (August – October 2020)
On 4 August, 2,750 tons of ammonium nitrate stored in wooden containers detonated in a warehouse at Beirut's port, causing an explosion that killed over 200 people and injured over 6,500. Up to 300,000 people lost their homes as the explosion ripped through Beirut and its neighboring municipalities. Milling facilities and grain silos were heavily damaged, endangering  the existing reserves of wheat. Imports of food and medical equipment transiting through Beirut port, the country's main commercial hub, were shifted to Tripoli port, which operates at a lower logistic capacity (ACAPS, 12 August 2020).
Soon after the blast, the political responsibility for the disaster became manifest. Although the blast was not deliberate, years of negligence from customs officials, judicial authorities, security forces, and political appointees allowed the dangerous material to sit in Beirut's port in the absence of any safety measures. Political elites deflected responsibility, trading blame or suggesting foreign interference (Foreign Affairs, 14 August 2020). Amidst this scapegoating within the political establishment, Prime Minister Hassan Diab offered his resignation, blaming the explosion on endemic corruption and plunging the country further into political crisis. 
Under intense pressure from French President Emmanuel Macron, who visited Beirut twice in the aftermath of the explosion, political parties agreed to name Lebanon's ambassador to Germany, Mustapha Adib, as the new Prime Minister (Middle East Eye, 1 September 2020). Yet, his tenure as Prime Minister-designate was short lived: Adib stepped down on 26 September as he faced an inextricable gridlock over cabinet appointments (The Daily Star, 27 September 2020). After staging a surprising comeback in early October, Saad Hariri was appointed Prime Minister again, one year after he was ousted by street protests (Al Jazeera, 9 October 2020). He is regarded by Lebanon's ruling elites as the only viable option to accommodate the appetites of the sect-based political parties and appease foreign partners.
The explosion has also had wider consequences for political mobilization. A few days after the explosion, demonstrators symbolically occupied the Foreign Affairs and Energy ministry buildings, while mass demonstrations and sit-ins were occasionally held in Beirut and across the country (NPR, 14 August 2020). Despite these isolated episodes, no new wave of mass demonstrations has emerged, as the country faces worsening social, economic, and health crises. In August and September, ACLED records the lowest number of protests and riots since September 2019.
A spike in the number of conflict-related fatalities between August and September — the highest since the summer of 2017 — suggests the intensification of political tensions and security challenges (see Figure 5). A local dispute between members of the Shiite parties Hezbollah and Amal left one dead in the southern village of Loubnieh, near Sidon (The Daily Star, 21 August 2020). Supporters of former Prime Minister Saad Hariri and his brother Bahaa — a billionaire and eldest son of Rafic — exchanged gunfire in Beirut's Tariq El Jdideh area, highlighting a turf war within the Sunni bloc (L'Orient Le Jour, 17 May 2020; The National, 8 September 2020). In northern Lebanon, suspected Islamic State militants assassinated four security forces in two separate attacks in Koura and Miniyeh–Danniyeh districts, prompting a two-day security operation which resulted in the killing of 13 militants (Arab News, 28 September 2020; The Daily Star, 27 September 2020). On 25 August, a barrage of retaliatory shells fired by the Israeli Defence Forces (IDF) hit areas near the southern border (Reuters, 25 August 2020).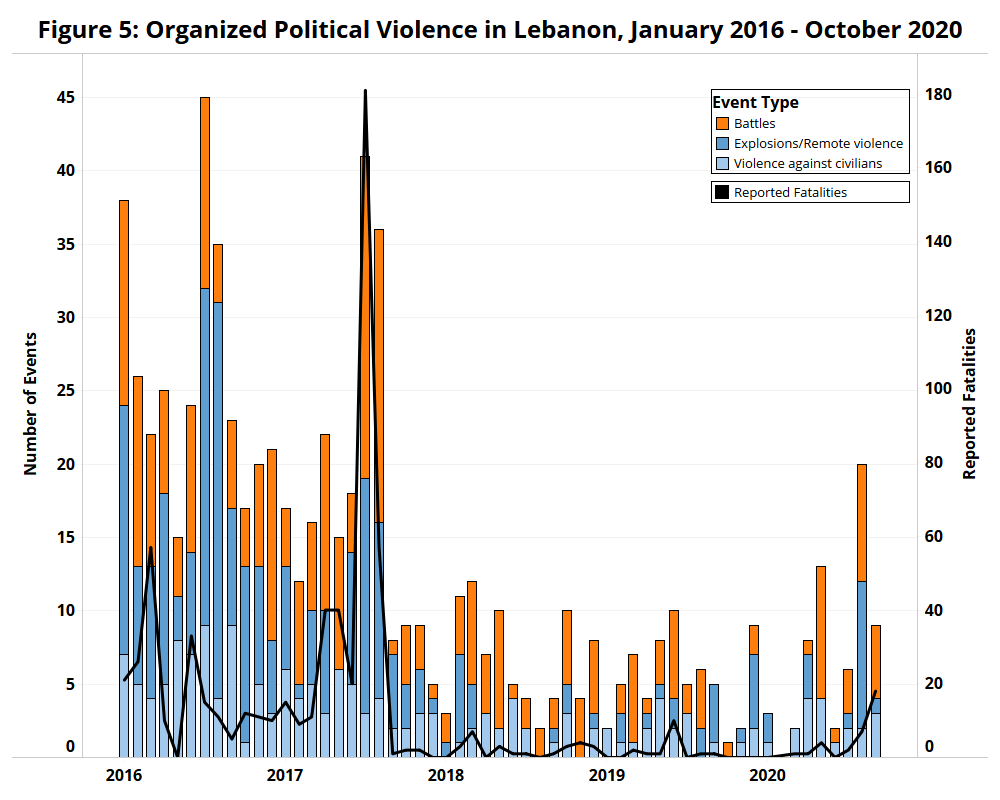 Conclusion
One year on, the October uprising has produced mixed results. Lebanon's political establishment has managed to cling to power, resisting any meaningful change to the post-war consociational political system. Despite a spiraling socio-economic crisis — which has been aggravated by the pandemic and the blast at Beirut port — governing parties have not hesitated to resort to heavy-handed tactics to suppress popular demonstrations. 
And yet, the uprising has exposed the cracks in sectarian mobilization mechanisms. The geography of protests that has emerged since 2019 reveals the widespread dissatisfaction with service provision in Beirut and in Lebanon's peripheries, where party-sponsored clientelism has long administered social services (Parreira, 23 October 2019). A growing protest fatigue and lockdown restrictions have contributed to curb mobilization countrywide, yet the roots of the backlash against the political establishment persist until today. Whether this mobilization can lay the groundwork for an alternative political platform that challenges the existing sect-based parties is yet to be seen.
In Focus: The North and Akkar
Along with the capital Beirut, Tripoli was the main hotbed of the October uprising. Peaceful rallies drew thousands of people in Al-Nour Square, energizing a city with a reputation for conservatism (The National, 11 May 2020). Despite being long considered a Sunni bastion loyal to Saad Hariri, demonstrations in Tripoli have embraced the non-sectarian claims of the protest movement, often expressing solidarity with protesters in Shiite strongholds like Tyr or Dahyeh (Twitter, 19 October 2019; Al Jazeera, 20 october 2019). As Tripoli residents descended further into poverty due to the economic crisis, demonstrations increasingly turned violent, and resulted in at least two deaths (Al Arabiya, 18 February, 18 February 2020; Associated Press, 28 April 2020). Outside Tripoli, demonstrations clustered along the main highways north and south of the city, near the towns of Batroun, Chekka, and Miniyeh. Further north, demonstrations also hit Akkar, a historically marginalized region that is currently home to over 100,000 Syrian refugees (UNHCR, 31 May 2020). Despite Akkar's predominantly rural setting, demonstration events were reported well outside the urban areas of Halba and El Aabdeh, involving at least 49 distinct localities across the governorate.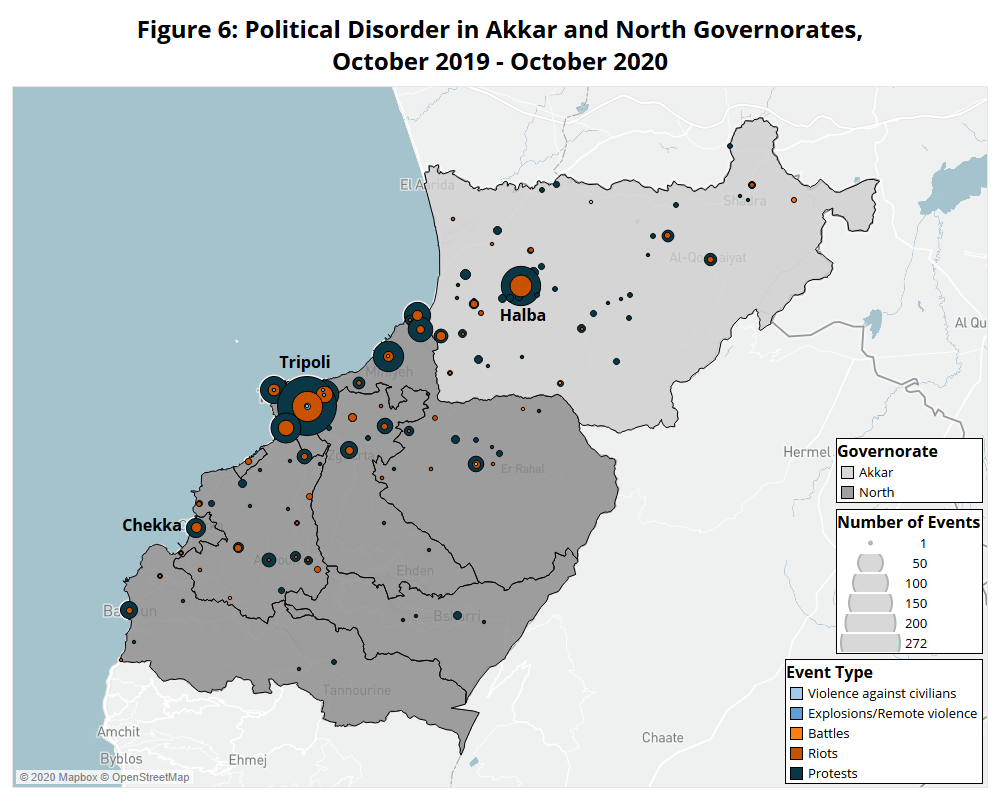 In Focus: Baalbek-Hermel and Beqaa
The Baalbek-Hermel and Beqaa governorates lie on Lebanon's eastern border with Syria. Until 2017, Baalbek was the site of major clashes between the LAF and Hezbollah against Islamist armed groups. While the region is today a stronghold of Hezbollah, this has not prevented demonstrators from holding several protest rallies since October 2019 (The National, 7 November 2019). Yet, popular mobilization was the lowest among Lebanon's governorates, with only 147 demonstration events across 21 distinct locations recorded between October 2019 and October 2020, less than half the number reported in Akkar or in the South.
In Beqaa, a governorate with a mixed sectarian composition, the towns of Taalabaya, Zahle, and Jdita were among the most active urban areas outside Greater Beirut. During the earlier months of the uprising, demonstrators used burning tires to erect roadblocks, occasionally clashing with security forces attempting to open the roads. The local branch of the Central Bank in Zahle became the site of several protest rallies, as people gathered to express their frustration with the economic situation (Al Arabiya, 29 November 2019; Associated Press, 14 January 2020; Twitter, 11 July 2020).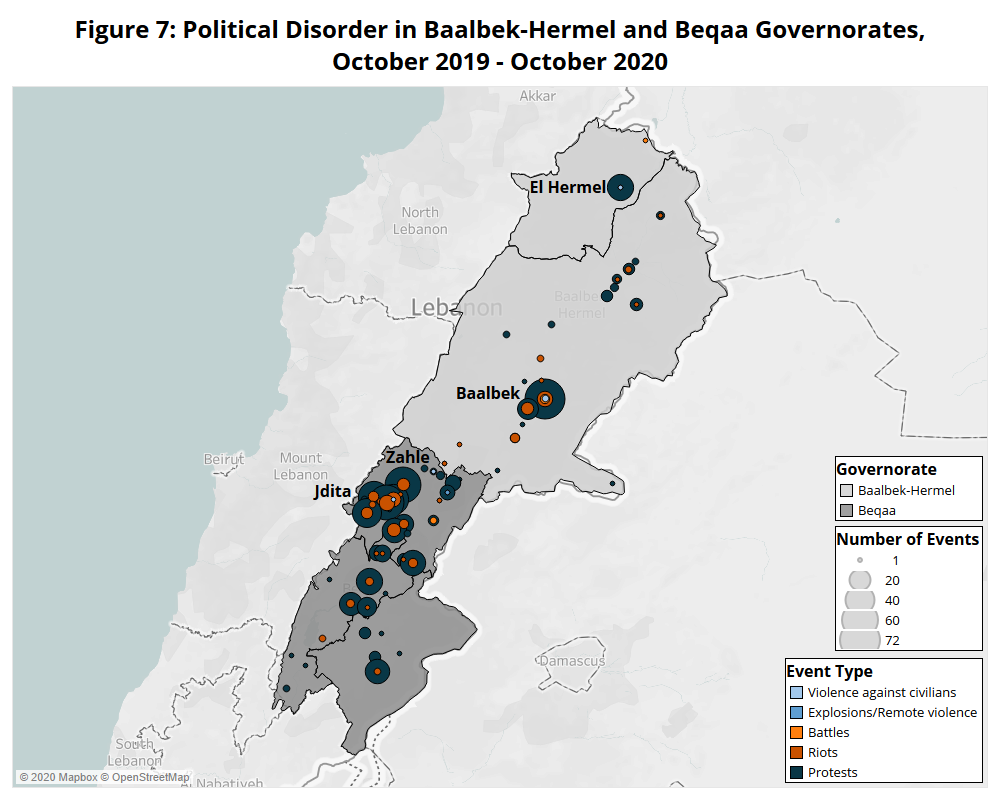 In Focus: Beirut and Mount Lebanon
Beirut and Mount Lebanon governorates account for approximately 39% of all demonstration events recorded between October 2019 and October 2020. ACLED records demonstrations in nearly 120 locations across the two governorates, including all of Beirut's 12 quarters. In the capital, the geography of protests suggests an attempt by demonstrators to reclaim public spaces which symbolized segregation and division (Lebanon Support, December 2019). Parliament and government buildings, privatized urban development projects, public squares, and traffic arteries across the city were all filled with demonstrators from day one. Demonstrators regularly occupied such locations with sit-ins and protest tents. According to urban geographer Sara Fregonese, the peaceful occupation of traffic arteries, whether flyovers or tunnels, is especially symbolic, as they crystallize the separation of "the private space of the reconstructed area of Beirut's city center – managed by the company Solidere – from the rest of the city." (Fregonese, 29 October 2019).
North of the capital, the towns of Jal El Dib, Jounieh, Zouq, and Jbeil attracted large rallies, while roadblocks were erected at intersections situated along the Tripoli-Beirut highway, with the aim of bringing traffic to a standstill. Similar tactics were used to the east, near Baabda and Aley, and the south of Beirut, near Khaldeh and in the Chouf. In November 2019, the killing of a Druze man from Choueifat, the first demonstrator to be killed by security forces at the onset of the uprising, sparked fresh outrage at the army. The army shot dead the man, a member of the Progressive Socialist Party, while trying to clear a roadblock in the town of Khaldeh (Naharnet, 14 November 2019).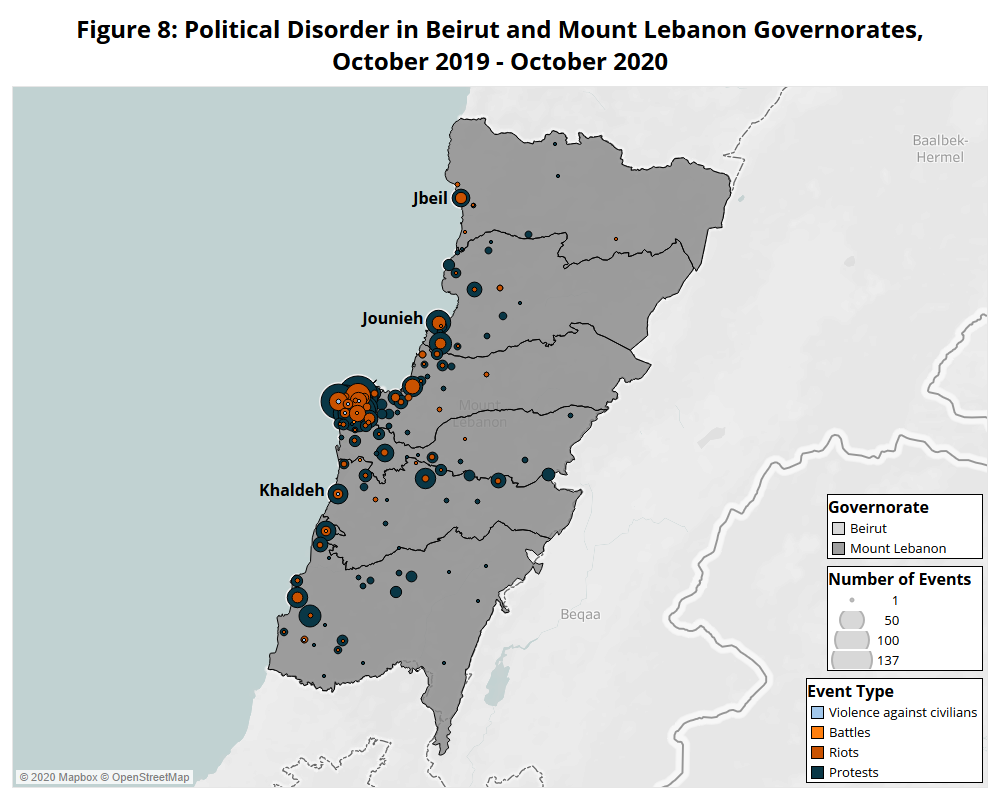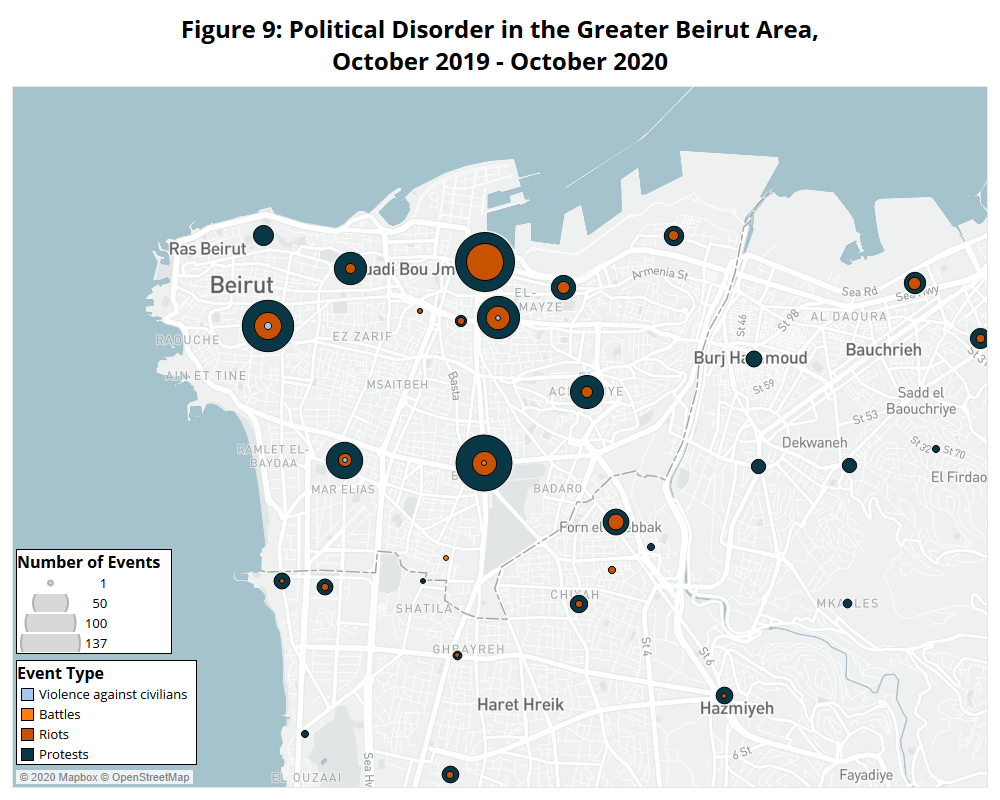 In Focus: The South and Nabatieh
In southern Lebanon, the absence of large urban centers outside Sidon, Tyr, and Nabatieh has hampered popular mobilization in the South and Nabatieh governorates, with only 48 locations across the two governorates recording demonstration events. While Hariri's Future Movement enjoys wide support in Sidon, Tyr and Nabatieh are the strongholds of Lebanon's main Shiite parties, Hezbollah and the Amal Movement. 
Like in Baalbek, strong local support for Hezbollah and Amal in these two Shia-majority governorates — which is largely linked to security concerns due to the proximity to the southern border — did not preclude demonstrations in defiance of the two parties (Al Jadeed, 18 October 2019; France24, 25 November 2019). Government incompetence and lack of economic opportunities are cited as the most common drivers of mobilization of protest across southern Lebanon (Parreira and Stedem, 24 October 2019). Nabatieh has also come under intense pressure in late August as the IDF accused Hezbollah of opening fire at their troops, prompting Israeli strikes on military observation posts (Associated Press, 26 August 2020). Earlier cross-border clashes had erupted in July, amidst a flare-up of tensions which arose after an Israeli airstrike killed a Hezbollah fighter in Syria.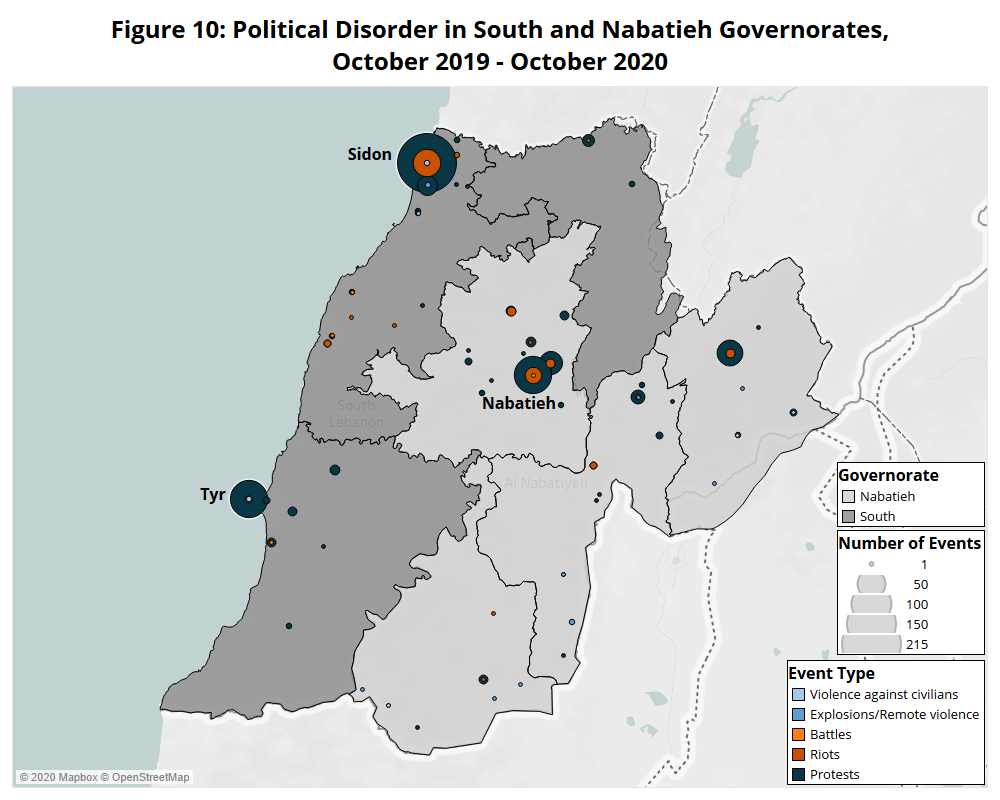 © 2020 Armed Conflict Location & Event Data Project (ACLED). All rights reserved.