Report Finds There Were At Least 560 Armed Demonstrations Since 2020, and Armed Demonstrations Nearly Six Times More Likely to be Violent or Destructive Than Unarmed Demonstrations
Report Comes Nearly One Year After Two People Were Shot and Killed at a Protest in Kenosha, Wisconsin
23 August 2021: The Armed Conflict Location & Event Data Project (ACLED), in partnership with Everytown for Gun Safety, today released a new report documenting 560 armed demonstrations that have taken place across the United States since the start of 2020. The report comes nearly a year after a 17-year-old from Illinois shot three people, two fatally, at a Black Lives Matter (BLM) protest in Kenosha, Wisconsin after the police shooting of Jacob Blake.
The report finds that the presence of armed groups and individuals is strongly correlated with a heightened risk of violence or destructive behavior during public gatherings: armed demonstrations are nearly six times as likely to turn violent or destructive compared to unarmed demonstrations.
"Over the past year we have seen the proliferation of violence at demonstrations across the country," said Justin Wagner, Director of Investigations at Everytown for Gun Safety. "The crux of this phenomenon and report is simple: when firearms are involved, demonstrations are more dangerous and deadly. Through this first-of-its-kind research, we can see how easy access to firearms, particularly for far-right extremists and white supremacists, have continued to put our First Amendment rights in jeopardy."
"Spikes in armed demonstrations and militia activity are warning signs we can use to track and mitigate the risk of political violence in this country," said Dr. Roudabeh Kishi, Director of Research & Innovation at ACLED. "After an initial decline following the Capitol riot in January, the proportion of demonstrations involving armed actors is back on the rise: armed demonstrations were more than twice as common in June as in February, and this trend has continued into the second half of the year. Real-time, data-driven monitoring initiatives are critical to support efforts aimed at anticipating and responding to future threats."
The report shows that the majority of armed demonstrations have been driven by far-right mobilization and reactions to left-wing activism, including opposition to the BLM movement, support for former President Donald Trump, opposition to gun regulations, and opposition to pandemic-related public health restrictions. Research also shows that there were over 100 armed demonstrations reported at capitol buildings and vote counting facilities across 25 states and Washington, DC.
Additional key findings of the report include:
Armed demonstrations are more dangerous. While armed demonstrations account for less than 2% of the total number of demonstrations in the United States, they comprise nearly 10% of all violent or destructive demonstrations. Armed demonstrations are violent or destructive nearly 16% of the time, compared to less than 3% of the time for unarmed demonstrations.
At least 560 armed demonstrations have been reported across 44 states and Washington, DC over the past year and a half.
Nearly 97% of all armed demonstrations have taken place in public spaces, with at least 18% reported at government facilities, including over 100 armed demonstrations at capitol buildings and vote counting sites in 25 states and Washington, DC.
The top states with armed demonstrations include Oregon (55), Texas (38), Washington (36), Pennsylvania (31), Kentucky (29), and Michigan (29) — many of which do not prohibit open carry of firearms.
Militia groups and militant social movements, like the Proud Boys and Three Percenters, are active in over 54% of all armed demonstrations.
At least 94 distinct groups have been identified at armed demonstrations. 84% of the groups involved in armed demonstrations are right-wing actors. The main group actors include the Boogaloo Boys and their affiliates, the Three Percenters and associated groups, the Proud Boys, and the Oath Keepers.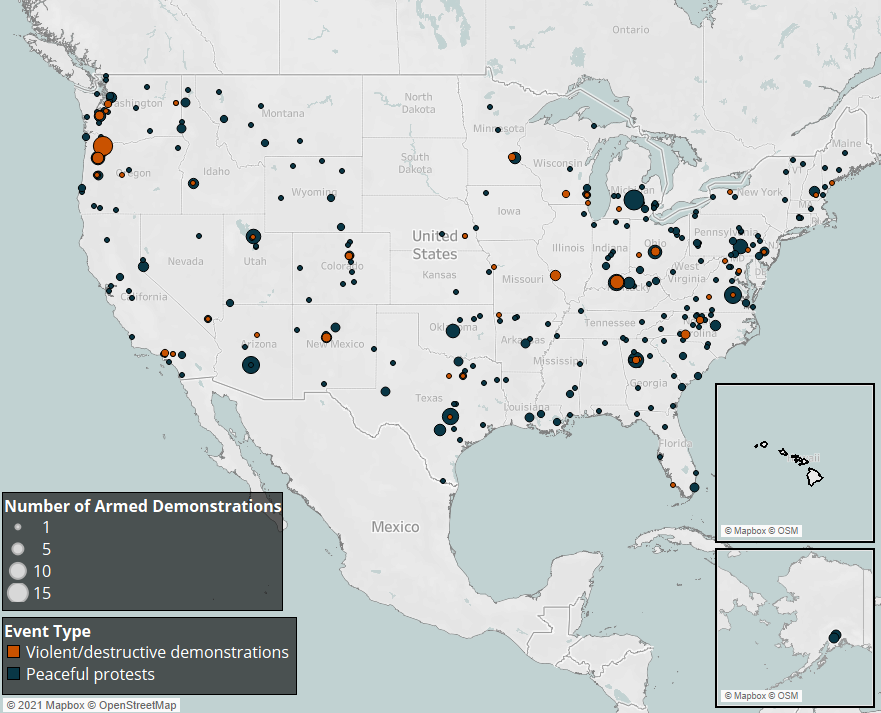 The report is part of an ongoing data collection partnership between Everytown and ACLED. The dataset will be updated regularly and can be downloaded for future projects. To speak with an expert, please reach out. For more information about ACLED methodology, please check the US Methodology Brief and Resource Library.
About Everytown for Gun Safety Support Fund
Everytown for Gun Safety Support Fund (the "Everytown Support Fund") is the education, research and litigation arm of Everytown for Gun Safety, the largest gun violence prevention organization in the country with nearly six million supporters. The Everytown Support Fund seeks to improve our understanding of the causes of gun violence and help to reduce it by conducting groundbreaking original research, developing evidence-based policies, communicating this knowledge to the American public, and advancing gun safety and gun violence prevention in communities and the courts. Learn more at www.everytownsupportfund.org.
About ACLED
The Armed Conflict Location & Event Data Project (ACLED) is the highest quality and most widely used real-time data and analysis source on political violence and protest around the world. ACLED codes the dates, actors, locations, fatalities, and types of all reported political violence and demonstration events in more than 190 countries and territories, with over a million individual events recorded to date. The ACLED team conducts analysis to describe, explore, and test conflict scenarios, and makes all data and research open for free use by the public. Learn more and access the data at www.acleddata.com.

© 2021 Armed Conflict Location & Event Data Project (ACLED). All rights reserved.