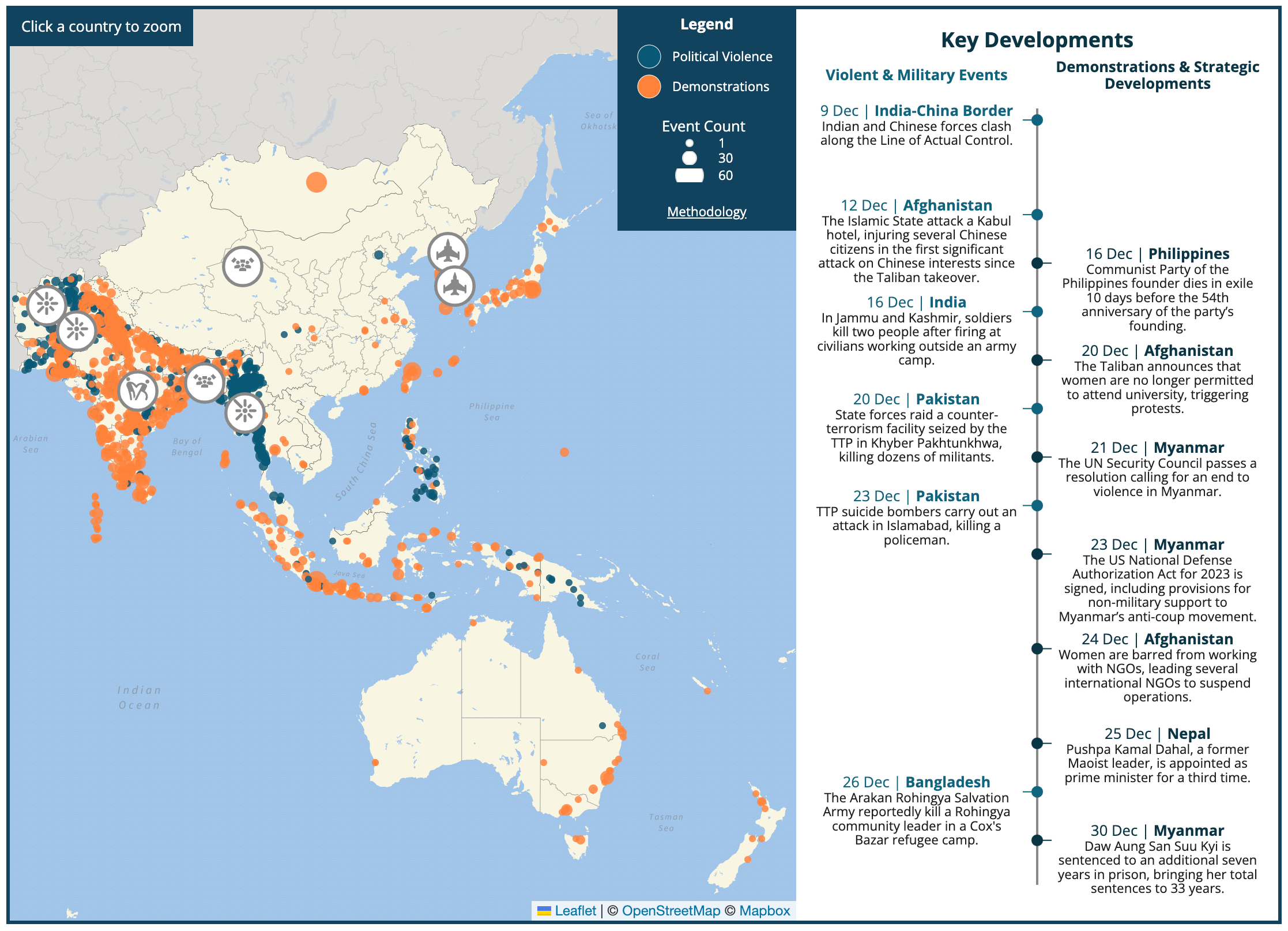 View latest month's regional overview
Afghanistan and Pakistan: Border clashes erupt along the Durand line
The Taliban and Pakistan state forces clashed on the Afghanistan-Pakistan border in the area around Spin Boldak district in Kandahar province in Afghanistan and Chaman district in Balochistan province in Pakistan. On 11 December, clashes occurred as Taliban troops attempted to establish a new checkpoint near the Durand Line, with shelling along the border leading to several civilian fatalities and injuries. One Taliban fighter was also reportedly killed. Border tensions have increased in recent months as the Taliban and Pakistan find themselves at odds over armed activity in their respective countries. The Taliban has accused Pakistan of allowing the US to use its airspace to carry out drone attacks, while Pakistan has accused the Taliban of harboring non-state armed groups.1Radio Free Europe, 30 September 2022 Among the groups of concern to Pakistan is the Tehrik-e Taliban Pakistan (TTP), which has become increasingly active in Khyber Pakhtunkhwa province since a ceasefire between the group and the government ended in November.2Al Jazeera, 4 January 2023 This has driven a 20% increase in overall conflict activity in Khyber Pakhtunkhwa in December compared to November.
Myanmar: Fighting intensifies in Kayin state
Fighting between the Myanmar military and the Karen National Union/Karen National Liberation Army (KNU/KNLA) and other resistance forces intensified in Kayin state around mid-December. Overall conflict activity in the state increased nearly 77% in December compared to November. Battles were concentrated in Kawkareik township, with urban clashes reported in the town of the same name.3Radio Free Asia, 5 January 2023 Airstrikes and shelling resulted in the deaths of several civilians, including a monk. The fighting interrupted trade along the Myanmar-Thailand border, as the Asian Highway connecting the two countries runs through Kawkareik.4Myanmar Now, 29 December 2022
China: 'Zero-COVID' demonstrations decline with coronavirus policy changes
While the end of November and early December saw a spike in demonstrations in mainland China driven by opposition to the country's 'zero-COVID' policy, demonstrations declined in the last weeks of the month as China reversed its policies. The move has led to a wave of infections, straining the healthcare system. In response to unequal treatment, medical students held demonstrations across several provinces, demanding the same wages and protective gear as doctors while treating coronavirus patients.
North and South Korea: Rising tensions amid continued missile tests
North Korea continued carrying out missile tests in December. Such missile tests increased in 2022.5New York Times, 2 January 2023 As well, North Korea flew drones into South Korean airspace on 26 December, with one drone reaching as far as the northern part of Seoul. South Korea responded by scrambling fighter jets and firing warning shots. The last time North Korean drones entered South Korean airspace was in 2017.6CNN, 27 December 2022
Bangladesh: Increased demonstrations spurred by BNP-led anti-government protests
In December, the Bangladesh Nationalist Party (BNP) mobilized its supporters to hold several anti-government demonstrations amid an ongoing government crackdown targeting the BNP. On 10 December, a mass demonstration in Dhaka led by the BNP called for the resignation of Prime Minister Sheikh Hasina and for new elections to be held under a caretaker government.7CNN, 11 December 2022 Three days prior, a man died during a demonstration. On 24 December, anti-government demonstrations were reported across seven of the country's eight divisions. In Rangpur division, demonstrators and police again clashed, resulting in the death of a BNP leader and 50 injured. The demonstrations come amid concerns over the Hasina government's ability to carry out free and fair elections scheduled for the end of 2023.8Anadolu Agency, 10 January 2023
India: Outbreaks of religiously motivated mob violence
In mid-December, Hindu nationalists attacked Christian Adivasi communities in Kondagaon and Narayanpur districts in Chhattisgarh state, reportedly displacing around 1,000 people.9The Hindu, 29 December 2022 The attackers reportedly attempted to coerce Christians to convert to Hinduism. Similar attacks by Hindu nationalists have been reported in the past in Chhattisgarh, which has a large Christian population. Mob violence by Hindu nationalists against Christians was also reported during Christmas celebrations in Gujarat and Uttarakhand states. Mob violence targeting Christian and Muslim communities is common in India amid rising Hindu nationalism.