Context Assessment
Heightened Political Violence in Somalia
Introduction
2022 was the deadliest year in Somalia since at least 2018, with over 6,500 reported fatalities, compared to fewer than 3,500 reported fatalities in 2021. The rise in fatalities and political violence events in 2022 coincided with heightened al-Shabaab activity and government operations in response. In 2022, al-Shabaab remained the most active violent group in Somalia. Conflict activity increased notably from August 2022, after the government launched offensive operations against al-Shabaab in Hiiraan, Middle Shabelle, Mudug, and Galgaduud regions with support from Hawadle, Abgal, and Habar Gedir clan militias, respectively.1Mohamed Dhaysane, 'Somalia's President Vows 'Total War' Against al-Shabaab,' Voice of America, 24 August 2022 In the five months between August and December 2022, ACLED records over 1,200 political violence events and 3,850 reported fatalities resulting from al-Shabaab activity. This is far higher than the estimated 2,000 reported fatalities connected to al-Shabaab activity in the first seven months of the year. Further, clan militias were actively involved in supporting government forces, with a 31% increase in clan militia involvement in political violence in the country in 2022.
Other trends impacting political violence in Somalia last year included: rising activity by the local franchise of the Islamic State (IS) in the capital Mogadishu; and growing tensions in Somaliland, where assassinations of prominent politicians and leaders from Dhulbahante sub-clans have led to deadly unrest between clan militias and Somaliland security forces.
Patterns of Political Violence in 2022
Al-Shabaab's Insurgency Changes Path
Al-Shabaab violence increased in 2022. The group was involved in more than 2,400 political violence events, including over 1,700 battle events and approximately 300 incidents of violence targeting civilians, with increases of 19% and 41%, respectively, relative to the previous year. In 2022, al-Shabaab, which has operated in Somalia for nearly two decades, was active across the country and especially in Banadir, Lower Shabelle, and Lower Juba regions where insurgents clashed with Somali security personnel and international forces (see map below). Civilian targeting by al-Shabaab was highest in Banadir, Lower Shabelle, and Hiraan regions, increasing 17%, 95%, and 366%, respectively, compared to the year prior, as the group simultaneously expanded the scale and scope of attacks on civilians, especially in Hiraan and Lower Shabelle.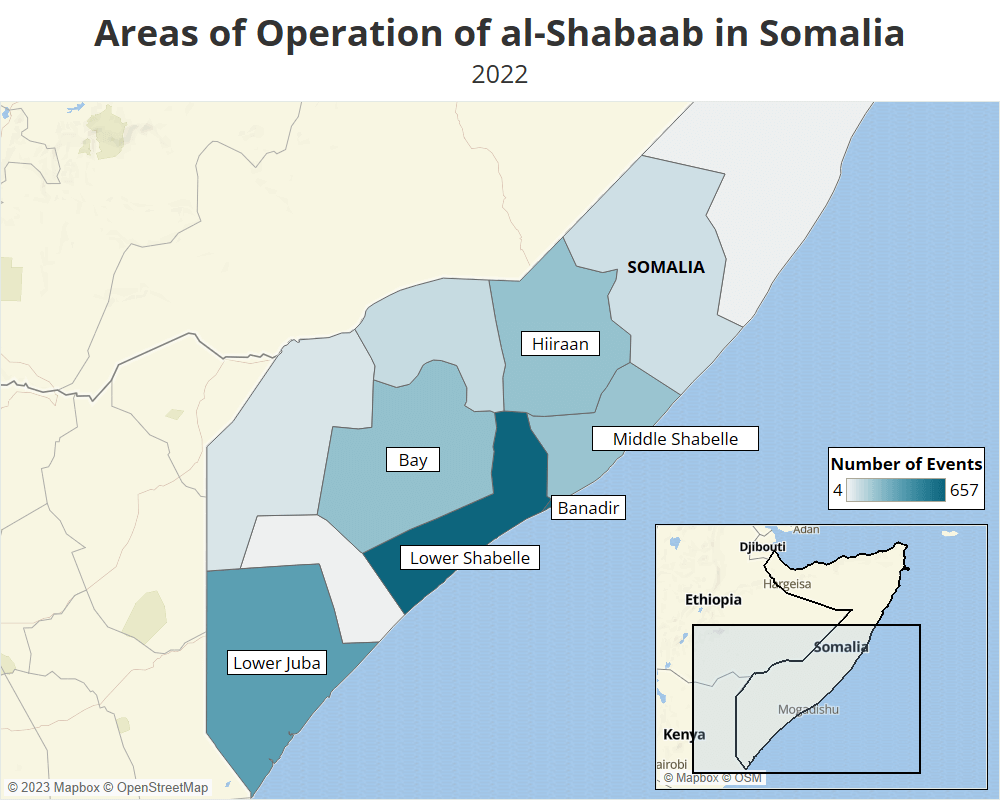 The militants have adopted night combat tactics and increased their use of IEDs, including suicide vehicle-borne IEDs (SVBIED) and vehicle-borne IEDs (VBIED), by an estimated 49% compared to 2021. Confronted with a coordinated counter-insurgency campaign, al-Shabaab also resorted to abandoning their bases to draw in security forces and ambush them with IEDs – particularly along the main supply routes that connect Belet Weyne and Balcad districts. This move has also allowed security forces and pro-government clan militias to regain control of several villages in Hiiraan and Middle Shabelle regions, where al-Shabaab has frequently staged coordinated high-fatality IED attacks targeting security forces and African Union Transition Mission in Somalia (ATMIS) forces. In September 2022, al-Shabaab vacated its bases in Adan Yabaal and Cadale districts – two al-Shabaab strongholds in Middle Shabelle region. ACLED records 170 non-violent transfer of territory events from al-Shabaab to government forces in Somalia last year, with over half of these events happening in Hiiraan and Middle Shabelle.
The central town of Belet Weyne in Hiiraan was the target of multiple al-Shabaab attacks. The town, home to the regional headquarters in Lamagalay, was the site of SVBIED attacks that targeted government institutions and civilian populated areas. These attacks reportedly killed 114 people, including lawmakers, electoral delegates, and local administrators, attesting to the group's capacity to stage sophisticated lethal attacks against symbols of the Somali state.
Al-Shabaab redeployed to Banadir and Lower Shabelle regions following the government-led counter-insurgency that started in August. Banadir is a prized target, as it is the district home to the Somali capital Mogadishu. Despite being protected by several security checkpoints and roadblocks, al-Shabaab launched coordinated attacks against highly guarded government institutions and hotels in the capital district. The group also ambushed civilians being recruited to join the military at the General Dhega-badan training camp, and raided the Ministry of Education for providing education to the liberated villages in Hiiraan region. The attack on the ministry in October resulted in over 120 reported fatalities. Security forces facilitated al-Shabaab's penetration into Mogadishu. Several soldiers were arrested in December and January in connection with the November 2022 attack on the Villa Rays hotel near the presidential residence, known as Villa Somalia, which reportedly killed nine civilians.2Garowe Online, 'Soldiers arrested over role in Al-Shabaab attack in Somalia,' 8 January 2023 
ATMIS bases and convoys have also constituted soft targets for al-Shabaab militants. The group's attacks have hindered ATMIS's operational capacity, forcing them to remain primarily in their barracks and play a limited role in offensive operations against al-Shabaab or supporting security forces in joint operations. The ATMIS forces' mandate will end in 2024.3Shabelle Media, 'AU suspends plans to reduce ATMIS forces in Somalia,' 24 November 2022
In Southwest state, al-Shabaab reportedly killed several electoral delegates and government officials in Bay and Bakool regions. Among them was Southwest Justice Minister Hassan Ibrahim Lugbur, who was killed in Baidoa town in July.4All Africa, 'Somalia: Blast Kills Southwest State Justice Minister in Baidoa,' 29 July 2022 Additionally, the militants attacked security forces and government-backed clan militia bases in Saydheelow village in September, reportedly killing 15 soldiers and clan militia members, 10 militants, and injuring several others. Gufguduud Burey and Daynuunay villages also fell under al-Shabaab control from the security forces in December. Control over these areas allowed al-Shabaab militants to launch an offensive against security forces and ATMIS forces in Bay region while collecting taxes from civilians traveling along the main supply route that connects Baidoa and Hudur town. 
Al-Shabaab militants expanded their operations toward Ethiopia in 2022. They launched coordinated attacks in Ceel Barde, Ato, and Yed towns in Bakool region, targeting Somali security forces and Ethiopia's Liyu police forces based in Somalia. The fighting in the border towns spilled over to Ethiopia. Despite the Ethiopian security forces' presence in Somalia to counter the spread, over 500 al-Shabaab militants crossed over to Ethiopia, and dozens of militants were reportedly killed.5Reuters, 'Somalia's al Shabaab group makes rare attack near Ethiopia border,' 22 July 2022; Voice of America, 'Why Did Al-Shabab Attack Inside Ethiopia?,' 26 July 2022
Separately, the Somali branch of IS also increased its activity in Mogadishu in 2022 compared to 2021, underscoring the group's further expansion into the capital. While IS decreased its activity in Puntland state – where it has long been known to have an operational presence – its operations in the capital doubled last year, as it carried out numerous attacks on Somali security forces. IS is vying for increasing power and influence in the country, which has occasionally resulted in fighting between al-Shabaab and IS militants. Additionally, IS demanded 30% zakat (tax) from local businesses in Mogadishu's Bakara market, which led to the temporary closure of the market.6Goobjoog, 'EXCLUSIVE: Traders in Somalia's largest market close shops amid unrelenting ISS terror,'  25 January 2022 Al-Shabaab and the government also collect taxes in the same market. In January 2023, United States special operation forces targeted and killed Bilal al-Sudani, an important IS leader and 'financial facilitator' in a remote part of Bari region of Puntland state.7Abdulaziz Osman, 'Somalia Welcomes Killing of IS Leader,' Voice of America, 27 January 2023 It remains to be seen to what extent the operation will affect the IS insurgency in Somalia and the broader Horn of Africa region.
Government and Allied Clan Militias Launch Operation Against al-Shabaab
President Hassan Sheikh Mohamud, who took office in May from his predecessor Mohamed Abdullahi Mohamed 'Farmaajo' after an embattled election, declared a nationwide mobilization against al-Shabaab in August 2022. The campaign was launched from his home state of Hirshabelle with the support of government-backed clan militias, ATMIS troops, US special forces, and the Turkish military.8Mohamed Dhaysane, 'Somalia's President Vows 'Total War' Against al-Shabab,' Voice of America, 24 August 2022 After launching the offensive, security forces and government-backed clan militias, aided by US airstrikes, were able to regain control of several strategic towns from al-Shabaab militants in central Somalia (see map below). ACLED records 26 government regains territory events as well as 69 events of non-violent transfer of territory to government forces in August and September. The recent operations started from Hiiraan and Lower Shabelle and soon expanded to Galgaduud and Bay. The liberation of several villages was significant for government forces to secure control over the main supply routes that connect Hiiraan and Middle Shabelle to Banadir and disrupt al-Shabaab-manned checkpoints. Despite gaining back territory in several areas, security forces sustained al-Shabaab attacks at several military bases.9Hiiraan Online, 'Military convoy reaches central Somalia for the first time in 8 years,' 23 September 2022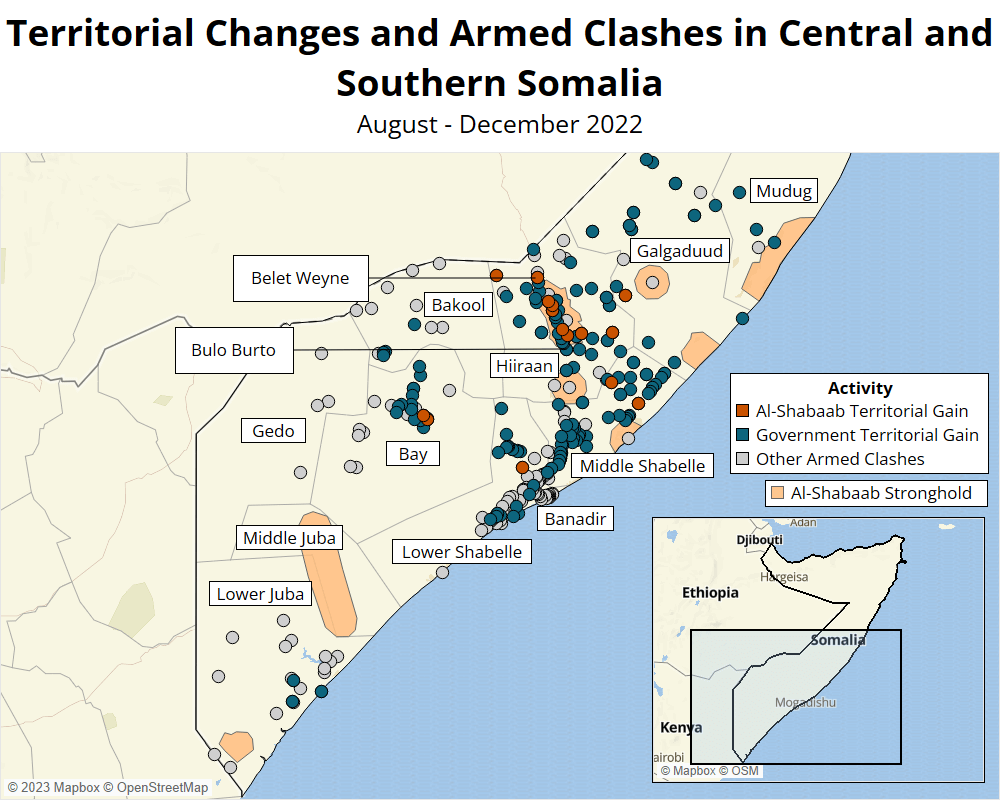 Less than two years after the withdrawal of US troops from Somalia in January 2021, US military personnel returned to Somalia last year. In May, US President Joe Biden approved a plan to redeploy several hundred troops to Somalia to assist Somali security forces in advancing toward al-Shabaab-controlled areas.10Charlie Savage and Eric Schmitt, 'Biden Approves Plan to Redeploy Several Hundred Ground Forces Into Somalia,' New York Times, 16 May 2022 US forces have played a major role in the offensive operations against al-Shabaab. From August to December 2022, in coordination with specially trained Danab/Bancroft forces, US forces conducted 18 airstrikes against al-Shabaab hideouts in Middle Juba, Middle Shabelle, Hiiraan, Galgaduud, and Lower Shabelle regions that resulted in dozens of reported fatalities. ACLED records a 30% increase in US airstrikes in Somalia last year compared to 2021. The airstrikes resulted in over 300 reported insurgent fatalities, as well as at least seven Somali citizens killed by a US strike that hit a bus station in Mubaarak village in Lower Shabelle region on 7 September. 
President Mohamud's decision to begin countrywide offensive operations against al-Shabaab was influenced by the fighting between Hawadle Macawiisley11Macawiisley militias are community-created self-defense groups initially formed by civilians in 2014 to respond to al-Shabaab's violence and excessive 'taxes.' For more information, see Mohammed Ibrahim Shire, 'Protection or predation? Understanding the behavior of community-created self-defense militias during civil wars,' Small Wars & Insurgencies, 2022. clan militias and al-Shabaab in several localities in Hiiraan in July. Hawadle Macawiisley clan militias and other clan militias, dissatisfied with al-Shabaab's heavy taxes and activities, have supported the security forces in the fight against al-Shabaab since June 2022. However, several attempts by the clans to resist al-Shabaab's demands and activities in their villages and towns were unsuccessful.12Harun Maruf, ''Ma'awisley' Militias in Central Somalia Mobilizing Against al-Shabab,' Voice of America, 4 October 2022 
As a result of the government offensives, al-Shabaab controls less territory in 2023 than in May 2022 in Hiiraan, Middle Shabelle, Galgaduud, Mudug, and Bay.13Mohamed Dhaysane, 'Somali Military Says Offensive Retakes 20 Villages from Militants,' Voice of America, 12 September 2022 Despite increased al-Shabaab attacks targeting clans supporting government operations, volunteers – including members of parliament, prominent clan elders, and youths – showed up in large numbers on the battlefield.14Yunis Dekow, 'MP Malik Mubarak joins Somali Army, Local Militia, liberate Aborey after 12 year al-Shabab rule,' Radio Dalsan, 18 September 2022; Garowe Online, 'In Somalia, civilians take arms to join fight against Al-Shabaab,' 19 September 2022 Clan militias were involved in 30 battle events against al-Shabaab militants in 2022. They were particularly active in Hiiraan. On 4 September, the Hawadle Macawiisley clan militias launched attacks that reportedly killed about 28 al-Shabaab militants in Garweyne and Ceelay villages in Hiiraan. These attacks came after a joint attack by Somali security forces and Hawadle Macawiisley clan militias against insurgents in August, resulting in at least 30 reported militant fatalities. These were the first attempts for a massive push that allowed Somali security forces to secure these villages and advance toward al-Shabaab's stronghold – the region stretching between Belet Weyne and Bulo Burto towns. This move also cleared the decade-long blockages of main supply routes.15Goobjoog, 'SNA clears main road previously under Al-Shabaab control for the last 13 years,' 21 September 2022
Al-Shabaab faced resistance from local clan communities in Middle Shabelle, Hiiraan, Galgaduud, Mudug, and Bay regions. In response, the militants abducted and reportedly killed several civilians from the Hawadle clan in Bulo Burto district and launched a massive attack against the Hawadle Macawiisley clan militia positions in Jicibow, Ceel Qoxle, and Ceelay villages in Hiiraan. In September, Somali security forces advanced towards al-Shabaab strongholds in Hiiraan and Middle Shabelle regions and gained the trust of local communities offering government services. The clashes reportedly led to the death of over 100 al-Shabaab militants and the recovery of several villages and strategic areas previously under the group's control in Hiiraan region.16Voice of America, 'Milateriga Soomaaliya oo sheegay in Al-Shabab laga xoreeyey 20 tuulo,' 13 September 2022; Goobjoog, 'Booco village liberated after 13-year grip by Al-Shabaab,' 20 September 2022
From October, the Abgal Macawiisley clan militias, with the support of security forces, launched several attacks against al-Shabaab strongholds in Middle Shabelle region, including Adan Yabaal and Cadale districts.17Mohamed Dhaysane, 'Somalia Joint Operation kills 100 Al-Shabab Militants,' Voice of America, 27 November 2022 Both al-Shabaab and security forces began arming, mobilizing, and recruiting locals from the Abgal clan – which dominates the Middle Shabelle region – in Cali Gaudud and Cadale,18Jamaal Maxamed, 'DAAWO: Abaabul ka dhan ah Al-Shabaab oo magaalada CADALE ka billowday,' Caasimada, 4 October 2022 with al-Shabaab recruiting from the Abgal-Warsangeli clan – which refused to join the government mobilization against al-Shabaab – in Towfiiq village in Jowhar district. This came after the government supported the Abgal Macaawiisley clan militias to commence an offensive against al-Shabaab in Middle Shabelle region. Their joint operations, with the support of Turkish airstrikes, reportedly killed over 200 al-Shabaab militants in and around Cali Gaudud village during the last week of October.19Shabelle TV, 'Somali Govt confirms over 100 militants killed in Ops,' 25 October 2022
The recent operations weakened al-Shabaab's capacity to collect taxes in Hiiraan and Middle Shabelle. However, deadly attacks continued in Belet Weyne, Bulo Burto, and Maxaas districts, targeting government operation centers, institutions, and security forces bases. Despite losing several strategic towns, the insurgent group adopted survival tactics to fend off the alliance between the government and clans. Al-Shabaab appointed Yusuf Isse Kaba-kutukade, one of its senior members from Abgal clan, as their 'shadow governor' for Middle Shabelle.20Twitter @harunmaruf, 17 September 2020; Asad Cabdullahi Mataan, 'Al-Shabaab oo Sheekh Kaba Kutukade u magacowday xil qorshe fog laga leeyahay,' Caasimada, 1 December 2022 After holding talks with clan elders in the controlled areas, the group signed an agreement with a number of Habar Gedir Salebaan sub-clan elders in Xarardheere town in Mudug region not to participate in the ongoing operations in Galmudug state.21Shabelle Media Network, 'Odayaasha beesha dagto Cadaado ee la soo heshiiyay Shabaab oo war soo saaray,' 25 December 2022 
Tensions in Somaliland 
The Somaliland administration has been facing tensions and increasing violence after elections were postponed in September 2022, and the term of the territory's president was extended to 2024.22France24, 'Somaliland parties snub president after vote storm,' 14 November 2022 Somaliland had been set to hold a presidential election in November 2022, but disagreement surfaced between the administration and opposition parties over the registration of political parties and election management.23Hiiraan Online, 'Somaliland opposition no longer recognizes President Muse Bihi,' 3 October 2022 In August, supporters of the opposition Waddani Party and Justice and Welfare Party of Somaliland (UCID) took to the streets to demand presidential elections, driving a peak in demonstration activity. Several people were reportedly killed and injured, and a dozen were arrested as a result of security forces' intervention.24Abdi Sheikh and Daud Yussuf, 'At least five people killed, 100 hurt in Somaliland protests,' Reuters, 12 August 2022 After a lull in September and October, demonstrations began again in December (see graph below). The assassination of a Waddani Party member from a Dhulbahante sub-clan triggered protests during the last week of the month. Somaliland security forces violently intervened to disperse the protesters, reportedly killing over a dozen and injuring several others.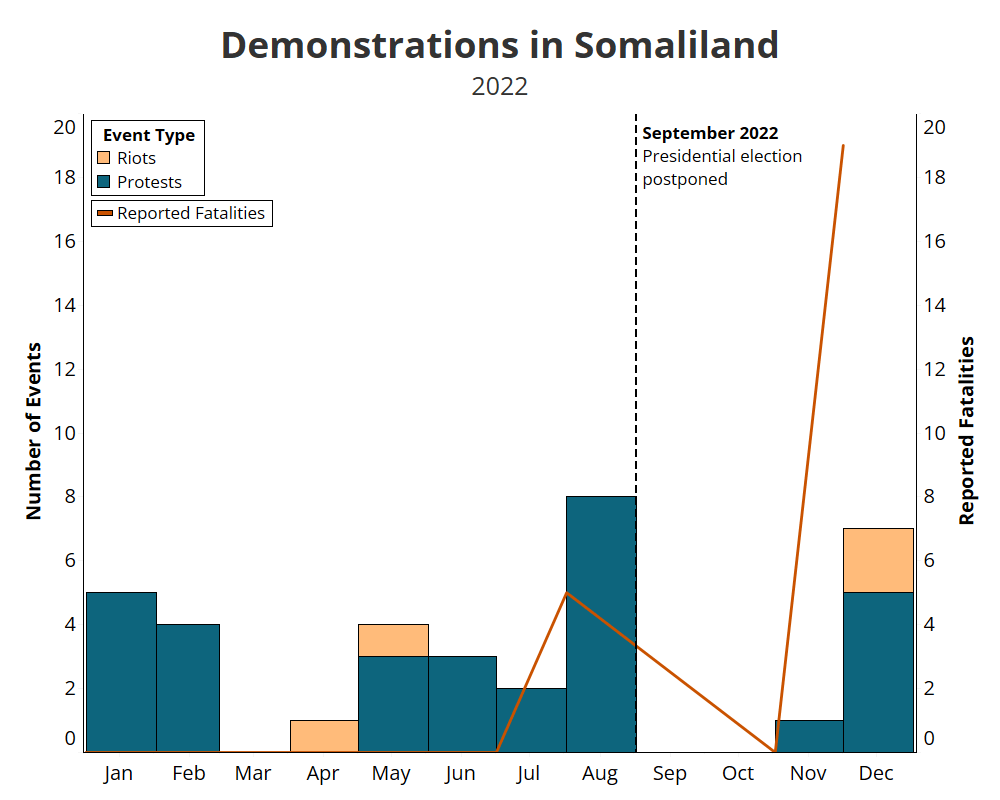 ACLED records two other incidents of targeted killings of politicians and leaders from Dhulbahante sub-clans last year, both in Laascaanood town. On 19 April, gunmen reportedly killed the Laascaanood regional tender board officer. Two months later, in June, the regional chair of UCID was also reportedly killed by unidentified gunmen. 
Tensions have remained high in the region in early 2023, as Dhulbahante clan militias took control of Laascaanood in the first week of January after days of clashes with Somaliland security forces. In February, Dhulbahante elders in Sool reportedly issued a declaration and announced that Sool, Sanaag, and Cayn (SSC) regions are no longer part of Somaliland and that "the Federal Republic of Somalia shall administer the SSC-Khaatumo region."25Somali Dispatch, 'Breaking News: SSC Clan Leaders' Summit release a 13 point declaration,' 6 February 2023 Deadly violence erupted between the SSC militia and Somaliland security forces in Laascaanood, reportedly resulting in hundreds dead and wounded and thousands displaced.26Africanews, 'Fighting resumes in Somaliland as tens of thousands flee,' 22 February 2023 Clashes continued despite a ceasefire declared on 10 February, with each party accusing the other of violating the ceasefire.
Looking Forward
ACLED will closely monitor the political violence landscape in Somalia and publish regular country reports exploring and analyzing key trends, including but not limited to:
Al-Shabaab activity across Somali territory:

Al-Shabaab's continuous pressure along the frontline will likely increase, targeting security forces, ATMIS forces, and clan militia bases in Hirshabelle, Galgaduud, and Mudug regions. Moreover, strategies will likely shift to regain the lost territories by targeting local administrative institutions and regional security command centers, and disrupting the movement of logistics convoys along the main supply routes toward government bases. The attacks may concentrate in Banadir, Lower Shabelle, Middle Shabelle, and Hiiraan regions. The use of mortar shells, explosions, and ambush attacks will likely increase further due to the shift in insurgents' strategies.

Government response and the support of clan militias to counter the al-Shabaab insurgency:

The government's current operational plan facilitated the liberation of several villages in Hirshabelle, Galgaduud, and Mudug regions from al-Shabaab. Al-Shabaab is still present in those regions, carrying out highly coordinated attacks and recovering territories. Al-Shabaab is suspected of having found a safe haven in Southwest and Jubaland states, where operations have not commenced due to the lack of support from local clan militias, and political grievances against the government in these states. The security forces will likely increase their operations in Bay and Bakool regions in Southwest, and Lower Juba and Gedo regions in Jubaland to regain al-Shabaab-controlled areas. Meanwhile, security forces will likely unleash yet another massive operation targeting vital al-Shabaab strongholds in Middle Juba region.

IS activity in Somalia and the security response to the expansion of its operations: IS will likely continue its attempts at expanding its presence in Somalia, further competing with al-Shabaab over territory and collecting taxes. Government and international forces will also likely divert some of their counter-insurgency resources to fighting the IS insurgency to limit the group's influence in the country and region.