Situation Update | March 2023
Sudan: Deadly Violence in the Disputed Abyei Area
Sudan at a Glance: 1 January-10 March 2023
KEY TRENDS
ACLED records more than 140 political violence events and over 110 reported fatalities from 1 January to 10 March 2023. Most of the violence was centered in Darfur region, where Darfur communal militias were involved in over 65 incidents of violence against civilians.  

Abyei had the highest number of reported fatalities, with nearly 30. North Darfur and Central Darfur followed, with 13 reported fatalities each. Violence involving identity militias resulted in over 80% of reported fatalities. 

Protests were the most common type of event recorded by ACLED during this period, with nearly 250 events, followed by violence against civilians, with over 100 events. Anti-coup demonstrations have continued in Sudan despite a transition deal signed in December 2022.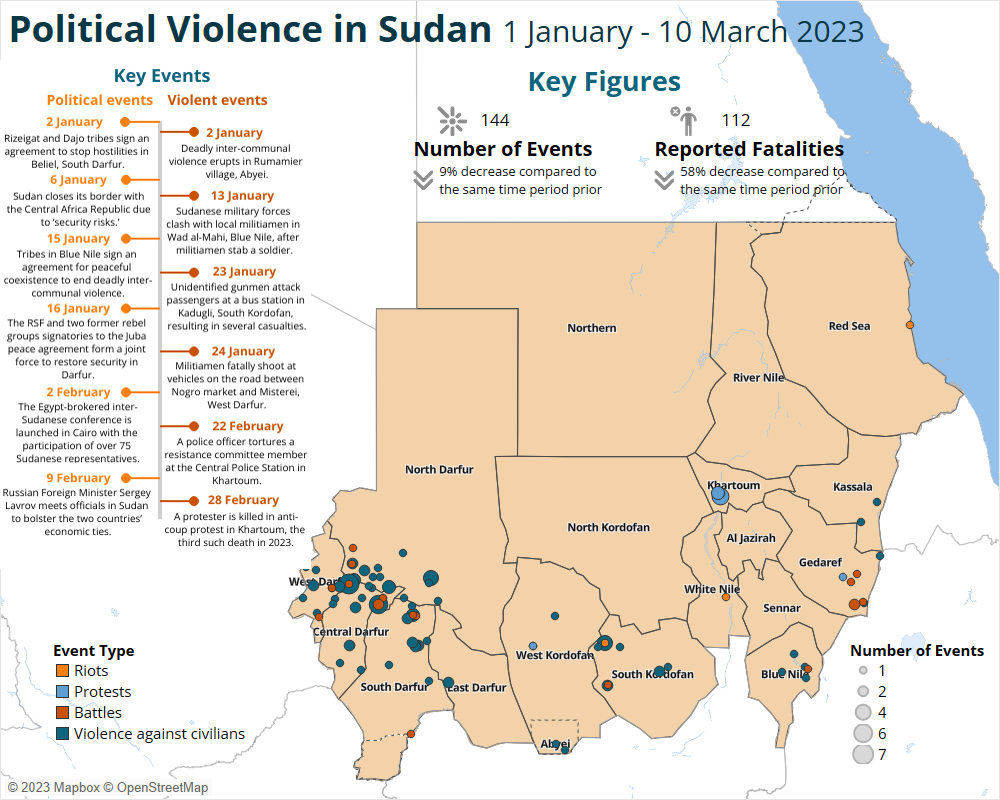 Deadly Violence in the Disputed Abyei Area
Abyei has been a center of tension and violence in recent years. This report focuses on the recent round of violence in and around Abyei, explaining the underlying causes of the conflict, the escalation of violence over the past year, and what likely lies ahead if political measures are not taken to address the unresolved political status of Abyei and local disputes over resource-sharing. 
What Drives Violence in Abyei?
The oil-rich Abyei Administrative Area straddles the border between Sudan's West Kordofan state and South Sudan's Northern Bahr el-Ghazal, Warrap, and Unity states. The area has been claimed and disputed by both countries since South Sudan gained independence in 2011. Abyei is strategically important, home to oil fields, farmland, and pasture.1Humanitarian Aid Relief Trust, 'Crisis in Abyei- HART Briefing,' 27 April 2022 Violence has frequently erupted in the area since at least 2011 due to land and resource-sharing disputes between the communities inhabiting the region.2Joshua Craze, 'Dividing lines: Grazing and conflict along the Sudan-South Sudan border,' Small Arms Survey, July 2013 Civilians continue to bear the brunt of the violence, as the political status of Abyei remains unresolved and measures to manage inter-communal disputes are lacking. Thus far in 2023, dozens of people have been reportedly killed in violence between Twic Dinka and Ngok Dinka communities in Abyei (see map below).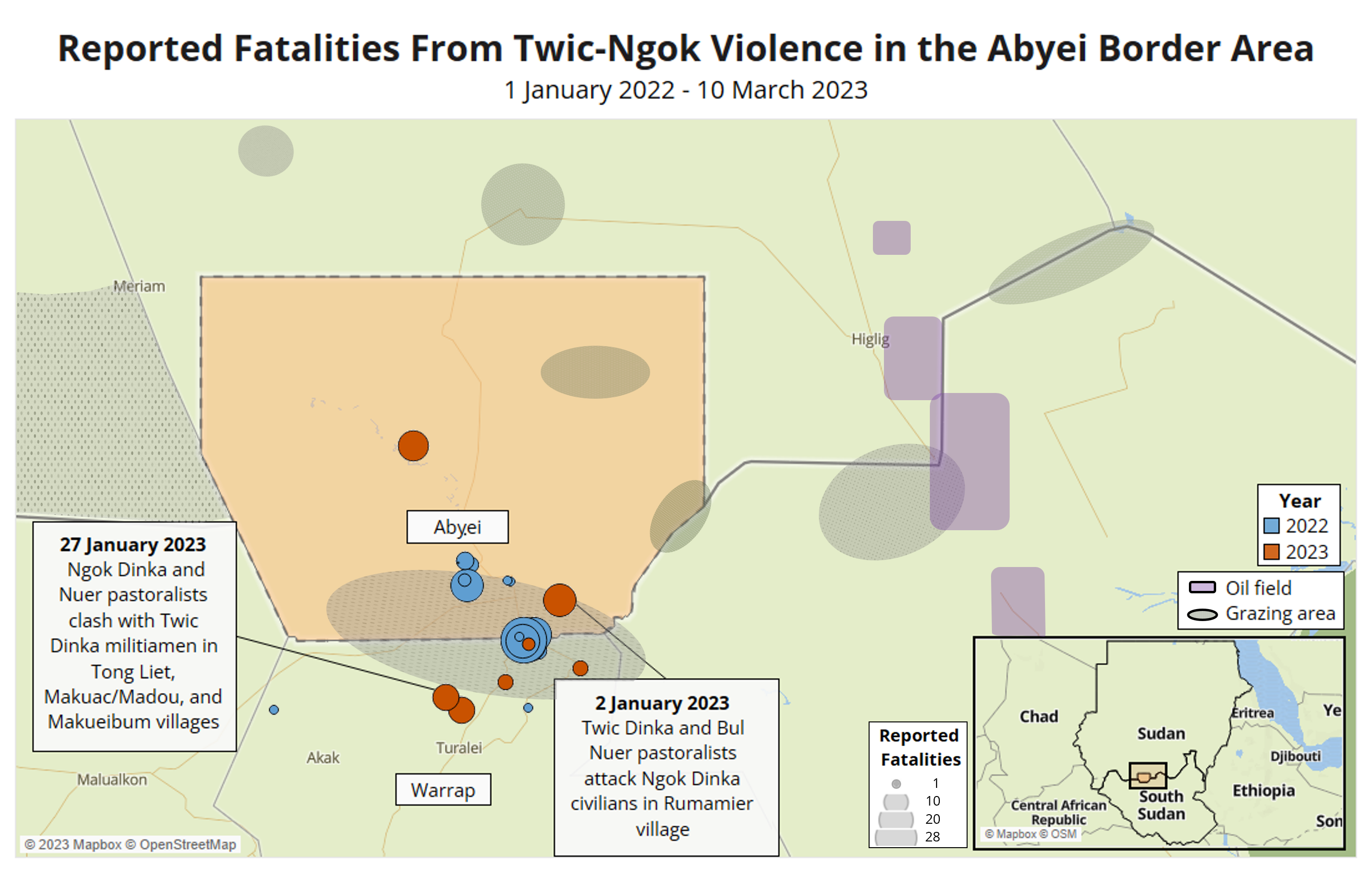 Inter-communal violence involving Twic Dinka, Ngok Dinka, and Misseriya communities accounts for most of the violence in Abyei, which is commonly triggered by territorial and resource-sharing disputes.3Ayin Network, 'Between a rock and a hard place: escalating violence in Abyei,' 10 March 2022 While most of the area's inhabitants are from the Ngok Dinka clan, the Misseriya – Arab pastoralists from Sudan – have settled along the northern part of the Kiir river (also known as the Bahr al-Arab) in Abyei.4The New Humanitarian, 'Abyei's dangerous impasse,' 10 October 2013 The Twic clan claims ownership over the area south of the river.5v The dry season forces these pastoralist groups to move beyond their areas of inhabitation in search of pastures and water.6Sara Pantuliano, 'Oil, land and conflict: the decline of Misseriyya pastoralism in Sudan,' Review of African Political Economy, 25 March 2010; Kheira Tarif, Emilie Broek, and Katongo Seyuba, 'Abyei offers lessons for the region on climate-related security risks,' Stockholm International Peace Research Institute, 23 September 2021 Lacking cooperation between the communities and institutional capacity for resource management can lead to violent conflict over resources, such as water and land for grazing and cultivation.7Martin Ochaya Lino, 'Local Peace Agreement in Abyei: Achievements, Challenges and Opportunities,' London School of Economics and Political Science, 2020 Amid failure at the political level to agree on the Abyei boundary demarcation, disagreements over the border issue further fuel violence, with groups accusing one another of encroaching on their land.8Waakhe Simon Wudu, 'At least 25 people killed in South Sudan communal land violence,' Reuters, 12 October 2022 In an unofficial, unilateral referendum held by the Abyei Referendum High Committee in 2013, many residents of the area voted in favor of joining South Sudan. However, the Misseriya boycotted the referendum, and both Khartoum and Juba criticized the vote.9BBC, 'Abyei opts to join South Sudan in unofficial referendum,' 31 October 2013; Isaac Mugabi, 'Unilateral Abyei referendum,' Deutsche Welle, 28 October 2013
Violence on the Rise in Abyei
Last year, Abyei Administrative Area saw the highest number of political violence events recorded by ACLED for any year, with 48 events, higher than the totals for the previous three years combined (see graph below). The year 2022 was also the deadliest in Abyei since 2011. Half of the events recorded last year consist of armed clashes, and nearly all the remaining half of events are violence against civilians. Identity militia activity drove over 85% of overall political violence activity in Abyei in 2022.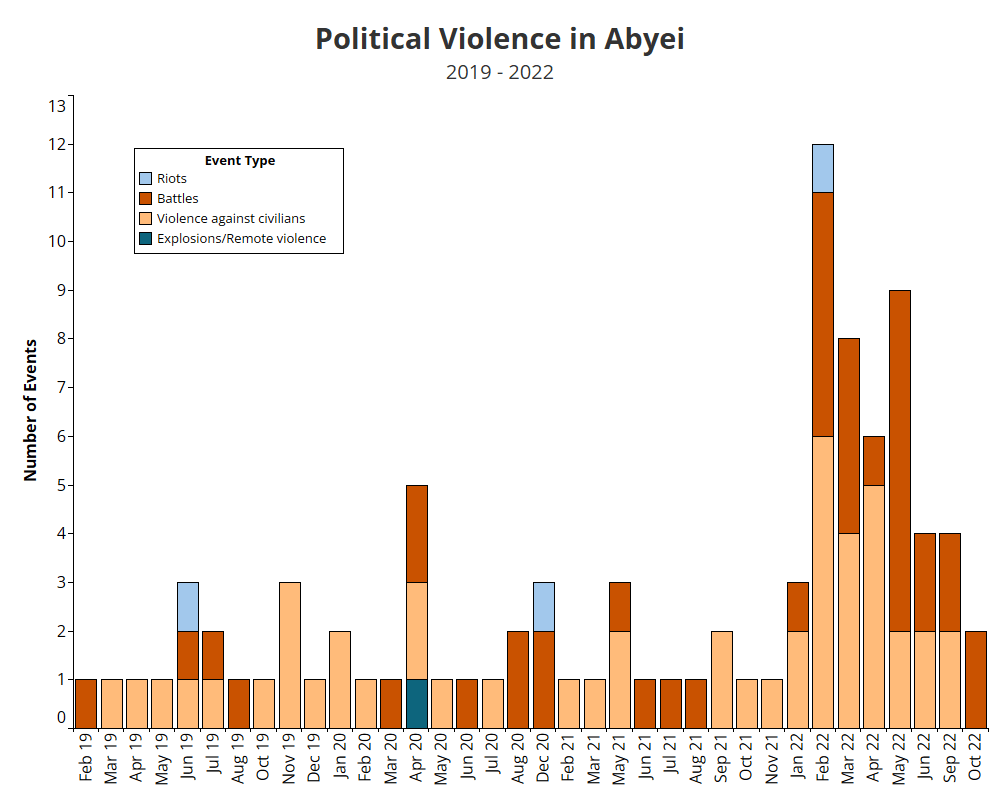 Between February and April 2022, attacks by Twic and Misseriya militias against civilians from the Ngok Dinka clan resulted in over 70 reported fatalities. In February, fighting erupted at Aneet Market after Twic militiamen attacked a group of government officials from Abyei who were conducting a land survey.10Sudans Post, 'Armed youth from Twic attack Abyei's Aneet,' 12 February 2022 In early March, a Misseriya assault on Ngok Dinka civilians left dozens dead. The violence was reportedly fueled by "longstanding territorial disputes, inter-tribal tensions, and revenge seeking" and led to the displacement of thousands.11United Nations Office for the Coordination of Humanitarian Affairs, 'Abyei Clashes Flash Update No. 2 – As of 09 March 2022,' 9 March 2022
In May, the South Sudan People's Defence Forces (SSPDF) established a buffer zone to end inter-communal violence in the area. South Sudanese President Salva Kiir also formed a panel to investigate the root causes of the conflict.12Deng Ghai Deng, 'South Sudan Troops Deployed to Abyei Area,' Voice of America (Africa), 17 October 2022 However, after a bout of violence in June, conflict reignited again between Twic and Ngok Dinka militias in September and October over alleged land infringements, leading to dozens of casualties and thousands displaced. Consequently, the SSPDF deployed forces in the area to end the fighting.13Deng Ghai Deng, 'South Sudan Troops Deployed to Abyei Area,' Voice of America (Africa), 17 October 2023 The following month, the Community Empowerment for Progress Organization, a South Sudanese non-profit, organized a dialogue between leaders of the Twic clan from Warrap state and Abyei's Ngok Dinka clan to end the conflict.14Radio Tamazuj, 'Ngok Dinka-Twic peace dialogue underway in Wau,' 30 October 2022 The sides agreed to stop the violence and hate speech, and to allow humanitarian access to areas affected by the violence. The agreement, however, failed to put an end to the fighting. In December, Twic and Ngok Dinka militias engaged in deadly clashes at Wou Chien along the disputed border between Twic county of South Sudan's Warrap state and Abyei Administrative Area. It is currently unclear what triggered the violence.15Wol Mapal, 'Calm returns to disputed area after Twic, Ngok clash,' Eye Radio, 23 December 2022
Is There a Prospect for Peace?
Inter-communal violence between Twic and Ngok Dinka clans has continued into 2023. According to the United Nations Interim Security Force for Abyei (UNISFA), in early January, around 200 armed herders from Twic Dinka and Bul Nuer militias attacked Rumamier village in southern Abyei, reportedly killing at least 13 civilians, including aid workers, and injuring four others. They also burned at least 27 houses in the village. The majority of the fatalities were reportedly from the Ngok Dinka clan. Following the incident, UNISFA launched an investigation to uncover the circumstances that led to the attack.16United Nations Interim Security Force for Abyei, 'UNISFA condemns the Twic attack on Rumamier village, Abyei Administrative Area,' 5 January 2023 The Abyei chief administrator claimed that the South Sudan People's Movement/Army led by General Stephen Buay Rolnyang was behind the attack. The group has denied the accusation.17Sudans Post, 'South Sudan rebels deny involvement in Abyei attack,' 5 January 2023 General Rolnyang, a former commander of the fifth infantry division, was removed from the SSPDF in August 2019 and spent a year in jail for allegedly taking up arms against the current government in Juba.18Radio Tamazuj, 'AUDIO: Gen. Buay speaks to Radio Tamazuj after Mayom incident,' 22 July 2022
A week after the incident in Rumamier, gunmen, presumably from Abyei, launched what was likely a retaliatory attack on an agricultural scheme in Twic county of Warrap state, burning three people to death in their dwellings, and shooting and wounding two others. Another round of inter-communal violence erupted in and around the southern part of Abyei on 27 January, as cattle rustling by Ngok Dinka and Bul Nuer pastoralist militias from Abyei in Tong Liet, Makuac/Madou, and Makueibum villages in Twic county led to over a dozen reportedly killed and hundreds of cattle stolen. The attack was the deadliest event recorded between the Ngok Dinka and Twic Dinka communities since October 2022. 
Abyei also witnessed a protest in mid-January against the removal of Abyei Chief Administrator Kuol Deim Kuol. Kuol left less than three years after his nomination, with the factors leading to his dismissal unclear. Last November, he had accused Juba of creating insecurity in the region and named five officials from Abyei and South Sudan's Warrap state as fueling inter-communal violence in Abyei.19Daniel Garang Deng, 'Kuol Deim reveals names of five politicians 'instigating' Twic-Abyei conflicts,' 30 November 2022
Although Sudan and South Sudan have recently improved bilateral relations, resolving the status of Abyei does not appear to be a priority to either country, as they continue to be engulfed in political and security crises domestically.20Security Council Report, 'UN Interim Security Force for Abyei: Briefing and Consultations,' 26 October 2022 In March 2022, South Sudanese President Kiir and the chairman of Sudan's Sovereign Council, General Abdel Fattah al-Burhan, met in Juba and agreed to collaborate in developing oil fields, particularly in Abyei.21Sudan Tribune, 'Kiir, Burhan agree to establish joint deployment in border areas including Abyei,' 18 March 2022 In January this year, the two countries also agreed to deploy joint forces on their 1,800-kilometer border to bolster security, but the recent agreement did not address the political status of Abyei.22Sudan Tribune, 'Khartoum and Juba agree to deploy joint forces on the border,' 12 January 2023 A number of scholars had previously voiced concern that cooperation between the two would only address resource-sharing and neglect the unresolved political situation in Abyei, a concern that has proven valid.23Nabeel Biajo, 'Analyst: Twic-Abyei Violence Rooted in Resource Sharing,' Voice of America (Africa), 11 October 2022
Abyei is under direct monitoring of UNISFA, a UN peacekeeping force created in June 2011 with the mandate to protect civilians under threat of violence and the area from incursions by armed groups and ensure security, among other things. The UN Security Council extended UNISFA's mandate for an additional 12 months in November last year.24United Nations Press, 'Security Council Unanimously Adopts Resolution 2660 (2022), Extending Mandate of United Nations Interim Security Force for Abyei in South Sudan,' 14 November 2022 In early March 2023, UNISFA expressed concern about the reported presence of "South Sudanese uniformed personnel" in southern Abyei,25United Nations News, 'UNISFA Condemns the reported presence of South Sudanese uniformed personnel inside the Abyei Area,' 1 March 2023 where clashes took place last month. These developments could be a sign of escalating tensions and a likelihood of violence reigniting in the region. This not only further complicates the mandate of UNISFA but also the rapprochement between Khartoum and Juba. As the situation in Abyei remains volatile, both governments should adopt measures to address the border demarcation issue and encourage communities and their leaders to engage in talks to settle disputes over the shared use of resources.
Update, 24 March 2023: This report has been amended to reflect updated data for Sudan and Abyei as of 10 March 2023.